2021 Workers' compensation insurance rates will vary depending on a number of different factors, including your company's payroll, employee job classifications, and claims history. However, a major factor involved with calculating workers' comp rates is what state you operate your business in. Below, we've put together a list of average 2021 workers' compensation rates by state.
2021 Workers' Comp Rates by State
Here are the average workers' comp rates by state per every $100 in payroll:
State
Lowest Rate (Clerical)
Highest Rate (Labor)
Alabama
$0.15
$22.80
Alaska
$0.41
$15.85
Arizona
$0.20
$20.61
Arkansas
$0.13
$10.96
California
$0.40
$33.57
Colorado
$0.13
$13.53
Connecticut
$0.14
$16.75
Delaware
$0.22
$14.71
Florida
$0.26
$19.40
Georgia
$0.12
$38.83
Hawaii
$0.21
$10.54
Idaho
$0.28
$18.04
Illinois
$0.11
$37.24
Indiana
$0.11
$7.69
Iowa
$0.30
$16.45
Kansas
$0.11
$12.49
Kentucky
$0.10
$18.15
Louisiana
$0.17
$15.93
Maine
$0.25
$14.00
Maryland
$0.24
$13.89
Massachusetts
$0.07
$9.77
Michigan
$0.16
$11.04
Minnesota
$0.10
$20.49
Mississippi
$0.20
$21.96
Missouri
$0.15
$19.64
Montana
$0.37
$22.84
Nebraska
$0.13
$7.40
Nevada
$0.21
$11.55
New Hampshire
$0.16
$15.87
New Jersey
$0.27
$19.72
New Mexico
$0.24
$27.61
New York
$0.07
$29.93
North Carolina
$0.10
$34.06
North Dakota
N/A
N/A
Ohio
N/A
N/A
Oklahoma
$0.20
$19.49
Oregon
$0.10
$24.48
Pennsylvania
$0.12
$26.39
Rhode Island
$0.15
$13.57
South Carolina
$0.18
$36.19
South Dakota
$0.16
$23.29
Tennessee
$0.11
$21.47
Texas
$0.07
$13.29
Utah
$0.90
$20.66
Vermont
$0.21
$13.37
Virginia
$0.08
$14.03
Washington
N/A
N/A
West Virginia
$0.12
$5.47
Wisconsin
$0.24
$20.40
Wyoming
N/A
N/A
Is Workers' Comp Insurance Required in My State?
Each state has its own requirements and regulations surrounding workers' compensation insurance. Nearly all of them require it, but the laws vary depending on your number of employees. To find out if it's mandatory in your state, check out our article Is Workers' Comp Required in My State?
If I Don't Have Employees, Do I Need Workers' Comp?
Even if you don't have any people on staff, you may be surprised to learn that workers' comp coverage is still a good idea (or required, in some cases). You should purchase a policy (or consider it) if you fall into one of these categories:
You're a solo business owner who could be injured on the job, so you want coverage for yourself.
You hire independent contractors or subcontractors, even part time. Check your state's laws for requirements.
You're an independent contractor being asked to provide proof of workers' comp coverage in order to be hired. In your case, check out a workers' comp ghost policy.
Get Workers' Compensation Insurance in Your State
Whether you're shopping for workers' compensation insurance for the first time or you're interested in switching carriers, Cerity is here to make your experience a pleasant one. In just minutes, you can be on your way to a competitive and affordable workers' comp insurance quote.
We currently provide workers' comp insurance to business owners in 46 states, including:
If you're ready to discover your specific workers' comp rates, get your free quote online now.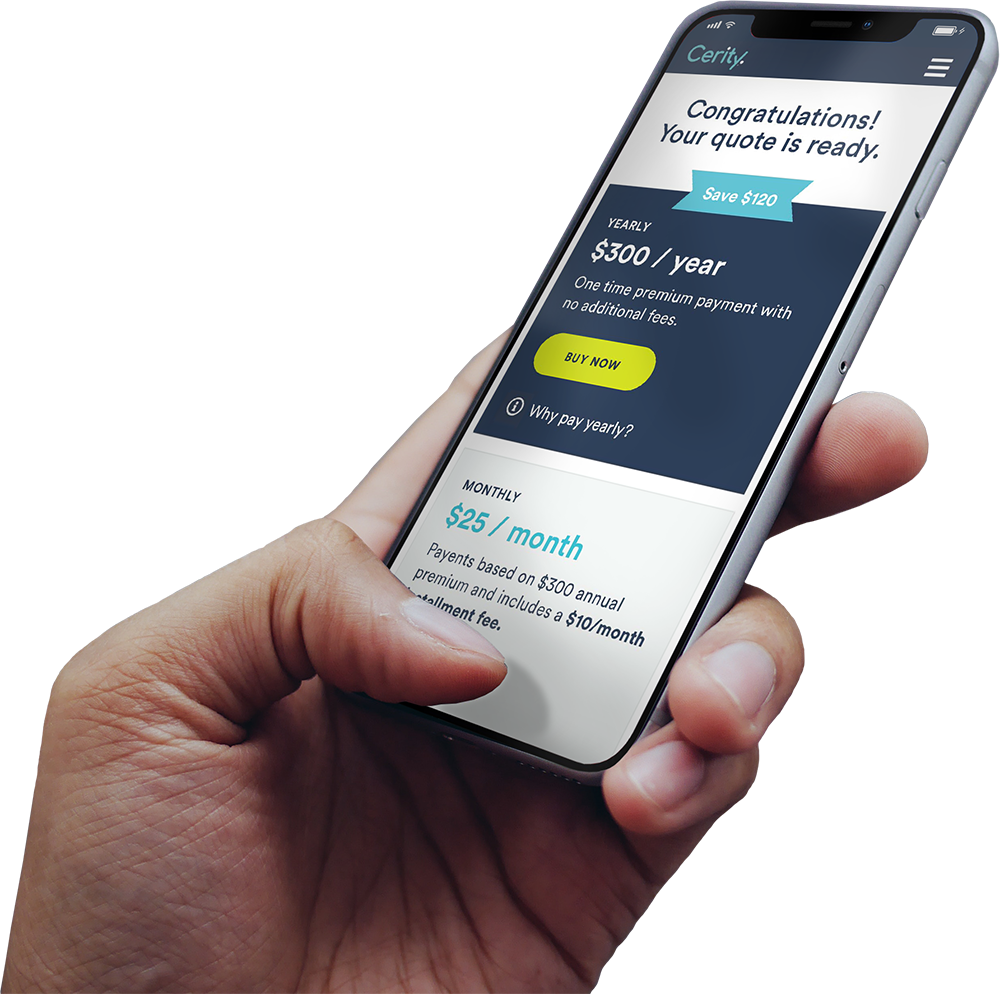 Get protection for your business baby.
It only takes a few minutes, whether you're already covered or just getting started.