Workers' Compensation Insurance Policy & Law in
Hawaii
How is workers' compensation insurance defined in Hawaii?
According to Labor.Hawaii.gov, the Hawaii workers' compensation law was enacted in 1915 with the purpose to provide wage loss compensation and medical care to employees who suffer a work-related injury. The workers' comp law requires employers to provide certain benefits without regard to the fault of the employer and prohibits an employee from filing a civil action against the employer for work-related injuries or illnesses. Fortunately, getting workers' compensation insurance doesn't have to be much more difficult than say, grabbing yourself a fruity drink with a tiny umbrella on a pristine beach. 
What are the laws associated with workers' compensation insurance in Hawaii?
Any employer, other than those excluded (section 386-1), having one or more employees, full-time or part-time, permanent or temporary, is required to provide workers' compensation insurance coverage for its employees.
Those who can be exempt from having workers' comp in Hawaii include certain business owners, executives, officers, and more. The exclusions are: 
Partners in business

Sole proprietors

Corporate officers with at minimum 50% of the company
Other types of employees can be exempt from having workers' comp as well, including: 
Volunteers/unpaid laborers for schools, nonprofits, churches, and charities

Authorized religious professionals, like ministers, priests, and rabbis

Domestic workers who earn less than $225 per quarter or provide services to public welfare recipients 

Working students at schools, universities, and colleges who work in exchange for things other than money, such as room and board

Stockholders – some 25% and all 50% stockholders

Real estate salespeople/brokers who work fully on commission

Members of limited liability companies (LLCs) who are people, not businesses, that have 50% value in the company
Although those listed above can opt-out of or are exempt from having to legally obtain workers' comp coverage, they can opt to get workers' compensation insurance for themselves if they wish to. In addition, employers may choose to voluntarily provide coverage for exempt workers. 
According to Labor.Hawaii.gov, when it comes to workers' comp claims, the statutory "presumption" places on the employer the burden of producing substantial evidence to the contrary if they wish to rebut a claim for a covered work injury.
What should employees in Hawaii do to get their workers' compensation benefits in the event they get an on-the-job injury?
In the event of a work injury in Hawaii, employees should immediately report the injury to their direct supervisor or managing employer. The employer should then file an "Employer's Report of Industrial Injury" (WC-1) to the Hawaii Disability Compensation Division within 7 working days. The injured worker's employer can also file the report if the employer believes the injury is not work-related.
Each employer shall post and maintain in places readily accessible to employees a printed statement concerning benefit rights, claims for benefits, and such other matters relating to the administration of the workers' compensation law. Each employer shall furnish within three working days of notice of injury to each injured employee a copy of the brochure, Highlights of the Hawaii Workers' Compensation Law.
What are the penalties in Hawaii for not having workers' comp insurance coverage?
The penalties and consequences for violating the laws associated with Hawaii's workers' comp regulation can be very detrimental to businesses. Fines can be up to $100 per employee per day that the business operates outside of the regulations set by the state of Hawaii. Businesses who do not provide workers' comp in accordance with the law will not only can face fines but can also face lawsuits from employees who are injured on the job and want to recover damages associated with their condition. 
To learn more about workers' comp coverage requirements in other states, click here. 
What does workers' compensation cover in Hawaii? 
According to Labor.Hawaii.gov, benefits for injured employees include the following:
Medical Benefits

— Coverage for all medical treatment for the injury or illness, including surgical procedures, hospital services, and supplies related to the injury. The injured employee is entitled to choose the treating physician.

Temporary Total Disability Benefits

— Wage loss benefits paid to the employee as long as they are certified disabled from work by a treating physician.

Permanent Partial Disability Benefits

— Payments due to an employee when an injury results in a percentage loss of use of specified portions or functions of the body.

Permanent Total Disability Benefits

— Payments due to an employee if the injured employee cannot return to work because of the injury.

Disfigurement

— Payments due an employee for scars as a result of laceration or surgery, which can include deformity and discoloration.

Death

— Payments due to a surviving spouse and dependent children in work-related death cases.

Vocational Rehabilitation

— If the employee is unable to return to usual occupation, the injured employee may receive career counseling, testing, training, and job placement.
For more information about worker's comp coverage, visit our learning center. 
What are workers' comp death benefits in Hawaii?
In Hawaii, if an employee dies as a result of an on-the-job injury or illness, the worker's dependents or beneficiaries are eligible to receive death benefits. Workers' compensation death benefits in the state vary based on what dependent is applying for the benefits, but they are no more than 67% of the deceased worker's average weekly earnings. Dependents are considered any family member who was financially dependent on the worker. These typically include: 
Spouse – Death benefits for spouses end when the spouse gets remarried or passes away. In the event of remarriage, the surviving spouse can choose to get a lump-sum payment of two years of death benefits. 

Unmarried children under 18

Married children who are financially dependent on the deceased worker

Unmarried children who not financially independent or who are under 22 and are full-time students
How do workers' comp settlements work in Hawaii? 
Workers' compensation settlements are voluntary agreements between injured employees and their employer that are typically mutually beneficial. In Hawaii, after a workers' comp injury claim, a settlement can be made to help the employer close the case in exchange for the employee receiving a settlement payment. A settlement payment typically helps to pay for costs associated with the workplace injury and is offered via either a lump-sum payment or a structured payment schedule. All workers' compensation settlements in Hawaii have to be approved by the Hawaii Disability Compensation Division.
What are the statutes of limitations regarding workers' comp in Hawaii? 
Injured workers in Hawaii have two years from the date of which their injury becomes apparent and five years from the date that their injury occurred to file a workers' comp claim. Under Hawaii state law, workers have a responsibility to notify their employer as soon as possible after an injury to let them know a workplace injury has occurred. 
How much does workers' compensation insurance cost in Hawaii?
According to the National Academy of Social Insurance, the estimated costs for employers to get workers' compensation for their employees in Hawaii are around $1.62 per every $100 they spend on payroll. 
However, despite that general statistic, it's important for businesses to remember that every business' premium, or costs, will be determined individually. That said, the more risky a worker's industry or position, the more likely they are to experience a workplace injury or illness. As a result, it's common for insurance premiums to be higher for employees in high-risk jobs. Keep in mind that no matter what statistics for your industry or location suggest, workers' comp costs are calculated based on a variety of factors.
Many factors unique to your business will contribute to your exact insurance premiums. 
Some of these factors include: 
The location of your business

The size of your business and the number of employees 

The industry in which your business operates

The type of service your business provides

The value of your business property, including equipment or supplies

The annual revenue of your business
For business owners hoping to improve on their insurance premium costs, there are some steps that can be taken in hopes of lowering costs. In addition to the criteria listed above, workers' comp insurance providers take into account how important workplace safety is to your business. If your business prioritizes safety, implements safety protocols, conducts employee training, and maintains a workplace culture that makes safety a standard, insurance providers may offer lower premiums. 
Where Can I Get Workers' Compensation For My Hawaii Business?
We offer workers' compensation to businesses no matter where you are in Hawaii. If you are located in Honolulu, Lihue, or Lahaina, we'll help you protect your Hawaii employees.
If you need workers' comp coverage for your Hawaii business, you can purchase a policy through any private insurance company, agent, or broker that is licensed to operate in the state. So even if you aren't in any of the following cities, know that we can still help you:
Honolulu
Pearl City
East Honolulu
Hilo
As a business owner, how can I get workers' compensation insurance coverage for my employees in Hawaii?
Because of the potential costs of a workers' compensation claim, most employers choose to purchase insurance from private insurance carriers authorized to transact workers' comp in Hawaii, like Cerity. The employer is prohibited from requiring the employee to contribute towards the workers' compensation insurance premiums. In the event a business doesn't qualify for workers' compensation through a private insurance provider, they can choose to get coverage through the Hawaii Employers' Mutual Insurance Company (HEMIC), the state's provider of workers' compensation.
In addition to these options, the alternative would be for the employer to become self-insured. This means the employer would pay statutory benefits, otherwise known as costs associated with workers' comp such as medical bills, lost wages, and other related rehabilitation expenses, directly to the injured employee without going through an insurance company. Self-insured employers must furnish proof of financial solvency and ability to pay benefits and must be approved by the director.
However, most businesses choose not to self-insure, not only because it can be far more expensive than the cost of workers' comp premiums but also because with the right provider, getting workers' comp is quick and easy. At Cerity, we aim to help Hawaii business owners get insurance coverage without the hassle so you can focus on running your business and caring for your employees. That's why we created a faster, more affordable approach to workers' compensation. Cerity uses proprietary tools and modern technology to ensure our clients get quotes without any phone calls or paperwork. 
Businesses in Hawaii can get workers' compensation insurance easily through Cerity's free online quote service. Visit our online quote tool today and see how easy getting comprehensive workers' compensation coverage for your business can be.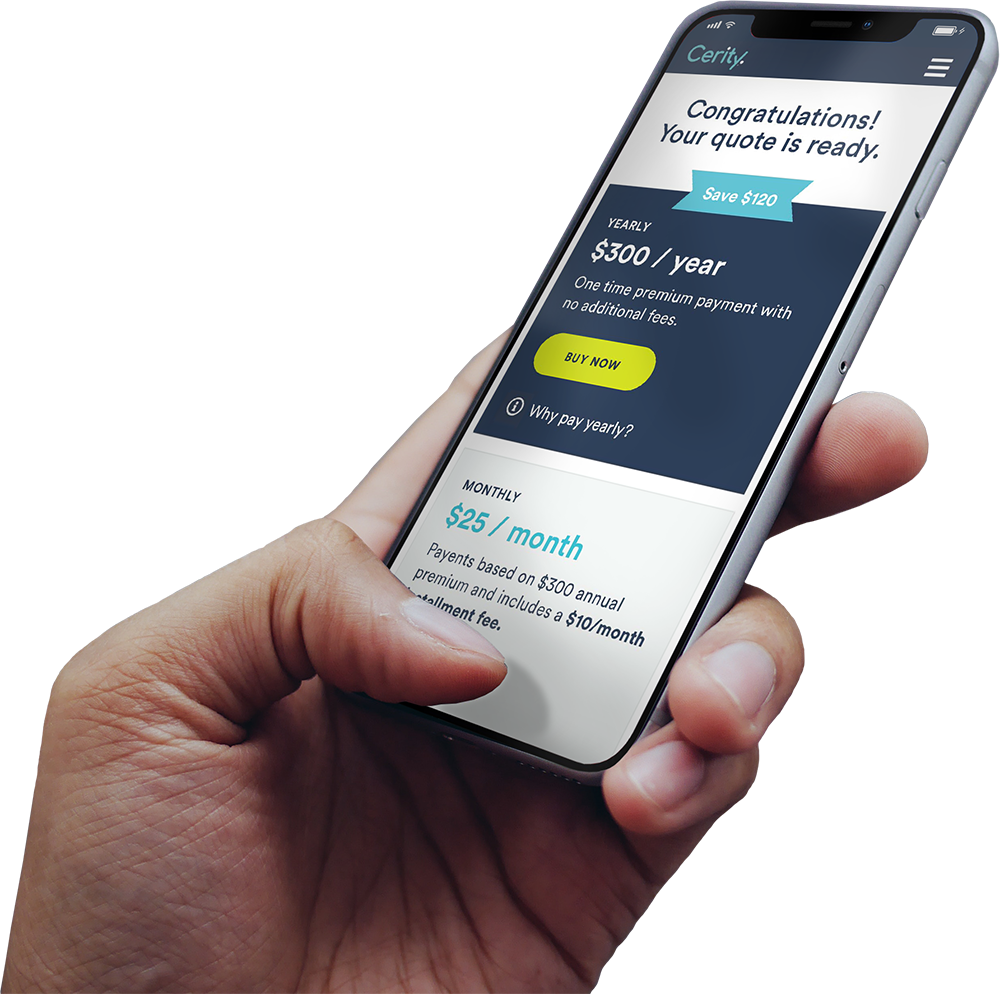 Grab your free quote today.
It only takes a few minutes, whether you're already covered or just getting started.