Workers' Compensation Insurance in
Iowa
How Is Workers' Compensation Insurance Defined in Iowa?
According to the Iowa Workforce Development, workers' compensation is a type of insurance that requires most employers to provide benefits to eligible employees who have injuries or illnesses arising out of and during the course of employment. In other words, it's a tool for protecting your most valuable business asset — your employees.
What Are the Legal Requirements Regarding Workers' Compensation Insurance in Iowa?
Iowa employees are covered by the Iowa workers' compensation law under most employment relationships. Correspondingly, most business owners required by law to purchase workers' compensation liability insurance. However, a procedure exists that permits employers to apply to the Iowa Insurance Commissioner to become certified to self-insured rather than purchase insurance.
Iowa law contains a number of exemptions that make specified employees and their employers exempt from workers' compensation coverage (85.1 IA Code). Persons eligible to receive compensation under federal law are exempt. In general, limited exemptions exist for persons employed in agriculture or by a relative. Limited exemptions exist when the employment is casual and is not performed for purposes of the employer's trade or business or if the employee's services are performed in or about the employer's dwelling. Some of the exemptions apply only if the employee's earnings from the employer are less than $1,500 annually. Business owners may elect to cover some classes of exempt employees by purchasing an insurance policy the specifically includes those employees. Specific guidance on exemptions and electing coverage can be obtained from a Workers' Compensation Compliance Administrator.
Do Independent Contractors, Sole Proprietors, Partners, Business Owners or Members of LLC Have Workers' Comp in Iowa?
Sole proprietors, partners in a partnership, and members of a limited liability company (LLC) that have a status other than of an employee and are not covered by Iowa workers' compensation law. Presidents, vice presidents, secretaries, and treasurers of corporations (other than family farm corporations) can be exempt from coverage, so long as no more than four corporate officers do so. However, they may elect to be covered by purchasing insurance that expressly covers them. 
Persons who are bona fide independent contractors are not employees. However, a contract that designates a person to be an independent contractor does not make the person an independent contractor if the person functions as an employee per 85.18 IA Code.
What Are the Penalties in Iowa for Not Having Workers' Comp Insurance Coverage?
Criminal and civil penalties can be imposed on Iowa business owners who violate the mandatory workers' comp insurance law. Employers who operate without workers' comp insurance illegally lose the exclusive remedy protection of the workers' compensation law and are liable to the employee for the full measure of damages available under tort law if an injured employee sues the employer in court.
To learn more about workers' comp coverage requirements in other states, click here. 
What Types of Injuries Are Covered By Workers' Comp in Iowa? 
Iowa state law determines what types of injuries are covered by workers' comp insurance. Specifically, Iowa defines "injury" as any health impairment other than the normal building up and tearing down of body tissues. In terms of workers' compensation, the injury or health impairment must occur as a result of employment activities in order to qualify for benefits. In the state of Iowa, diseases and hearing loss are considered to be injuries if they are the direct result of the workers' employment activities and exposure. Iowa does not consider preexisting injuries or illnesses as eligible for benefits unless the condition or injury has been aggravated or worsened by employment. 
Outside of these rules, there are general guidelines that can help you understand what typically qualifies for a workers' comp claim.
These include:
No intentional self-harm

No harm that results from drug use, alcohol use, or fighting

Injuries must fall within the "course and scope" of employment. For example, if an employee gets into a car accident after leaving their job, injuries form that accident are unlikely to qualify for workers' comp benefits. 

Long-term occupational injuries or illnesses, such as back strain from repetitive motion or an illness from exposure to toxic chemicals. When you think of work-related injuries, you probably think of one-time events — but ongoing damage can occur over a long period of time. As long as the injury or illness is clearly associated with the employee's work responsibilities, it may be eligible for workers' comp benefits. 
For more information about general worker's comp coverage, visit our learning center. 
What Are Workers' Comp Death Benefits in Iowa?
If an employee in Iowa dies as a result of a workplace injury or work-related illness, the state requires employers to pay death benefits to their surviving family or beneficiaries. Those who qualify for death benefits typically include: 
Surviving spouse

Children under 18 years old

Disabled children of any age and children under 25 who are financially dependent on the worker

Other family members or individuals who are dependent wholly on the worker
These death benefits are paid weekly and typically amount to around 80% of the deceased employee's average weekly wage, after taxes. This amount is divided amongst all whole dependents. Partially dependent survivors will only receive benefits if the worker had nobody who was wholly dependent on them. In addition, burial expenses not to exceed twelve times the statewide average weekly wage in effect at the time of death are paid in addition to the weekly death benefits.
How Do Workers' Comp Settlements Work in Iowa? 
Iowa settlement agreements made between the injured worker, their employer, and their insurer are typically mutually beneficial and close out the claim. In Iowa, these settlements usually take the form of either an agreement settlement or compromise settlement.
In agreement settlements, all involved parties agree on an amount, and should the Iowa Workers' Compensation Commissioner confirm that the agreement is in the best interest of the employee's rights, is approved. In compromise settlements, which generally deal with disputes over the employee's right to receive benefits, all involved parties agree on an amount, submit it to the Workers' Compensation Commissioner, and, if approved, waive all rights to future compensation in relation to the claim. 
What Are the Statutes of Limitations Regarding Workers' Comp in Iowa? 
In Iowa, injured or ill employees are required to file a workers' compensation claim within two years from the date of injury or three years from the date that their last benefit payment was made.
How Much Does Workers' Compensation Insurance Cost in Iowa?
According to data from the National Academy of Social Insurance, the average cost of workers' compensation insurance in Iowa is around $1.48 for every $100 that a business or employer spends on typical payroll.
However, employers should be aware that this is not always an accurate assumption, depending on the specific circumstances surrounding your business.  This is because the cost of workers' comp insurance premiums can vary based on industry, occupations, and other factors unique to each business. The more hazardous your industry, the higher workers' comp premiums will likely be. 
Workers' comp costs are calculated using a variety of factors, so the only way to know exactly what your costs will be is to get a quote. 
Many factors unique to your business will contribute to your exact insurance premiums. 
Some of these factors include: 
The location of your business

The size of your business and the number of employees 

The industry in which your business operates

The type of service your business provides

The value of your business property, including equipment or supplies

The annual revenue of your business
Employers hoping to lower their workers' comp premiums can take preventative steps by enacting safety policies and training employees to prioritize safety and abide by all industry standards. Workplace safety and how well your business prioritizes it are extremely important factors when insurance providers are considering quotes. Risk mitigation techniques may be effective in helping to lower the cost of workers' comp.
Where Can I Get Workers' Compensation For My Iowa Business?
We offer workers' compensation to businesses no matter where you are in Iowa. If you are located in the Driftless Area, Siouxland, or Quad Cities, we'll help you protect your Iowa employees.
If you need workers' comp coverage for your Iowa business, you can purchase a policy through any private insurance company, agent, or broker that is licensed to operate in the state. So even if you aren't in any of the following cities, know that we can still help you:
Des Moines
Davenport
Cedar Rapids
Iowa City
Waterloo
How Can I Obtain Workers' Compensation Insurance for My Business in Iowa?
In Iowa, business owners can get workers' comp coverage from any private insurance provider licensed to operate in the state. If businesses cannot get approved for coverage through a private provider for reasons such as having too many past workers' comp claims, they can purchase coverage from the Iowa Assigned Risk Pool, administered by the National Council on Compensation Insurance (NCCI). This is considered last-resort coverage and is available after businesses have been declined coverage twice. 
Another option for Iowa business owners is self-insurance. This is not always a great option for many businesses, because it requires businesses to pay the costs associated with a workers' comp claim on their own, without filing a claim with an insurer. To qualify for self-insurance, businesses must be able to prove their ability to pay for workers' comp claims and have security in trust for the purpose of paying for workers' comp claims.
For those Iowa employers looking for insurance through a private provider, finding a workers' comp policy can be easy and stress-free with the right provider. At Cerity, our goal is to help Iowa business owners like you find comprehensive, reliable, and streamlined insurance coverage without the hassle. Our faster, more affordable approach to workers' comp uses proprietary tools and modern technology to ensure our clients get quick quotes — without phone calls or paperwork. 
Visit our free online quote tool to get a workers' comp quote for your business and see how easy it is to get workers' compensation coverage.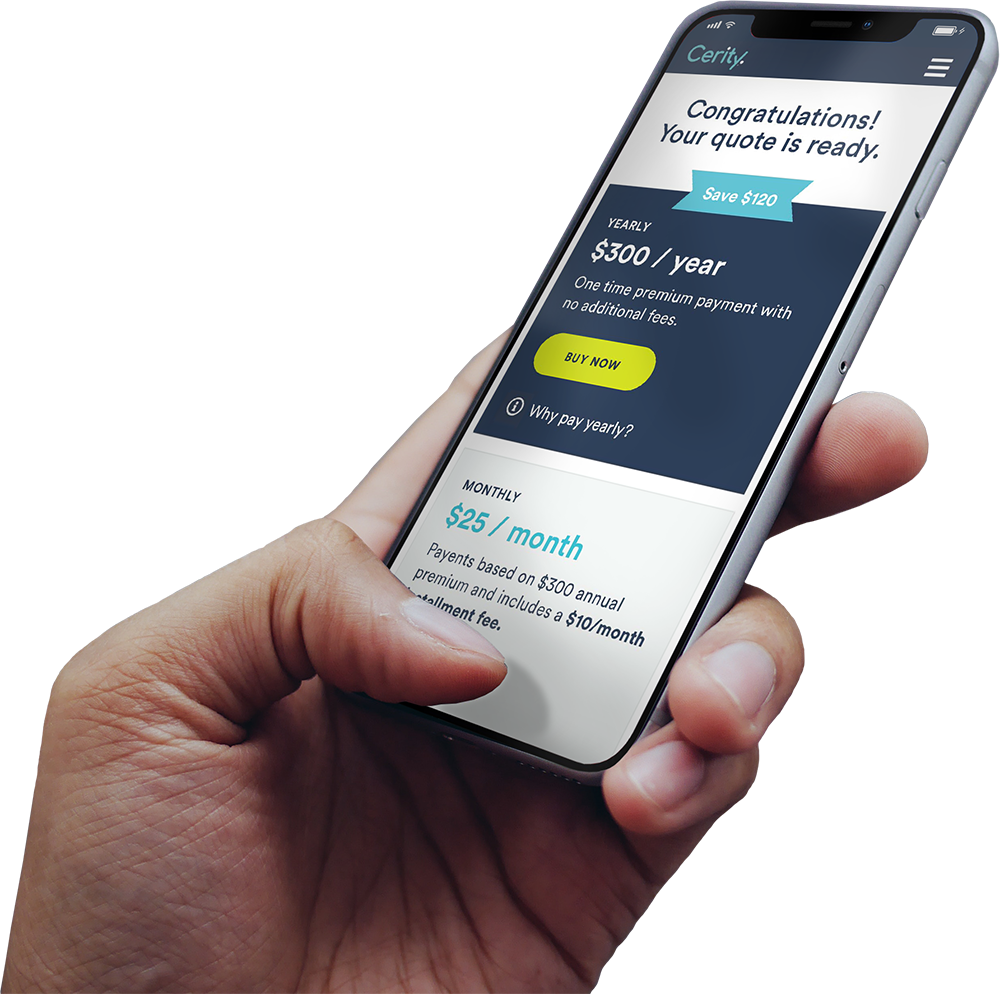 Grab your free quote today.
It only takes a few minutes, whether you're already covered or just getting started.