Workers' Compensation Insurance in
Wisconsin
For those who run a business, there are a million things to do every day. The last thing you want is to have to worry about how much your business insurance will cost. You know it's important to have workers' comp coverage — and likely even required by state law — but how can you know what it will cost so that you can fit it into your business's budget? Even better, how can you be proactive and help keep your workers' compensation rates low? 
Here, we'll go over what affects workers' comp rates, provide steps you can take to help lower your premiums, and describe how to request a quote quickly so you can get the coverage you need and get back to doing what you do best — running your business. 
The Benefits of Workers' Comp
Before we dive too deeply into which factors affect workers' compensation rates (and to keep your rates as low as possible!), let's first discuss why it's important to have this type of business insurance coverage. First and foremost, it's required by law for most states. Avoiding workers' comp insurance coverage for your employees can result in penalties such as fines, stop-work orders, or even jail time. 
Secondly, workers' compensation helps to cover the costs associated with an on-the-job injury or illness, such as: 
Medical expenses

Lost wages

Disability

Death benefits

Funeral expenses

Legal expenses
Required or not, coverage is helpful for both you and your employees in the event a workplace injury or illness occurs. What you'll pay in annual workers' comp premiums will most likely be less than you would be held responsible for if even one employee gets injured or ill while on the job.
Factors That Affect Workers' Comp Rates
The cost of workers' comp coverage depends on a variety of factors unique to your business as well as the rates set by the state for the jobs your employees do. How much you need to set aside for workers' comp is determined based on the following factors: 
Location of your business

Workers' compensation class codes

How much you spend on payroll

Workers' compensation claims history

Risk mitigation
Steps You Can Take to Help Lower Workers' Comp Premiums
When it comes to specific steps you can take to help lower your workers' comp premiums, there will be some factors that are out of your control. Things like where your business is located, how many employees you have, and the industry your business operates in are all factors that will affect your premiums but likely cannot be changed. However, there are steps you can take around your workers' compensation claims history and risk mitigation strategies to potentially help lower your rates. This is because insurers look highly upon businesses that prioritize workplace safety and have a lower history of serious injuries. 
You can potentially help lower your rates by mitigating the number of incidents experienced by your employees, and in turn, the number of serious workers' comp claims your business has. Some things that can help include: 
Conduct in-depth onboarding and training for each employee

Offer employee

training

programs on safety

Follow industry best practices regarding proper safety techniques

Have clear safety protocols that are strictly enforced

Reduce job hazards by creating a safe working environment

Investigate accidents thoroughly when they occur to see what led to the event

Quickly report injuries or illnesses when they occur, and ensure that employees receive necessary medical attention as soon as possible
While it is impossible to completely prevent occupational injury or disease, setting your team up for safety and success can have a huge impact, not just on your workers' comp premiums but also (and more important!) on the well-being of your employees. When you enact safety plans to mitigate claims and potentially lower your workers' comp rates, you're also making your business environment a safer place to work — it's a win win!
Where Can I Get Workers' Compensation For My Wisconsin Business?
We offer workers' compensation to businesses no matter where you are in Wisconsin. If you are located in Door County, Northern Highland, or Central Plain, we'll help you protect your Wisconsin employees.
If you need workers' comp coverage for your Wisconsin business, you can purchase a policy through any private insurance company, agent, or broker that is licensed to operate in the state. So even if you aren't in any of the following cities, know that we can still help you:
Milwaukee
Madison
Kenosha
Green Bay
Cerity — Workers' Comp Quotes in Minutes
Curious about what your workers' comp rates could be? At Cerity, we believe that it shouldn't take long phone calls and mountains of paperwork to find out. That's why we created a flexible, more affordable approach using proprietary tools and modern technology. A few clicks gives you the information you need — like workers' comp rates — quickly and easily. 
Visit our online quote tool to get your quote today.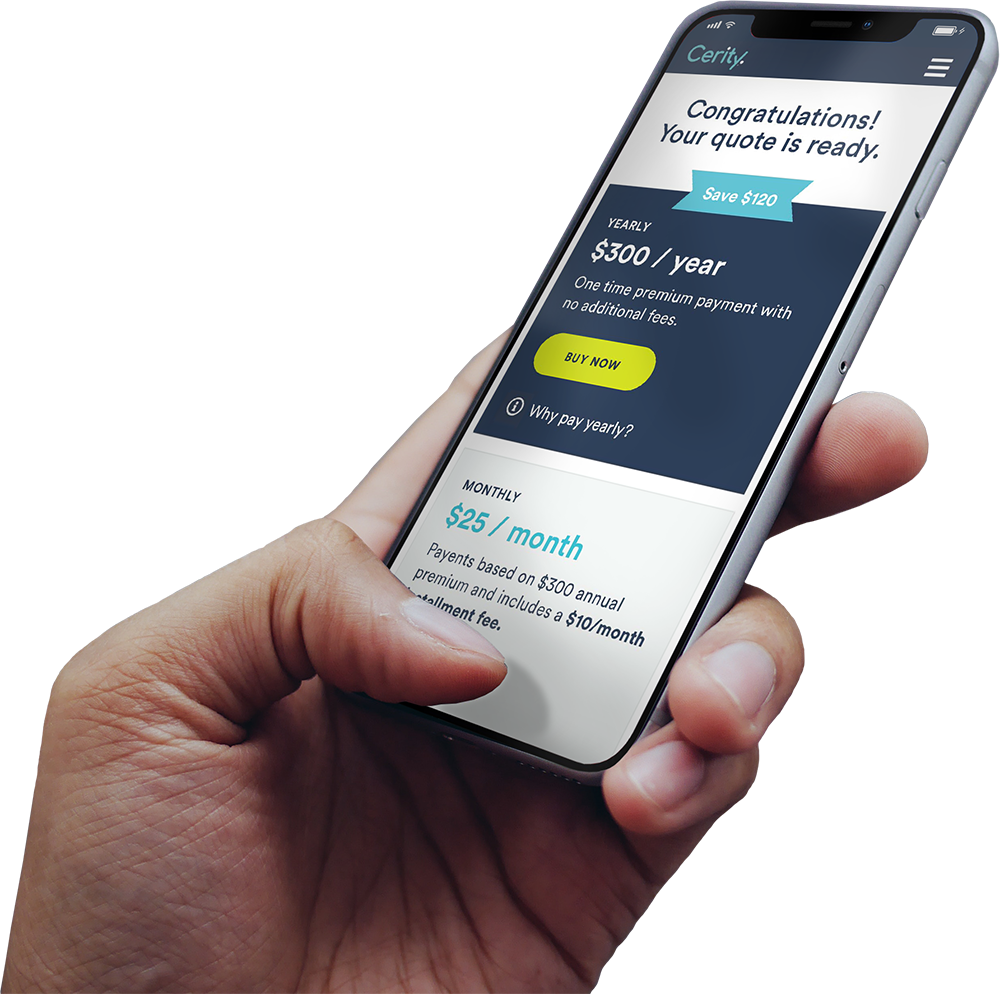 Grab your free quote today.
It only takes a few minutes, whether you're already covered or just getting started.