Workers' Compensation Insurance Policy & Law in
Mississippi
How does workers' compensation insurance work in Mississippi?
Workers' comp is an insurance policy provided by employers to pay employee benefits for job-related injuries, disability, or death. Coverage for employees begins on their first day on the job. All Mississippi employers with five or more regularly employed workers must have a policy through a private workers' comp coverage provider unless they obtain the state's approval to self-insure. 
When a business owner has fewer than five employees or is otherwise not required by law because of exceptions, workers' compensation coverage is not mandatory. However, workers' comp policies may be purchased voluntarily by employers to protect their businesses from any workplace incidents and the financial strain of lawsuits. A workers' comp policy is also a way for business owners to protect their biggest asset — their human resources. In many cases, workers' comp is tax deductible. 
In Mississippi, do all employees have to carry workers' comp?
As is the case in many states, Mississippi provides some common exceptions for employers who are legally required to have workers' comp coverage, including those who employ: 
Domestic and agricultural laborers

Nonprofit and charity workers

Employees of religious or cultural organizations

Federal employees

Some transportation and maritime employees already covered by federal compensation laws

Independent contractors
In many cases, such as those operating in an ownership capacity of any kind, while you may not be legally required to include yourself in your business' coverage, you are still eligible to do so. As with all things relating to insurance, more coverage is usually better.
Not sure if you are required to provide coverage? Don't hesitate to contact us and get clarity. Never assume that your business is exempt, as the penalties for being uninsured can be steep.
Though independent contractors are usually excluded, special protection is given to employees of subcontractors.
What does workers' compensation cover in Mississippi? 
In the event of a workplace accident or injury, Mississippi workers' comp insurance may provide coverage for medical expenses as well as payments for lost wages as a result of disabilities. This coverage includes temporary or permanent benefits.
What are Mississippi's temporary disability workers' comp benefits?
Temporary disability covers instances when your injured employee is unable to work for more than one week but is so far expected to be able to return after healing. In these cases, your worker is able to receive compensation for their lost wages while they recover. 
With temporary wage loss benefits, the employee is entitled to compensation up to two-thirds of their average weekly wage for up to 450 weeks. Sometimes, an employee is able to work but at a reduced scale. For this reason, the state classifies temporary disability benefits in two different ways:
Temporary total disability (TTD):

These benefits are paid when the employee is completely unable to work and can be up to 66-2/3% of the average weekly wage before the injury

Temporary partial disability (TPD):

These benefits are paid when an injured  employee is partially able to work before their date of maximum medical improvement has been reached. When this happens and results in a partial decrease in their earnings from their average weekly wage before the injury, the employee may receive compensation payments that are 66-2/3% of the difference between the pre-injury average weekly wage and their wage earning capacity after the injury.
What are Mississippi's permanent disability workers' comp benefits?
Once an injured employee reaches maximum medical improvement on temporary disability, their doctor will determine whether they have a permanent partial or total disability. Permanent total disability benefits are paid at the same rate as temporary total disability benefits and also have a maximum of 450 weeks.
Permanent partial disability (PPD):

If a workplace injury results in an employee's permanent impairment, but they are not totally disabled, they may qualify for permanent partial disability benefits. This is calculated in a very specific way by the state law. Injuries to certain body parts and the degree of permanent disability determine both the maximum number of weeks allowed and the amount for which benefits are paid. 

Permanent total disability (PTD):

These benefits are paid if the injury causes a total loss in a person's earning capacity. PTD benefits are paid for 450 weeks from and after the date of injury and are subject to maximum amounts. 
Both total and partial temporary disability benefit compensation are subject a maximum weekly amount and to certain time limits 
If your employee is unable to return to work full-time or can only do modified work, and as a result they are earning less than they usually do, your employee can continue to get time lost benefits, which will be two-thirds of the difference in their earnings.
What type of injuries are covered with workers' comp in Mississippi?
Mississippi state law determines what types of injuries are covered by workers' comp insurance, but there are general guidelines that can help you understand what typically qualifies for a workers' comp claim.
Injuries qualify for workers' comp coverage only if they "arise out of and in the course and scope of employment," according to Mississippi state law. That means the injury results from:
Some causal connection between the workplace injury and the employment. However, the employment does not need to be the sole cause of the injury.

When the injured worker was actively furthering their employer's business interests at the time and place of the incident, with their actions as a result of the employment a substantial contributing cause of their injury or disability.
Sometimes, a claim is disqualified from coverage because the employee was engaged in actions that are noncompensable, such as an injured employee's:
Willful misconduct or intention to cause injury or death to self or another, such as being injured in a fight at work

Intoxication from alcohol or illegal drugs

Willful refusal to use safety equipment that was provided by the employer

Willful breach of the business's rules or regulations, or an employee's willful refusal to perform duty 
Even long-term occupational injuries, including back strain from repetitive motion or carpal tunnel from typing, can qualify. When you think of work-related injuries, you probably think of one-time events — but damage can occur over a long period of time. As long as the injury or illness is clearly associated with the employee's work responsibilities, it may be eligible for compensation.
What are the penalties in Mississippi for not having workers' comp coverage?
If your business is found to be operating without workers' comp insurance when it is otherwise required to have it, you may be subject to a fine of up to $1,000. Even worse, in some cases, negligence in obtaining a workers' comp policy can result in up to a year in jail. 
Corporate officers may be required to pay workers' comp benefits out of pocket, opening themselves up to potential lawsuits in the case of a workplace incident. 
What are a Mississippi employer's responsibilities when an accident occurs?
Whether dealing with settlements or ongoing benefits claims, having proper documentation will always ensure that you and your insurance provider are able to remain compliant in caring for your employee without having to worry about being taken advantage of by a fraudulent claim. 
Though earlier tends to be better when it comes to submitting claims, the hard and fast deadline for any incident report is 30 days from the time of the injury. 
If your worker has recovered to a point where they wish to pursue a settlement and accept a final lump sum, all employers are required to retain a licensed Mississippi attorney to prepare the settlement paperwork to submit to the state Workers' Compensation Commission. 
What are workers' comp death benefits in Mississippi?
In addition to the usual benefits provided by workers' comp — payouts of lost wages, coverage of hospital bills and other medical expenses — Mississippi workers' comp provides death benefits in the case of untimely death from workplace incident or illness. Benefits are based on a percentage of the deceased's weekly wages, and are paid out at least every two weeks for up to 450 weeks total after death to surviving qualifying dependents.
Additionally, under Mississippi workers' comp law, employers or their insurance providers must pay funeral expenses as part of the death benefits, up to $5,000, along with a one-time immediate payment of $1,000 to the surviving spouse. 
How much does workers' comp insurance cost in Mississippi?
While the coverage provided by workers' comp insurance will generally be consistent across the board, the cost per employee will vary for the business owner, depending mostly on your industry. 
On the whole, for example, employers of primarily clerical workers will pay a lower premium than jobs with higher physical risks, such as warehouses or carriers.  Regardless of your industry, there are several steps you can take to minimize your premium, including:
Implementing a safety program

Reporting accidents immediately

Utilizing OSHA resources
Several factors unique to your business will contribute to your exact insurance premiums. 
Some of these factors include: 
The type of service your business provides

The value of your business property, including any equipment or supplies

The annual revenue of your business

The location of your business

The number of employees your business employs
At Cerity, we work with over a hundred different industries; to find your type of business and see more information specific to you, click here. 
As a general rule of thumb, when it comes time for your visit from the insurance assessors, if you are able to demonstrate a safe work environment, thorough precautionary training, and other risk management best practices, you will be able to cut down further on your premiums. 
Where can I get workers' comp for my Mississippi business?
At Cerity, we believe getting workers' compensation coverage for Mississippi businesses should be easy. That's why we've created a faster, more affordable approach to workers' comp insurance coverage. With our proprietary tools and modern technology, we're able to provide insurance quotes quickly — all without phone calls or paperwork. 
We offer workers' compensation to businesses no matter where you are in Mississippi. If you are located near the Delta, Red Clay Hills, or Appalachian Foothills, we'll help you protect your Mississippi employees.
If you need workers' comp coverage for your Mississippi business, you can purchase a policy through any private insurance company, agent, or broker that is licensed to operate in the state. So even if you aren't in any of the following cities, know that we can still help you:
Jackson
Gulfport
Hattiesburg
Check out our free business insurance quote tool online to get a free quote and find out how easy protecting your business can be.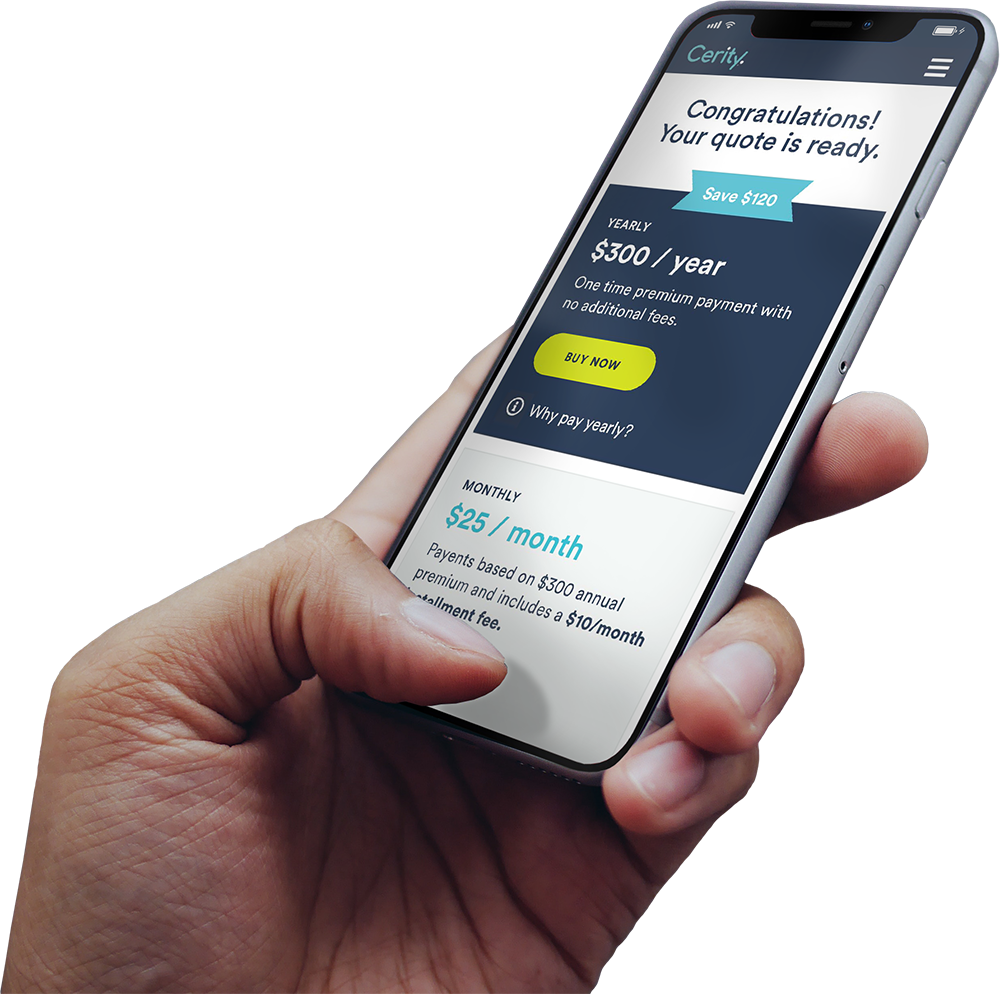 Grab your free quote today.
It only takes a few minutes, whether you're already covered or just getting started.