Workers' Compensation Insurance in
California
How Does Workers' Comp Work in California?
Being a business owner in bustling California is a big job. However, your impressive business acumen isn't the only skill needed to protect your bottom line in the golden state. Workers' compensation insurance can help you protect your most important asset — your people — while also safeguarding you from liability.
Workers' compensation is one of the nation's oldest social insurance programs. It was instituted in most states, including California, during the second decade of the 20th century as a trade-off between employers and employees.
According to the California state website, through workers' comp insurance employees in California are entitled to receive prompt, effective medical treatment for on-the-job injuries or illnesses no matter who is at fault and, in return, are usually prevented from suing employers over those injuries.
Workers' compensation in California is required by law to be provided by the employer for their employees. When an employee is injured or gets sick at work, workers' comp insurance provides benefits that cover:
Medical expenses, including emergency and ongoing medical care.
Temporary or permanent disability benefits in the event the worker cannot work as a result of their injury or illness.
Death benefits, including funeral costs and support for surviving family members in the event an employee dies as a result of their workplace injury or illness.
Employers may be curious about what steps they should take if an employee gets hurt. Although laws and requirements may vary from state to state, generally the process is consistent throughout the country. Employees should notify their employer of the injury as soon as possible. Once notified, the employer should provide the employee with the required information to file a claim. Once the claim is submitted to the insurer, employees and employers will be in communication with each other and with the insurer throughout the claims process.
If you don't believe an employee's claim is valid, talk to your insurance provider to see if your employee's injury qualifies as a workplace injury in accordance with your workers' comp policy. Most workers' comp claims aren't disputed, but if a disagreement between employees and employers happens, they can be resolved with the help of the California Division of Workers' Compensation. Read more about the workers' comp claims process here.
Who Needs to Have Workers' Compensation in California?
The workers' compensation law in California states that virtually all employers are required to have insurance, even if they have only one employee. This also includes those in the construction industry and part-time employees.
While there are some exceptions, such as most sole proprietors, these are not the majority of cases. Even then, having workers' comp can prevent unnecessary devastating expenses for sole proprietors in the event of an injury.
In terms of corporations, unless they are totally owned by the directors and officers. All executive officers and directors have to be included in workers' comp coverage. In the event the corporation is fully owned by directors and officers, those individuals may elect to be excluded from workers' comp benefits.
Who Administers Workers' Comp Insurance in California?
In California, the Department of Industrial Relations is the entity that regulates workers' compensation in the state. Employers looking for information and resources for workers' comp claims and laws can visit the agency's workers' comp division.
What Do I Risk By Not Having Workers' Comp Insurance?
Failure to have adequate workers' compensation insurance coverage in California can have many penalties. It can be a criminal offense, resulting in both hefty fines and even imprisonment. Some of the penalties of being non-compliant to the state's workers' comp laws include:
A stop-work order, which requires businesses to cease business until coverage is obtained. Failure to shut down could result in fines up to $10,000 or more and possible jail time.
A lien against your business's property could be filed if the Uninsured Employer's Benefit Trust Fund must cover the cost of benefits for your injured worker.
Penalties ranging up to twice the amount your business would have paid in insurance premiums during the time you went without coverage.
In the event an employee is injured, your business could be liable for penalties up to $10,000 per employee, with a maximum employee of $100,000.
What is Covered By Workers' Comp Insurance in California?
Workers' comp covers any eligible injury, no matter how seemingly big or how small. Whether dealing with paralysis or loss of limb from a heavy-machinery accident or a muscle strain from a repetitive motion in the office, workers' comp insurance coverage will take care of you and your employees. There are two basic types of covered injuries:
A traumatic event. Some injuries result from a single incident — for example, a construction worker who falls from a roof or a truck driver who is in an auto accident.
Repeated exposures. On the other hand, some injuries result from repeated exposure to dangerous scenarios, such as an administrative assistant who develops carpal tunnel syndrome or a painter who develops cancer as a result of repeated fumes exposure.
In some cases, workers' compensation covers psychological injuries. While the laws are still less clear on these, an employee who can demonstrate work was the predominant cause of the psychological injury may have a valid claim.
What Are California's Workers' Comp Death Benefits?
Death benefits are money payable to an employee's surviving spouse, children, or other benefits when the employee dies from work-related injuries. Calculated based on the total temporary disability rate but not less than $224.00 per week, death benefits continue generally until either the maximum amount has been paid out or minor dependents reach the age of 18. The specific amount paid out for death benefits does have some special criteria and exceptions to the maximum, especially in the case of disabled dependents.
What Are California's Permanent Disability Benefits?
Permanent total disability benefits are paid out when a workplace accident or injury results in the employee being identified at a certain rate of whole person impairment. These benefits are paid to the injured worker for life and are calculated based on California's state average weekly wage.
In addition to payments meant to supplement lost wages, workers' compensation benefits cover reasonable burial expenses — $10,000 for workplace injuries that occur after January 1, 2013 — and mileage reimbursement for travel for medical treatment related to workplace injury.
How Much Does Workers' Compensation Insurance Cost in California?
As in other states, the cost of workers' compensation premiums in California varies depending on a variety of circumstances unique to each business. Private insurers can set their own rates. The best way to get an idea of what coverage may cost your business is to get quotes from multiple companies. Remember that every business's quote will be different. Low-risk businesses will typically have lower premiums than high-risk businesses.
Some of the factors used to determine your workers' comp premium quote include:
The location of your business
The size of your business and the number of employees you have
The industry in which your business operates
The class codes that apply to your business
Your business's workers' comp claims history
No matter how safe your workplace may seem, there's a reason that California has such comprehensive requirements for coverage. Even something as simple as a call center can be full of hazards in even the best of circumstances, and the major costs associated with hospital visits and missed work can be devastating to you and your employees.
To get a better idea of how to reduce the chance of injury — and potentially lower your insurance premiums — check out some common safety precautions.
What Are The Penalties For Not Having Workers' Comp Insurance in California?
Compared to many states, California's penalties for not providing workers' comp insurance are fairly severe. According to the California Labor Code, a failure to provide workers' comp is classified as a misdemeanor and can result in fines of no less than $10,000 and up to a year in jail. In many cases, those penalties can escalate to $100,000 for illegally uninsured employers.
In addition to the legal fines, employers without proper coverage are legally on the hook for all costs associated with a workplace injury, racking up costs that can add up quickly.
Given the rising costs of healthcare, the savings of foregoing insurance coverage are simply not worth it.
How Much Does California Workers' Comp Insurance Cost?
While cost is certainly a primary consideration for any business owner, the state of California recommends considering a workers' compensation insurance carrier that provides high-quality services, claims support, and industry familiarity.
When calculating your workers' comp insurance premiums, your insurance company will look at a number of elements, like your industry classification, your company's history of work-related injuries, and your total payroll.
Several factors that are unique to your business will contribute to your workers' comp insurance premiums. Some of these factors include:
The type of service your business provides
The value of your business property, including any equipment or supplies
The annual revenue of your business
The location of your business
The number of employees your business employs
At Cerity, we work with over a hundred different industries; to find your type of business and see more information specific to you, click here.
Where Can I Get Workers' Comp For My California Business?
You can get workers' comp coverage a few different ways in the state of California. You can choose to get coverage through any private insurer licensed to do business in the state. You can also choose to get coverage through the California state fund. In addition, you can opt to self-insure. However, be aware that self-insurance requires that your business meets certain financial requirements and must apply to the state to be approved. Most businesses in California choose to compare quotes from multiple private insurers to get the best rate.
What Cities Can I Get Workers' Compensation For My California Business?
We offer workers' compensation to businesses no matter where you are in California. If you are in the Sierra Nevada, North Coast or working in the Bay Area we can help you protect your California employees.
If you need workers' comp coverage for your California business, you can purchase a policy through any private insurance company, agent, or broker that is licensed to operate in the state. So even if you aren't in any of the following cities, know that we can still help you:
Fresno
Los Angeles
Sacramento
San Diego
San Francisco
San Jose
Hassle-free Workers' Comp For Your California Business
At Cerity, we believe getting workers' compensation coverage for your California businesses should be easy. That's why we've created a faster, more affordable approach to workers' comp insurance coverage. With our proprietary tools and modern technology, we're able to provide insurance quotes quickly — all without phone calls or a tedious process.
Check out our free business insurance quote tool online to get a free quote and find out how easy protecting your business can be.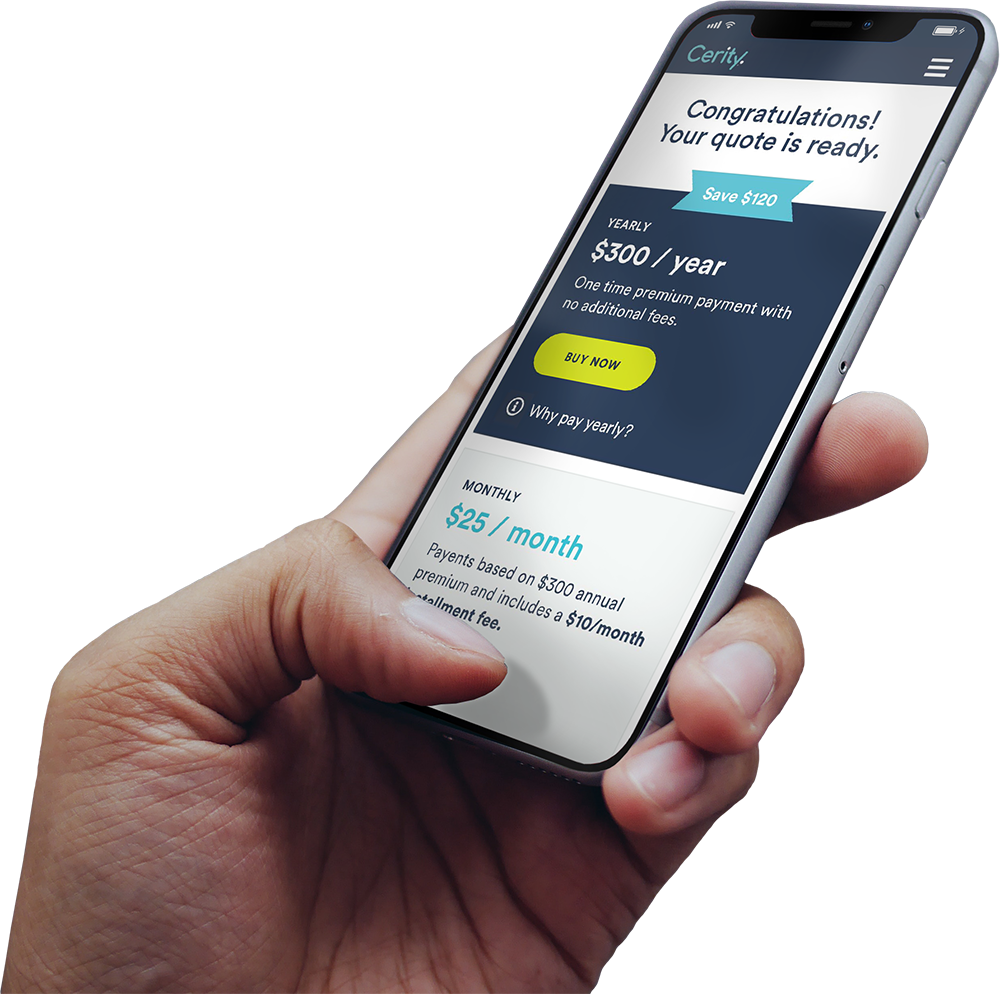 Grab your free quote today.
It only takes a few minutes, whether you're already covered or just getting started.