Workers' Compensation Insurance Policy & Law in
Washington, DC
How Is Workers' Compensation Insurance Defined in Washington, DC?
Washington, DC, defines workers' compensation as a no-fault insurance program that provides benefits to workers who experience on-the-job injuries or illnesses. The system is mutually beneficial, because it gives the employee defined medical and indemnity benefits in exchange for the employer's protection against liability suits in relation to the incident. Washington, DC, employers must secure coverage and pay the premiums for coverage for their employees.
What Are the Laws Regarding Workers' Compensation Coverage in Washington, DC? 
In the District of Columbia, almost all employers are required to have workers' compensation coverage. The district's law states that any employer with one or more employers must obtain coverage for all of their employees. Exceptions include: 
Sole proprietors

Casual workers

Unpaid volunteers

Certain federal workers who are covered by different laws

Certain domestic workers
What Does Workers' Compensation Insurance Cover in Washington, DC?
Medical treatment and indemnity benefits offered by workers' compensation policies in Washington, DC, include: 
Medical benefits

. Medical care, services, and supplies including medical, surgical, hospital, osteopathic, dental, podiatric, and chiropractic care. In addition, medical care such as medications, X-rays, braces, prosthetic devices, and wheelchairs are also covered. 

Temporary total disability (TTD)

. If the worker is totally disabled for a certain time period, benefits are paid at 66 ⅔% of the average weekly wage.

Temporary partial disability (TPD)

. If the worker is partially disabled for a certain time period, benefits are paid at 66 ⅔% of the average weekly wage.

Permanent partial disability (PPD)

. If the worker has permanently lost a body member or the use of a body member, benefits are based on a scheduled award and TPD or TTD.

Permanent total disability (PTD)

. If the worker is disabled and cannot earn any wages in the same or other employment or has loss of both hands, arms, feet, legs, eyes, or any two thereof, benefits may be paid at 66 ⅔% of the average weekly wage.

Disfigurement

. If the worker experiences serious disfigurement to the face, head, neck, or normally exposed bodily area(s), they are entitled to a compensation award of up to $7,500.

Death benefits

. If a worker passes away, their beneficiaries are entitled to burial expenses and lost income benefits. 
What Are the Penalties in Washington, DC, for Not Having Workers' Comp Insurance Coverage?
Washington, DC, takes workers' compensation very seriously. This means that employers who are legally required to have coverage and are found to be noncompliant may be subject to up to $10,000 in fines. In addition, failure to file certain required forms or reports as outlined by law may result in additional penalties.
Learn more about workers' comp coverage requirements in states other than Washington, DC, here. 
What Types of Injuries Are Covered by Washington, DC, Workers' Comp?
Washington, DC, law states that any injury or illness an employee experiences on the job is covered by workers' comp, regardless of how serious or minor it may be. However, generally, in most states' workers' comp does not cover injuries such as:
Injuries that are the result of intentional self-harm or harm from drug use, alcohol use, or fighting

Injuries that do not fall within the general "course and scope" of the worker's employment
For more information about the workers' comp claim process, visit our learning center. 
What Are Workers' Comp Death Benefits in Washington, DC?
In Washington, DC, if an employee dies as a result of a work-related injury or occupational disease, their surviving spouse and dependents, as defined by law, may be entitled to death benefits and burial expenses up to $5,000. Lost income benefits paid typically amount to 50% of the deceased worker's average weekly wage and cannot exceed the maximum weekly benefits amount as outlined by law. 
If the worker has no beneficiaries, $5,000 will be paid into the district's Special Fund, a program that provides benefits in cases of uninsured employers or instances where injuries combine with pre-existing disabilities. 
How Do Workers' Comp Settlements Work in Washington, DC? 
As in other states, workers' comp settlements in Washington, DC, are mutually beneficial agreements made between the injured worker, the employer, and the insurance company that close workers' comp claims completely. Settlements usually result in the employee being paid an agreed-upon amount of compensation (via structured monthly payments or one lump sum). In exchange, the worker agrees not to pursue additional benefits or civil litigation in relation to the claim in the future, and the claim is closed permanently. 
What Is the Statute of Limitations for Workers' Comp in Washington, DC? 
In Washington, DC, injured employees must file their workers' comp claim within one year from the date of the accident or discovery of the occupational disease.
How Much Does Workers' Compensation Insurance Cost in Washington, DC?
As in other states, the cost of workers' comp insurance premiums in Washington, DC, will vary depending on a variety of circumstances. Private insurers set their own rates, which are often determined using several factors that are unique to each business. 
For district business owners looking for coverage, the best way to tell how much you'll pay is to compare quotes from multiple companies. Every business's premiums will be different depending on claims history and business categorization. For example, if your business is in an industry considered low-risk, like accounting, your rates might be lower than those of businesses that are in a high-risk industry, like oil and gas. 
Many factors unique to your business will be used to determine your exact insurance premiums. 
Some of these factors include: 
The location of your business

The size of your business and the number of employees 

The industry in which your business operates
Hoping to lower your workers' comp premiums in Washington, DC? Insurance providers consider how seriously businesses take workplace safety when calculating workers' comp premium rates. This means that taking simple steps such as enacting employee training sessions, following industry best practices, and creating safety protocols could potentially help lower your insurance premiums. In addition, reporting work injuries promptly, ensuring injured workers receive prompt medical treatment, and providing transitional duty/return to work opportunities can reduce claim costs. 
How Do I Get Workers' Comp for My Washington, DC, Business?
Washington, DC, employers can purchase workers' comp coverage from any private insurance agent, company, or broker who is licensed to operate in the district. Employers may also apply to self-insure. 
When it comes to businesses that self-insure, it's important to know that this is only available to businesses that meet certain financial requirements, such as those posting a substantial bond. This is because self-insurance requires the business to be held financially responsible for the cost of all expenses in the event of a claim. With self-insurance, business owners must pay out of pocket without the assistance of insurance. This is not an ideal choice for most businesses, as it can be extremely costly in the event of an incident.
Luckily, businesses in Washington, DC, that want to get coverage can do so easily and quickly once they partner with the right private insurance provider. Cerity has created a faster, more affordable way to get workers' comp. We help District of Columbia business owners like yourself get insurance premium quotes fast — without phone calls or paperwork. Using proprietary tools and modern technology, we provide business owners with quick quotes and instant policies. 
Visit our free online quote tool and begin protecting your Washington, DC, business today.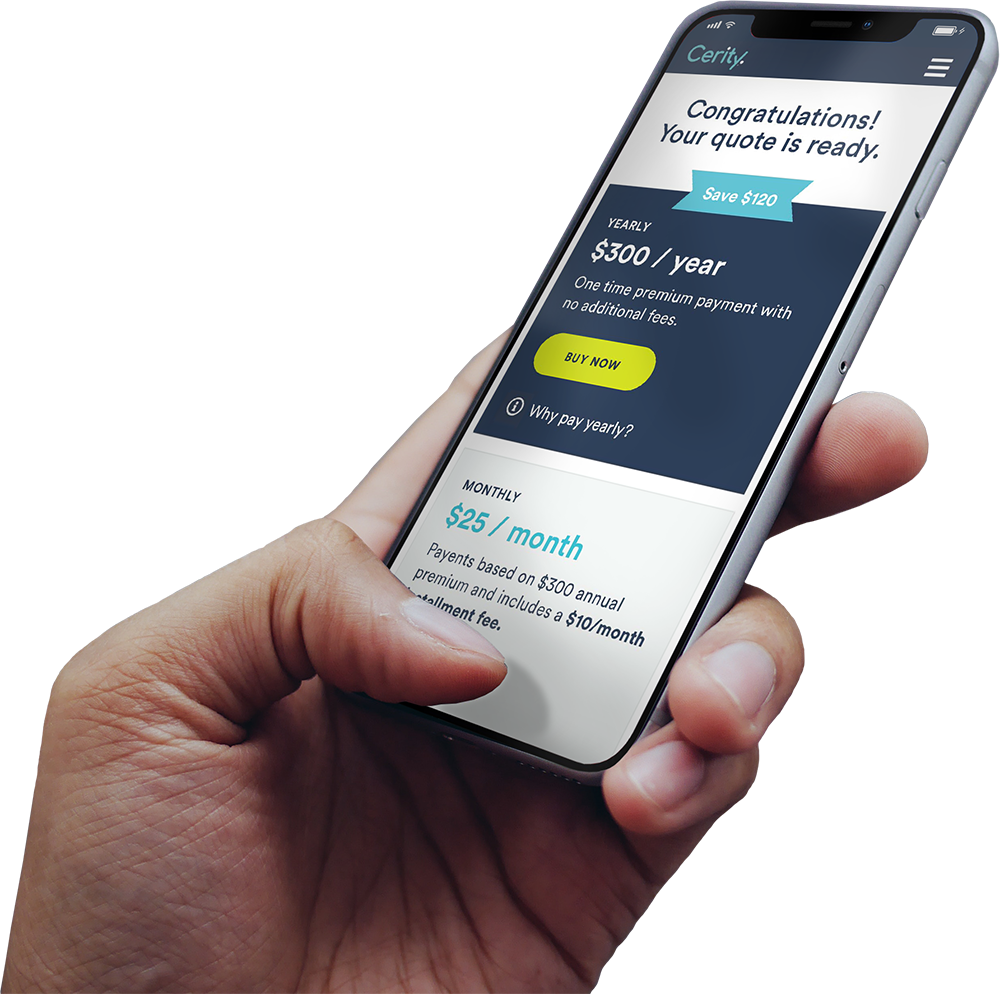 Grab your free quote today.
It only takes a few minutes, whether you're already covered or just getting started.