Workers' Compensation Insurance in
Michigan
How Is Workers' Compensation Insurance Defined in Michigan?
In Michigan, the Workers' Disability Compensation Agency governs and administers workers' compensation with the goal of protecting its residents and workers when they may be at their most vulnerable. 
Business owners can protect themselves, too, by ensuring their workers' comp coverage gives them the coverage they need to keep their employees safe without paying unnecessarily high premiums or wasting time on outdated insurance tricks. 
Who Are the Legal Requirements for Workers' Comp Insurance in Michigan?
Based on the Workers' Disability Compensation Act of Michigan, nearly all employers in Michigan are covered by workers' compensation. This includes:
Public businesses, such as schools

Private employers with three or more employees at any one time

Private employers who employ one or more workers for 35 or more hours per week for 13 or more weeks
There are a few classes of workers who are covered by federal laws and are not covered by the Workers' Disability Compensation Act of Michigan. These include: 
Federal government employees like postal workers or members of the armed forces 

Interstate railroad workers

Seamen on navigable waters

Longshoremen and some harbor workers
Virtually all other workers and employers are subject to Michigan's law of workers' compensation. Even those who are exempt, such as some very small business owners, might consider the investment in a small workers' comp policy a safer bet than having to pay constantly rising medical bill costs, lost wages, and other expenses for themselves or an injured employee out of their own pocket. 
Even one workplace accident can be devastating to a small business owner without the proper insurance coverage in place. 
What does workers' comp insurance cover in Michigan?
In the event of a workplace injury, Michigan workers' comp insurance provides both compensation for medical coverage and payments for lost wages during the period the injured employee is unable to work to their full pre-injury capacity.
If the employee is unable to return to work full-time — or can only do modified work —  and as a result, they are earning less than they usually do, they can continue to get wage benefits, which will be around two-thirds of the difference in their earnings.
Sometimes, an employee suffers an injury severely enough that they will never be able to return to any job full-time at the capacity they did before their injury. In these cases, a doctor will evaluate the employee for permanent disability, assigning a percentage of disability to the employee based on state guidelines. The continued compensation the employee receives under worker's comp will be calculated according to this information. 
What Are the Penalties in Michigan for Not Having Workers' Comp Insurance Coverage?
Employers who are required to have workers' comp coverage for their employees will face stiff penalties if they are found to be without coverage. The Michigan Workers' Compensation Agency enforces the laws regarding workers' comp in the state and can petition for a stop-work order from the court for businesses found noncompliant and uninsured. 
In addition, employers without workers' comp can be fined $1,000, be faced with jail time ranging anywhere from 30 days to six months, and even be subject to legal action from the injured employer. 
To learn more about workers' comp coverage requirements in other states, click here. 
What Types of Injuries are Covered Regarding Michigan Workers' Comp?
Michigan state law outlines what types of injuries are usually covered by workers' compensation insurance, but generally, the following guidelines can help business owners understand what typically qualifies for a workers' comp claim.
The types of injuries typically covered by workers' comp are:
Injuries that are not the result of intentional self-harm or harm that results from drug use, alcohol use, or fighting.

Injuries that fall within the general "course and scope" of the worker's employment. Long-term occupational injuries, including back strain from repetitive motion. 
For more information about the worker's comp claim process, visit our learning center. 
What Are Workers' Comp Death Benefits in Michigan?
If an employee passes away as a result of a workplace injury or illness, their surviving family members such as a spouse or children may be eligible to receive benefits from workers' comp to compensate them financially or the lost income of the deceased worker.
Death benefits are paid for a total of 500 weeks, except where the worker is survived by minor children, in which the period can be longer. If a child is physically or mentally incapacitated, then the benefits can continue indefinitely, but a surviving spouse, however, can only receive the 500-week maximum.
How Do Workers' Comp Settlements Work in Michigan? 
Workers' comp settlements are allowed when it will result in a mutually beneficial agreement between an injured or ill employee, the employer, and the insurer. In Michigan, workers' comp settlements generally close claims, meaning workers can no longer seek additional benefits after the settlement agreement. Settlements in Michigan are usually offered in either a single lump-sum or structured payments paid out over time.
To come to an agreement regarding workers' compensation settlements in Michigan, each case must be heard before the Michigan Workers' Compensation Agency.
What Are the Statutes of Limitations Regarding Workers' Comp in Michigan? 
In Michigan, injured or ill workers are required to give their employers notice of their injury within 90 days of the date of the injury either verbally or in writing. From there, workers have to file a claim within two years of the date of their injury or the diagnosis of their work-related illness. 
How Much Does Workers' Compensation Insurance Cost in Michigan?
In Michigan, private insurers can set their own rates. However, the average cost for workers' compensation is around $0.74 for every $100 that employers typically spend on payroll. This data is courtesy of the National Academy of Social Insurance. 
Those looking for coverage can compare quotes before purchasing a policy to find the ideal rate for their budget, but it's important to remember that every business's premiums will be different. Low-risk jobs like office positions and high-risk jobs like transportation will cost insurers differently.
Many factors unique to your business will be utilized to determine your exact insurance premiums. 
Some of these factors include: 
The location of your business

The size of your business and the number of employees 

The industry in which your business operates
For businesses who hope to make a positive, proactive impact on their insurance costs, risk mitigation is the best step. When determining rates, insurance providers evaluate how seriously businesses take workplace safety. This means that if your business takes steps like enacting employee training sessions, creating safety protocols, and other safety measures, your insurance premiums could potentially be lowered. 
Where Can I Get Workers' Compensation For My Michigan Business?
We offer workers' compensation to businesses no matter where you are in Michigan. If you are located in Central Michigan, Copper Country, or the Upper Peninsula, we'll help you protect your Michigan employees.
If you need workers' comp coverage for your Michigan business, you can purchase a policy through any private insurance company, agent, or broker that is licensed to operate in the state. So even if you aren't in any of the following cities, know that we can still help you:
Detroit
Grand Rapids
Flint
Lansing
Ann Arbor
Kalamazoo
How Can I Obtain Workers' Compensation Insurance for My Employees in Michigan?
In Michigan, workers' compensation insurance can be obtained from insurance companies that are licensed to operate in the state. With the right provider, getting workers' comp coverage can be quick and easy. 
At Cerity, our goal is to help business owners in Michigan get the insurance coverage they need without the hassle. Our faster, more affordable approach to workers' comp insurance uses proprietary tools and modern technology to get Michigan businesses coverage — without phone calls or paperwork.
To get workers' compensation insurance for your Michigan business, check out our free online quote service and discover how easy getting workers' compensation coverage can be.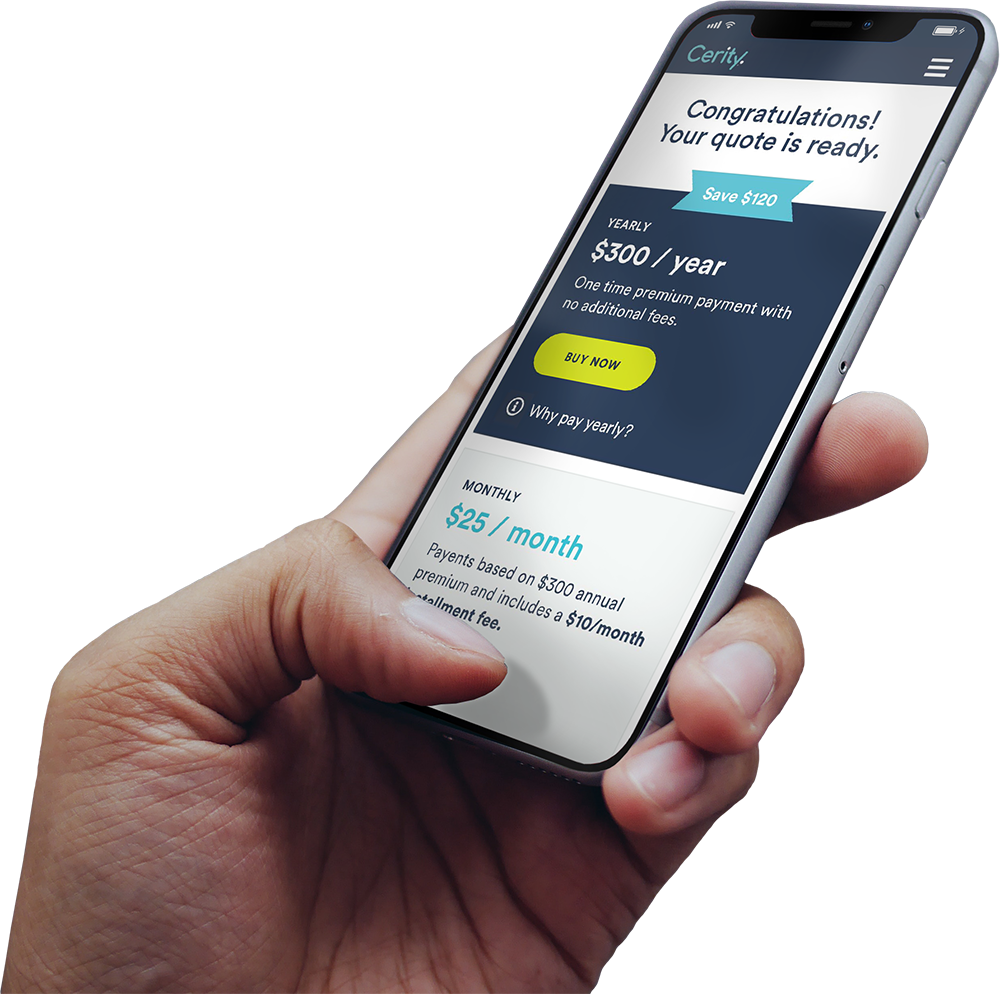 Grab your free quote today.
It only takes a few minutes, whether you're already covered or just getting started.