Workers' Compensation Insurance in
Virginia
How Is Workers' Compensation Insurance Defined in Virginia?
The state of Virginia defines workers' compensation insurance as a system of insurance for workers who have experienced workplace injuries or illnesses. Workers' compensation in Virginia is mutually beneficial for employers and employees. For the employer, it provides an exclusive remedy, shielding the employer from civil suits in relation to workplace injuries or illnesses. For the injured worker, it provides prompt but limited benefits. 
What Are the Laws Regarding Workers' Compensation Coverage in Virginia? 
The law in Virginia requires most employers to carry workers' compensation insurance in order to cover their workers in the event of a work injury. This includes employers who regularly employ more than two part-time or full-time workers. For businesses that hire subcontractors to perform the same trade/occupation as the business, the subcontractor's employees are included in the total number of employees when determining if the business is required to carry coverage. 
In Virginia, the following are all considered employees and must be counted when determining coverage requirements: 
Corporate officers and LLC managers

Family members who work for the business

Undocumented workers

Temporary, seasonal, and part-time employees

Minors

Workers for charities, churches, and nonprofit organizations
Are Independent Contractors Considered Workers in Virginia? 
Many businesses employ workers as "independent contractors" and pay them on a 1099. In Virginia, as it pertains to determining employee status, an employee's designation as a 1099 worker is not important. In the event that an independent contractor is injured, the courts will consider the facts of the work relationship, weighing circumstances such as: Was the worker selected? Can the worker be dismissed? Does the worker earn or pay wages? Does the business owner have the ability to exert control over how the worker's duties are performed? Often if employer control is found, the courts will decide that there is an "employee" relationship. 
What Does Workers' Compensation Insurance Cover in Virginia?
In the event of a workplace accident, Virginia workers' comp insurance provides a variety of benefits, including:
Medical benefits including but not limited to: 

Mileage reimbursement for medically necessary travel 

Authorized primary doctor and specialist(s) when medically necessary

Authorized medically necessary care and treatment related to your injury such as doctor's visits, hospitalization, physical therapy, medical tests, prescription drugs, prostheses, etc.

Temporary total and partial disability benefits

Permanent total and partial disability benefits

Death benefits
Lost wage benefits in the state of Virginia typically amount to 66 ⅔% of the worker's average wages for the 52 weeks prior to the injury, subject to a state-mandated maximum reimbursement amount. For additional information on lost wage benefits, refer to the Virginia state Worker Benefits Guide. 
What Are the Penalties in Virginia for Not Having Workers' Comp Insurance Coverage?
Virginia takes workers' compensation very seriously. This means that employers who are legally required to have coverage and are found to be noncompliant may be subject to penalties or fines, such as: 
Civil penalties of up to $250 for each day uninsured, subject to a maximum penalty of $50,000

Liability to any employee for compensation for their injuries

Orders prohibiting the employer from operating their business

Criminal prosecution
Learn more about workers' comp coverage requirements in states other than Virginia here. 
What Types of Injuries Are Covered by Virginia Workers' Comp?
Virginia state law outlines specifically which types of injuries are covered by workers' comp insurance. However, there are general guidelines that can help employers understand what typically qualifies for a workers' comp claim.
The types of injuries typically covered by workers' comp are:
Injuries that are not the result of intentional self-harm or harm from drug use, alcohol use, or fighting

Injuries that fall within the general "course and scope" of the worker's employment, such as long-term occupational injuries like back strain from repetitive motion
For more information about the workers' comp claim process, visit our learning center. 
What Are Workers' Comp Death Benefits in Virginia?
In Virginia, the dependents of workers who pass away as a result of a work-related injury or illness can receive death benefits including burial expenses of up to $10,000, reasonable transportation expenses of up to $1,000, and financial compensation for wage replacement. The state considers dependents to be a spouse, children under the age of 18, and children between the ages of 18 and 23 who are enrolled in an accredited educational institution. 
In order to receive death benefits, copies of the death certificate, marriage certificates, or birth certificates must be provided. 
How Do Workers' Comp Settlements Work in Virginia? 
As in other states, workers' comp settlements in Virginia are mutually beneficial agreements made between the injured worker, the employer, and the insurance company that close workers' comp claims completely. Settlements usually result in the employee being paid an agreed-upon amount of compensation (via structured monthly payments or one lump sum). In exchange, the worker agrees not to pursue additional benefits or civil litigation in relation to the claim in the future, and the claim is closed permanently. 
What Are the Statutes of Limitations Regarding Workers' Comp in Virginia? 
In Virginia, injured employees must file their workers' comp claim within two years from the date of the accident. Workers who experienced occupational diseases have two years from the date they were told the disease was caused by their work and five years from the date they were last exposed at work. If after returning to work the employee is again disabled, they must file a claim within two years of the date for which they were last paid compensation under an award.
How Much Does Workers' Compensation Insurance Cost in Virginia?
As in other states, the cost of workers' comp insurance premiums in Virginia varies depending on a variety of factors unique to your business. This includes how hazardous work in your industry is. In Virginia, the three main factors that establish how workers' compensation premium is calculated are: 
Classification Code (Industry)

Payroll

Experience Modifier (Claim/Loss History)  
Higher premiums will be charged for businesses in more hazardous industries, businesses with higher payrolls, and businesses that have a history of more claims. 
Curious how you can help lower your workers' comp premiums in Virginia? The state outlines various actions that you can take to reduce costs. Insurance providers consider how seriously businesses take workplace safety when calculating workers' comp premium rates. This means that taking simple steps such as enacting employee training sessions, following industry best practices, and creating safety protocols could potentially help lower your insurance premiums. 
In addition, reporting work injuries promptly, ensuring injured workers receive prompt medical treatment, and providing transitional duty/return to work opportunities can reduce claim costs. 
How Do I Get Workers' Comp for My Virginia Business?
Business owners seeking workers' comp coverage in Virginia can get coverage in four ways. These methods include commercial coverage, self-insurance, group self-insurance, or through a registered professional employer organization (PEO). Commercial coverage is offered through any commercial insurance company, agent, or broker that is licensed to operate in the state. 
When it comes to businesses that self-insure, it's important to know that this option is only available to businesses that meet certain financial requirements. This is because self-insuring requires the business to be held financially responsible for the cost of all expenses in the event of a claim. With self-insurance businesses must pay out of pocket without the assistance of insurance. This is not an ideal choice for most businesses, as it can be extremely costly in the event of an incident. 
Where Can I Get Workers' Compensation For My Virginia Business?
We offer workers' compensation to businesses no matter where you are in Virginia. If you are located on the Coastal Plain, Piedmont, or Blue Ridge Mountains, we'll help you protect your Virginia employees.
If you need workers' comp coverage for your Virginia business, you can purchase a policy through any private insurance company, agent, or broker that is licensed to operate in the state. So even if you aren't in any of the following cities, know that we can still help you:
Virginia Beach
Richmond
Norfolk
Chesapeake
Arlington
Roanoke
Luckily, businesses in Virginia can get coverage easily and quickly when they find the right private insurance provider. Cerity is home to a faster, more affordable way to get workers' comp. We help Virginia business owners like yourself get insurance premium quotes fast — without phone calls or paperwork. Using proprietary tools and modern technology, we provide business owners with quick quotes and instant policies. 
Visit our free online quote tool and begin protecting your Virginia business today.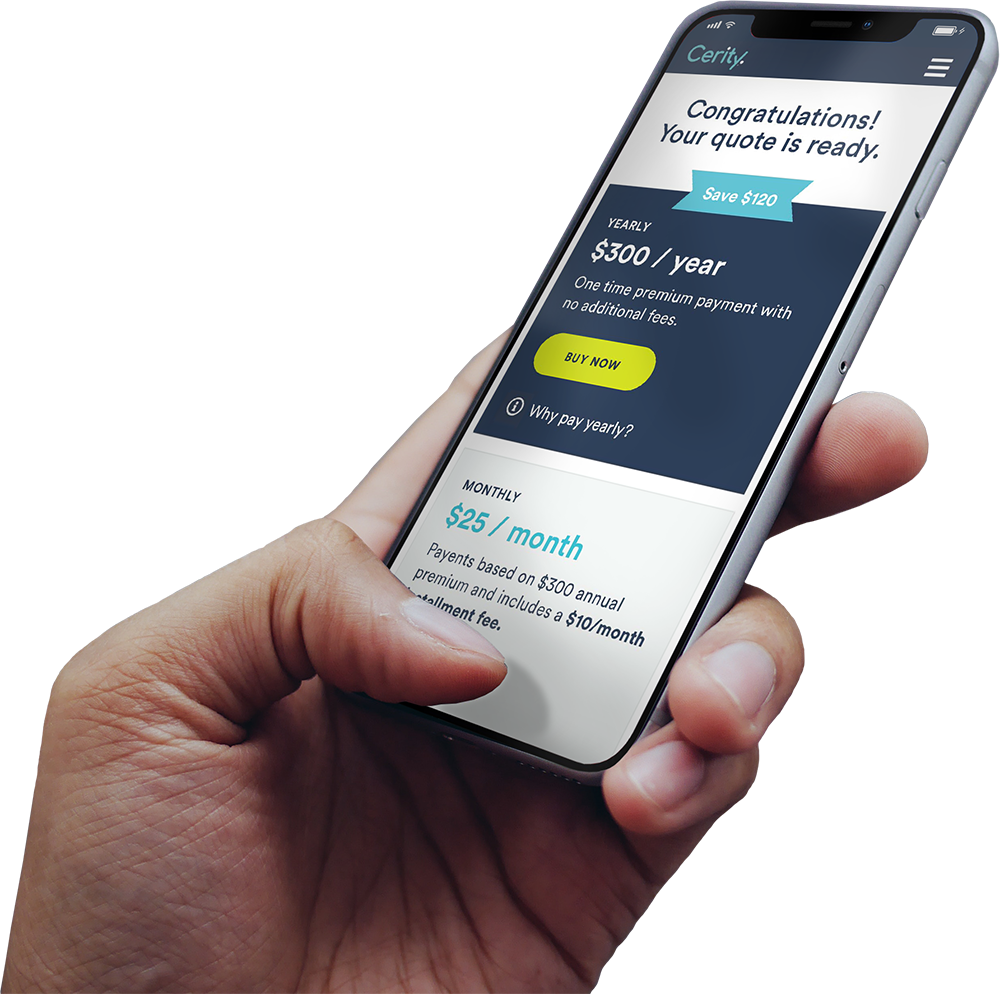 Grab your free quote today.
It only takes a few minutes, whether you're already covered or just getting started.