Workers' Compensation Insurance Policy & Law in
Rhode Island
Rhode Island defines workers' compensation as a form of "no fault" insurance that is designed to provide coverage to employees who have been injured or have gotten sick at work. Workers' comp insurance provides coverage for things such as medical expenses and lost wages. This insurance is provided by the employer. "No fault" systems of insurance mean that coverage is offered regardless of who is at fault for the accident, with the exception of intentional acts or specific circumstances as outlined by Rhode Island state law.
What Are the Laws That Govern Workers' Compensation Insurance in Rhode Island?
According to Rhode Island state law, "Every person, firm, public service or private corporation, including the State, that employs employees regularly in the same business is subject to the Workers' Compensation law." This means nearly every employer with one or more employees must provide workers' compensation. Exemptions include: 
Sole proprietors

Partners

Independent contractors

Certain real estate employees

Some agricultural employees

Some domestic service employees

Any person who was appointed a corporate officer between January 1, 1999, and December 31, 2001, and was not previously an employee of the corporation — although these people can opt to have coverage if they wish
What Does Workers' Compensation Insurance Cover in Rhode Island?
Workers' comp in Rhode Island covers expenses related to on-the-job injuries or illnesses. According to Rhode Island state law, workers' comp in the state covers the following: 
Medical reimbursement for all medical expenses related to the injury or illness

Weekly compensation for total incapacity

Weekly compensation for partial incapacity

Vocational rehabilitation

Death benefits payable to the worker's surviving dependents
What Are the Penalties in Rhode Island for Not Having Workers' Comp Insurance Coverage?
Rhode Island takes workers' compensation very seriously. This means that employers who are legally required to have coverage and are found to be noncompliant may be subject to penalties such as: 
$250 fine for failure to display the legally required workers' comp poster

$1,000 for each noncompliant day

Potential for felony charge, $10,000 fine, and two-year prison sentence

Potential for court-ordered shutdown of the business
Learn more about workers' comp coverage requirements in other states here. 
What Types of Injuries Are Covered by Rhode Island Workers' Comp?
Rhode Island state law outlines specifically what types of injuries are covered by workers' comp insurance, but there are general guidelines that can help employers understand what typically qualifies for a workers' comp claim.
The types of injuries typically covered by workers' comp are:
Injuries that are not the result of intentional self-harm or harm from drug use, alcohol use, or fighting

Injuries that fall within the general "course and scope" of the worker's employment, such as long-term occupational injuries, including back strain from repetitive motion
For more information about the workers' comp claim process, visit our learning center. 
What Are Workers' Comp Death Benefits in Rhode Island?
If a worker passes away due to a work-related injury or illness, their beneficiaries are entitled to workers' comp death benefits. Death benefits in Rhode Island typically include compensation for burial and funeral expenses, not exceeding $20,000. In addition, surviving spouses, minor children, and other individuals who were dependent on the worker at the time of their passing can receive weekly benefit payments. These weekly amounts are determined by the worker's marital status and number of dependents and cannot exceed the maximum weekly total disability benefit as outlined by Rhode Island state law.
How Do Workers' Comp Settlements Work in Rhode Island? 
As with other states, worker's comp settlements in Rhode Island are mutually beneficial agreements made between the injured worker, their employer, and the insurance company that close a workers' comp claim. These agreements provide an agreed-upon amount of compensation (via structured monthly payments or one lump sum) to be paid to the injured worker. In exchange, the worker agrees not to pursue additional benefits or civil litigation in relation to the claim in the future, and the claim is closed permanently. 
In Rhode Island, there are two main types of settlements — denial and dismissal settlements, and commutation settlements. Denial settlements close the cases without establishing liability. Commutation settlements close the claims in situations where benefits have been paid for more than six months. There are many legal specifics regarding settlements in Rhode Island, and all settlements must be approved by a judge. 
What Are the Statutes of Limitations Regarding Workers' Comp in Rhode Island? 
In Rhode Island, employees must file their workers' comp claim within two years of the date of the injury or diagnosis of the illness. However, the state does grant some flexibility depending on the details of each specific case. 
How Much Does Workers' Compensation Insurance Cost in Rhode Island?
Just like in other states, the cost of workers' comp premiums in Rhode Island vary depending on a variety of circumstances. Private insurers are allowed to set their own rates. Premiums are usually determined using several factors that are unique to each business. 
For Rhode Island business owners who are in the market for an insurer, consider comparing quotes from multiple companies to get the best idea of what workers' comp will cost for your business. Also keep in mind that every business's premiums will be different. For example, if your business is considered low-risk, like an office, your rates might be lower than those of businesses that are considered high-risk, like transportation. 
Many factors unique to your business will be utilized to determine your exact insurance premiums. 
Some of these factors include: 
The location of your business

The size of your business and the number of employees 

The industry in which your business operates
Are you a Rhode Island business owner hoping to lower your premiums? You can take some preventative steps, such as prioritizing risk mitigation techniques, to help in your favor. Insurance providers value how seriously businesses take workplace safety when calculating workers' comp premium rates. This means that simple steps such as enacting employee training sessions, following industry best practices, and creating safety protocols could possibly help lower your insurance premiums. 
How Do I Get Workers' Comp for My Rhode Island Business?
Business owners looking for coverage in Rhode Island can purchase a policy through any private insurance company, agent, or broker that is licensed to operate in the state. Rhode Island businesses can also apply to self-insure, which means that the business is held financially responsible for the cost of all claims and related expenses without the assistance of insurance. This choice is costly and, as a result, not ideal for many businesses. Luckily, getting workers' comp coverage in Rhode Island can be hassle free with the right private insurance provider.
Where Can I Get Workers' Compensation For My Rhode Island Business?
We offer workers' compensation to businesses no matter where you are in Rhode Island. If you are located in the Blackstone Valley, Rhode Island's East Bay, or Greater Boston, we'll help you protect your Rhode Island employees.
If you need workers' comp coverage for your Rhode Island business, you can purchase a policy through any private insurance company, agent, or broker that is licensed to operate in the state. So even if you aren't in any of the following cities, know that we can still help you:
Providence
Cranston
Warwick
Cerity has created a faster, more affordable way to get workers' comp. We help Rhode Island business owners like yourself get insurance premium quotes easier than you ever thought possible. We know you'd rather spend your valuable time on more important things than phone calls with insurers and lengthy paperwork. That's why we use proprietary tools and modern technology to provide business owners with quick quotes and instant policies. Simply log on, tell us a bit about your business, and get your quote quickly and easily. 
To get workers' compensation insurance, check out our free online quote tool and begin protecting your Rhode Island business today.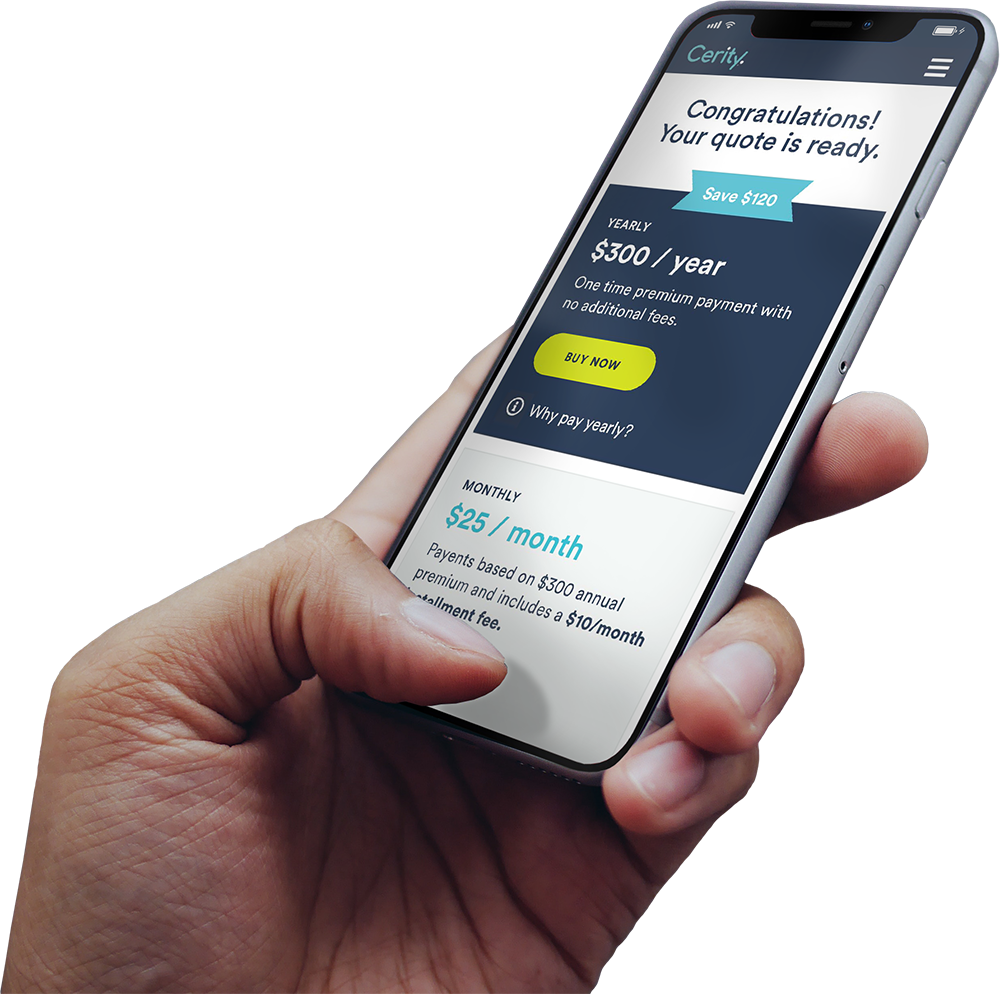 Grab your free quote today.
It only takes a few minutes, whether you're already covered or just getting started.