Workers' Compensation Insurance in
Florida
Who is required to have workers' compensation insurance in Florida?
Employers who conduct work in the state of Florida are almost always required to provide workers' compensation insurance for their employees. While the specific requirements depend on the industry, workers' comp helps protect any business owner from devastating damages as a result of on-the-job accidents or injuries. 
In Florida, the Division of Workers' Compensation within the Department of Financial Services is the primary regulator for ensuring workers receive the proper workers' compensation benefits, which includes benefits for medical expenses, disability, or death. The amount of workers' compensation coverage required is established by state law.
What are the penalties for not having workers' compensation in Florida?
Florida employers who operate without required workers' comp insurance coverage risk severe penalties. Usually, this means that the business would be subject to a stop-work order that requires all operations to stop until the business complies with law and pays a penalty. In this case, the fee is typically equal to twice the amount the employer would have paid in premium for the preceding two-year period!
If the Florida employer does not comply with a stop-work order, the action could result in criminal charges. You could also be subject to a stop-work order if payroll is understated or concealed to avoid coverage requirements or employees' duties are misrepresented to avoid paying workers' compensation insurance premiums.
What types of injuries are covered with workers' comp insurance in Florida?
Florida state law also determines what types of injuries are covered by workers' compensation insurance, but there are general guidelines that can help you understand what typically qualifies for a workers' comp claim:
The injury did not result from intentional self-harm, drug or alcohol use, or fighting. 

The injury occurred during work that falls within the "course and scope" of employment. 

The injury resulted from long-term occupational hazards, such as repetitive motion or exposure to chemicals.

The work accelerated a preexisting condition.
If an employee gets into a fender bender on their way home from work after they've clocked out, that's unlikely to qualify for workers' comp. However, worker's comp is not just about preventing workplace accidents. When you think of work-related injuries, you probably think of one-time events — but damage can occur over a long period of time. As long as the injury or illness is clearly associated with the employee's work responsibilities, it may be eligible for a claim, and you will want your company to be protected. 
What are Florida's temporary disability benefits under workers' comp?
Under Florida's workers' comp coverage, employees are eligible for temporary total disability benefits if they need time away from work in order to recover from a workplace injury. 
These benefits are 2/3 of the injured workers' weekly wage — up to a legal maximum as determined by the state annually. In 2020, this maximum was $971 a week, and in 2021, the maximum was adjusted to $1,011. For some injuries, like blindness or paralysis, the benefits extend up to 80% of the employee's wages with no maximum amount.
Temporary disability benefits continue until

a doctor determines the employee is able to return to work

a doctor determines the employee will not recover, at which time permanent disability would be considered, or 

until the maximum amount of benefits as determined by the state has been reached.
If an employee has been injured but may still work with restrictions, then they may qualify for temporary partial disability payments.
What are the time limits on workers' comp coverage in Florida?
Florida has different time limits for different types of workers' compensation benefits:
Temporary disability.

Florida workers' compensation law allows injured workers up to a maximum of 104 weeks of temporary compensation.

Medical expenses.

Authorized medical benefits have no expiration as long as the need for the care is related to the workplace accident. 

Permanent partial disability.

If an employee is still unable to work after temporary benefits have been maxed out, the injured employee may receive benefits until the specific time limit has been reached as determined by workers' compensation policy for the degree and type of disability or until the death of the employee.

Permanent total disability.

When injury results in total lifelong impairment, an employee can collect a portion of the average weekly wages as long as they are determined to be unable to work.
How much does workers' comp insurance cost in Florida?
Workers' compensation coverage costs differ from state to state. In Florida, estimated costs to the employer are $1.43 per $100 in payroll. To see how Florida compares to other states and get an idea of what cost range to expect from your insurance rates, click here. 
However, several factors that are unique to your business will contribute to your insurance premiums. 
Some of these factors include: 
Total payroll costs

Number of employees

Industry and risk factors

Claims and workplace injury history
At Cerity, we work with over a hundred different industries. To find your type of business and see more information specific to you, click here. 
As a general rule of thumb, if you are able to demonstrate a strong commitment to risk management, you will be able to cut down even further on your premiums. Every workplace provides its own unique challenges and potential hazards, but every workplace also has opportunities to reduce risk by following consistent best practices. 
How can I get workers' comp for my Florida business?
At Cerity, we believe getting workers' compensation coverage for your Florida businesses should be easy. That's why we've created a faster, more affordable approach to workers' comp insurance coverage. With our proprietary tools and modern technology, we're able to provide insurance quotes quickly — all without phone calls or paperwork. 
Check out our free business insurance quote tool online to find out how easy protecting your business can be.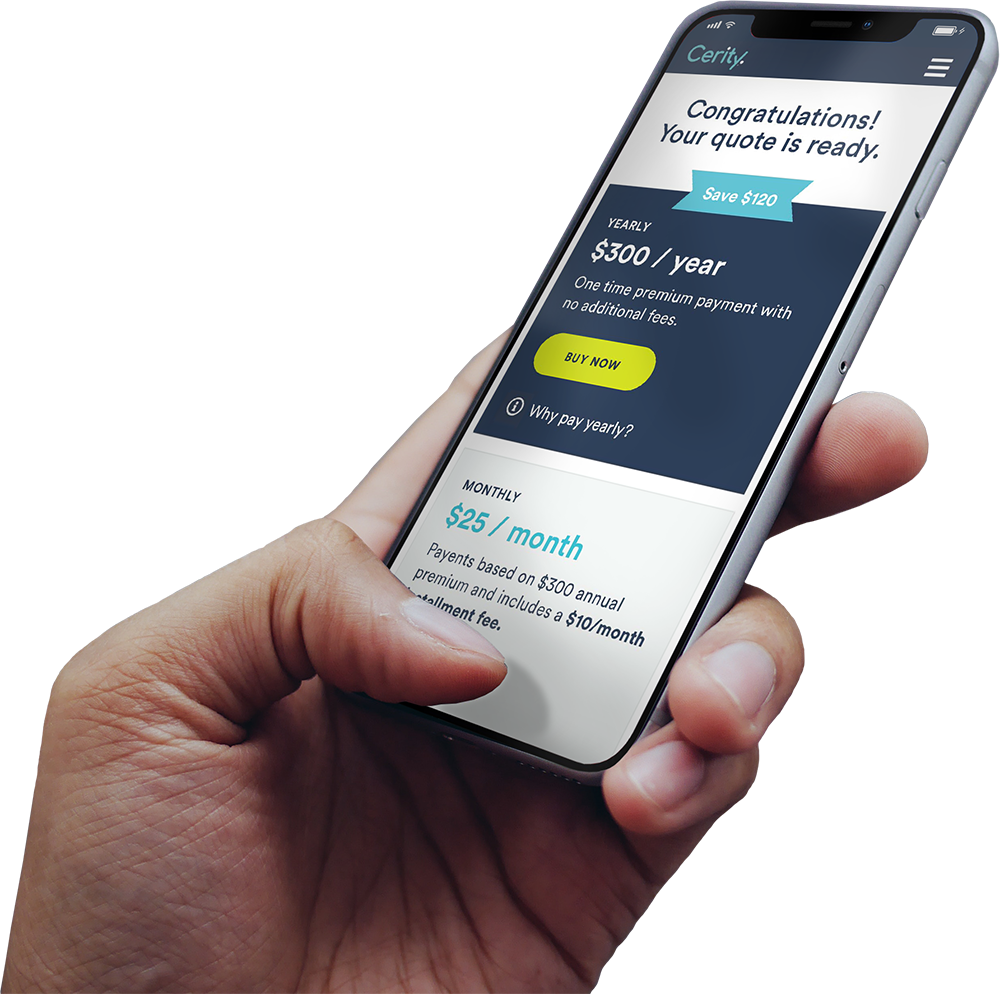 Get protection for your business baby.
It only takes a few minutes, whether you're already covered or just getting started.