Workers' Compensation Insurance Policy & Law in
Florida
Who Needs to Have Workers' Compensation Insurance in Florida?
Being a business owner in Florida, where commerce is increasingly competitive, is a big job. However, your impressive business acumen isn't the only skill needed to protect your bottom line. Workers' compensation insurance can help you protect your most important asset — your people — while also safeguarding you from liability. But we get it — workers' can be a little confusing. Employers who conduct work in the state of Florida are almost always required to provide workers' compensation insurance for their employees if they have four or more employees. Unless you're a construction business, then you need Workers' Compensation coverage as soon as you have one employee. Workers' comp is required in Florida for full-time and part-time employees.
However, even if your business may not be legally required to have workers' comp coverage, getting a policy can still be a good idea because of the benefits provided.
While the specific coverage requirements are established by state law and depend on the industry, workers' comp helps protect any business owner from devastating damages as a result of on-the-job accidents or injuries.
How Does Workers' Compensation Insurance Work in Florida?
As in other states, Florida workers' compensation insurance helps provide coverage for workplace injuries. When an employee is injured on the job, workers' comp provides benefits for medical expenses, including emergency care, ongoing treatments, and physical therapy. In addition, workers' comp helps replace lost wages if the injured worker needs time off work due to their workplace injury or illness.
What Do I Risk By Not Having Workers' Comp Insurance?
Florida employers who operate without required workers' comp insurance coverage risk severe penalties. Usually, this means that your business would be subjected to a stop-work order. This means your business must cease all operations until you comply with the law and pay a penalty. In this case, the fee is typically equal to twice the amount you would have spent on workers' comp insurance premiums for the preceding two years. If you don't comply with a stop-work order, you could be subjected to criminal charges.
Stop-work orders also may be instituted if your payroll is understated or concealed to avoid coverage requirements or if your employees' duties are misrepresented to avoid paying workers' compensation insurance premiums.
What Types of Injuries Are Covered With Workers' Comp Insurance in Florida?
Florida state law also determines what types of injuries are covered by workers' compensation insurance, but there are general guidelines that can help you understand what typically qualifies for a workers' comp claim:
The injury did not result from intentional self-harm, drug or alcohol use, or fighting.
The injury occurred during work that falls within the "course and scope" of employment.
The injury resulted from long-term occupational hazards, such as repetitive motion or exposure to chemicals.
The work accelerated a pre-existing condition.
If an employee gets into a fender bender on their way home from work after they've clocked out, that's unlikely to qualify for workers' comp. However, worker's comp is not just about preventing workplace accidents. When you think of work-related injuries, you probably think of one-time events — but damage can occur over a long period of time. As long as the injury or illness is clearly associated with the employee's work responsibilities, it may be eligible for a claim, and you will want your company to be protected.
How Do I Get Workers' Comp For My Florida Business?
If you need workers' comp coverage for your Florida business, you can purchase a policy through any private insurance company, agent, or broker that is licensed to operate in the state. Luckily, getting workers' comp coverage in Florida can be easier and faster than you might have thought once you partner with the right private insurance provider like Cerity. Get your quote today.
No-Nonsense Workers' Compensation For Your Florida Business
At Cerity, we believe getting workers' compensation coverage for your Florida businesses should be easy. That's why we've created a faster, more affordable approach to workers' comp insurance coverage. With our proprietary tools and modern technology, we're able to provide insurance quotes quickly — all without phone calls or a tedious process.
Check out our free business insurance quote tool online to find out how easy protecting your business can be.
What Cities Can I Get Workers' Comp For My Florida Business?
We offer workers' compensation to businesses no matter where you are in Florida. If you are in the Panhandle or working in the Everglades we can help you protect your employees.
If you need workers' comp coverage for your Florida business, you can purchase a policy through any private insurance company, agent, or broker that is licensed to operate in the state. So even if you aren't in any of the following cities, know that Cerity can still help you:
Clearwater
Jacksonville
Miami
Orlando
St. Petersburg
Tallahassee
Tampa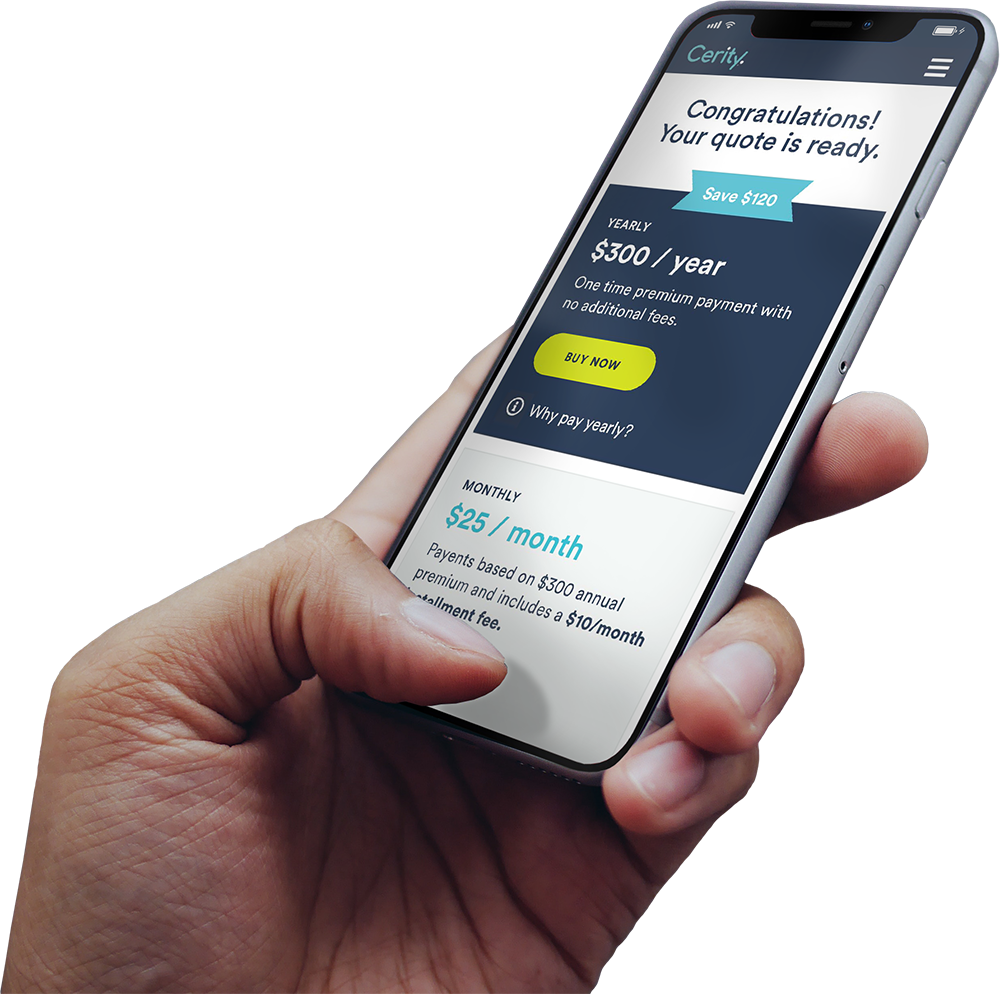 Grab your free quote today.
It only takes a few minutes, whether you're already covered or just getting started.