Workers' Compensation Insurance in
Georgia
How Does Workers' Compensation Insurance Work in Georgia?
Being a business owner in Georgia — the so-called "the empire state of the South" — is a big job. However, your impressive business acumen isn't the only skill needed to protect your bottom line in Georgia. Workers' compensation insurance can help you protect your most important asset — your people — while also safeguarding you from liability.
According to the Georgia State Board of Workers' Compensation, workers' comp is an accident insurance program paid by your employer which may provide you with medical, rehabilitation and income benefits if you are injured on the job. Life can be tough following a workplace injury. These benefits are provided to help make life a bit peachier and help you return to work. Workers' comp insurance also provides benefits to your dependents if you die as a result of a job-related injury. The cost of workers' compensation premiums are paid by the employer. In exchange, the employer is protected against potential lawsuits related to workplace incidents.
In Georgia, workers' compensation coverage starts on the employee's first day of work. If a workplace accident occurs or an employee gets sick while working, they should report the event to their employer as soon as possible and no later than 30 days. Workers' compensation insurance usually pays for the costs of emergency care, ongoing medical care, hospitalization, prescriptions, or physical rehabilitation, so long as the services are provided by an authorized physician. Exceptions for unauthorized physicians can be made for emergency care. In addition to these benefits, workers' comp provides temporary partial or total disability benefits if the worker needs time off to recover from their injury or illness. Disability benefits are about two-thirds of a workers' average weekly wage.
Employers are often curious about what steps they should take if an employee gets hurt. Although workers' comp laws vary from state to state, the process is generally the same throughout the country. Once notified of a worker's injury or illness, the employer should provide the employee with the information they need to file a claim. Once the claim is submitted to the insurer, all involved parties will be in contact throughout the claims process. If you don't believe an employee's claim is valid, talk to your insurance provider to see if the injury qualifies as outlined by your workers' comp policy.
Who Administers Workers' Compensation in Georgia?
The Georgia State Board of Workers' Compensation manages workers' compensation throughout the state. Since every state in the country has slightly different workers' compensation laws and different types of industry and workplaces, state workers compensation boards address the unique needs of each state's workers. The Georgia State Board of Workers' Compensation creates guidelines and educational materials for employers and other stakeholders, helps resolve some disputes about workers' compensation claims, and establishes what workers' comp benefits workers need to return to work.
Who Must Have Workers' Comp in Georgia?
All Georgia employers who regularly employ three or more people, including regular part-time workers, are required by law to provide workers' compensation insurance for all of their employees. As is common when it comes to workers' comp, there are a couple of exceptions, such as:
If a business is incorporated, as many as five officers can waive coverage on themselves so long as they complete and sign a form WC-10 to file with their insurance carrier. This waiver does not reduce the number of employees in the corporation in regards to the "three or more" law.
Sole proprietors are considered employees, so they do not have to be covered unless they wish to be.
Generally speaking, even if you're not legally required to have a workers' compensation policy, it's important to consider the significant benefits of coverage. The costs of health care benefits alone can be financially devastating in the event of a workplace injury, especially if you are not a large corporation. Being liable for additional costs associated with the injury and loss of wages can bankrupt even the most solvent small businesses.
If you're unsure as to whether or not you would benefit from workers' comp, contact us for more information.
What Do I Risk By Not Having Workers' Comp Insurance Coverage in Georgia?
If your Georgia business doesn't have its required coverage, you are likely to face steep penalties and fines.
The Georgia State Board of Workers' Compensation enforcement division can render a business liable for compensating the employee with the damages they would have received had workers' comp been in place. This means you could be responsible for a significant amount of compensation to your injured employee, including medical fees and legal fees.
Not being in compliance with workers' comp requirements can subject you to civil and criminal penalties. These fees vary but can range anywhere from $100 to $10,000 per violation and even jail time if the employer is intentionally avoiding coverage or otherwise acting negligently. To learn more about workers' comp coverage requirements in other states, click here.
Along with having coverage, employers must post several documents in a conspicuous place to be compliant with Georgia law. This includes posting the State Board of Workers' Compensation Bill of Rights for injured workers along with other documents in a place that is likely to be seen by all employees. These documents provide workers with notices of their rights under Georgia workers' comp laws and what to do if they are injured.
What Does Workers' Comp Insurance Cover in Georgia?
All authorized doctor bills, hospital bills, physical therapy, prescriptions, and necessary travel expenses if the injury or illness was caused by an accident on the job are covered by workers' comp. Injured workers may also be entitled to medical and vocational rehabilitation.
In Georgia, workplace injuries are classified as either catastrophic or non-catastrophic. Catastrophic injuries mean employees are unable to perform their prior work after being injured, as well as being prevented from performing other work available "in substantial numbers." These types of injuries include:
Amputations
Severe paralysis
Severe head injuries
Severe burns
Blindness
Non-catastrophic injuries might mean that an employee is considered totally disabled under workers' comp, but this is more often a temporary scenario and has a preset maximum of 400 weeks.
Regardless of the kind of injury, there are some circumstances in which employees are disqualified from receiving workers' comp, such as if they are injured while engaged in willful misconduct or due to the use of alcohol or drugs or the misuse of any controlled substances.
For more information about worker's comp coverage, visit our learning center.
As A Georgia Employer, What Are My Responsibilities When an On-The-Job Injury or Accident Occurs?
In the event of a workplace injury or accident, your job as an employer is to immediately file a report with your insurance provider's claims department. In the event the employee will be out of work for more than seven days, you must notify the Board of Workers' Compensation within 21 days.
What Are Workers' Comp Death Benefits In Georgia?
In the event that an employee dies on the job, their beneficiaries may be eligible for workers' compensation death benefits. By law, Georgia ensures that those dependent on the deceased for financial support are also compensated. Generally, to qualify as a dependent, someone must be legally married to, a child of, or otherwise proven to be legally dependent on the deceased individual.
Compensation in Georgia for death benefits includes income, funeral expenses, and coverage for medical bills.
How Do Workers' Comp Settlements Work in Georgia?
Workers' comp settlements in Georgia are first reviewed by the State Board of Workers' Compensation Settlement Division. Once they are approved, they are then paid in either lump sums or regular payments. Settlements in the state of Georgia typically fall into two categories — liability settlements and nonliability settlements.
Regardless of which type of settlement is made, once a settlement agreement has been made by all parties involved, any and all additional claims to that particular injury may be null and void.
What Are the Statutes of Limitations Regarding Workers' Comp in Georgia?
In Georgia, there are three distinct provisions regarding statutes of limitations for workers' comp claims. They are:
Injured workers have 30 days to report their injuries, which could be as simple as telling a supervisor. If the employer fails to report an injury reported to them, injured employees have 1 year from the date of injury to file a claim with the state.
Change in condition. If a worker received disability benefits in the past that have expired, but the injury returns, the injured party has 2 years from the date benefits ended to file a claim to revisit the situation.
Medical expenses and mileage. Following medical treatment, the injured party has 1 year to submit a claim for medical bills and mileage reimbursement.
How Much Does Workers' Compensation Insurance Cost in Georgia?
According to data from the National Academy of Social Insurance, the average cost for workers' compensation in Georgia is $1.08 per every $100 spent on payroll.
However, while the coverage that is provided by workers' comp insurance is generally consistent across the state, the cost per employee will vary for the business owner, depending mostly on your industry. For example, on the whole, clerical jobs pay a lower premium while costs are higher for jobs with higher physical risks.
Several factors unique to your business will contribute to your exact insurance premiums.
Some of these factors include:
The location of your business
The size of your business and the number of employees
The industry in which your business operates
The type of service your business provides
The value of your business property, including equipment or supplies
The annual revenue of your business
The workers' comp claims history of your business.
In addition to these factors, providers also often take into account risk assessment and mitigation techniques when determining quotes. If you are able to prove your business's commitment to fostering a safe working environment using things like staff training, risk management best practices, and other similar measures, you may be able to cut your insurance costs even more.
How Do I Get Workers' Comp For My Georgia business?
Businesses in Georgia can get workers' compensation insurance coverage from any broker or insurance company licensed to operate in the state. Business owners can also opt to self-insure, however, that process is not common for most businesses, because it requires that you become approved as a member of the Georgia Self-Insurers Guaranty Trust Fund and certified by the State Board of Workers' Compensation. The best way to ensure you have coverage for your workers is to compare quotes from private insurers.
We offer workers' compensation to businesses no matter where you are in Georgia. If you are located in the Valley and Ridge area or Blue Ridge, we'll help protect your Georgia employees.
If you need workers' comp coverage for your Georgia business, you can purchase a policy through any private insurance company, agent, or broker that is licensed to operate in the state. So even if you aren't in any of the following cities, know that we can still help you:
Atlanta
Augusta
Savannah
Columbus
No-Nonsense Workers' Comp For Your Georgia Business
At Cerity, we aim to help Georgia business owners like yourself get workers' compensation quickly and easily. That's why we've created a faster, more affordable approach to workers' comp. Using proprietary tools and modern technology, we can give Georgia business owners insurance quotes fast — all without lengthy phone calls and a tedious process.
Cerity provides workers' comp for hundreds of different industries, making us the ideal provider to handle coverage for whatever kind of business you operate. To see more about the types of businesses we work with, click here.
Visit our workers' compensation quote tool online to get a free quote and discover how easy getting coverage for your business can be.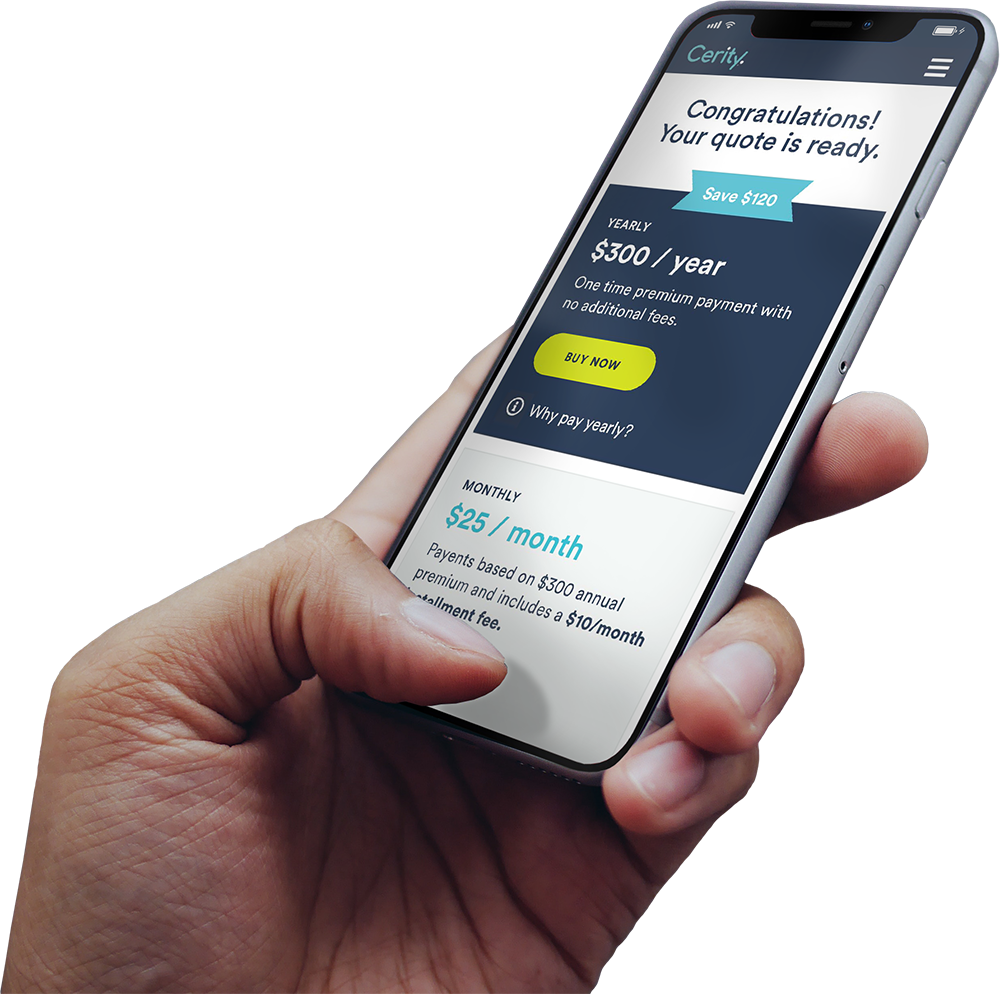 Grab your free quote today.
It only takes a few minutes, whether you're already covered or just getting started.