Workers' Compensation Insurance Policy & Law in
Massachusetts
How Is Workers' Compensation Insurance Defined in Massachusetts?
For injured employees, workers' comp insurance can be a lifeline, providing key benefits so they can recover and get back to work. For employers, it's a way to protect their most valuable asset — their personnel. 
Just because workers' comp is important doesn't mean it has to be difficult. Read on to find out how. 
Who is Required by Law to Have Workers' Compensation Insurance in Massachusetts?
According to the Massachusetts state guidelines for workers' comp, all employers operating in Massachusetts are required to carry workers' compensation insurance for their employees and themselves if they are an employee of their company. 
No matter how many or how few hours worked or the number of employees, workers' comp is required. The only exception is for domestic employees, who must work at least sixteen hours a week for an employer to require coverage under a workers' compensation policy.
Who Isn't Required to Have Workers' Comp in Massachusetts?
Members of a limited liability company (LLC), partners of a limited liability partnership (LLP), or sole proprietors of an unincorporated business aren't required to carry workers' compensation insurance for themselves. This exception does not apply to its employees, who must still be covered.
However, being in charge doesn't mean you are immune to a workplace injury and, as you know, it can mean ever greater financial losses if you are out of work or paying for extensive medical treatment without a way to keep your business going. While it may not be required to have workers' comp for the big bosses, it might very well be worth looking into. Not to mention, who doesn't love a good tax deduction?
Are Independent Contractors Required to Have Workers' Comp in Massachusetts? 
In Massachusetts, independent contractors do not have to be covered under workers' comp under a few circumstances. If the employer can prove that the independent contractor is not working under the direct control or supervision of the establishment, is performing tasks outside of the normal course of the business — such as a contractor who is called in to repair a light fixture — and has their own independent business in their particular line of work, then the independent contractor does not need to be covered under the business owner's policy. 
This does not apply to remote workers who are employees, however. In today's industries, many remote employees may never step foot in an office or even the state, but they are still legal employees of the business and should be covered under workers' comp.
What are the Legal Requirements for Workers' Comp for Out-of-State Employers Operating in Massachusetts?
Out-of-state employers operating in Massachusetts must provide workers' compensation coverage for all employees working in the state. Massachusetts' intention is to protect the residents of its state, even if they are employed by a company based elsewhere.
What Are the Penalties in Massachusetts for Not Having Workers' Comp Insurance Coverage?
Operating without workers' comp coverage in Massachusetts can result in stiff penalties, including stop-work orders, fines, and loss of the ability to compete for public contracts — such as tech companies who may want to provide services for a city government.
Fines in the state are typically $100 per day for each day that the employer fails to provide coverage for employees, accruing daily until insurance coverage is provided and the fines are paid in full. If businesses are found to still be operating during a stop-work order, fines increase to $250 daily. 
To see how Massachusetts' requirements compare to other states, click here. 
How Are Employees' Compensated by Workers' Comp in Massachusetts?
Workers' compensation pays medical bills related to the employee's injury or illness,  compensates the injured employee for lost wages, and even provides vocational rehabilitation for some workers who qualify. The Massachusetts workers' comp program is overseen by the Department of Industrial Accidents (DIA).
In order to file for workers' comp in Massachusetts, an employee must:
Be disabled for 5 full or partial calendar days — however, the days don't need to be consecutive

File within 4 years from the date of injury or realization that their injury or illness is work-related
In Massachusetts, workplace injuries that cause the employee to miss fewer than five full or partial calendar days, they can file a "medical only" claim, which are reported only to the business's workers' compensation insurance provider, not the DIA. If the insurer denies an employee's claim for medical-only benefits, then the injured worker may go to the DIA on appeal.
Being able to trust your insurance provider is looking out for both your and your employee's best interest is especially important when dealing with state-mandated policies. 
What Are Workers' Comp Death Benefits in Massachusetts?
In Massachusetts, if a worker passes away as a result of an on-the-job injury or illness, their surviving dependents may be eligible to receive death benefits. 
Death benefits in Massachusetts typically include lost wages in the form of weekly payments that amount to around 66% of the deceased worker's average weekly earnings. Those eligible to receive death benefits include the deceased worker's: 
Spouse (if they were living with the worker at the time of their passing and have not remarried)

Children who are under 18, or under 24 and full-time students, or an adult child with special needs who is legally a dependent of the employee

Other family members who are proven to be dependent on the worker at the time of their passing
How Do Workers' Comp Settlements Work in Massachusetts? 
Workers' comp settlements are agreements between injured employees, their employer, and their insurer. Settlements offer the injured or ill worker to receive a lump-sum payment in exchange for waiving their right to receive any future workers' comp benefits — such as weekly payments — for that illness or injury. 
The state makes a point to ensure injured or ill employees understand the depth of this decision, as it closes the claim completely. As a result, settlements are subject to approval by the Massachusetts Department of Industrial Accidents. 
Businesses should also be sure to consult with their insurance agency before agreeing to a settlement. Small businesses are particularly hard hit by any variable that may cause the state to raise their insurance rates and codes, which can cause premiums to go up. 
Not every insurance company will want to work with you to keep your rate down, especially if a settlement means less work for them, but it is important for small business owners to be aware of the little ways costs can increase.
How Much Does Workers' Compensation Insurance Cost in Massachusetts?
According to data provided by the National Academy of Social Insurance, in Massachusetts, the average cost for workers' compensation coverage is around $0.73 for every $100 that employers typically spend on payroll. 
However, despite this average, employers should keep in mind that every business's premiums can be different. Workers' comp costs are calculated based on a variety of factors, many of which are unique to each business. To find an exact quote, the best way is to contact an insurance provider like Cerity who can help you get the best value.
Many factors unique to your business will be utilized to determine your exact insurance premiums. 
Some of these factors include: 
The location of your business

The size of your business and the number of employees 

The industry in which your business operates

The kinds of

safety plans and programs

you implement
Luckily, businesses can take steps to help lower their insurance costs. Insurance providers look highly on how seriously businesses take workplace safety, so taking risk mitigation steps like holding employee safety trainings and providing employees with more than the just most basic safety equipment can potentially lower your workers' comp base rates as determined by the state. 
Having stronger safety procedures in place also makes your place of business a safer place for everyone, which is a great idea all-around!
Where Can I Get Workers' Compensation For My Massachusetts Business?
We offer workers' compensation to businesses no matter where you are in Massachusetts. Whether you are located in Berkshires, Greater Boston, or Greater Lowell, we can help you protect your Massachusetts employees.
If you need workers' comp coverage for your Massachusetts business, you can purchase a policy through any private insurance company, agent, or broker that is licensed to operate in the state. So even if you aren't in any of the following cities, know that we can still help you:
Boston
Springfield
Worcester
New Bedford
Leominster
How Can I Obtain Workers' Compensation Insurance for My Employees in Massachusetts?
For most businesses in Massachusetts, purchasing workers' comp insurance coverage from a private provider is the best option. Workers' comp is often more affordable than business owners suspect in the short-term, and it is most certainly more affordable than paying high medical bills, employees' wages, or even attorneys' fees in a personal injury lawsuit out of the company's pocket — or your own.
With the right provider, getting workers' comp coverage can be a quick and easy process. At Cerity, we help business owners in Massachusetts get the insurance coverage they need without phone calls or paperwork. 
Cerity's proprietary tools and modern technology allow for Massachusetts businesses to get workers' comp quotes quickly and easily with our faster, more affordable approach.
To get workers' compensation insurance for your Massachusetts business, check out our free online quote service and discover how easy getting workers' compensation coverage can be.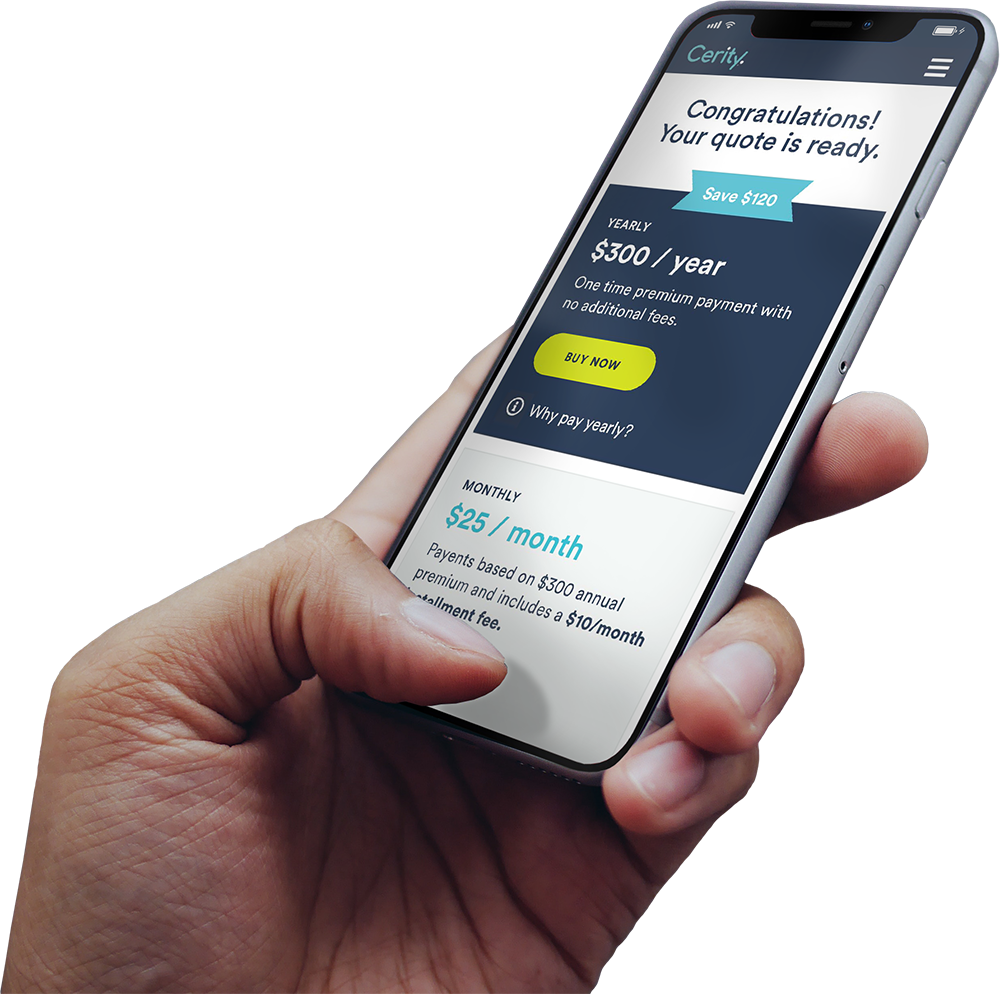 Grab your free quote today.
It only takes a few minutes, whether you're already covered or just getting started.