Workers' Compensation Insurance in
Oklahoma
How Is Workers' Compensation Insurance Defined in Oklahoma?
In Oklahoma, workers' compensation is defined as a system of "no-fault" insurance that provides medical and indemnity benefits for workers who experience workplace injuries or illnesses. "No fault" means that coverage is offered regardless of who is responsible for the accident, except in circumstances of intentional acts. 
What Are the Laws That Govern Workers' Compensation Insurance in Oklahoma?
Nearly every employer in the state of Oklahoma is required by law to carry workers' compensation coverage for their employees and to post a CC-Form-1A on the premises to make workers aware of their rights under the law. The Oklahoma Administrative Workers' Compensation Act outlines who is covered by workers' comp in the state. In Oklahoma, generally every employee who is injured or gets sick in a work-related accident is covered, so long as the injury occurred on or after February 1, 2014. Exceptions include: 
Some agricultural or horticultural workers

Federal government employees

Real estate associates or brokers who are paid on a commission basis

Certain individuals working for the Department of Human Services

Employees in family businesses with five or fewer total employees

Independent contractors

Sole proprietors
What Does Workers' Compensation Insurance Cover in Oklahoma?
Workers' comp in Oklahoma covers a variety of expenses related to on-the-job injuries or illnesses, including medical expenses, lost wages, disability, and more. Specifically, it covers: 
Medical care for work-related injuries or illnesses

Payments for wages lost as a result of work-related injuries or illnesses

Replacement for lost wages (temporary total disability, or TTD)

Compensation for permanent disabilities, within limitations set by law

Death benefits for the families of workers' who died due to a work-related injury

Vocational retraining for workers' who are unable to return to their prior occupation
What Are the Penalties in Oklahoma for Not Having Workers' Comp Insurance Coverage?
The state of Oklahoma takes the laws regarding workers' compensation very seriously. As a result, any employer is who is legally required to have coverage and is found noncompliant may be subject to: 
Penalties up to $1,000 per day

Lawsuits regarding liability and civil litigation

Court-ordered shutdown of the business for failure to pay penalties or provide coverage
Learn more about workers' comp coverage requirements in other states here. 
What Types of Injuries Are Covered by Oklahoma Workers' Comp?
Oklahoma state law outlines exactly what types of injuries are covered by workers' comp insurance. The following injuries are not covered in the state of Oklahoma: 
Injuries that occur while the employee is in a parking lot or other area adjacent to the business, while reporting for or leaving a shift 

Injuries caused by the use of drugs or alcohol

Injuries incurred while engaging in recreational or social activities for the employee's personal pleasure

Injuries caused by pre-existing conditions when there has been no significant and identifiable aggravation in the course and scope of employment

Injuries that occur while the employee is on a work break

Mental injuries, unless caused by a physical injury to the employee; this limitation does not apply to the victim of a crime of violence
Generally speaking, proving that an injury happened in the course and scope of employment is a key part of the claims process. For more information about the workers' comp claim process, visit our learning center. 
What Are Workers' Comp Death Benefits in Oklahoma?
In the event a worker passes away due to a work-related injury or illness, their beneficiaries are entitled to workers' comp death benefits. Death benefits in Oklahoma vary depending on who is the surviving beneficiary. For example: 
If there is only a surviving spouse, they will receive a lump sum of $100,000 and 70% of either the deceased worker's average weekly wage or the state's average weekly wage, whichever is lower. 

If there is a surviving spouse and children, each child will receive a lump sum of $25,000 and 15% of either the deceased worker's average weekly wage or the state's average weekly wage, whichever is lower. If there are more than two children, each child receives a proportional share of $50,000 and 30% of the employee's average weekly wage. 
How Do Workers' Comp Settlements Work in Oklahoma? 
Similarly to other states, worker's comp settlements in Oklahoma are an option for settling workers' comp claims. These agreements are mutually beneficial and are made between the injured worker, their employer, and the insurance company. This joint petition can be made on all or some issues within the claim and provide compensation (via structured monthly payments or one lump sum) for the injured worker. In exchange, the worker agrees not to pursue additional benefits or civil litigation in relation to the claim in the future. 
What Is the Statute of Limitations Regarding Workers' Comp in Oklahoma? 
In Oklahoma, employees must file a workers' comp claim within two years from the date of injury or death, the date of payment of any compensation or wages in lieu of compensation, or the date on which authorized medical care began. 
How Much Does Workers' Compensation Insurance Cost in Oklahoma?
As is the case with other states, the cost of workers' comp premiums in Oklahoma will vary based on a variety of circumstances. Private insurers set their own rates, and premiums are usually determined using several factors that are unique to each business. If you're an Oklahoma business owner in the market for an insurer, you should consider comparing quotes from multiple providers before making a choice. 
In addition, remember that every business's premiums will be different. For example, if your business is considered low-risk, like an office, your rates might be lower than those of businesses that are considered high-risk, like transportation. 
Many factors unique to your business will be utilized to determine your exact insurance premiums. 
Some of these factors include: 
The location of your business

The size of your business and the number of employees 

The industry in which your business operates
Despite these factors, there are steps you can take to help lower your insurance premium costs in Oklahoma. Prioritizing risk-mitigation techniques is a good first step. Insurance providers consider how seriously businesses take workplace safety when calculating workers' comp premium rates. Simple steps such as enacting employee training sessions, following industry best practices, and creating safety protocols could possibly help lower your insurance premiums. 
How Do I Get Workers' Comp for My Oklahoma Business?
For business owners looking for coverage in Oklahoma, you can purchase a policy through any private insurance company, agent, or broker that is licensed to operate in the state. Oklahoma businesses can also apply to self-insure, which means that businesses are held financially responsible for the cost of all claims and related expenses without the assistance of insurance. This choice is costly and, as a result, not ideal for many businesses. Luckily, getting workers' comp coverage in Oklahoma can be hassle free with the right private insurance provider.
Where Can I Get Workers' Compensation For My Oklahoma Business?
We offer workers' compensation to businesses no matter where you are in Oklahoma. Whether you're located in Northeast Oklahoma, Southeastern Oklahoma, or Central Oklahoma, we'll help you protect your Oklahoma employees.
If you need workers' comp coverage for your Oklahoma business, you can purchase a policy through any private insurance company, agent, or broker that is licensed to operate in the state. So even if you aren't in any of the following cities, know that we can still help you:
Oklahoma City
Tulsa
Norman
Broken Arrow
Cerity is dedicated to a faster, more affordable approach to workers' comp. We aim to help Oklahoma business owners like yourself get insurance premium quotes easily — without wasting valuable time on phone calls or paperwork. Using proprietary tools and modern technology, we provide business owners with quick quotes and instant policies. 
To get workers' compensation insurance, check out our free online quote tool, and see how easy it is to protect your Oklahoma business.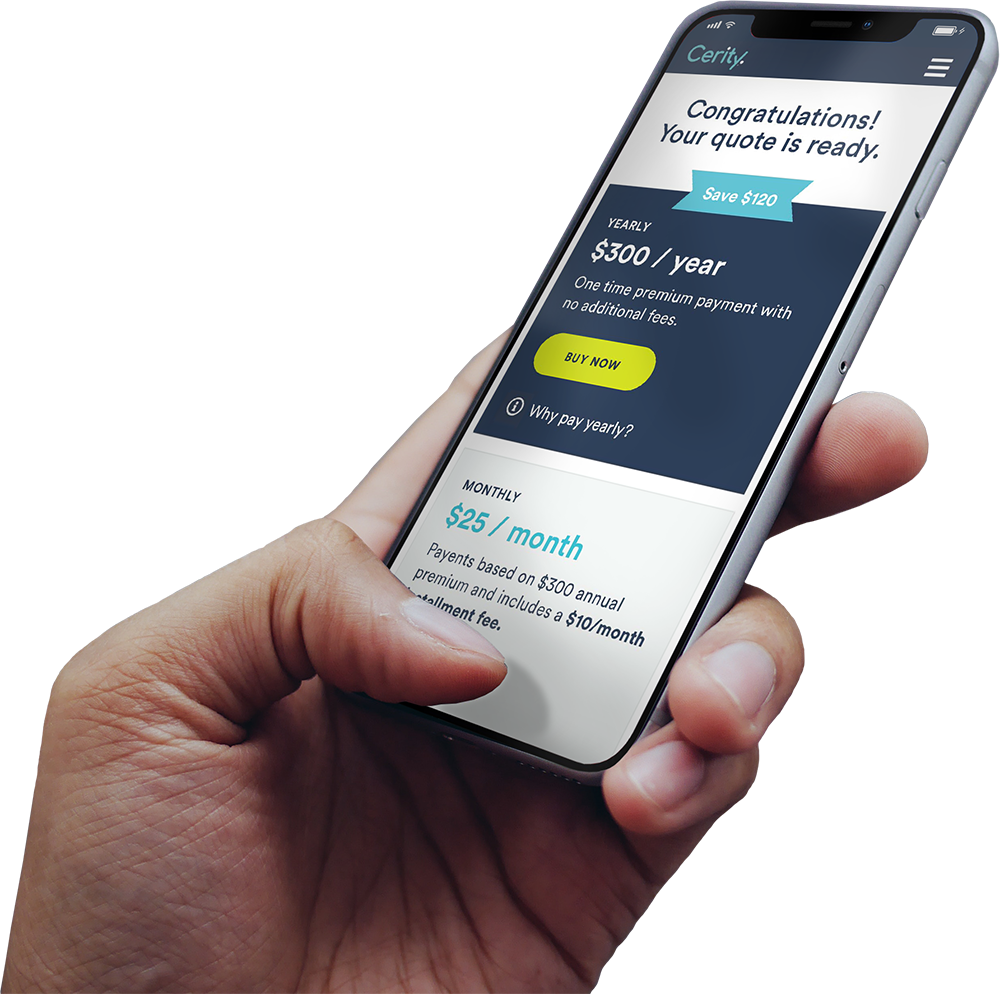 Grab your free quote today.
It only takes a few minutes, whether you're already covered or just getting started.