Workers' Compensation Insurance in
Montana
How does workers' comp insurance work in Montana?
In most states, including Montana, workers' compensation insurance is mandatory for most businesses. Employers who don't obtain a workers' comp policy can be subject to legal penalties and exposure to lawsuits by employees. All businesses in Montana with even just one employee are required by law to have workers' compensation insurance. Penalties for not having insurance at all — or misclassifying employees to avoid paying higher premiums — can be stiff.
Workers' comp insurance provides no-fault compensation for lost wages and medical expenses, among other benefits, to employees who experience work-related injuries or occupational illnesses. Regardless of what steps you may take to make your workplace safe for employees, you can't predict the future and accidents can happen. A good workers' comp policy protects you from costly lawsuits while also protecting your biggest business asset — your people — so they can recover and get back to work in the event of a workplace-related injury or illness. 
What does workers' comp cover in Montana? 
In the event of a workplace accident, Montana workers' comp insurance provides both medical coverage and payments for lost wages and disabilities. This can include temporary or permanent disability benefits.
Temporary disability:

  This applies when an injured employee is unable to work for more than one week but is expected to recover and return to work. In these circumstances, your worker is able to receive compensation for their lost wages, medical expenses, and sometimes even travel expenses as needed for recovery. 
Temporary disability benefits are two-thirds of your employee's average wages, as determined by your employee's earnings the month before the individual gets sick or is injured in the workplace. This benefit is considered temporary and lasts until your employee's health care provider determines they are able to return to work or they have reached maximum medical improvement.
Permanent disability:

Permanent workers' comp benefits refer to when a doctor finds that your employee's condition is stationary, or not expected to improve any further, or is a severe lifelong condition, such as

 

If your employee is unable to return to work full-time — or can only do modified work and as a result are earning less — your employee may qualify for either partial or total permanent disability to replace or supplement their lost wages.
In this case, the doctor will determine whether your employee has a permanent disability. If your employee does, the doctor will give your worker a percentage of disability. This number, along with your employee's age, education, work history helps determine your employee's rate of compensation.
What type of injuries are covered with workers' comp in Mississippi?
Montana state law determines what types of injuries are covered by workers' comp insurance, but there are general guidelines that can help you understand what situations typically qualify for a workers' comp claim — and what doesn't.
These include:
Injuries must not result from intentional self-harm, during drug or alcohol use, or fighting. 

The injury must occur during actions that fall within the "course and scope" of employment. If you get into a fender bender on your way home from work after you've clocked out for the day, that's unlikely to qualify.  

Long-term occupational injuries, including back strain from repetitive motion can qualify. When you think of work-related injuries, you probably think of one-time events — but damage can occur over a long period of time. As long as the injury or illness is clearly associated with the employee's work responsibilities, it may be eligible. 
In Montana, do all employees have to carry workers' comp?
Though it's always a good idea to have workers' comp coverage to protect your business from the unexpected, Montana provides plenty of exemptions for workers' comp. Some of the notable exemptions include: 
Domestic workers 

Amateur athletic officials 

Professional athletes (specifically those who play contact sports)

Some salespeople 

Licensed barbers or cosmetologists working with a cosmetology firm

Petroleum industry workers

Horse racing employees, including licensed jockeys 

Ministers or other religious workers 

Truck drivers 
In many cases, such as for those operating in an ownership capacity of any kind, while you may not be legally required to include yourself in your business' coverage, you are still eligible to do so. As with all things relating to insurance, more coverage is usually better.
Not sure if you are required to provide coverage? Don't hesitate to contact us and get clarity. Never assume that your business is exempt, as the penalties for being uninsured can be steep.
What are the penalties in Montana for not having workers' comp coverage?
The penalties for an employer failing to comply with Montana's workers' comp laws in Montana can be severe, such as:
Financial penalties

Misdemeanor charges

Felony charges

Imprisonment
If found in breach of workers' comp requirements, an employer may be forced to pay double what they would have paid for insurance. The minimum penalty in this regard is $200, but given the overall cost of workers' comp in Montana, which is relatively higher than most states, this total could quickly balloon if the violation occurred over a long period of time. 
Even with Montana's higher-than-average insurance costs, the total cost of workers' comp is still fairly low, and it pales in comparison to the cost of fines and potential lawsuits, which can be devastating to any business.
What are a Montana employer's responsibilities when an accident occurs?
In general, it is best to take detailed records where any injury or illness takes place in the workplace, but ultimately not every report will need to be submitted. Whether dealing with settlements or ongoing benefits claims, having proper documentation will always ensure that you and your insurance provider are able to remain compliant in caring for your employee without having to worry about being taken advantage of. 
In the event of a workplace injury or occupational illness, your employees are entitled to Montana's medical fee schedule and applicable statutes and rules to establish wage-loss payments and medical care cost benefits. (These benefits are applied only towards medical conditions directly related to the industrial injury or occupational disease claim).
Though earlier tends to be better when it comes to submitting claims, the hard and fast deadline for any incident report in Montana is two years from the time of the injury. 
If your worker has recovered to a point where they wish to pursue a settlement and accept a final lump sum, you must agree on a settlement amount and file an application with the Workers' Compensation Court. If you are not able to agree on a settlement amount, you must participate in a mediation session with your employee. If that doesn't work, you can request a hearing with the state Workers' Compensation Court. 
Where Can You Get Workers' Comp Insurance in Montana?
While some states require employers to buy into a state-funded plan, Montana allows businesses to take the reins in their own hands and choose an insurance company they decide works in their best interests. Like other insurance rates, the state sets the guidelines for rates, and insurance companies will determine their specific rates for your business. 
Are independent contractors covered under workers' comp insurance in Montana?
In Montana, independent contractors are required to either be covered by workers' comp insurance or file for an independent contractor exemption certificate (ICEC). Even if workers' comp isn't specifically required, it can be an invaluable investment in protecting not only the health and finances of an independent contractor but whichever business contracts their labor. 
In most cases, a workers' comp policy is the only legal remedy to a workplace injury claim. Without it, businesses open themselves up to paying out of pocket or even a lawsuit.
How much does workers' comp insurance cost in Montana?
While the coverage provided by workers' comp insurance will generally be consistent across the board, the cost per employee will vary for the business owner, depending mostly on your industry. On the whole, employers who oversee largely clerical jobs would pay a lower premium while costs are higher for jobs with higher risks of accidents or injury. 
The vast open spaces of Montana mean it has a hefty transportation industry, and being on the road can carry significant risks. The annual cost of a workers' comp premium for shipping and receiving employers is most often significantly less than the cost of compensation for a major accident.
Several factors unique to your business will contribute to your exact insurance premiums. 
Some of these factors include: 
The type of service your business provides

The value of your business property, including any equipment or supplies

The annual revenue of your business

The location of your business

The number of workers your business employs
Cerity works with over a hundred different industries, so visit our site to learn more about how we can help you secure the coverage you need. 
As a general rule of thumb, when it comes time for your visit from the insurance assessors, when you can demonstrate a safe work environment, thorough precautionary training, and other best practices for risk management, you will be able to cut down further on your premiums. 
Where can I get workers' comp for my Montana business?
At Cerity, we believe getting workers' compensation coverage for Montana businesses should be easy. That's why we've created a faster, more affordable approach to workers' comp insurance coverage. With our proprietary tools and modern technology, we're able to provide insurance quotes quickly — all without phone calls or paperwork. 
We offer workers' compensation to businesses no matter where you are in Montana. If you are located in the Camas Prairie, Eastern Montana, or Flathead Valley, we'll help you protect your Montana employees.
If you need workers' comp coverage for your Montana business, you can purchase a policy through any private insurance company, agent, or broker that is licensed to operate in the state. So even if you aren't in any of the following cities, know that we can still help you:
Billings
Missoula
Great Falls
Check out our free business insurance quote tool online to get a free quote and find out how easy it can be to protect your business.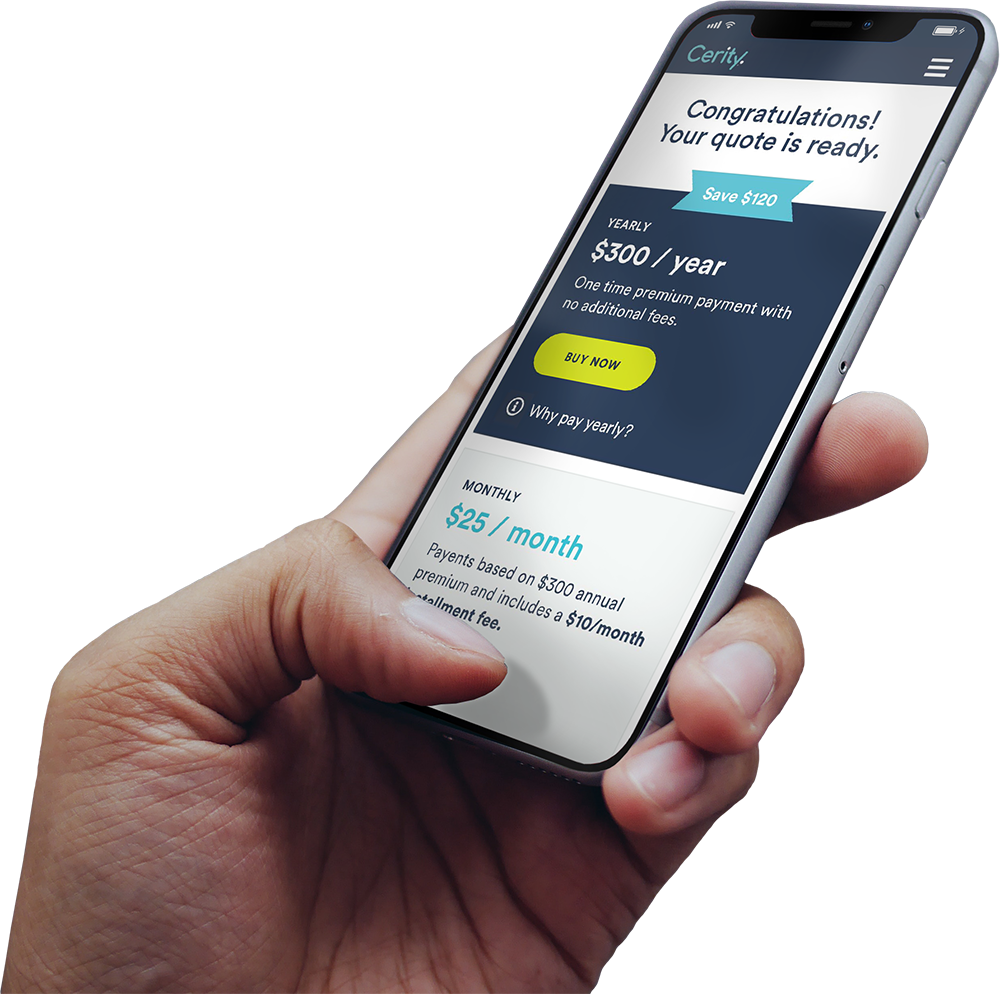 Grab your free quote today.
It only takes a few minutes, whether you're already covered or just getting started.