Workers' Compensation Insurance Policy & Law in
Connecticut
What are Connecticut's requirements for workers' compensation insurance?
The state of Connecticut has fairly strict requirements for workers' compensation insurance. Every employee, whether seasonal, part-time or full-time, is required to be protected by workers' comp coverage. 
Exceptions to this requirement are business owners themselves, LLC members, corporate officers, business partners, sole proprietors, or any household employee who works fewer than 26 hours per week.  
The Connecticut Workers' Compensation Act guarantees medical care, protection against income loss, and survivors' benefits for employees who suffer an injury or illness in the workplace regardless of fault or negligence on the part of the employer or employee. 
In most cases, an employee who is eligible for workers' compensation insurance benefits may not sue their employer or co-workers to gain more compensation than the act outlines. Generally, workers' comp benefits are the employee's exclusive remedy for on-the-job injury or occupational disease.
How are workers' compensation insurance benefits provided in Connecticut?
Because the timeline to act on a workers' comp claim in Connecticut is swift — an employer or insurance company has 28 days to respond — employers will find it crucial to work with an insurance company they can count on to ensure employees are provided their eligible benefits without delay.
Employees may be eligible for either temporary or permanent disability benefits, depending on the severity of their injury. These benefits help provide for necessities like lost wages, medical care, physical rehabilitation, and even mileage reimbursement for transportation to and from medical care. 
Also, all business owners should be familiar with the obligation to provide "light duty," if available, for a partially disabled employee. 
What types of injuries are covered with workers' comp insurance in Connecticut?
Connecticut state law determines what types of injuries are covered with workers' compensation insurance, but in general most injuries that take place during work hours or at the workplace is the responsibility of the employer and thus falls within the realm of worker's comp coverage. 
Whether the injured worker's claim stems from a fall, a run-in with a piece of machinery, or a muscle strain from repeated motion, employees' injuries can cause a major financial hardship for you and their families. Even a workplace as seemingly safe as an office can have plenty of workplace injuries, so no matter what sort of business you have, it's vital to have coverage. 
For Connecticut, there are some general guidelines that can help you understand what typically qualifies for a workers' comp claim:
Motor vehicle accidents

Slips and falls

Impacts from an object

Electrocution injuries

Overexertion injuries

Repetitive motion injuries
What are Connecticut's penalties for not having workers' comp coverage?
Under the Connecticut Workers' Compensation Act, any business found without coverage can face major fines. The state will levy penalties of $300 per employee per day for anyone who isn't covered. While small business owners often need to reduce costs wherever possible, between the fines and the medical bills associated with workplace accidents, you are looking at costs that will devastate your business. 
As an employer, it's important that you keep consistent documentation of your safety measures and protocols in the event of a claim. The more information you can provide if an incident does occur, the easier things will go for you, both in dealing with doctors and with insurance agents. 
Perhaps most importantly, when you have the proper workers' comp coverage, you can focus more on your employees' well-being and less on the fear of financial consequences. 
How much does workers' comp insurance cost in Connecticut?
Fortunately for small business owners in Connecticut, the average cost of workers' comp in your state falls in the lower range compared to other states. Your exact rate will vary, with a variety of factors unique to your business contributing to your insurance premiums. Some of these factors include: 
The type of service your business provides

The value of your business property, including any equipment or supplies

The annual revenue of your business

The location of your business

The number of people your business employs
At Cerity, we work with over a hundred different industries; to find your type of business and see more information specific to you, click here. 
In general, when it comes time for your visit from the insurance assessors, if you are able to demonstrate a commitment to risk management best practices – through training, clear communication, etc. – you will be able to cut down further on your premiums. 
Where can I get workers' comp for my Connecticut business?
At Cerity, we believe getting workers' compensation coverage for your Connecticut businesses should be easy. That's why we've created a faster, more affordable approach to workers' comp insurance coverage. With our proprietary tools and modern technology, we're able to provide insurance quotes quickly — all without phone calls or paperwork. 
We offer workers' compensation to businesses no matter where you are in Connecticut. If you are located in Fairfield, Hartford , or Litchfield, we'll help you protect your Connecticut employees.
If you need workers' comp coverage for your Connecticut business, you can purchase a policy through any private insurance company, agent, or broker that is licensed to operate in the state. So even if you aren't in any of the following cities, know that we can still help you:
Bridgeport
Hartford
New Haven
Norwich
Waterbury
Danbury
Check out our free business insurance quote tool online to find out how easy protecting your business can be.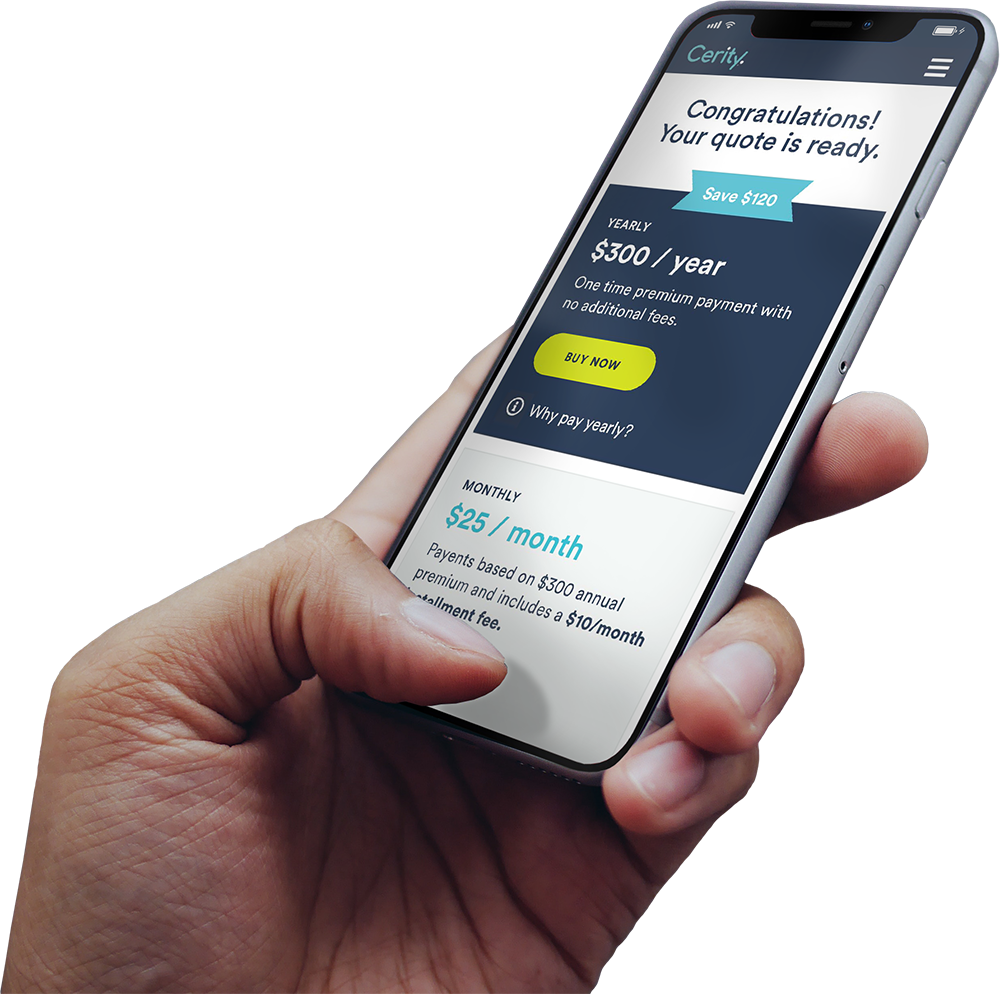 Grab your free quote today.
It only takes a few minutes, whether you're already covered or just getting started.