Workers' Compensation Insurance Policy & Law in
Delaware
Who is covered by the Delaware workers' compensation law?
According to the State of Delaware website, nearly every employee is required to have workers' compensation. There are some exceptions to this, however; the most notable examples are:
Sole proprietor of a business 

Partners within a business' ownership group

Low-earning domestic and agricultural workers

Independent contractors

Government workers

Some real estate professionals 
Additionally, up to eight corporate officers within a corporation may claim exemption from workers' compensation coverage.
Nevertheless, it is possible for nearly any of the parties listed above to opt for workers' comp insurance. Your situation will vary, and in many cases there are other insurance policies that would suffice for your needs. Generally speaking, however, being without any sort of coverage is a poor decision that will leave you open to plenty of liability costs. 
What constitutes a personal injury sustained in the workplace according to Delaware workers' compensation law?
In most cases workers' compensation is quite consistent from state to state: in general, workers' comp covers any workplace incidents that happen during work hours on work premises (this often applies to work-from-home employees as well). However, Delaware has some specifics to be aware of:
Workers' comp only applies to employees engaged in company work on company premises, or engaged elsewhere during the course of work required by their employment. 

Coverage does not include any injury caused by the wilful act of another employee directed against the employee by reasons personal to such employee and not directed against the employee as an employee or because of the employee's employment.

Coverage extends to off-duty employees of the state who are injured as the result of an intentional act because of their workplace association. This will require additional evidence beyond the standard documentation by a medical professional. 
What are workers' compensation insurance benefits in Delaware?
As with nearly any workers' compensation policy, coverage in Delaware will take care of you and your employees in the case of any workplace injury. The most common benefit covers medical expenses that your employee may incur in addition to lost wages they experience while they are unable to work.
Delaware workers' comp also includes extensive death benefits to provide support for employees' dependents, equal to roughly two-thirds of the workers' average pay, to be paid out for a minimum of five years. Funeral expenses of $7,000 are also included, whether or not the employee had dependents. 
To be eligible for workers' comp settlements in Delaware, incident reports must be submitted within 10 days of the incident, and all insurance claims must be submitted within 90 days. 
What penalties are associated with not having Delaware workers' comp insurance? 
Those looking to find savings by skirting insurance payments will find themselves in hot water in Delaware. The state penalizes businesses without workers' comp with fines equal to the yearly insurance premiums they would have paid, multiplied by three. 
Insurance tends to be much less expensive than you might expect, even if you end up not needing it. Between the costs of fines and medical bills if you don't have coverage, complying with state requirements is a non-negotiable where workers' comp is concerned. 
How much does workers' comp insurance cost in Delaware?
Several factors that are unique to your business will contribute to your insurance  
premiums. Some of these factors include: 
The type of service your business provides

The value of your business property, including any equipment or supplies

The annual revenue of your business

The location of your business

The number of employees your business employs
At Cerity we work with over a hundred different industries; find your type of business and more information specific to you here. 
As a general rule of thumb, when it comes time for your visit from the insurance assessors, if you are able to demonstrate a safe work environment, thorough precautionary training, and other risk management best practices, you will be able to reduce your premiums.
Additionally, if you are unable to qualify for private insurance, you may purchase insurance through the Delaware Workers' Compensation Plan, which provides support to Delaware's high-risk businesses. 
Where can I get workers' comp for my Delaware business?
At Cerity, we believe getting workers' compensation coverage for your Delaware business should be easy. That's why we've created a faster, more affordable approach to workers' comp insurance coverage. With our proprietary tools and modern technology, we're able to provide insurance quotes quickly — all without phone calls or paperwork. 
We offer workers' compensation to businesses no matter where you are in Delaware. If you are located in Kent, New Castle, or Sussex, we'll help you protect your Delaware employees.
If you need workers' comp coverage for your Delaware business, you can purchase a policy through any private insurance company, agent, or broker that is licensed to operate in the state. So even if you aren't in any of the following cities, know that we can still help you:
Dover
Wilmington
Newark
Middletown
Bear
Glasgow
Check out our free business insurance quote tool online to get a free quote and find out how easy protecting your business can be.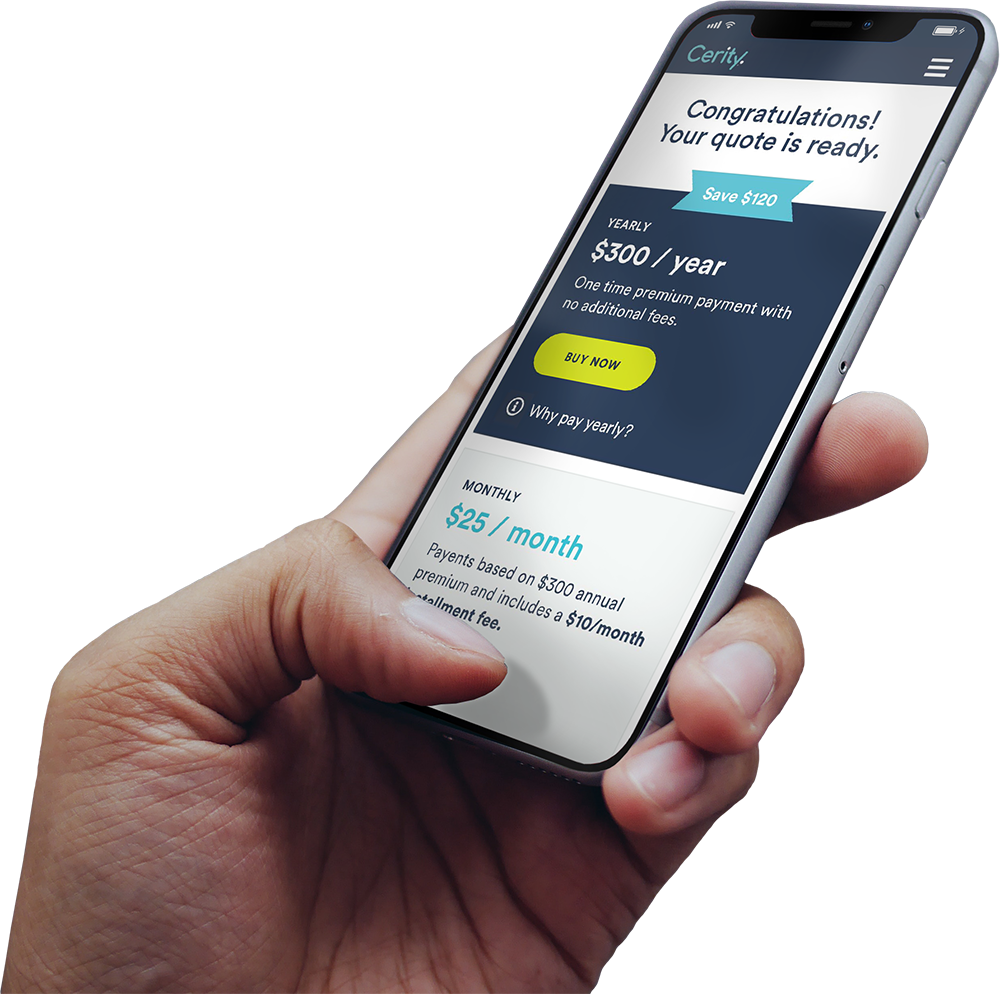 Grab your free quote today.
It only takes a few minutes, whether you're already covered or just getting started.