Workers' Compensation Insurance in
Illinois
How Is Workers' Compensation Insurance Defined in Illinois?
According to the state of Illinois, workers' compensation insurance, also known as workers' comp insurance or workman's comp, is an insurance policy that provides benefits to employees who are injured or become ill as a result of the standard responsibilities related to their jobs. 
Workers' comp coverage can help pay for an employee's emergency medical bills, ongoing medical expenses, and even their lost wages while they recover.
What Are the Legal Requirements Associated with Workers' Compensation Insurance in Illinois?
Illinois law requires that business owners provide workers' compensation insurance for nearly everyone who is employed by an Illinois business. Generally, this means all businesses with any number of employees — part-time or full-time — must have workers' compensation, with only limited exceptions. Illinois law specifies that businesses should purchase workers' comp coverage through a private insurance provider or apply for permission to self-insure. 
Do Partners, Corporate Officers, or Sole Proprietors Have to Have Workers' Comp in Illinois?
Sole proprietors, business partners, corporate officers, and members of limited liability companies may exempt themselves from having workers' compensation coverage. However, these exemptions are rare — it is estimated that 91% of all Illinois workers are covered under workers' compensation insurance.
Regardless of business formation, hazardous occupation employers typically are required to have workers' comp for all employees, including owners, officers, and sole proprietors. 
What Are the Penalties in Illinois for Not Having Workers' Comp Insurance Coverage?
An Illinois business owner who knowingly and willfully fails to obtain workers' comp insurance may be fined up to $500 for every day of noncompliance, with a minimum fine of $10,000. Business owners or corporate officers can be held personally liable if the company fails to pay the penalty. Since 2006, the Illinois Workers' Compensation Commission has collected over $8 million in fines.
In addition, corporate officers who are found negligent in failing to obtain workers' comp insurance are guilty of a Class A misdemeanor — if they are found to have intentionally failed to obtain insurance, they are guilty of a Class 4 felony.
A business owner who knowingly fails to obtain workers' compensation insurance loses their protections under the Illinois Workers' Compensation Act. Because of this, an employee who is injured during the time the employer was uninsured may sue the employer in civil court, where benefits are virtually unlimited. Additionally, during the trial, the burden will be upon the employer to prove the lack of workers' comp insurance was not negligent.
The Illinois Workers' Compensation Commission may issue a work-stop order on an employer that has been found to have failed to provide insurance. The employer must then stop all business operations until it provides proof of insurance.
To learn more about workers' comp coverage requirements in other states, click here. 
How Does Workers' Compensation Work in Illinois? 
In Illinois, when an employee is injured, they are required to inform their employer within 45 days of the date of injury or date of diagnosis of an illness. Employers are then obligated to inform their workers' comp insurance provider. In the event the employee is unable to work for more than three days due to their injury or condition, the employer has the following responsibilities: 
Continue to pay the employee

Provide employee with a written explanation and any additional information or documentation required for the claim

If claim is denied, provide a written explanation as to why

File "Employer's First Report of Injury" with the

Illinois' Workers' Compensation Commission

(IWCC), the organization that facilities workers' comp claims
For more information about navigating the workers' comp process, as well as how nontraditional employees like remote workers are impacted, visit our learning center. 
What Types of Injuries Are Covered By Workers' Comp in Illinois? 
Illinois state law determines what types of injuries are covered, but there are general guidelines that can help you understand what typically qualifies for a workers' comp claim.
These include:
Work-related injuries that are not the result of intentional self-harm, drug or alcohol use, or fighting

Injuries that fall within the "course and scope" of the employees' employment 

Long-term occupational injuries or illnesses, such as back strain from repetitive motion or an illness from exposure to toxic chemicals
What Are Workers' Comp Death Benefits in Illinois?
In the event someone dies from a workplace injury or illness, their dependents are eligible to receive benefits through workers' comp insurance. Death benefits in Illinois are paid in weekly installments and typically are up to two-thirds of the deceased worker's average weekly salary. The benefits have a maximum of either $500,000 or 25 years, whichever comes first. In addition, death benefits include funeral and burial expenses up to $8,000.
In Illinois, those who qualify as dependents are:
Worker's spouse

Worker's children under the age of 18

Worker's children under 25 that are full-time students

Worker's children of any age deemed physically or developmentally incapable of financially supporting themselves
If the deceased employee does not have any of the above dependents, their workers' compensation death benefits are eligible to go to other family members like parents, adult children who do not fit in the above categories, and grandchildren.
How Do Workers' Comp Settlements Work in Illinois? 
Workers' comp settlements are mutually beneficial agreements between the injured or ill worker, their employer, and the insurance provider to settle a workers' comp claim, closing the worker's rights to receive additional benefits in relation to the claim. The exception to this is if the injured or ill employee will need ongoing medical care in the future due to their injury worsening.
Illinois settlement payments are typically offered in a lump-sum, but are available in installments in the following ways:
Wage Differential Claim

:

Employees agree to return to work for less pay than they were receiving before their injury and receive settlement payments to make up the difference to equal their original wages. 

Permanent and Total Disability

:

Employees receive ongoing benefits when they cannot return to work due to their injury or illness. 
What Are the Statutes of Limitations Regarding Workers' Comp in Illinois? 
In Illinois, there are two statutes of limitations in regard to workers' comp. 
The first is the employee's responsibility immediately following an injury or illness. This statute requires the employee to notify their employer within 45 days of the injury or date of diagnosis of an illness. 
The second statute of limitations in Illinois requires claims to be filed with the IWCC within two years of the last payment of compensation from the employer or three years from the date of injury or diagnosis of illness. For ongoing injuries, such as back injuries from repetitive motion, the date of injury is the date on which a person would reasonably have become aware of their injury and that it was a direct result of their job duties.
How Much Does Workers' Compensation Insurance Cost in Illinois?
According to a study by the National Academy of Social Insurance, the average cost of workers' compensation insurance in Illinois is around $1.07 for every $100 that an employer spends on payroll.
However, despite these statistics, employers who are looking to get workers' comp coverage must be aware that the cost of insurance premiums can vary for every business — even for every position within one company — depending on the level of risk faced by your employees.
Many factors unique to your business will contribute to your exact insurance premiums. 
Some of these factors include: 
The location of your business

The size of your business and the number of employees 

The industry in which your business operates

The type of service your business provides

The value of your business property, including equipment or supplies

The annual revenue of your business
For business owners who hope to lower their premiums, they can take certain steps to help prevent injuries on the job and potentially save money. Insurers look at how well a business prioritizes workplace safety with employee training, safety protocols, and other safety steps in the workplace. Employers who make a positive impact in this way and therefore have fewer claims overall may be able to get a better rate.
Where Can I Get Workers' Compensation For My Illinois Business?
We offer workers' compensation to businesses no matter where you are in Illinois. If you are located near Fox Valley, Quad Cities, or Little Egypt, we'll help you protect your Illinois employees.
If you need workers' comp coverage for your Illinois business, you can purchase a policy through any private insurance company, agent, or broker that is licensed to operate in the state. So even if you aren't in any of the following cities, know that we can still help you:
Chicago
Joliet
Rockford
Aurora
Naperville
How Can I Obtain Workers' Compensation Insurance for My Employees in Illinois?
In Illinois, employers can choose to either purchase insurance or obtain permission from the state to self-insure. The Illinois state website estimates that 90% of employers choose to buy insurance rather than self-insure. This is because self-insurance requires businesses to have the financial capability of managing all workers' comp claims on their own without filing a claim with an insurer. This level of autonomy, from the cost to the know-how, can be prohibitive for smaller businesses. 
Finding a workers' comp policy for your Illinois business should be quick and easy with the right provider.
At Cerity, we aim to help Illinois business owners like you get comprehensive insurance coverage fast so you can focus on running and growing your business. Our faster, more affordable approach to workers' comp uses proprietary tools and modern technology to ensure our clients get quick quotes without phone calls or paperwork. 
Check out our free online quote tool to get an estimate and see how easy it is to get workers' compensation coverage to protect your business.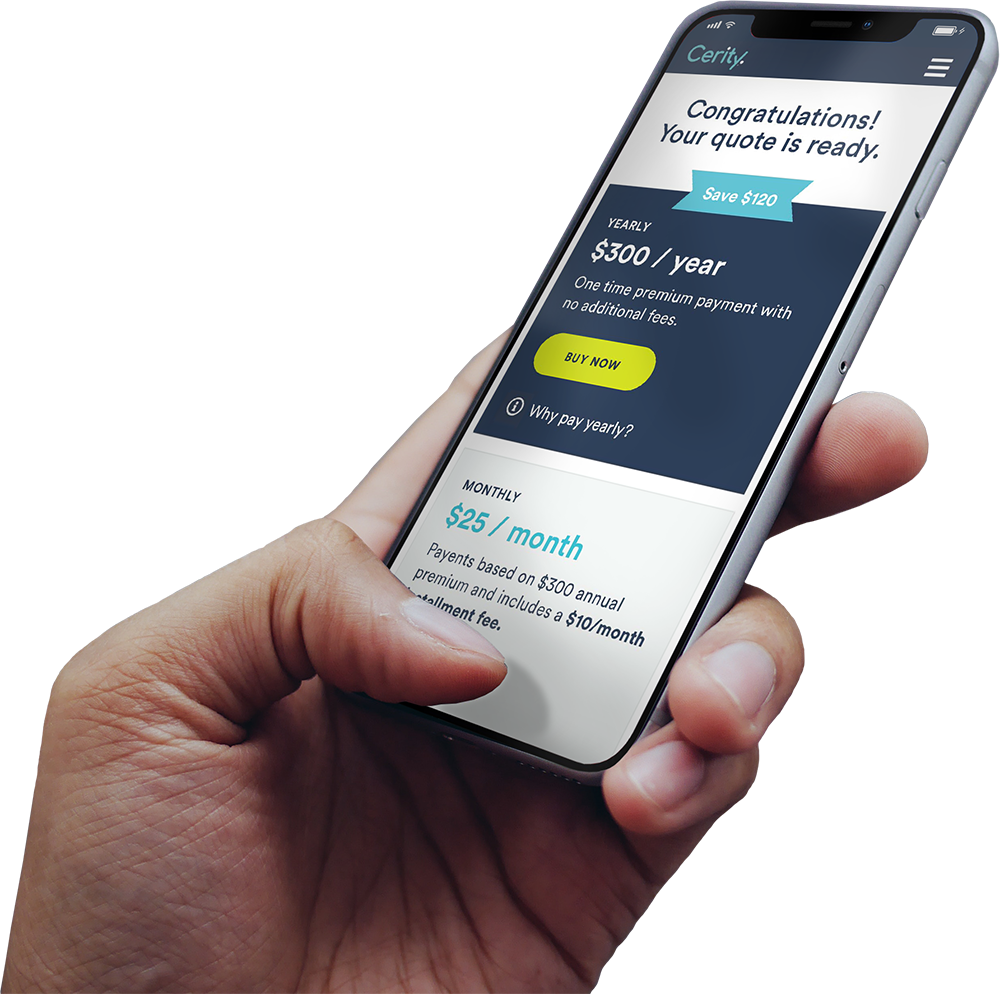 Grab your free quote today.
It only takes a few minutes, whether you're already covered or just getting started.