Workers' Compensation Insurance in
New Jersey
How Is Workers' Compensation Insurance Defined in New Jersey?
In New Jersey, workers' compensation is defined as a "no fault" insurance program that provides benefits to employees who suffer job-related injuries or illnesses.
"No fault" means that injured employees will receive benefits regardless of who is at fault for the incident, except for instances of intentional acts. This system benefits both the employee and their employer, because in exchange for financial coverage for the injured or ill employee, the employer receives protection against any civil action the employee might take against their employer for additional damages.
What Are the Laws That Govern Workers' Compensation Insurance in New Jersey?
According to New Jersey state law, all employers in the state that are not covered by federal programs are required to have workers' comp coverage. This includes corporations with one or more individuals (including corporate officers), partnerships/LLCs with one or more individuals (excluding partners or LLC members), and sole proprietorships. Even out-of-state employers must provide workers' comp coverage if employees are working in New Jersey. 
Businesses in New Jersey do have the option to self-insure. However, that's not always a good choice, because self-insurance requires the business to have enough financial stability to pay any and all claims out of pocket, without any insurance coverage. 
What Does Workers' Compensation Insurance Cover in New Jersey?
Workers' compensation provides the following benefits to employees who suffer job-related injuries or illnesses.
Medical benefits

Temporary total benefits

Permanent partial benefits

Permanent total benefits

Death benefits
These benefits are available to those employees who report their injuries and file claims according to the state's guidelines. The New Jersey Department of Labor and Workforce Development states that injured employees should notify their employers as soon as possible following an injury or illness. The notice does not have to be in writing, but it should be given to the appropriate supervisor or person of authority. 
If the employee needs medical treatment, they should see an approved physician. New Jersey's workers' comp laws state that employers and insurance carriers can select the physician(s) to treat injured or ill workers. 
What Are the Penalties in New Jersey for Not Having Workers' Comp Insurance Coverage?
In New Jersey, business owners who fail to provide workers' comp can face significant consequences, even if there is not a workplace injury or illness. The state of New Jersey categorizes failure to insure as a disorderly persons offense that, if determined to be willful, is a fourth-degree crime. This means that penalties for not having workers' comp coverage can include fines of up to $5,000 for the first 10 days and up to $5,000 for each additional 10-day period thereafter. 
For corporations, these penalties can extend to the corporate officers individually. It's important to remember that all penalties associated with failing to provide workers' comp cannot be discharged via bankruptcy. 
Learn more about workers' comp coverage requirements in other states here. 
What Types of Injuries Are Covered Regarding New Jersey Workers' Comp?
New Jersey state law outlines what types of injuries are usually covered by workers' compensation insurance; generally, the following guidelines can help business owners understand what typically qualifies for a workers' comp claim.
The types of injuries typically covered by workers' comp are:
Injuries that are not the result of intentional self-harm or harm that results from drug use, alcohol use, or fighting

Injuries that fall within the general "course and scope" of the worker's employment, such as long-term occupational injuries, including back strain from repetitive motion
For more information about the worker's comp claim process, visit our learning center. 
What Are Workers' Comp Death Benefits in New Jersey?
Workers' comp policies in New Jersey also provide death benefits to dependents of workers who have died as a result of their workplace injury or illness. In New Jersey, weekly payments to the surviving dependent(s) are 70% of the weekly wage of the deceased worker, not exceeding the maximum benefit amount that is established annually by the Commissioner of Labor. The benefit amount is divided between the surviving dependents as determined by a judge. Dependents typically include: 
Surviving spouse and natural children under 18 who were living with the worker at the time of their death

Surviving spouse, natural children under 18, parents, grandparents, grandchildren, brothers, sisters, and other family members who were not living with the worker at the time of their death but can prove dependency

Natural children between the ages of 18 and 23 who are are full-time students

Natural children over 18 who are physically or mentally disabled
In addition to weekly benefits, up to $3,500 in funeral expenses are offered and paid directly to whoever is liable for the funeral bill, whether it be the estate of the deceased employee or an individual.
How Do Workers' Comp Settlements Work in New Jersey? 
Workers' comp settlements are allowed when it will result in a mutually beneficial agreement between an injured or ill employee, the employer, and the insurer. In New Jersey, workers' comp settlements generally close claims, meaning workers can no longer seek additional benefits after the settlement agreement. Settlements in New Jersey are usually offered in either a single lump sum or structured payments paid out over time.
To come to an agreement regarding workers' compensation settlements in New Jersey, each case must be heard before the New Jersey Workers' Compensation Agency.
What Are the Statutes of Limitations Regarding Workers' Comp in New Jersey? 
In New Jersey, injured or ill workers are required to give their employers notice of their injury within 90 days of the date of the injury either verbally or in writing. From there, workers have to file a claim within two years of the date of their injury or the diagnosis of their work-related illness. 
How Much Does Workers' Compensation Insurance Cost in New Jersey?
In New Jersey, as with other states, private insurers can set their own rates. The best way to get an ideal rate for your business is to compare quotes before purchasing a policy. Not only will this help you find the ideal rate for your budget, but it will also get you acquainted with how providers do business. It's important to remember that every business's premiums will be different. Low-risk jobs like office positions and high-risk jobs like transportation will cost insurers differently.
Many factors unique to your business will be utilized to determine your exact insurance premiums. 
Some of these factors include: 
The location of your business

The size of your business and the number of employees 

The industry in which your business operates
For business owners who hope to make an impact on their insurance costs, risk mitigation is a good step to take. When determining rates, insurance providers evaluate how seriously businesses take workplace safety. This means that if your business takes steps like enacting employee training sessions and creating safety protocols and other safety measures, your insurance premiums could potentially be lowered. 
How Do I Get Workers' Comp for My New Jersey Business?
In New Jersey, you can obtain a workers' compensation insurance policy from any private insurance company that is licensed to operate in the state. This can include private insurance carriers, agents, or brokers. Getting workers' comp coverage doesn't have to be a hassle. In fact, with the right provider the process can actually be quick and easy.
Cerity can get your business a quote without phone calls or paperwork. Our goal is to help New Jersey business owners get the coverage they need without the time-consuming tasks typically associated with workers' comp. Our faster, more affordable approach to workers' comp pairs proprietary tools and modern technology to provide quick quotes and instant policies. 
To get workers' compensation insurance for your New Jersey business, check out our free online quote tool and discover how easy getting workers' compensation coverage can be.
What Cities Can I Get Workers' Comp For My New Jersey Business?
We offer workers' compensation to businesses no matter where you are in New Jersey. No matter where you and your team reside and work within the Garden State, we can help you protect your employees.
If you need workers' comp coverage for your New Jersey business, you can purchase a policy through any private insurance company, agent, or broker that is licensed to operate in the state. So even if you aren't in any of the following cities, know that Cerity can still help you:
Elizabeth
Jersey City
Lakewood
Newark
Paterson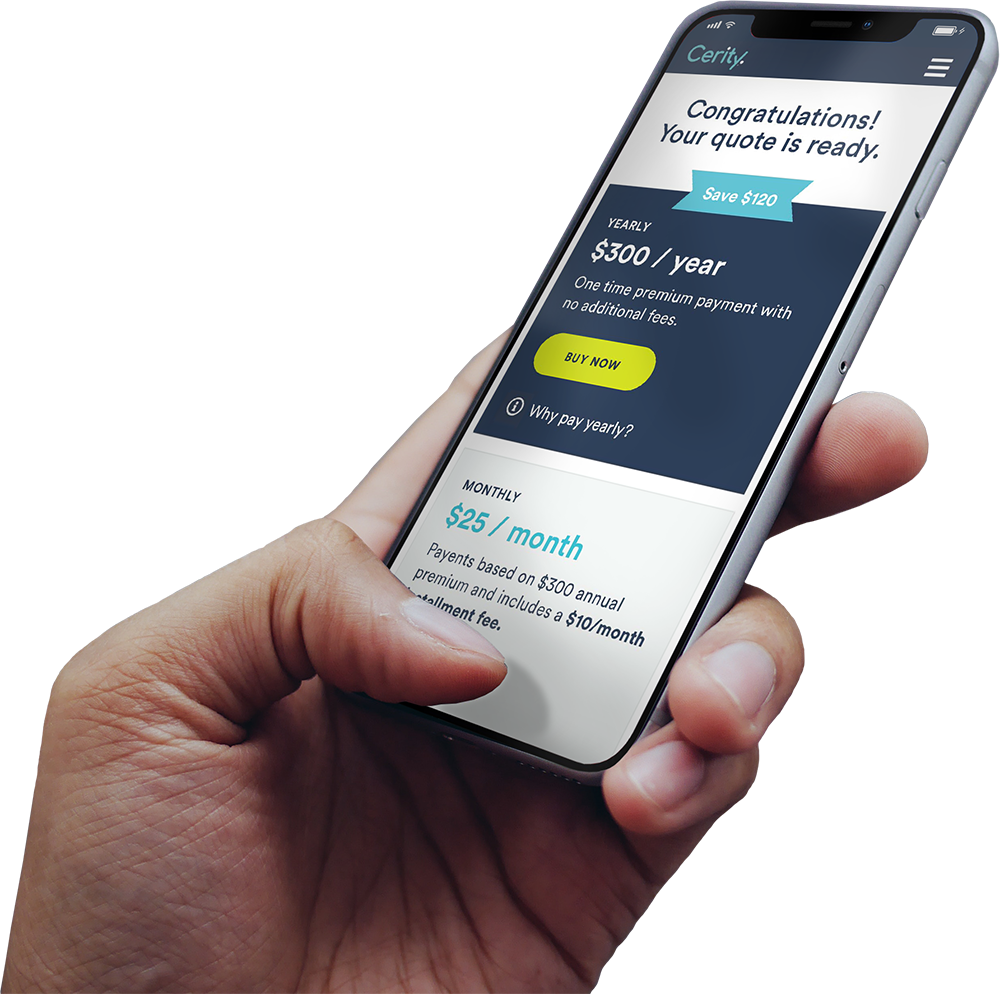 Grab your free quote today.
It only takes a few minutes, whether you're already covered or just getting started.