Workers' Compensation Insurance in
Maryland
How Is Workers' Compensation Insurance Defined in Maryland?
So many giant insurance companies try to upsell businesses into coverage they don't need, but workers' comp is generally not optional. Why should your insurance company quote cram a bunch of extra numbers onto a dollar sign and call it a day? Insurance is supposed to be a layer of protection so you can do the things that made you want to be in business in the first place.  If something does happen, you want to know you're covered.
Maryland's Workers' Compensation Law allows employees who are injured at work or become ill while on the job to access financial support for medical expenses, lost wages, and even death benefits. For employers, workers' comp insurance presents an opportunity to protect their most valuable business asset — their employees. 
What Are the Legal Requirements for Workers' Compensation Insurance in Maryland?
With a few exceptions, nearly every business owner in Maryland with one or more employees is required by law to provide workers' comp. Additionally, any domestic worker whose earnings from a private household are $750 or more in any quarter must be covered. 
Do Sole Proprietors Have to Have Workers' Comp in Maryland?
The smaller your organization, the more that rides on your shoulders. In the event you experience a workplace injury, how protected are you from a loss of income?
Under Maryland law, business owners who are sole proprietors or partners of a business partnership formation do not have to have workers' compensation coverage for themselves. However, you can opt to have coverage for even just yourself if you'd like — considering that workers' comp coverage is often a tax deduction for small businesses, having coverage in the event of illness or injury is never a bad idea. 
What Are the Penalties in Maryland for Not Having Workers' Comp Insurance Coverage?
Maryland has steep penalties when is a business is out of compliance state regulations regarding workers' comp coverage. Employers can be fined up to $10,000, and corporation officers are held personally liable for paying all fines. Misdemeanor charges may also exist if employers are found to be deducting the cost of workers' comp premiums from their employee's paychecks but not paying for a policy.
To learn more about workers' comp coverage requirements in other states, click here. 
What Does Workers' Compensation Cover in Maryland? 
In the event of an employee's workplace injury or illness, Maryland workers' comp insurance provides both compensation for medical coverage and payments for lost wages, even for permanent disabilities. 
Temporary workers' comp benefits:

When an employee is unable to work for more than one week but is not designated as permanently disabled, they are considered eligible for temporary disability benefits. 

Permanent workers' comp benefits:

When the employee's doctor finds that the employee's condition is stationary, or not expected to improve any further, the injured worker may qualify for permanent disability benefits. 
How Are Temporary and Permanent Disability Benefits Paid Out?
In temporary disability situations, workers are able to receive compensation for their lost wages as well as coverage for their medical expenses. To qualify, the employee's doctor must certify that the employee is not able to work or is able to work at reduced hours or limited duties.
These benefits are usually paid two-thirds of the employee's monthly income and are determined by the employee's earnings the month before the individual gets sick or is injured in the workplace. Temporary disability benefits only last while the employee's doctor is actively treating them and certifies they are currently not fit for thor regular work. 
In cases of permanent disability, the doctor will determine whether the employee has a permanent disability. If they do, the doctor will give them a percentage of disability. This number, along with the employee's age, education, and work history helps determine the employee's rate of compensation.
If numbers are your thing, you can check out this table from the state workers' comp agency and see exactly how benefits are calculated. If you'd rather spend your time elsewhere, we have you covered — getting it all to make sense to you is what we do.
What Types of Injuries are Covered Regarding Maryland Workers' Comp?
Maryland state law determines what types of injuries are usually covered by workers' compensation insurance, but there are general guidelines that can help business owners understand what typically qualifies for a workers' comp claim.
These types of injuries typically include:
Injuries that are not the result of intentional self-harm or harm that results from drug use, alcohol use, or fighting. These situations are not covered even in a no-fault state.

Injuries that fall within the general "course and scope" of the worker's employment. For example, if a janitorial staff member slips and falls while mopping, their injuries would likely qualify. However, if an office worker gets into a fender bender on their way home from work after having clocked out for the day, that's unlikely to qualify.

Long-term occupational injuries, including back strain from repetitive motion. Generally, when people think of work-related injuries, they likely think of one-time events — but injuries and illness can occur over a long period of time in a profession. As long as the injury or illness is clearly associated with the employee's general work responsibilities, it may be eligible.
For more information about worker's comp coverage, visit Cerity's learning center. 
What Are Workers' Comp Death Benefits in Maryland?
If an employee dies as a result of an on-the-job injury or illness, either at the time of an accident or even years later, their surviving dependents may be eligible for workers' comp death benefits. These benefits are provided to nearly any family member who is financially dependent on the worker at the time of their passing. This is different from most states, which usually only allow benefits to be offered to surviving spouses and children. While every business owner hopes this never happens, it can be comforting to know that your employees' families are taken care of in the event of a worst-case scenario. 
Death benefits in Maryland are usually two-thirds of the deceased worker's average weekly earnings, but the amount of compensation does vary depending on how much the worker contributed to their dependents. For example, if a worker was 70% responsible for their dependents' expenses, then the dependent will get two-thirds of 70% of the worker's average weekly earnings. Death benefits are available for five to 12 years in most cases. 
In Maryland, death benefits also include funeral and burial expenses, which typically amount to up to $7,000, which can take a huge burden off the family's shoulders.
How Do Workers' Comp Settlements Work in Maryland? 
Workers' comp settlements are agreements between the employee, their employer, and their insurer that are intended to make sure everyone walks away as happy as can be considering the events. Settlements resolve a claim completely and forever. 
Workers who are injured on the job or have an illness as a result of their job can settle for a lump-sum payment, but settlements must be approved by the Maryland Workers' Compensation Commission (WCC), an organization that manages workers' comp claims and enforcement. 
Most times, the WCC will prefer to avoid a lump-sum payment in the interest of the worker's long-term benefit, but it varies from case-to-case.
What Are the Statutes of Limitations Regarding Workers' Comp in Maryland? 
In Maryland, employees who are injured on the job are required to notify their employer within 10 days of the date of injury or diagnosis of the illness. Their workers' comp claim must be filed with the WCC within 60 days of the injury or diagnosis of an illness. The statute of limitations in Maryland is two years from the date of the accident or illness diagnosis. 
How Much Does Workers' Compensation Insurance Cost in Maryland?
According to the National Academy of Social Insurance, in Maryland, the average cost for workers' compensation coverage is about $.98 for every $100 that employers spend on payroll. However, despite this figure, employers should remember that premiums vary and are not the same for every business or industry. This variation is because workers' comp costs are calculated based on a variety of factors, and your insurance provider can help you get the best value.
Many factors unique to your business will be utilized to determine your exact insurance premiums. 
Some of these factors include: 
The location of your business

The size of your business and the number of employees 

The industry in which your business operates
Businesses can help lower their workers' comp insurance costs by being proactive about maintaining a lower-risk environment. So, before you install that zipline from the third floor window to the courtyard, consider how much it will raise your premiums. Insurance providers often evaluate how important workplace safety is to employers when calculating costs. 
When business owners utilize risk-mitigation techniques and make workplace safety a priority through employee training and safety protocols, it not only helps lower the risk of accidents in the workplace and maintain a safe work environment, but it also could potentially help lower workers' comp premiums. It's a win-win.
Where Can I Get Workers' Compensation For My Maryland Business?
We offer workers' compensation to businesses no matter where you are in Maryland. If you are located in Cumberland Valley or Delaware Valley, we'll help you protect your Maryland employees.
If you need workers' comp coverage for your Maryland business, you can purchase a policy through any private insurance company, agent, or broker that is licensed to operate in the state. So even if you aren't in any of the following cities, know that we can still help you:
Baltimore
Bel Air South
Hagerstown
Frederick
How Can I Obtain Workers' Compensation Insurance for My Employees in Maryland?
Workers' compensation insurance can be obtained from insurance companies that are licensed to operate in the state of Maryland. With the right provider, getting workers' comp coverage can be a quick and easy process rather than that to-do list item you keep tossing aside like a game of Hot Potato.
At Cerity, we help Maryland business owners like yourself get insurance coverage fast so you can spend less time on paperwork and spend more time doing what you do best — running your business. 
We created a faster, more affordable approach to workers' comp insurance. Using our proprietary tools and modern technology, we help Maryland businesses get workers' comp quotes without hassle, phone calls, or paperwork. 
To get workers' compensation insurance for your Maryland business, check out our free online quote service and discover how easy getting workers' compensation coverage for your business can be.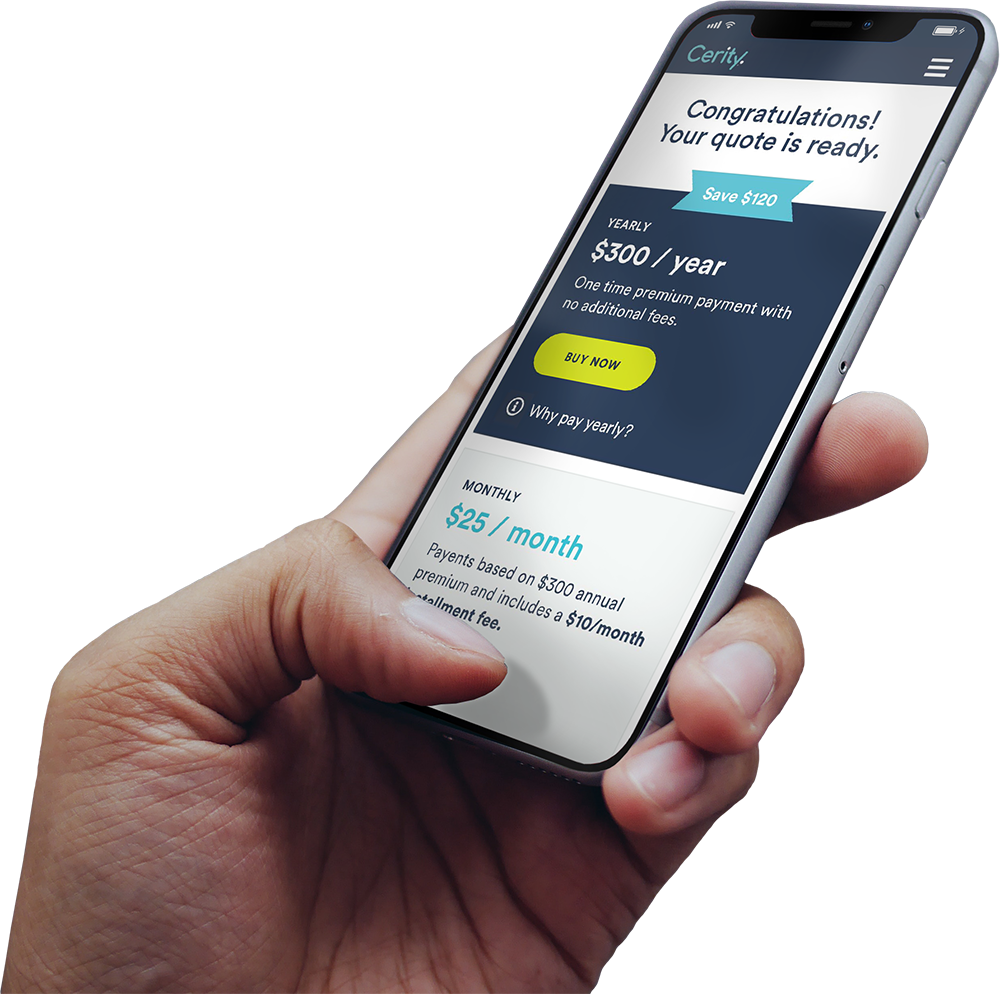 Grab your free quote today.
It only takes a few minutes, whether you're already covered or just getting started.