Workers' Compensation Insurance in
New York
How Is Workers' Compensation Insurance Defined in New York?
In New York, workers' compensation is defined as a business insurance system that protects employers from liability for on-the-job injury or illness and provides the following benefits to the employer and/or the injured/ill employee:
Legal representation for the employer in the event of a lawsuit related to the workplace injury or illness

Payment of medical services needed to treat the employee's job injury or illness

Temporary payments to the employee to help replace lost wages

Disability payments to the employee to compensate for permanent effects of the injury

Death benefits for the employee's surviving dependents in the event of a fatal injury
What Are the Laws That Govern Workers' Compensation Insurance in New York?
In New York, virtually all employers in the state must provide workers' compensation coverage for their employees. Eligible employees include: 
Workers in all employment positions conducted for-profit, including part-time employees, borrowed employees, leased employees, family members, and volunteers working for a for-profit business

Employees of counties and municipalities engaged in work defined by the law as "hazardous"

Public school teachers, excluding those employed by New York City, and public school aides, including New York City

Employees of the State of New York, including some volunteer workers

Domestic workers employed 40 or more hours per week by the same employer, including full-time sitters or companions, and live-in maids

Farm workers

Any other worker determined by the Board to be an employee and not specifically excluded from coverage under the Workers' Compensation Law (WCL)

All corporate officers if the corporation has more than two officers and/or two stockholders

Officers of one- or two-person corporations if there are other individuals in employment. These officers may choose to exclude themselves from coverage.

Most workers who are compensated by a nonprofit organization
Employers must pay for this insurance and cannot require the employee to contribute to the cost of the coverage. The Workers' Compensation Board is a state agency that processes all workers' comp claims. 
In New York, workers' compensation cases are "no fault," meaning that the amount that a claimant can receive for their claim can't be decreased by their own carelessness, nor increased by their employer's fault. However, workers' compensation claims cannot be made if the injury results from intentional acts. Employers are also legally required to post notice of coverage in their place of business. 
What Does Workers' Compensation Insurance Cover in New York?
In the event of a workplace injury or illness, New York workers' comp insurance provides medical coverage and payments for lost wages and permanent disabilities. This can include temporary or permanent benefits. Workers' compensation insurance covers all injuries or illnesses that happen in the course and scope of employment.
Medical care costs covered by New York workers' comp include costs for medical care, dental care, surgical care, optometry, medically necessary drugs, and assistive devices. Except for emergency cases, the healthcare provider who treats the victim must be authorized by the Workers' Compensation Board to treat injured workers. Detailed information about what is covered medically by workers' comp in New York can be found here. 
Employees are entitled to a portion of lost wages if their injury or illness affects them in one or more of the following ways:
It keeps them from work for more than seven days.

Their pay is reduced because they now work fewer hours or do other work.
Lost wage benefits are not paid for the first seven days of the disability unless it extends beyond 14 days. After 14 days, employees may receive lost wage benefits from the first work day they were unable to work. 
If a claim is accepted by the insurer, payments should begin within 18 days of the day that the employee was injured, or within 10 days after the employer became aware that the worker was injured, whichever is later. If a claim is disputed by the insurer, the employee must wait until a judge considers the case and directs the insurer to pay. They may receive disability benefits until the case is heard. If the case is resolved in favor of the employee, the disability benefits would be deducted from their lost wages award.
What Are the Penalties in New York for Not Having Workers' Comp Insurance Coverage?
New York takes workers' compensation violations very seriously. If the Board doesn't have proof of coverage for a specific period of time, it will mail a notice to supply proof of coverage to the business. If a business fails to provide the proper documentation, the Board assumes the business is in violation of the WCL and will mail a penalty notice. 
In New York, noncompliance penalties can amount to $2,000 for every 10 days spent without coverage. Typically by the time the employer receives the first penalty notice, their penalty can exceed $12,000. In addition, there are civil and criminal penalties that can be incurred as well. 
Learn more about workers' comp coverage requirements in states other than New York here. 
What Types of Injuries Are Covered by New York Workers' Comp?
New York state law determines exactly what types of injuries are covered by workers' comp insurance, but there are general guidelines that can help employers understand what typically qualifies for a workers' comp claim.
The types of injuries typically covered by workers' comp are:
Injuries that are not the result of intentional self-harm or harm from drug use, alcohol use, or fighting

Injuries that fall within the general "course and scope" of the worker's employment, such as long-term occupational injuries, including back strain from repetitive motion
For more information about the workers' comp claim process, visit our learning center. 
What Are Workers' Comp Death Benefits in New York?
In the event that an injured or ill worker dies due to a work-related condition, that employee's dependents (as defined by law) may file a claim to be reimbursed for funeral expenses. Funeral or memorial expenses may not exceed $12,500 in the following counties: Bronx, Kings, Nassau, New York, Queens, Richmond, Rockland, Suffolk, and Westchester. Expenses may not exceed $10,500 in all other New York counties.
The state defines dependents as: 
A surviving spouse or the dependent child(ren) of the deceased

Dependent grandchildren

Dependent parents and grandparents

Dependent siblings

Non-dependent parents or the estate of the deceased if there is no surviving spouse or other dependent
Indemnity benefits, also known as lost wage benefits, are calculated and paid based on weekly earnings. The benefits are two-thirds the amount of the worker's average weekly wage over the preceding 52 weeks before the worker's passing. These benefits are tax free and are paid up to the maximum benefit as defined by law on the date of the worker's death. If there is no surviving spouse, minor children, or other dependents as defined by law who are entitled to compensation, the surviving parents or the estate of the deceased worker may be entitled to payment of $50,000.
How Do Workers' Comp Settlements Work in New York? 
Similar to other states, workers' comp settlements in New York are mutually beneficial agreements between the injured or ill employee, the employer, and their insurer that close workers' comp claims fully. Settlements, which must be approved by the state's board, usually result in an agreed-upon amount being paid to the employee via either structured installments or a lump sum. In exchange for this settlement payout, the employee agrees to seek no additional benefits, claims, or lawsuits in relation to the closed claim in the future.
What Are the Statutes of Limitations Regarding Workers' Comp in New York? 
In New York, injured or ill workers have two years from the date of their injury or diagnosis of their illness to file a workers' comp claim. The same can be said for surviving dependents who are seeking death benefits. Dependents have two years from the date of passing to file a death benefits claim. 
How Much Does Workers' Compensation Insurance Cost in New York?
Just like in other states, the cost of workers' comp premiums in New York can vary based on a variety of circumstances. Private insurers who are licensed to operate in the state typically set their own rates, and often premiums are determined using several factors that are unique to each business. In order to know what you can expect to pay for coverage for your business, consider comparing quotes from multiple companies.
Before doing so, it helps to remember that every business's premiums will be different. If your business is considered low-risk, your rates might be lower than those businesses that are considered high-risk. This has to deal with the inherent risks associated with your industry and the types of work your employees do regularly. 
Many factors unique to your business will be utilized to determine your exact insurance premiums. 
Some of these factors include: 
The location of your business

The size of your business and the number of employees 

The industry in which your business operates
Businesses can potentially decrease costs in New York by following the steps as outlined by the New York state website. Additionally, you can be proactive by prioritizing risk mitigation techniques. Insurance providers look highly upon businesses that take workplace safety seriously when calculating workers' comp premium rates. Steps like enacting employee training sessions, following industry best practices, and creating safety protocols could possibly help lower your insurance premiums. 
How Do I Get Workers' Comp for My New York Business?
Those seeking workers' comp coverage in New York can purchase a policy through any private insurance company, agent, or broker that is licensed to operate in the state. In addition, businesses have the option to self-insure; however, that requires enough capital to cover any and all costs associated with workplace injuries or illnesses without the help of insurance coverage. Luckily, getting workers' comp coverage in New York can be hassle free with the right private insurance provider.
Cerity is home to a faster, more affordable approach to workers' comp. We aim to help New York business owners just like you get insurance premium quotes easily — without phone calls or paperwork. Using proprietary tools and modern technology, we can provide business owners with quick quotes and instant policies. 
To get workers' compensation insurance, check out our free online quote tool and begin protecting your New York business today.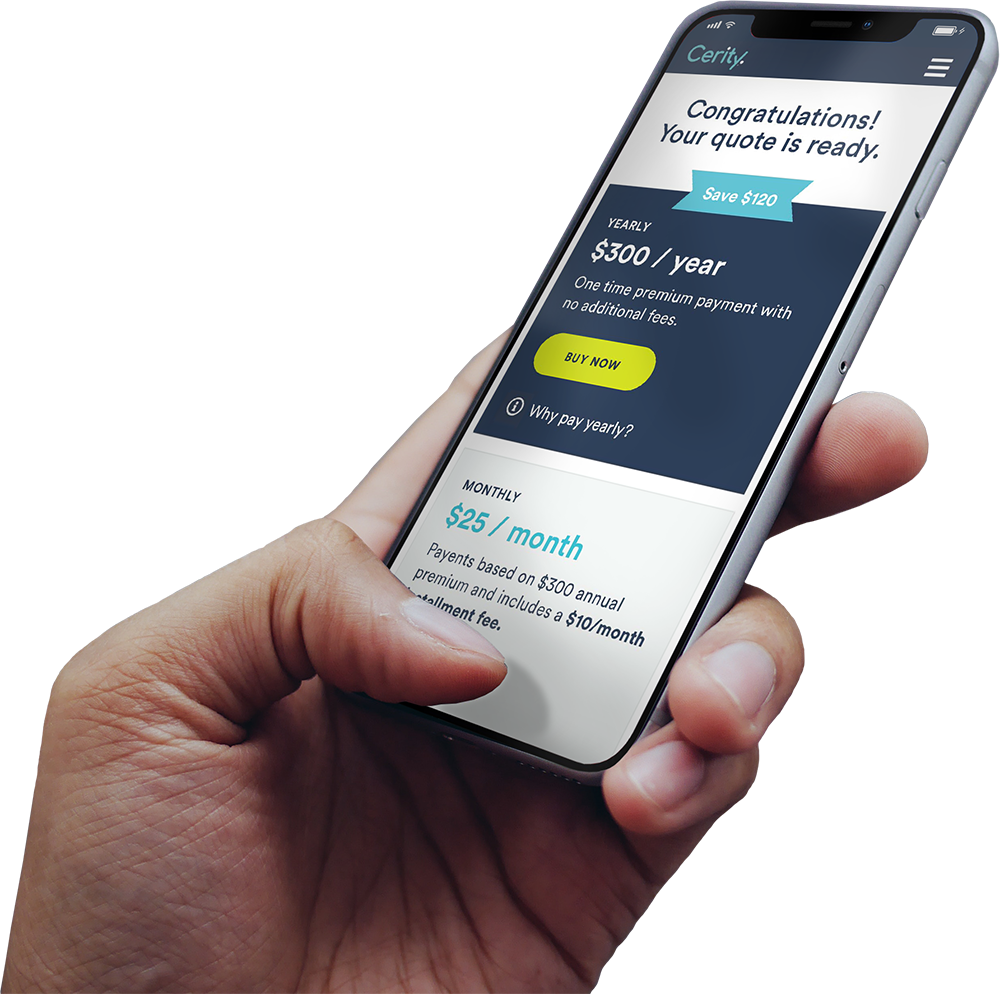 Get protection for your business baby.
It only takes a few minutes, whether you're already covered or just getting started.