Workers' Compensation Insurance Policy & Law in
Vermont
How Is Workers' Compensation Insurance Defined in Vermont?
The state of Vermont defines workers' compensation as a system of insurance that is meant to provide employees a speedy, no-fault remedy for work-related injuries and illnesses. In addition, workers' comp provides employers protection from being held liable for the costs associated with their employees' injuries or illnesses. "No-fault" means that benefits are provided regardless of who is at fault for the incident, except for incidents that are intentional.
What Are the Laws Regarding Workers' Compensation Coverage in Vermont? 
In Vermont, workers' compensation is mandatory for nearly all employers in the state. Any business that has one or more part-time employees must provide workers' comp coverage. The only general exception to this are employers who qualify to self-insure. Additional exceptions include: 
Sole proprietors

Partners in unincorporated businesses 

Independent contractors

Members of limited liability companies (LLCs) and corporate officers who opt out with permission from the Vermont Department of Labor

Casual workers who are not employed in the core functions of the business

Those in amateur sports 

Person working in agriculture or other farm job whose employer has a payroll of less than $10,000 per year

Certain elected officials and volunteers
What Does Workers' Compensation Insurance Cover in Vermont?
In Vermont, workers' compensation provides the following benefits: 
Medical care and treatment that is reasonable and necessary to treat the injury or illness

Lost time benefits if the employee is disabled due to work injury, amounting to roughly two-thirds of the employee's usual work wages

Permanent disability benefits, but only if the employee's injury results in permanent impairment

Vocational rehabilitation if the employee is unable to return to suitable employment due to their workplace injury or illness

Death benefits if the evidence supports that the employee's death arose due to work injury
What Are the Penalties in Vermont for Not Having Workers' Comp Insurance Coverage?
Vermont takes the workers' compensation law seriously. Failure to comply will result in businesses having to pay a civil penalty of $100 per day for the first seven days and $150 for each day after that for noncompliance. Additional effects of noncompliance include potential shutdown of the business and an impacted ability to defend the business against future workers' comp lawsuits. 
Learn more about workers' comp coverage requirements in states other than Vermont here. 
What Types of Injuries Are Covered by Vermont Workers' Comp?
Vermont state law defines a work injury as an injury that "arises out of and in the course of employment." It may be an injury or an occupational disease that occurs instantaneously or over time. Injuries that are typically not covered by workers' compensation include: 
Injuries caused by an employee's intent to injure themselves or another

Injuries caused by an employee's intoxication

Injuries caused by an employee's failure to use a safety appliance provided for their use
For more information about the workers' comp claim process, visit our learning center. 
What Are Workers' Comp Death Benefits in Vermont?
In the event that a workplace injury or illness causes an employee's death, Vermont state law dictates that death benefits be provided to the employee's beneficiaries or dependents. Death benefits in Vermont include: 
Burial and funeral expenses not exceeding $10,000 and transportation expenses not exceeding $5,000 if the decedent's passing occurs out of state

Weekly survivor income benefits, ranging between 67% and 77% of the deceased worker's weekly wage
How Do Workers' Comp Settlements Work in Vermont? 
As in other states, workers' comp settlements in Vermont are mutually beneficial agreements made between the injured worker, their employer, and the insurance company. Settlements usually result in the employee being paid an agreed-upon amount of compensation (via structured monthly payments or one lump sum). In exchange, the worker agrees not to pursue additional benefits or civil litigation in relation to the claim in the future, and the claim is closed permanently.
What Is the Statute of Limitations Regarding Workers' Comp in Vermont? 
In Vermont, employees must file their workers' comp claim within six months from the date of the injury or discovery of the illness. This time period can be extended if the employee can prove that their employer had prior knowledge of the injury. 
How Much Does Workers' Compensation Insurance Cost in Vermont?
As in other states, the cost of workers' comp insurance premiums in Vermont will vary depending on a variety of circumstances. Private insurers set their own rates, which are often determined using several factors that are unique to each business. 
For Vermont business owners looking for coverage, the best way to tell how much you'll pay is to compare quotes from multiple companies. Every business's premiums will be different depending on circumstances unique to each business. For example, if your business is considered low-risk, like accounting, your rates might be lower than those of businesses that are considered high-risk, like oil and gas. 
Many factors are used to determine exact insurance premiums. 
Insurance rates, or premiums, depend upon a variety of factors unique to the business, including: 
Some of these factors include: 
The location of your business

The size of your business and the number of employees 

The business's experience rating

The industry in which your business operates

The safety record of your business
Looking to help lower your insurance premiums? Luckily, there are some preventative steps that might be able to help. Insurance providers often consider how seriously businesses take workplace safety when calculating workers' comp premium rates. According to the Vermont state website, the three most common injuries in the state are to the back, the eyes, and the hands. This means that the need for body mechanics and proper lifting techniques, safety goggles, and gloves are very important. 
Businesses that provide appropriate training and develop and implement safety protocols can help reduce work injuries and keep insurance premiums down. Taking simple steps such as enacting employee training sessions, following industry best practices, and creating safety protocols could potentially help lower your insurance premiums. 
How Do I Get Workers' Comp for My Vermont Business?
Businesses in Vermont looking to get workers' comp coverage can purchase a policy through any commercial insurance company, agent, or broker that is licensed to operate in the state. Those who cannot get approved for private insurance, whether because they are high risk or because they have too many past claims, can get coverage through the state's assigned risk program, which is administered by the National Council on Compensation Insurance (NCCI). This is often referred to as a provider of last resort. 
Vermont businesses can also opt to self-insure if they meet certain financial requirements. Self-insurance requires the business to be held financially responsible for the cost of all claims and related expenses in the event of a claim. With self-insurance, businesses must pay out of pocket without the assistance of insurance. This is not an ideal choice for most businesses, as it can be extremely costly in the event of an incident. 
Where Can I Get Workers' Compensation For My Vermont Business?
We offer workers' compensation to businesses no matter where you are in Vermont. If you are located in the Champlain Valley, Green Mountains, or Mount Mansfield, we'll help you protect your Vermont employees.
If you need workers' comp coverage for your Vermont business, you can purchase a policy through any private insurance company, agent, or broker that is licensed to operate in the state. So even if you aren't in any of the following cities, know that we can still help you:
Burlington
South Burlington
Rutland
Luckily, getting workers' comp insurance coverage in Vermont is easy when you partner with the right private insurance provider. Cerity created a faster, more affordable way to get workers' comp. We help Vermont business owners just like you get insurance premium quotes fast — without the hassle of phone calls or paperwork. Using proprietary tools and modern technology, we provide business owners with quick quotes and instant policies. 
Visit our free online quote tool and see how easy it is to protect your Vermont business today.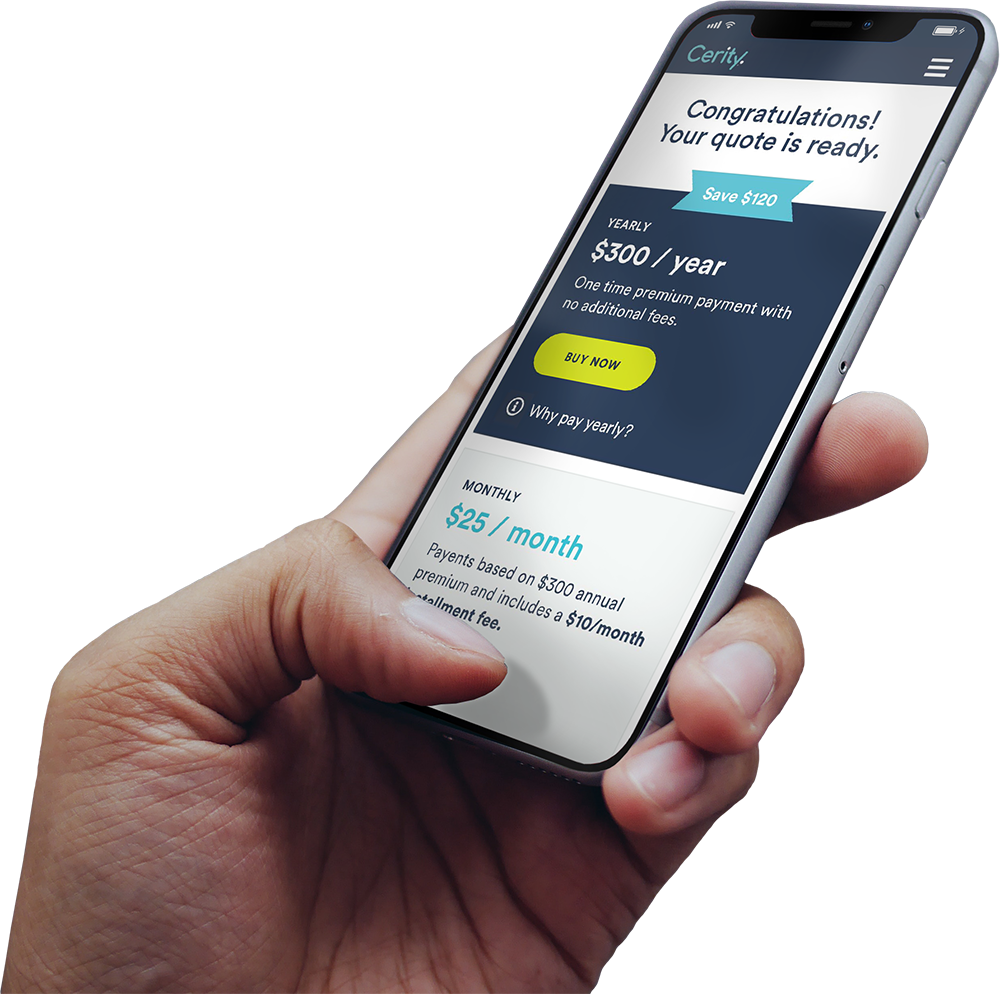 Grab your free quote today.
It only takes a few minutes, whether you're already covered or just getting started.