Workers' Compensation Insurance in
Maine
How Is Workers' Compensation Insurance Defined in Maine?
According to the state of Maine's website, workers' compensation is defined as insurance that provides benefits for occupational injuries or disease suffered by an employee, regardless of fault. The benefits include payments for medical services and lost wages, which are subject to a limit set by state law. 
Workers' compensation is the exclusive remedy for the coverage of work-related injuries by the employer, meaning that an employer with appropriate workers' comp coverage is generally protected from a personal injury lawsuit if an employee is injured. In a state known for its craggly shoreline and picturesque lighthouses, having a good workers comp policy is a little like protecting yourself from a storm at sea. 
What Are the Legal Requirements for Having Workers' Compensation Insurance in Maine?
If your business has one or more employees, the state of Maine's laws mandate that you provide workers' compensation insurance coverage. That effectively includes every business throughout the state, including public and private employers. The state law defines employers as "private employers, the state, counties, cities, towns, water districts, other quasi-public corporations, municipal school committees, and design professionals."
The only employers not legally required to have workers' comp are: 
Those who employ domestic servants in their own home

Agriculture or aquaculture firms employing seasonal or casual workers (as long as they have at least $25,000 in employers' liability insurance and at least $5,000 in medical coverage)

Agriculture or aquaculture industries with six or fewer workers (as long as they have employers' liability insurance with at least $100,000 in coverage for each full-time equivalent employee and $5,000 in medical payment coverage for each full-time equivalent employee)
Under Maine state law, employers must include themselves in their workers' comp coverage, with the following exceptions: 
Sole proprietors with no employees

Parents, spouses, or children of a sole proprietor, business partner, or owner of 20% of a firm — a written waiver required to request exemption

Members of an LLC
Regardless of whether or not you are required by law to have workers' comp coverage, it's just good business sense to protect your most valuable asset — your employees and yourself. Workers' comp helps protect your employees and your bottom line, which makes workers' comp coverage a mutually beneficial investment for all parties involved. 
Do Independent Contractors or Sole Proprietors Have to Have Workers' Comp in Maine?
Independent contractors do not count as employees, but if those contractors employ subcontractors, the subcontractors must be covered by a workers' comp insurance policy. 
What Are the Penalties in Maine for Not Having Workers' Comp Insurance Coverage?
As with many states, the penalties for not having workers' comp in Maine can be stiff. Some of these penalties include: 
Class D criminal charges

Civil penalties — up to $10,000 or 108% of the projected cost of workers' comp coverage, whichever is greater

Loss of business license or corporate charter
In addition, employers without workers' comp may be held liable out-of-pocket for injured or ill employees' medical expenses, death benefits, and other expenses. They may also be open to a personal injury lawsuit, which can result in exponentially higher payouts than what they would have paid in workers' comp premiums.
Business owners should know that commercial liability insurance is no substitute for workers' comp coverage. In the event an employer is found liable for penalties and damages in relation to a workers' comp case, commercial liability insurance will not offer any coverage. 
To learn more about workers' comp coverage requirements in other states, click here. 
What Types of Injuries Are Covered By Workers' Comp in Maine? 
Maine state law determines what types of injuries are covered by workers' comp insurance, but there are general categories of injury or illness that may qualify for workers' compensation benefits:
Occupational Illnesses

Repetitive Motion and Overuse Injuries

Hearing or Vision Loss

Traumatic Injuries

Stress from Work-Related Physical Injuries.

Mental Injury Resulting from Work-Related Stress
In general, injuries that happen while workers are performing employment duties or even running errands for their job or employer are covered by workers' comp. Injuries that occur while an employee off-duty, on break, or commuting to and from work are generally not compensated through workers' comp.
What Benefits Does Workers' Compensation Cover in Maine? 
In the event of a workplace accident, Maine workers' comp insurance provides both medical coverage and payments for lost wages. Injuries or illnesses may be classified as either temporary or permanent disabilities, which determines how benefits are paid out.
Temporary Total Disability (TTD) Benefits:

Compensation is 80% percent of the injured workers after tax wage. The state has no minimum weekly payment, and no limit to the maximum number of payments an employee can receive. However, there is a  maximum weekly payment of 90% of the state average weekly wage of $596.42.

Permanent Total Disability (PTD) Benefits:

Compensation is 80% percent of the injured workers after tax wage. Like with temporary total disability, there is no state weekly payment and no maximum to the number of payments. There is also a maximum weekly payment that is 90% of the state average weekly wage of $596.42.

Permanent Partial Disability (PPD) Benefits:

The benefits for PPD are the same as for TTD and PTD, with one difference: benefits for scheduled and non-scheduled injuries. Scheduled injuries typically include permanent damage to an extremity, such as a loss of limb. Non-scheduled injury payments are limited to payments for a maximum of 312 weeks or for the total length of disability when the impairment is excess of 15% of the whole body. Regardless of the number of weekly payments, the maximum payable is $186,083. 
For more information about worker's comp coverage, visit our learning center. 
What Are Workers' Comp Death Benefits in Maine?
In the event an employee passes away as a direct result of an on-the-job injury or a work-related illness, the worker's beneficiaries and surviving family members may become eligible for death benefits. 
Death benefits in Maine typically include funeral and burial expenses (up to a maximum of $4,000) and additional benefits paid weekly. Weekly benefits are usually a percentage of the deceased worker's usual income — up to two-thirds of the worker's average weekly wage — but no more than Maine's average weekly wage. In addition, death benefits may include up to $3,000 for incidental expenses. 
Surviving children and spouses are considered "wholly dependent" and automatically receive a portion of the workers' earnings. Wholly dependent family is determined by the following factors:
Children under age 18

Children of any age who are fully financially dependent on the worker

Children under 23 and who are full-time students

A spouse or possibly other family members who were living with the deceased worker at the time of death

A spouse living apart from the deceased worker who was deserted by the worker
Other family members can be considered either wholly or partially dependent, depending on the circumstances, including whether or not there were wholly dependent children or a spouse to whom the benefits could go to primarily. For partially dependent family survivors, the amount they are eligible to receive is based on how dependent financially the survivors were on the worker.
Regardless of whether the dependents are found to be wholly or partially dependent, they can only receive weekly death benefits for up to 500 weeks. 
How Do Workers' Comp Settlements Work in Maine? 
Workers' compensation settlements are mutually beneficial agreements between injured or ill employees, their employer, and their insurer that close the workers' comp claim. 
In Maine, all settlements must be approved by a judge at the Maine Workers' Compensation Board. The judge reviews all claims and typically approves settlements in the event the settlement is deemed to be in the employee's best interest, as long as the employee was an active part of the review process, and so long as the settlement fully releases the insurer from making future payments.
When a workers' compensation settlement occurs, the injured or ill employee forfeits their right to receive further benefits in relation to that particular workers' comp claim. When a settlement is agreed upon, the worker receives a settlement payment in the form of a lump-sum.
Maine workers' comp settlements also include compensation to the worker for attorney fees up to $7,500.
What Are the Statutes of Limitations Regarding Workers' Comp in Maine? 
The statute of limitations in Maine to file a workers' comp claim is two years. This means that from the time an employer first files a report of the employee missing work, there are two years during which a claim can be filed. In the event an employer never filed a report of one or more days of missing work, the statute of limitations begins the date of the injury. 
How Much Does Workers' Compensation Insurance Cost in Maine?
According to data provided by the National Academy of Social Insurance, the average cost of workers' compensation insurance in Maine is about $1.35 for every $100 an employer spends on payroll.
However, despite this average, employers should know that workers' comp premiums vary for every business. 
Workers' comp costs are calculated using a variety of factors but will start with the insurance class codes determined by the state rating bureau or by the National Council on Compensation Insurance (NCCI).
Where Can I Get Workers' Compensation For My Maine Business?
We offer workers' compensation to businesses no matter where you are in Maine. If you are located in Down East, Kennebec Valley, or Maine Highlands, we'll help you protect your Maine employees.
If you need workers' comp coverage for your Maine business, you can purchase a policy through any private insurance company, agent, or broker that is licensed to operate in the state. So even if you aren't in any of the following cities, know that we can still help you:
Portland
Lewiston
Bangor
South Portland
Many factors unique to your business will contribute to your exact insurance premiums. 
Some of these factors include: 
The location of your business

The size of your business and the number of employees 

The industry in which your business operates

The type of service your business provides

The value of your business property, including equipment or supplies

The annual revenue of your business
If you hope to lower your premiums, there are some things you can to both help prevent injuries on the job and potentially lower insurance costs. By prioritizing workplace safety with employee training, protocols, and a culture of safety among the workplace, employers can make a positive impact on insurers who see this risk reduction when calculating workers' comp quotes. 
How Can I Obtain Workers' Compensation Insurance for My Employees in Maine?
According to the state of Maine's website, businesses are expected to generally obtain insurance from a licensed provider. Some businesses can purchase coverage from the state's assigned risk residual market, the Maine Employers' Mutual Insurance Company (MEMIC), a last resort option for businesses who cannot qualify for insurance from providers due to their high number of workers' comp claims historically. 
Some employers may qualify for self‐insurance, meaning they cover the costs related to workers' comp, including medical costs, rehabilitations costs, and other related benefits themselves without filing a claim with an insurer. Generally, this option is only for very large employers with the financial ability to cover these costs and the ability to maintain compliance with record-keeping and filing. 
However, for any size business, getting a workers' comp policy is quick and easy with the right provider. 
At Cerity, we help Maine business owners like yourself get insurance coverage fast so you can focus your attention on the important things — running your business. We created a faster, more affordable approach to workers' comp. Using proprietary tools and modern technology, we ensure our clients get quotes without any phone calls or paperwork. 
Check our free online quote tool and discover how easy getting workers' compensation coverage to protect your business can be.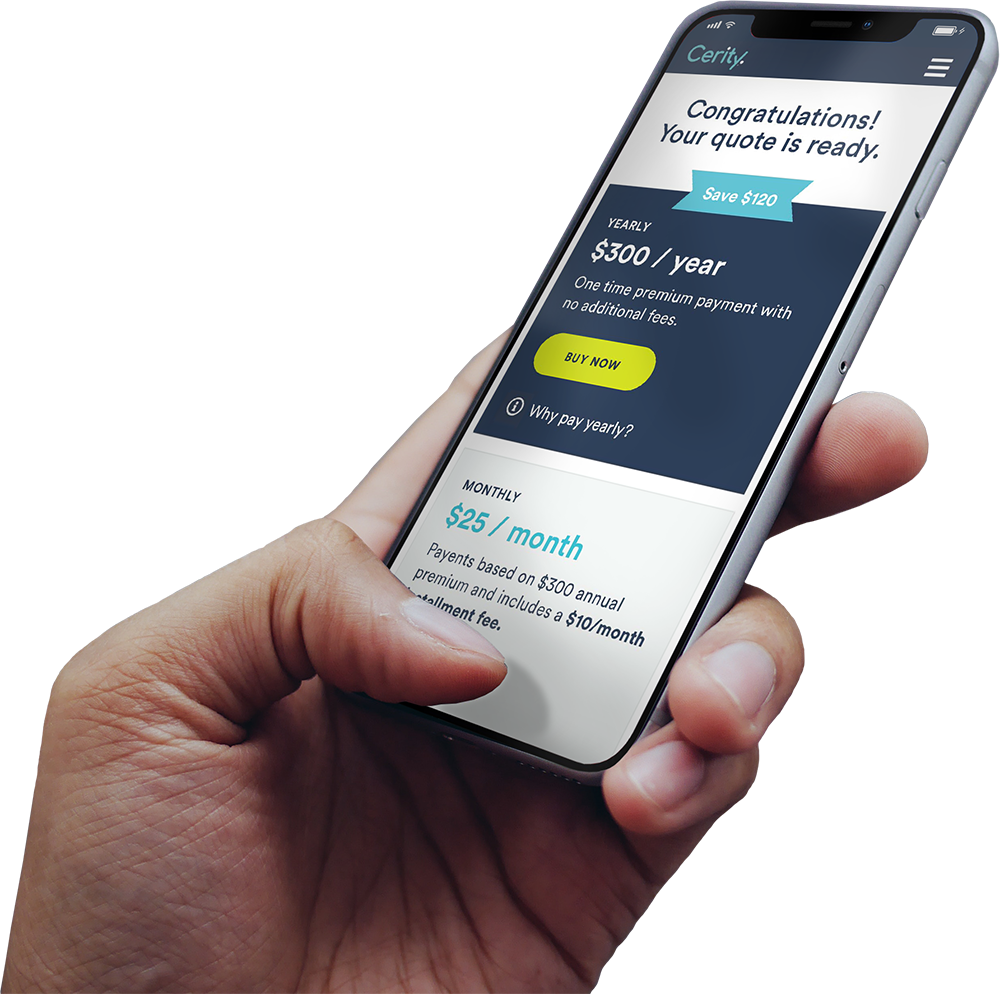 Grab your free quote today.
It only takes a few minutes, whether you're already covered or just getting started.