Workers' Compensation Insurance Policy & Law in
Idaho
How Is Workers' Compensation Insurance Defined in Idaho?
According to the Idaho Industrial Commission, workers' compensation is an insurance policy that covers the costs associated with injuries from a specific workplace accident as well as illnesses that might develop over time as a result of a worker's job.
What Is a "No-Fault" System, and How Does It Affect Workers' Compensation in Idaho? 
A "no-fault" worker's compensation system means that injured employees are entitled to medical and financial benefits — such as medical expenses, rehabilitation expenses, and lost wages for missed work and permanent injuries — regardless of who caused the workplace injury. This means that even if the employee was partially or fully at fault for their injury, they will still be entitled to receive benefits from their workers' comp insurer. In a "no-fault" system like Idaho's, business owners are protected from paying costly medical bills and defended against most lawsuits in response to an accident in the workplace.
What Are the Legal Requirements for Workers' Compensation Insurance in Idaho?
For Idaho businesses that employ one or more full-time, part-time, seasonal, or occasional employees, the state requires business owners to maintain a workers' compensation insurance policy unless they are specifically exempt from the law. Business owners are required to have workers' compensation insurance in place when the first employee is hired.
In Idaho, workers' compensation exemptions include:
Sole proprietors and some family members employed by them 

Partners and members of an LLC

Officers of corporations with 10% or more stake in the company

Employees who have workers' comp coverage from the federal government

Household or domestic workers

Pilots who work in agriculture dusting and spraying

Real estate workers who work on commission

Volunteer ski patrollers

Athletic officials for secondary grades 

Irregular, casual employment that is not related to typical line of work

Outworkers
Do Independent Contractors Have to Have Workers' Comp in Idaho?
The Idaho Industrial Commission (IIC) evaluates independent contractors on a case-by-case basis. Some independent contractors must have workers' comp coverage, but others may not. It's best to check with the IIC directly to ensure you're staying within all legal regulations.
What Are the Penalties in Idaho for Not Having Workers' Comp Insurance Coverage?
Operating a business in Idaho without workers' compensation insurance is a misdemeanor under Idaho law and can be costly for business owners. In the event of a work-related injury, Idaho business owners can be held personally liable for all benefits that would be provided to the worker under the state's workers' compensation law — including medical costs and wage loss. 
Also, an uninsured employer may be liable for a penalty of 10% of the amount of medical and lost wages benefits, as well as attorney fees if the injured employee is represented by an attorney. Business owners who operate without workers' compensation insurance can also face fines of $2 per day per employee, or $25 per day — whichever is greater.
To learn more about workers' comp coverage requirements in other states, click here. 
What Does Workers' Compensation Cover in Idaho? 
In the event of a workplace accident resulting in injury or illness, workers' comp insurance provides both medical coverage and payments for lost wages and permanent disabilities. This can include temporary or permanent benefits.
Idaho state law determines what types of injuries are covered by workers' compensation insurance, but there are general guidelines that can help business owners understand what typically qualifies for a workers' comp claim.
These types of injuries typically include:
Injuries that are not the result of intentional self-harm or harm that results from drug use, alcohol use, or fighting. These situations are not covered even in a no-fault state.

Injuries that fall within the general "course and scope" of the worker's employment. For example, if a janitorial staff member slips and falls while mopping, their injuries would likely qualify. However, if an office worker gets into a fender bender on their way home from work after having clocked out for the day, that's unlikely to qualify.

Long-term occupational injuries, including back strain from repetitive motion. Generally, when people think of work-related injuries, they likely think of one-time events — but injuries and illness can occur over a long period of time in a profession. As long as the injury or illness is clearly associated with the employee's general work responsibilities, it may be eligible.
For more information about worker's comp coverage, visit our learning center. 
What Are Workers' Comp Death Benefits in Idaho?
In Idaho, if an employee passes away as a result of a workplace injury or illness, surviving dependents may receive death benefits. Death benefits in Idaho are available to up to three children of the deceased worker until they reach the age of 18. In addition, the following family members could qualify in the event they were financially dependent on the worker:
Parents

Siblings

Grandparents

Grandchildren
Funeral expenses are also included in Idaho death benefits if the worker's death occurred within four years of their workplace injury or illness. 
How Do Workers' Comp Settlements Work in Idaho? 
Workers' comp settlements in Idaho are agreements between the worker and their employer meant to resolve the claim while benefiting all involved parties. 
Settlements are considered final resolutions in the state, closing appeals for additional benefits related to the claim permanently. The only situations where settlements can be continued after a settlement is in the case of an ongoing or additional treatment related to the workplace injury or illness. 
Settlements are typically paid in lump sums, which must be approved by the IIC. Settlements typically cover the costs of future medical costs, disability as it relates to how the injury affected the workers' wage-earning capacity, unpaid impairment balance, and retraining costs. 
What Are the Statutes of Limitations Regarding Workers' Comp in Idaho? 
There is currently no statute of limitations in Idaho as it pertains to medical benefits as long as the employee has met all state filing and notice requirements and the claim was resolved with a lump-sum settlement. Employees must report any on-the-job injury to their employer within 60 days of the date of injury or discovery of an illness. 
In the event benefits were paid and discontinued more than four years from the date of injury, employees have one year from the date of their last payment to apply for additional benefits. 
How Much Does Workers' Compensation Insurance Cost in Idaho?
The average cost for workers' compensation coverage in the state of Idaho is around $1.69 for every $100 employers spend on payroll, according to the National Academy of Social Insurance. However, it's important to remember that every business's premiums will be different. 
Workers' comp costs are calculated based on a variety of factors, and your insurance provider can help you get the best value.
Many factors unique to your business will contribute to your exact insurance premiums. 
Some of these factors include: 
The location of your business

The size of your business and the number of employees 

The industry in which your business operates
For businesses who hope to lower their workers' comp insurance costs, there are some actions that may help. Providers often evaluate how important workplace safety is to employers when calculating premium costs. 
If a business owner makes it a priority to conduct employee training and ensures workers abide by safety protocols, it not only helps lower the risk of accidents in the workplace and maintain a safe work environment but also could lower workers' comp premiums. 
How Can I Obtain Workers' Compensation Insurance for My Employees in Idaho?
Workers' comp insurance can be obtained from insurance companies licensed to operate in the state of Idaho. With the right provider, getting workers' comp can be a quick and easy process. 
At Cerity, we aim to help Idaho business owners like yours get insurance coverage fast so you can spend less time on paperwork and spend more time doing what you do best — running your business. We believe in a faster, more affordable approach to workers' comp. Using our proprietary tools and modern technology, we help our clients get workers' comp quotes without hassle, phone calls, or paperwork. 
Workers' compensation insurance in Idaho can be obtained easily through our free online quote service. Check it out and discover how easy getting workers' compensation coverage for your business can be.
What Cities Can I Get Workers' Comp For My Idaho Business?
We offer workers' compensation to businesses no matter where you are in Idaho. If you are in the Canyon Country, The High Country or in the Snake River Plains, we can help you protect your employees.
If you need workers' comp coverage for your Idaho business, you can purchase a policy through any private insurance company, agent, or broker that is licensed to operate in the state. So even if you aren't in any of the following cities, know that Cerity can still help you:
Boise City
Caldwell
Idaho Falls
Meridian
Nampa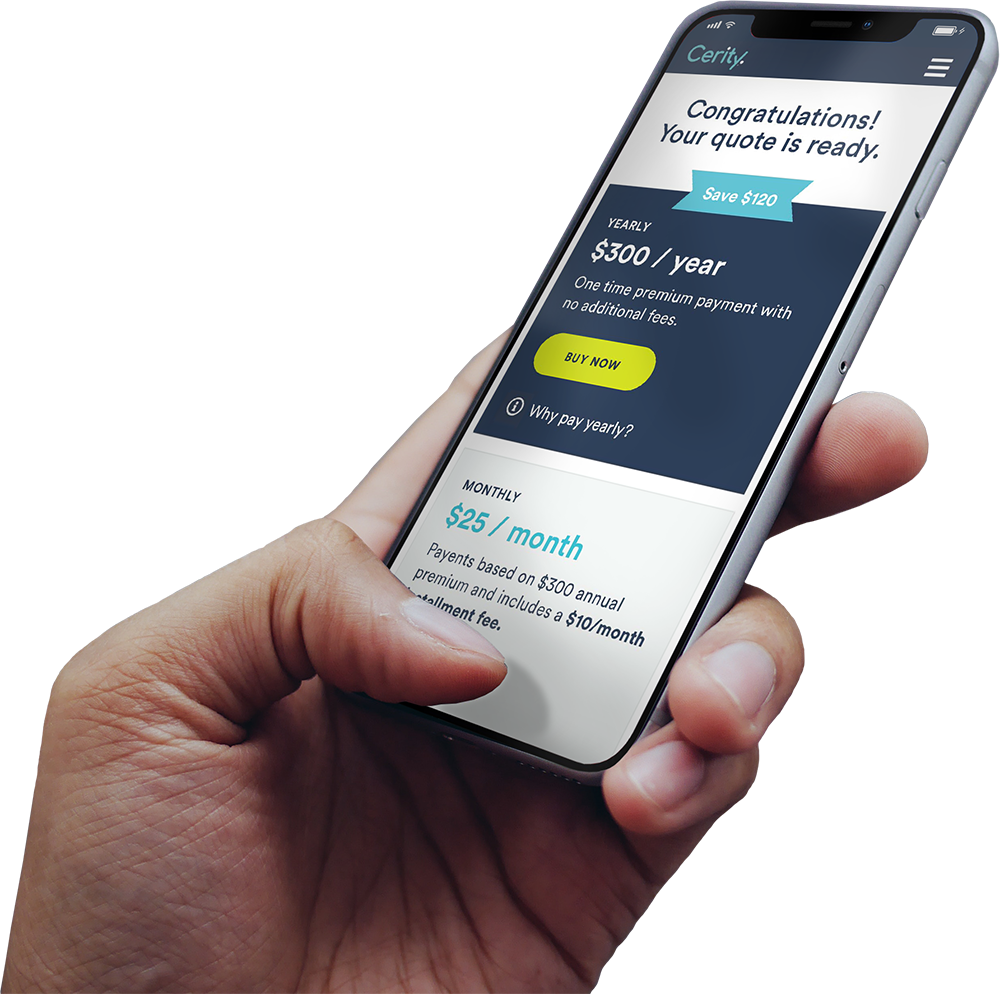 Grab your free quote today.
It only takes a few minutes, whether you're already covered or just getting started.