Workers' compensation is an insurance policy that is beneficial to both employees and their employers. Through workers' compensation, an employee who was injured on the job can receive benefits to help cover expenses such as lost wages, medical costs, and more. Employers benefit from having comprehensive workers' compensation coverage available to their employees, because it keeps the business from being held liable to cover those expenses out of pocket. In addition, it protects the business from potential legal action taken by the employee.
Workers' compensation can sometimes be overwhelming without the right background and guidance to help you through the process. In order for both businesses and employees to benefit as much as possible from their workers' comp coverage, there are deadlines to adhere to, important factors to consider, and specific steps to follow.
At Cerity, we are committed to assisting you throughout your journey to help keep employees safe, employers satisfied, and businesses protected.
What constitutes a filing for workers' compensation? 
Employees should file for workers' comp if they have experienced injuries or illnesses that occurred as a direct result of doing their job. This includes workplace accidents and diseases or illnesses caused by workplace situations such as exposure to toxic chemicals.
Before filing a claim, employees must be sure that their company has a workers' comp insurance policy, that they are an official employee of the business — not an independent contractor — and that the injury or illness occured while on the job.
Are there workplace injuries that workers' comp does not cover? 
Yes. Workers' compensation typically will not cover on-the-job injuries related to:
Employees engaging in activities that are against company policies (crime, fighting, drugs, alcohol, etc.)
Psychiatric conditions
Self-inflicted incidents
Accidents occurring on the commute to or from work
What's the first step in the workers' compensation claims process? 
The first, and most important, step of the workers' compensation claims process is for the injured employee to receive prompt medical treatment. Whether that means receiving emergency care immediately following the incident or visiting a primary care doctor as soon as possible after the injury, employees have a better chance for a full recovery if they seek treatment swiftly.
In addition, employees will need to have medical records documenting their treatment steps in order to file for a workers' comp claim through most policies. If the injury does not require emergency care, employees should check with their employer to see if a specific doctor must be seen in order to be covered by the workers' comp policy.
Even if employees feel fine following a workplace accident, it's important to seek medical attention after any incident on the job, as there could be long-term effects from the accident that may not appear immediately. Having records that show a need for compensation are essential.
How should injured employees notify their employer? 
Early reporting consistently results in a better outcome to a claim (which can include a faster return to work, less prolonged injuries, and a lower cost of medical treatment), which is important for both the injured worker and the business.
After a workplace accident, it is essential to inform employers about the event and any injuries related to it. A written notification of the event details as soon as possible after the event is best, even if the employee has already reported the information verbally.
Laws may vary by state, but often employees have a limited window in which to report a workplace injury in order to qualify for workers' compensation benefits. If employees are not sure if they were injured in the accident, it's still best to report the incident so that if they experience injury ramifications later they can still qualify for workers' comp coverage.
How does the workers' comp claim begin? 
After the employer has been notified, an official claim can begin. Typically, this involves the injured employee filling out the required reporting forms provided by the employer. These forms vary and are based on the state in which the business is based, the type of injury or illness, and the insurer requirements. Often businesses are required to provide workers' comp policy details and forms to new employees upon their hiring, depending on local laws.
Typically the forms include important details about the event such as the nature of the injury, where and when the injury occured, details surrounding the incident, medical treatment required in relation to the injury, and more.
What happens after the form has been turned in to the employer? 
After the injured employee returns the form to their employer, the employer takes the next step in the claims process by filing the claim and associated paperwork with their workers' compensation insurance provider and the state workers' comp board (depending on local state laws). There are laws surrounding the employer's responsibility in filing workers' comp claims that protect employees and give employers incentive to take swift action.
After the claim has been filed by the employer and the insurer has received medical documentation from the injured employee's physician, the insurance company evaluates the claim and notifies the employer and the injured employee whether or not the claim has been approved.
What happens if a claim is denied? 
If denied, employees typically have the opportunity to appeal or ask the insurer to review their decision. The insurance company will report their decision to the workers' compensation board, depending on state laws. If desired, an employee can seek legal representation.
What happens if a claim is approved? 
If approved, employees will be notified about their compensation, which may cover costs such as medical expenses, disability, lost wages, and more. The employee can choose to accept the compensation amount via either a lump sum or a structured settlement. The employee can also choose to seek legal representation if they'd like to negotiate for a larger amount.
What happens after injured employees return to work? 
Once injured employees have recovered, they must notify their employer and the workers' comp insurance company when they are ready and able to come back to work. Disability benefits may or may not continue once the employee has returned, depending on the severity and longevity of the injury.
How do workers' compensation claims affect insurance premiums? 
If a business continues to see its employees injured on the job, there is a chance that the company's workers' comp premiums, or costs, could increase. To help prevent injuries and keep premiums low, businesses should prioritize employee training programs, enact workplace policies that encourage safety, and maintain a workplace culture where safety is a top priority.
Why is it important to follow these steps in the claims process?
It is crucial that both employees and employers follow the steps in the claim process completely and quickly. Following these steps will help ensure the best possible outcome from workplace injuries or illnesses.
That's why Cerity is here — to help injured workers receive medical treatment and return safely back to work, and to ensure that employers are protected with comprehensive workers' comp coverage. Once your claim is submitted, it will be handled by a licensed adjuster, who will work with the business owner(s) and the injured worker on a clear and transparent process for compensation.
If you have additional questions about how to handle workplace injuries or what the workers' compensation claim process is like, review the resources in our Learning Center or contact us 24/7 via our online member portal or our claims reporting hotline at 844-423-7489.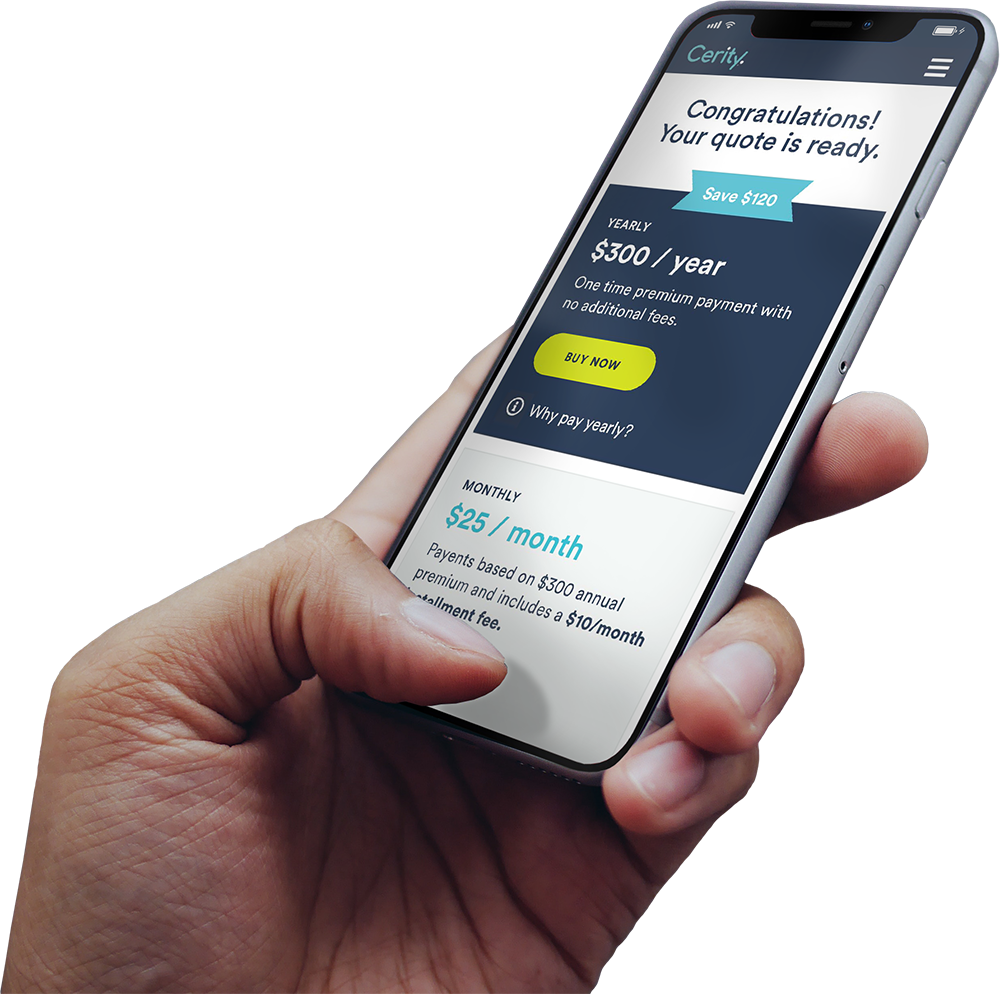 Get protection for your business baby.
It only takes a few minutes, whether you're already covered or just getting started.