Workers' compensation insurance for cleaning businesses — without the hassle.
You've worked hard to start your cleaning business, but are you protecting everything you've worked to build against surprise costs like workplace injuries?
Whether you've just started your own small cleaning business or you have an established cleaning business, it's important to protect yourself, your team, and everything you've worked to create.
If you're a small business owner, you might be wondering if you need protection like workers' comp for your cleaning business. The truth is that on-the-job accidents and illnesses happen all the time, and the costs associated with these incidents can quickly add up. Luckily, workers' compensation insurance for cleaning businesses gives you the protection you need to keep doing what you do best — running your cleaning business.
Workers' Comp Insurance for Cleaning Businesses
If you or an employee gets hurt while cleaning a client's home, are you prepared to cover the expenses related to the injury? If over time you develop an occupational illness from working around toxic cleaning chemicals, do you have a plan for paying for medical treatment? As a self-employed cleaning business owner, can you afford to take an extended period of time off work to recover from an injury or illness? For many cleaning businesses, the answer is no, and that's okay! That's why workers' comp for cleaning businesses is there.
Workers' compensation insurance provides coverage for the expenses related to on-the-job injuries and illnesses, alleviating financial stress so you can focus on your business.
Cleaning Businesses Injury and Illness Risks
Every industry has a variety of risks employees face in their everyday work. For cleaning businesses like yours, the risk of injury or occupationally related disease is higher than that of low-risk office jobs. The physical toll that consistent cleaning can take on your body is significant, as are the various risks you're exposed to daily.
Whether you or one of your employees slips on a wet floor, experiences a repetitive motion injury from mopping and vacuuming, or develops an illness from being exposed to chemicals in cleaning agents, an injury or illness can potentially cost you thousands of dollars — if not more.
That's where your cleaning business workers' comp policy can help. Insurance like workers' comp helps protect your business and your financial security by offering coverage for unexpected costs, such as:
Emergency medical care including ER visits, ambulance services, or medical treatment
Continuing medical care including primary care physician visits, medication, or physical therapy
Lost wages due to an inability to work
Cleaning insurance for the self-employed helps eliminate the financial risks associated with workplace injuries and illnesses. With comprehensive coverage, you can run your business and focus on your clients instead of worrying about how to pay for expensive accidents.
Additionally, you might be legally obligated to carry workers' comp coverage, depending on state law. If your cleaning business is located in a state where workers' comp is required, you could face potential criminal or financial penalties if you're found non-compliant. Between legal requirements and the benefits provided by coverage, workers' comp is a must for any cleaning business.
Risk Management for Cleaning Businesses
As a hard-working cleaning business owner, you know the importance of being prepared to take on any mess that comes your way. When it comes to business insurance, it's also important to be prepared — even if you have insurance coverage. Preventing on-the-job injuries and illnesses is just as important as supplying workers' comp. Not only is this helpful in keeping you and your team safe, but it could also potentially help lower your insurance premiums.
Taking precautionary steps such as creating and adhering to safety procedures, following industry guidelines for working with chemicals and equipment, and requiring the use of personal protective equipment can prevent injuries and illnesses. On top of that, these actions could also save you money in the long run. Insurance companies favor businesses that prioritize safety when determining quotes.
Cost of Workers' Comp for Cleaning Businesses
When it comes to your cleaning business and workers' comp insurance, it's understandable that cost will be a factor when trying to find the right policy. So, how much does workers' comp for cleaning businesses cost?
The answer is that it depends. Insurance providers use a variety of factors unique to your business to determine your premium — or cost. These factors include how large your business is, where your business is located, how many employees your business has, and many others. The best way to know how much you should expect to pay for workers' comp insurance for your cleaning business is to get quotes from potential providers. However, many business owners find the process of shopping around for quotes frustrating and time-consuming.
However, with the right provider, the process can be fast and simple.
At Cerity, we're committed to providing quick and easy protection for your business. That's why we created a faster, more affordable way to get workers' compensation insurance. Why not see how much you could save?
Visit our workers' compensation quote tool to get your free online quote and experience the Cerity approach to workers' comp insurance.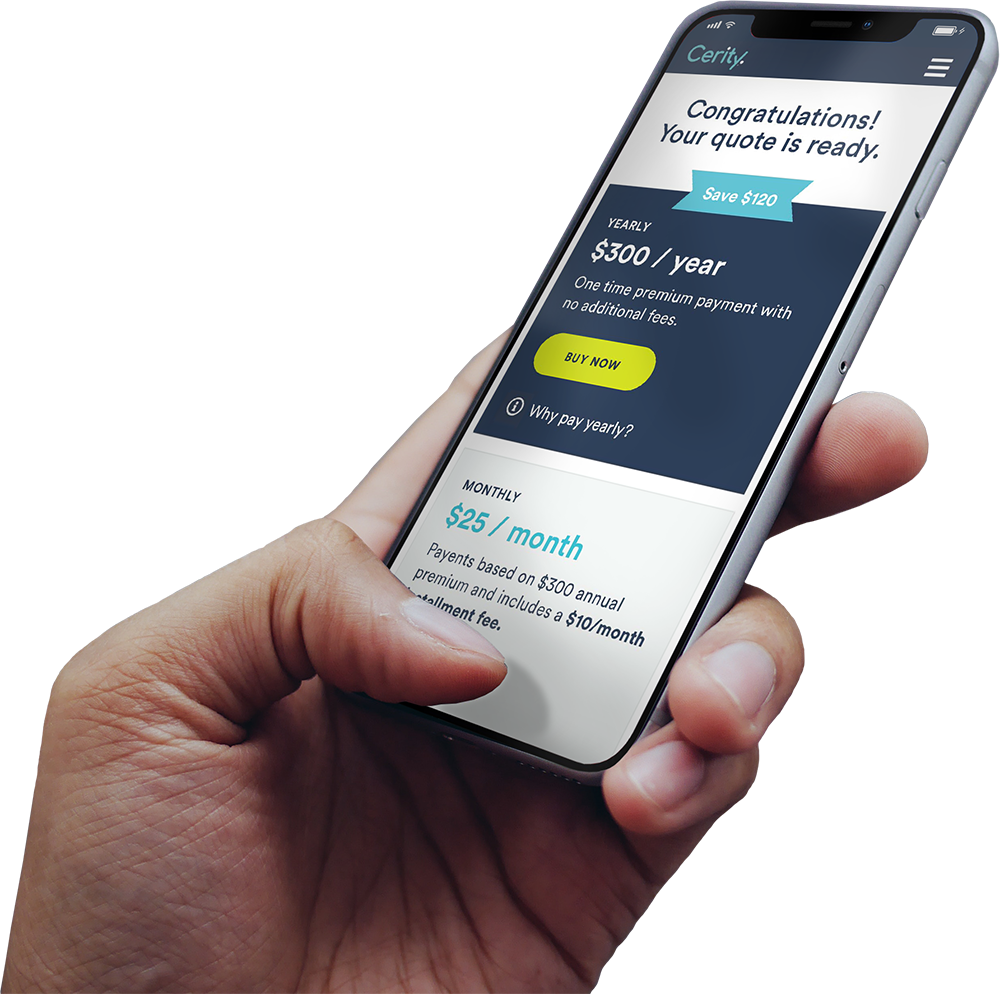 Grab your free quote today.
It only takes a few minutes, whether you're already covered or just getting started.