Your aim is to provide quality cleaning services. Ours is to keep you protected.
Affordable workers' comp insurance for cleaning companies — without phone calls or paperwork.
While you clean for clients, we work to protect your business.
Whether you specialize in home or commercial cleaning, your clients are trusting you to keep their spaces tidy and clean. But with this responsibility also comes the risk of on-the-job injuries. Working with chemicals and cleaning equipment can pose certain risks to your employees' health, not to mention the risk of injury while traveling between client locations.
Workers' compensation insurance helps protect your business from the financial losses it can incur when an employee sustains a work-related injury. Investing in this type of small business insurance for cleaning services is investing in the financial future of your company.
Workers' Compensation Insurance for Cleaning Companies
While cleaning may not be a particularly dangerous occupation, it still carries certain risks. When cleaning professionals are hurt on the job, they may sustain injuries that require medical attention. In addition, their recovery may require them to take time off work, which impacts their wages.
Workplace injuries can take a serious toll on your business finances. That's why it's important that you prepare for the unexpected by investing in workers' compensation insurance. This type of house cleaning insurance protects your business from financial losses in the event that an employee is injured by covering the costs of medical care and lost wages for the injured employee.
Cleaning Service Employee Injuries
Cleaning professionals encounter a number of risks on the job every day. Whether it's a window washer falling off a ladder, a maid tripping over her mop bucket and falling, or a commercial cleaner becoming ill after exposure to heavy-duty cleaning chemicals, your company needs to be ready for the unexpected.
Workers' compensation insurance helps you pay for injured employees' medical expenses. Whether you are an independent contractor, small business, or large LLC, investing in this type of commercial insurance is a vital way to protect both yourself and your employees.
When an employee sustains an injury while on the job, your workers' comp insurance will help cover the costs of:
Ambulance services
Emergency room care
Medication
Follow-up medical visits
Physical therapy
Other ongoing medical care
Wages lost during time employee is unable to work
Cleaning Service Liabilities
In addition to the costs of employee medical care and lost wages, your business may also be liable for costs pertaining to employee lawsuits. Liability insurance is typically included in workers' compensation coverage.
In the event that an employee sues your company over a work-related injury, your liability insurance covers:
Attorney fees
Court costs
Settlement payments
Judgements
Witness fees
Other related legal fees
It's important to note that liability insurance may not be a part of your workers' compensation insurance coverage. For instance, some states are required to purchase workers' comp insurance through monopolistic state funds. If you are operating in North Dakota, Ohio, Washington, or Wyoming, you will want to check your workers' comp coverage to ensure that it covers liabilities. If it does not, you may need to seek additional professional insurance coverage.
Risk Management for Cleaning Companies
Risk management is the most effective way to prevent work-related employee injuries. Not only does managing risk help you keep your staff safe and healthy, but it can also have a positive impact on your workers' comp insurance rates. The more you do to reduce risk in the workplace, the more likely you are to keep your premiums down.
Here are just a few of the ways that you can work to manage risk across your cleaning company:
Develop safety guidelines and procedures that all employees should follow when completing a service for your clients.
Provide basic safety training to all cleaning service employees that addresses the most common risks of the job.
Ensure that all employees have access to any safety equipment or protective clothing they may need while on the job.
Cost of Workers' Compensation Insurance
Insurance companies calculate workers' compensation insurance costs based on the following factors:
Nature of your business
Your business's jurisdiction
Your business's payroll records
Your company's history of workplace incidents
Overall, workers' compensation insurance is an invaluable investment for cleaning service companies. It helps protect your business from potential financial devastation while supporting your employees in the event that they sustain a workplace injury.
Are you ready to protect your cleaning business with workers' compensation insurance? At Cerity, we make shopping for a workers' comp insurance rate hassle-free. Using proprietary tools and technology, our free online quote tool offers a quick, straightforward insurance quote for your cleaning service business without any paperwork or phone calls.
Get a free quote for workers' comp insurance with our free online quote tool today.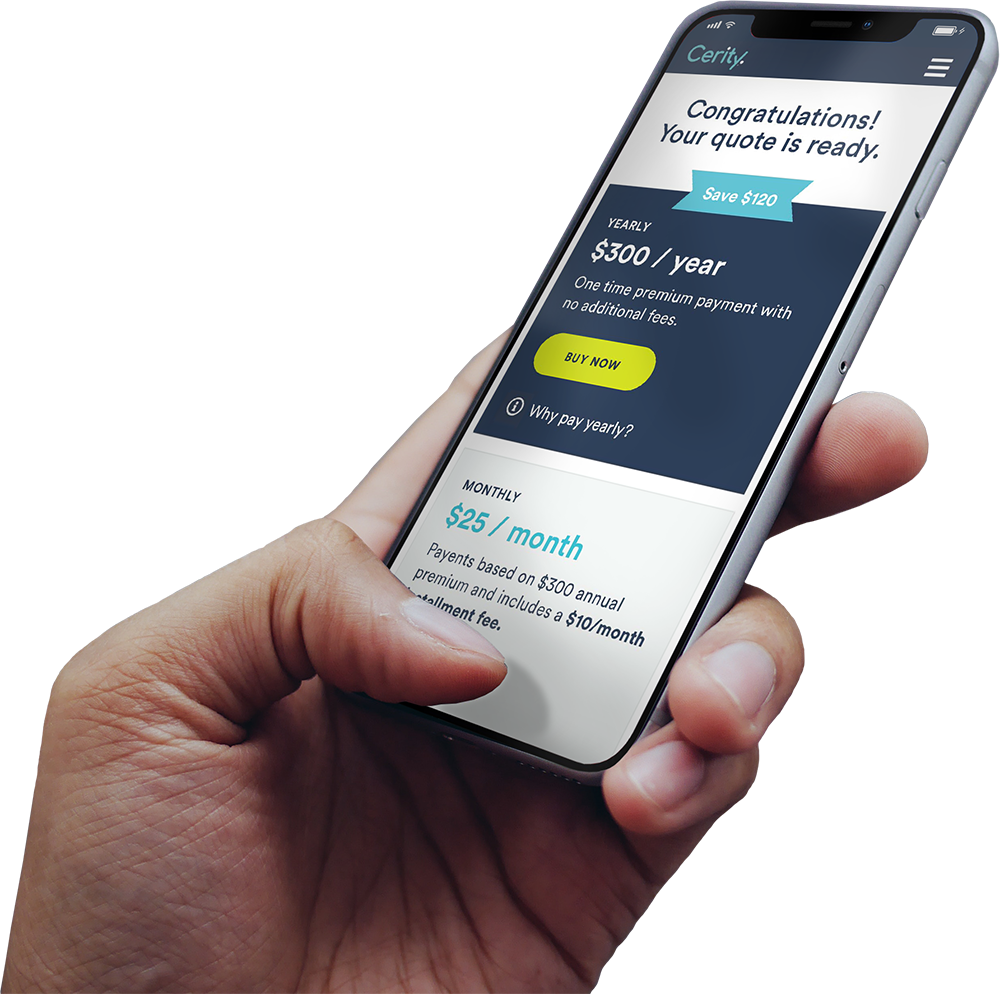 Get protection for your business baby.
It only takes a few minutes, whether you're already covered or just getting started.