Workers' Compensation for Food Beverage Businesses
You know the saying: accidents happen. Wet kitchen floors, hot ovens, sharp knives, heavy trays — there's no shortage of workplace hazards in the food and beverage industry.
As you grow your business, it's important to make sure your company is protected in case the unexpected happens. Bringing on new team members and increasing your space makes it essential that your workers' compensation policy has your business covered.
That's where Cerity comes in. We're not just experts in workers' compensation insurance for restaurants — we're experts at helping food and beverage business owners manage their premiums and keep their employees safe.
Workers' Comp Insurance for Food and Beverage Businesses
Whether you run a bar, own a restaurant, or specialize in event planning and catering for special occasions, it's important for your food and beverage business to be protected in the event that an employee experiences a workplace accident.
Workers' comp for restaurants and other food and beverage businesses helps business owners cover the cost of expensive situations resulting from workplace injuries, such as an employee's medical care or legal fees if the employee files suit.
Food and Beverage Employee Injuries
Food and beverage jobs pose many potential hazards to employees. From working with sharp knives and hot stoves to operating in a fast-paced environment, employees can suffer slips and falls, burns, cuts, and more.
24% of claims are due to cuts, punctures, or scrapes, making them the leading causes of WC claims in the restaurant industry.*
38% of total incurred paid expenses are due to trips and falls, making them the costliest type of injury in the restaurant industry.*
Cerity knows the risks of the food and beverage industry — that's why we're committed to protecting your business from the financial effects of these injuries. Our workers' compensation insurance helps cover costs related to:
Emergency care
Ongoing medical care
Lost wages
Food and Beverage Liabilities
In the event that an employee gets injured while on the job, your business could be held liable for covering the costs related to the incident. In fact, most states require that food and beverage business owners have professional insurance that offers financial coverage for employees in the event of an accident. But even if your state doesn't have commercial insurance requirements, it's important that you protect yourself from potentially damaging costs of an employee injury.
No matter the size of your business, all food and beverage establishments and companies should have workers' comp coverage to minimize the damaging effects of these liabilities.
Court costs
Attorney fees
Settlement payments
Other related legal fees
Cerity offers a variety of policies for food and beverage businesses, including catering insurance, small food business insurance, and restaurant insurance coverage.
Risk Management for Food and Beverage Businesses
In addition to finding quality workers' compensation insurance policies for their restaurants, bars, and catering companies, food and beverage business owners can take preventative measures by instituting policies that prioritize safety. Insurance companies often utilize risk management tools to determine the cost, or premium, of workers' comp insurance. So, employee training and other proactive measures can not only mean a safer workplace, but also potentially help lower insurance premiums.
Cost of Workers' Comp Insurance
The average restaurant insurance premium varies depending on a variety of factors unique to your food and beverage business. Factors such as the nature and jurisdiction of your business, and details specific to your business such as incident history and employee payroll, will impact your premium. But no matter the restaurant insurance cost, the value of having quality workers' compensation coverage is priceless in the event of a major employee injury.
At Cerity, a faster and more affordable workers' comp insurance provider, we can evaluate your food and beverage business's specific needs and provide an immediate quote using intelligent pricing. Using proprietary tools and modern technology, we provide policy options that can begin immediately, taking the stress and worry out of finding workers' comp insurance. To get a free quote online, visit our workers' comp quote tool.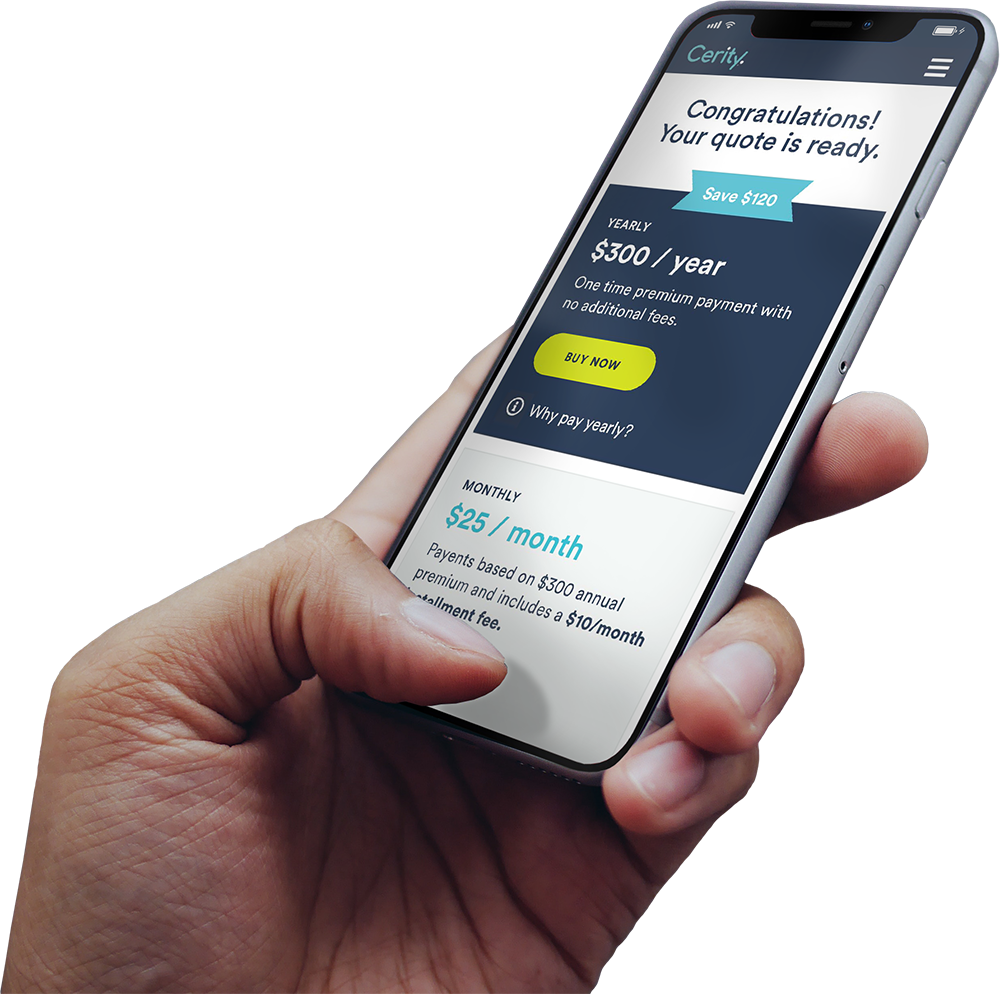 Grab your free quote today.
It only takes a few minutes, whether you're already covered or just getting started.