Workers' Compensation for Restaurant Owners
If you own a restaurant, you're no stranger to the hustle and bustle that comes with it. While a lively atmosphere might provide the perfect atmosphere for your guests to dine in, it can also pose a risk to your restaurant's bottom line. 
Let's face it. Restaurants can be dangerous places. Workplace accidents are common due to the nature of the food and beverage industry — wet floors, kitchen tools, and piping hot dishes all are threats to your employees' safety. If an unfortunate accident occurs, will you be covered?
If your answer is a resounding "uh… I don't know," you should keep reading. Workers' compensation insurance for the restaurant industry is a must-have for owners looking to protect their business.
Workers' Comp Insurance for Restaurant Owners
Should a member of your staff suffer an on-the-job injury, your establishment may be responsible for covering medical care, reimbursement for lost wages, and even legal expenses if the employee files suit in relation to the incident.
Workers' compensation is crucial for the restaurant industry because it may cover these expenses without negatively impacting the business itself. Restaurant insurance like workers' comp can be the difference between a workplace accident and a workplace disaster.
As a restaurant owner you might be wondering, does your bar, food truck, or restaurant have to have workers' comp coverage? The answer depends on whether or not workers' comp is required in your state. In most states, any business — restaurant or otherwise — that has one or more employees must have coverage. For more information on workers' comp laws in your state click here.
Restaurant Employee Injuries
Business insurance such as workers' compensation for restaurants is almost always required by law, but regardless of state laws, workers' comp insurance is always invaluable.
Why do restaurant employees need workers' comp insurance? Nothing beats the sense of security provided when there is financial protection for potential injuries of waitstaff, bartenders, chefs, and other restaurant employees. With workers' comp for their restaurant, business owners can focus on attending to their staff and running their business while insurance handles the rest. Bars, in addition to restaurants, can benefit from the same coverage. Find out more information on workers' compensation insurance for bars here.
Best of all, employees can rest easy knowing they are covered. Whether a head chef suffered a severe burn or a server slipped and fell, workers' compensation insurance helps to cover the cost of:
Emergency medical care (ambulance, ER bills, etc.)

Continuing medical care (physical therapy, medication, specialist visits, etc.)

Potential lost wages
More information about the claims process is detailed on this page.
Restaurant Liabilities
Unfortunately, all workplace injuries have the potential to cost restaurant owners much more than just medical expenses. In addition, your business could face legal expenses if the employee files a lawsuit in relation to their injury. Workers' comp helps to cover many of these costs. In addition to the above, the benefit coverage of workers' comp also includes:
Full or partial disability settlements

Death benefits

Court costs

Attorney or other legal fees
A good workers' comp policy provides much-needed relief when you need it most, allowing your employee to focus on their recovery and you to focus on your restaurant's success. 
If your restaurant is located in a state that requires restaurants to purchase their workers' comp insurance through monopolistic state funds — North Dakota, Ohio, Washington, and Wyoming, looking at you — you may need to find additional private coverage to fill in the gaps in your liability coverage.
Even small restaurants can benefit from workers' comp insurance with liability coverage. Find out more information on small business coverage here.
Risk Management for Restaurants
Although workers' compensation for restaurants can help protect your business from financial stressors, it is always best to take as much precaution as possible in preventing injuries before they occur.
Because premiums are often affected by an establishment's number of workplace injuries, implementing safety regulations, employee education, and safety training events can help restaurant owners lower their workers' compensation insurance costs.
Food service risk management techniques include: 
Train your restaurant's employees in proper lifting techniques, safety around heating elements and sharp tools, proper footwear, and food service handling.

Maintain your restaurant to keep it clutter-free, clean, and safe. 

Maintain your food service equipment to help reduce hazards

Create policies that ensure health safety procedures are followed regarding surfaces, equipment, food storage, and supplies.
Cost of Workers' Comp Insurance
When it comes to choosing workers' compensation for restaurants, price is one of the most important factors to consider. The premium, or cost, of commercial insurance like workers' comp for your restaurant, bar, or food service business will vary depending on a variety of factors unique to your business, including: 
Where your restaurant is located. 

How large your restaurant is. 

Your restaurant's payroll.

Your

NCCI class code

 
Your class code helps identify the risk level of your full-service restaurant, bar, or fast food restaurant. There are many workers' comp class codes that pertain to the food service industry. Some of the most common include: 
9082 – Traditional restaurant

9083 – Fast-food restaurant

9079 – Catering

9084 – Bar, lounge, nightclub, or tavern

9058 – Food service operations
Where to Get Workers' Compensation For Restaurants
If you're wondering where you can get workers' comp coverage for your restaurant, there are many options out there. Some states require coverage to be provided through their own programs, but most states allow business owners to get coverage from any private insurer licensed in the state. 
Regardless of your personal circumstances, the value of finding the right workers' comp insurance provider is priceless. At Cerity, we pride ourselves not only on being a more affordable workers' compensation insurance provider but also on providing quick quotes so our clients can get back to doing what they do best. We utilize proprietary tools in combination with modern technology to provide restaurant owners with policies that can begin immediately.
Visit our free workers' comp quote tool to get a free online quote and experience Cerity's faster, more affordable approach to workers' compensation insurance.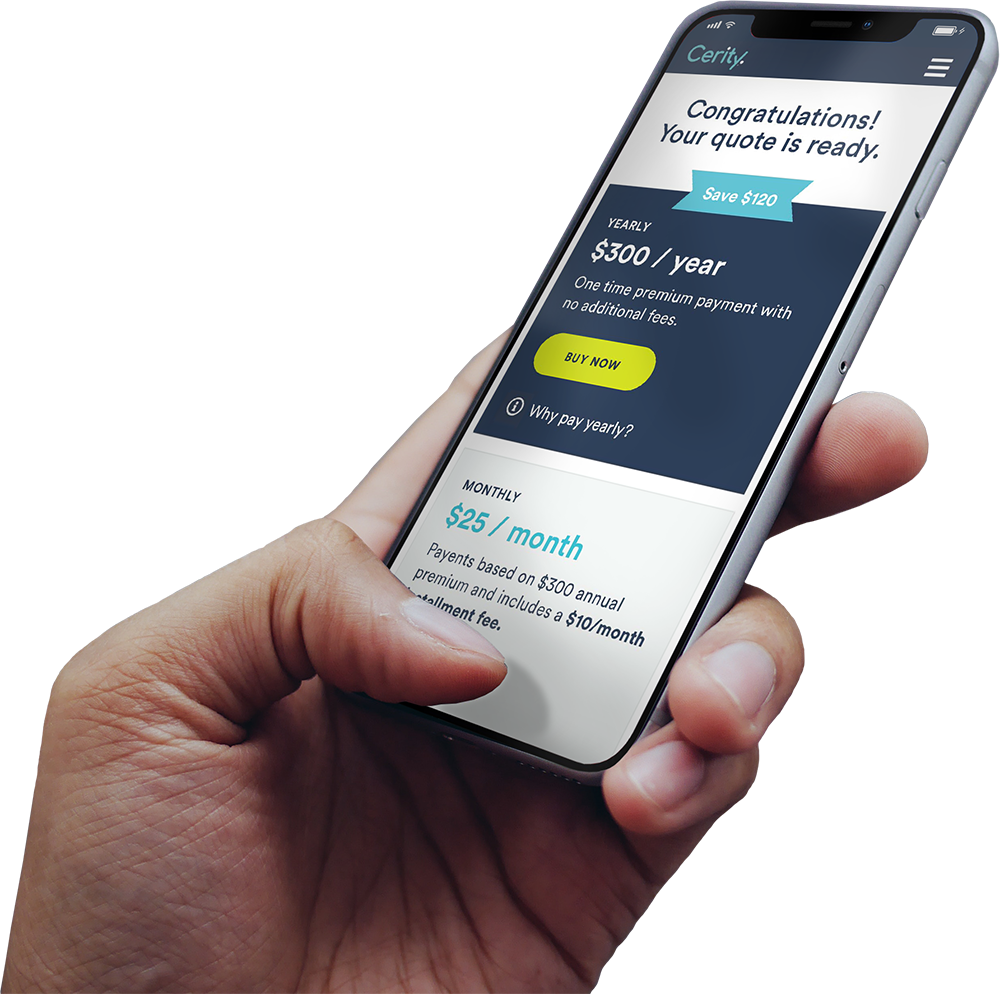 Grab your free quote today.
It only takes a few minutes, whether you're already covered or just getting started.