Workers' Compensation for Consultants
As an expert in your field, you provide essential guidance and input for your clients so they can perform at their very best. As experts in workers' comp insurance, we do the same.
Even in relatively low-risk industries such as consulting, workers' compensation coverage is an invaluable investment in your business's future. In the event of a workplace injury, workers' comp insurance helps alleviate the costs that fall to you, so you can continue to focus on advising and working hard for your clients.
Workers' Comp Insurance for Consultants
When a workplace injury occurs, consultants and consulting firms may find themselves saddled with tremendous costs related to the incident. The financial strain of workplace injuries can negatively impact their business and ultimately affect their ability to complete their work.
Workers' compensation insurance for consultants offers the financial protection you need to continue taking care of your clients' needs.
Consulting Injuries
While consulting businesses may seem low risk, a slip and fall or chronic condition such as carpal tunnel syndrome can be just as devastating to your business financially as other workplace accidents in higher-risk industries. Being prepared with business insurance can make all the difference should you or a member of your consulting staff suffer an on-the-job injury.
Workers' compensation insurance for consultants includes coverage for a variety of injury-related expenses, including:
Emergency medical care costs (ER visit, ambulance, etc.)
Continuing medical care costs (medication, physical therapy, follow-ups, etc.)
Lost wages for recovery time
For consulting businesses both large and small, including consultants operating as independent contractors, workers' compensation insurance is a smart investment. Find out more about workers' comp insurance for independent contractors here.
Healthcare Liabilities
In addition to expenses related to healing from workplace injuries, such as medical care and lost wage reimbursement, consultants must be aware of the potential liability costs that can result from these injuries.
If an employee of your consulting firm chooses to file a lawsuit in relation to a workplace injury, your business could be held liable and suffer the financial consequences of covering litigation expenses and settlements.
Workers' compensation insurance provides consultants with coverage for these costs, which can include but are not limited to:
Court costs
Legal fees
Attorney fees
Settlement payments
Even for business owners who already have business insurance for workplace injuries, additional private coverage may be needed to help cover gaps in liability coverage.
If you've already got commercial insurance through another provider or through required state funds, check your policy to see if liability coverage is included. If not, you may be held responsible for a variety of additional, unforeseen costs in the event of litigation.
Risk Management for Consultants
As a consultant, you know how to make smart business decisions. That includes choosing the best workers' comp insurance policy for your business — and creating an environment in which you'll never have to use it.
While consulting is generally a low-risk industry, it never hurts to implement safety policies and training programs to help cultivate a culture of safety in your business. By promoting safety as a priority in your business, you can potentially help lower your premiums.
Cost of Workers' Comp Insurance
Often, consultants utilize risk assessment to help their clients make the best decisions for their businesses. The same is true for workers' comp insurance providers, who use risk assessment to help determine the costs of a business's insurance premiums.
When determining these premiums, providers consider a variety of factors unique to each business. Unfortunately, this can be a long process that ultimately makes getting a quote too frustrating to pursue.
That's why at Cerity we've created a quick and easy online quote tool to provide consultants with fast quotes. Using modern technology and proprietary tools, our approach to workers' compensation insurance is different.
Visit our workers' comp quote tool to get a free online quote and begin protecting your business today.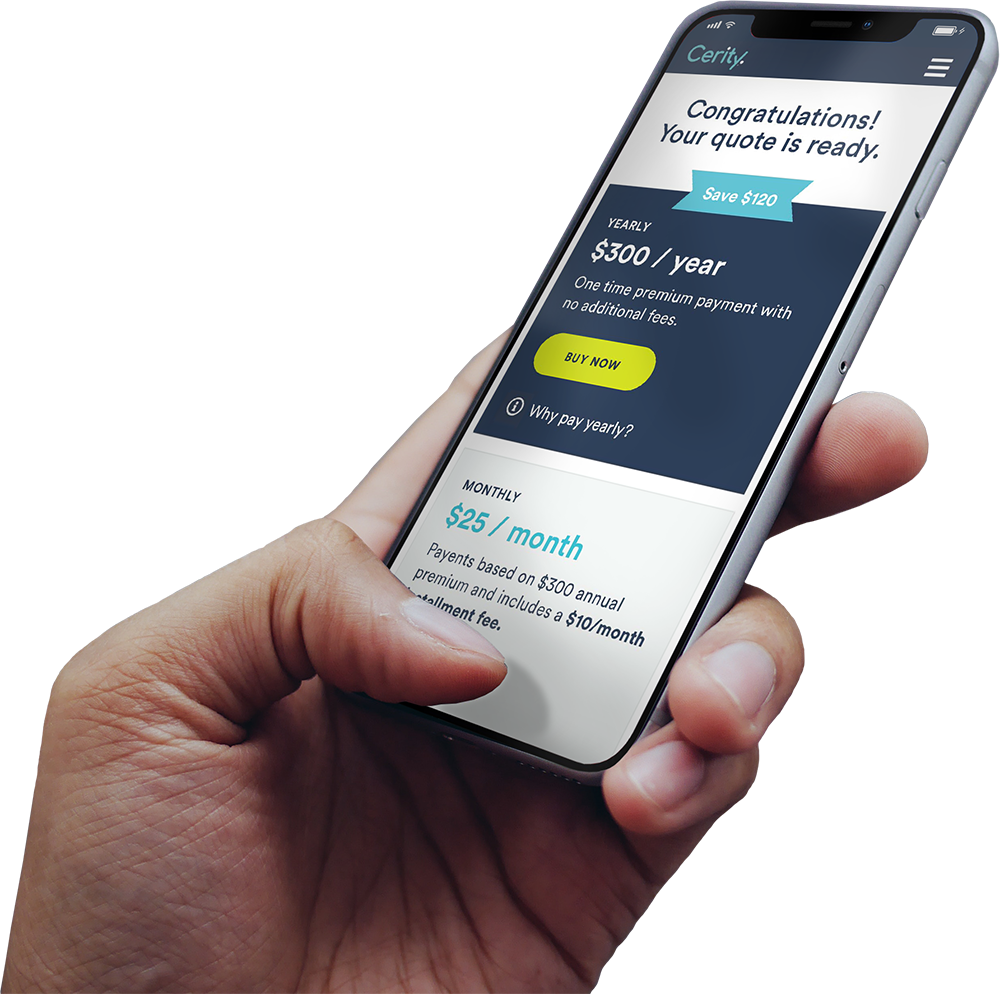 Get protection for your business baby.
It only takes a few minutes, whether you're already covered or just getting started.