Workers' Compensation for Lawyers
Law firms are in the business of protecting their clients from workers' compensation claims — but who's there to protect the lawyers from those same risks?
The truth is that workplace injuries can happen anywhere, and even the lawyers who defend the public aren't immune from accidents. For law firms that need to be available around the clock for their clients, a workplace injury could be detrimental to an important case.
Fortunately, law firms can ensure that their business and people are protected when they need it most, with workers' compensation insurance.
Workers' Comp Insurance for Law Firms
Unfortunately, accidents can't always be avoided, even with professional insurance. If a member of your firm suffers a work-related injury such as a fall or neck strain from long hours at the office, the medical costs can be damaging — especially to a small firm.
With workers' compensation insurance, your firm won't foot the bills alone. You'll have help covering the cost of these workplace injuries, as well as any related lawsuits. One simple, comprehensive policy can mean the difference between a thriving business and potential financial devastation.
Law Firm Employee Injuries
A law firm office may not seem as inherently dangerous as other workplace environments. But lawyers also know best that injuries and accidents can happen anywhere, at any time.
Laws vary from state to state, but most law firms are required to have business insurance coverage to protect employees in the event of a workplace injury. From a slip-and-fall in the office to a health condition related to eye strain, a variety of potential risks make commercial insurance a must for law firms.
Workers' compensation insurance helps protect your law firm from these types of incidents by covering medical expenses related to the employee's injury or illness. Most workers' compensation insurance plans pay for an injured employee's:
Ambulance and emergency room care
Continued medical costs (physical therapy, medication, etc.)
Lost wages due to injury
Law Firm Liabilities
Even if your law firm is not at fault for the work-related injury or illness, you can still be at risk for potential liability issues. Fortunately, workers' comp insurance also offers liability coverage, which protects your business from the possibility of a financially damaging employee lawsuit.
Most workers' comp liability insurance helps pay for:
Court costs
Attorney fees
Settlement payments
Other related legal fees
Laws vary by state, but most require businesses to have some form of liability coverage. For states that require law firms to purchase their workers' compensation insurance through monopolistic state funds (North Dakota, Ohio, Washington, and Wyoming), additional private coverage may still be necessary to fill gaps in liability coverage.
Risk Management for Law Firms
From building fires to natural disasters to slip-and-fall injuries, risk is an inherent part of being in business. Prevention is key for managing threats so that your business can continue without unexpected disruption. Law firms can get ahead of potentially dangerous situations by assessing their level of risk and incorporating workplace safety policies and employee safety training.
And because insurance providers use risk assessment tools to help determine insurance costs, implementing these kinds of preventative measures may lower your workers' compensation premium.
Cost of Workers' Comp Insurance
There are a variety of factors that make up the cost of premiums for workers' comp insurance coverage, including:
The nature of your business
Your business's jurisdiction
Your business's payroll records
Your business's history of workplace incidents
What you pay for workers' compensation insurance is so much more than just a premium — it's an investment to protect your business and your people.
At Cerity, we take the stress and worry out of searching for workers' comp insurance by offering free, immediate quotes for your law firm. Using proprietary tools and modern technology, we offer straightforward, easy-to-understand pricing — and your policy can begin immediately. To get a free quote online, visit our workers' comp quote tool.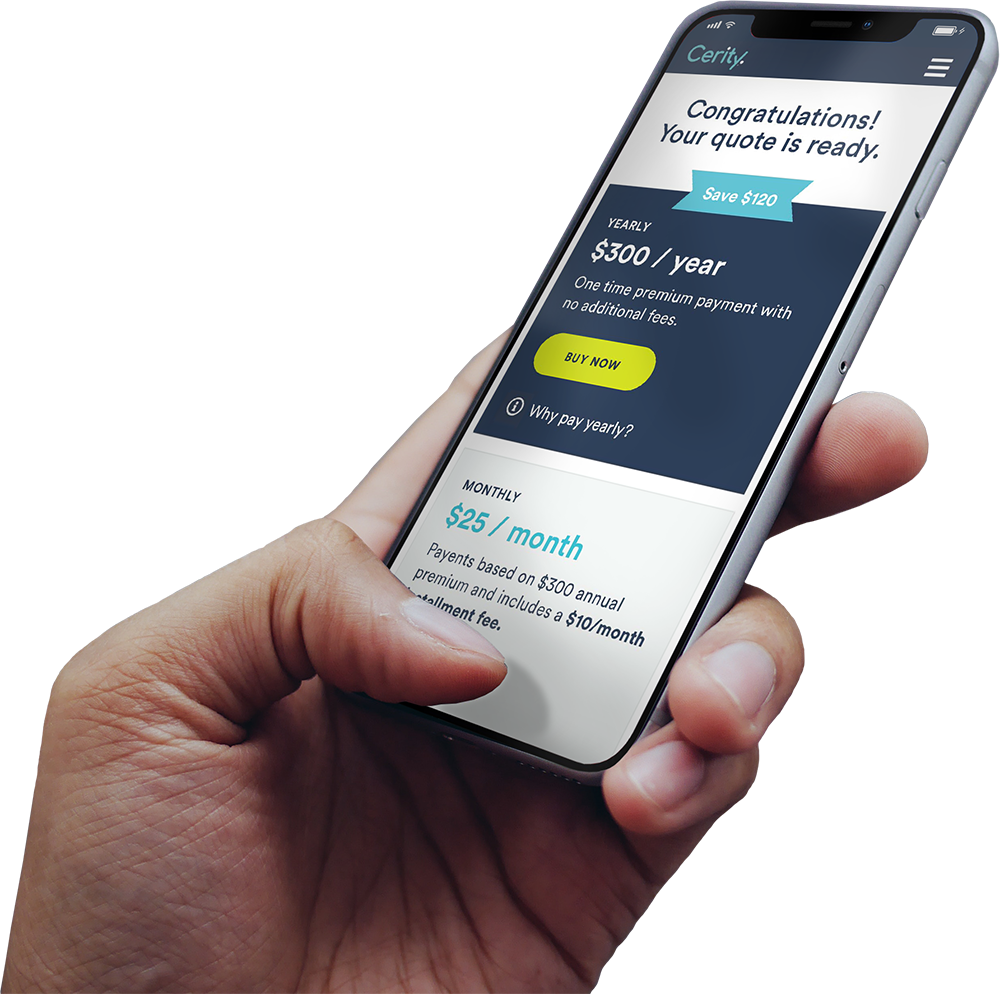 Grab your free quote today.
It only takes a few minutes, whether you're already covered or just getting started.