Workers' Compensation for Bars
Your business is committed to entertaining your guests. Our business is committed to protecting you while you do it. Regardless of the type of establishment or number of employees, the atmosphere of a bar is a breeding ground for workplace hazards. From slippery floors to sharp knives to heavy lifting, incidents at bars and restaurants are virtually inevitable.
Fortunately, bar owners can protect their businesses against potentially devastating financial losses by enrolling in workers' compensation insurance.
Whether an employee requires expensive medical care due to a workplace injury or they file suit against an establishment in relation to a workplace incident, workers' compensation insurance can help cover the costs of these expensive situations. This type of commercial insurance can save bar owners from business disruption and potential financial ruin.
Bar Employee Injuries
Although laws vary from state to state, most states require that bar owners have business insurance that provides protection for their employees in the event of a workplace injury. For bartenders, barbacks, and other bar staff, costly medical care could be needed for incidents such as a fall caused by a slippery bar floor, a back injury from lifting heavy cases of alcohol, or a severe cut from slicing fruit.
Bar insurance helps protect your business from these types of incidents by covering costs related to the employee's injury. Most workers' compensation insurance plans pay for an injured employee's:
Ambulance and emergency room care
Ongoing medical costs (medication, physical therapy, etc.)
Partial lost wages for recovery time
Bar Liabilities
Regardless of the size or scope of your establishment, all food- and beverage-serving businesses with employees are at risk for potential liability issues. Bar insurance can help protect your business from the effects of these liabilities.
Restaurants can also benefit from workers' comp insurance. Find out more information here.
In the event that a bartender or other employee decides to file suit against your business due to a workplace injury, having commercial insurance for your bar can be invaluable. Most workers' comp policies feature employer's liability insurance, which helps cover:
Court costs
Attorney fees
Settlement payments
Other related legal fees
Although laws vary by state, most states require by law that bar owners have some form of liability coverage. For states that require bars to purchase their workers' compensation insurance through monopolistic state funds (North Dakota, Ohio, Washington, and Wyoming), additional private coverage may still be necessary to fill gaps in liability coverage, which some monopolistic state funds do not offer.
Risk Management for Bars
Prevention is the first step in protecting your bar staff from workplace injuries. In fact, most insurers utilize risk management tools to determine the cost of business insurance by assessing the potential risks in the workplace environment and looking at the bar's history of workplace incidents.
This means bar owners can potentially lower their insurance costs by educating employees via safety training exercises and enacting workplace policies that prioritize safety.
Cost of Workers' Comp Insurance
The cost of workers' compensation insurance depends on a variety of factors. Your premium, or the cost of your insurance, is determined based on the nature of your establishment, the jurisdiction of your business, and details specific only to your business, such as your employee payroll records and your history of workplace accidents.
No matter the cost of workers' compensation insurance premiums, the value of having employee injury and liability coverage is unparalleled in the event of an incident.
At Cerity, a faster and more affordable workers' comp insurance provider, we can evaluate your bar's specific needs and provide an immediate quote using intelligent pricing. Using proprietary tools and modern technology, we provide policy options that can begin immediately, taking the stress and worry out of finding workers' comp insurance. To get a free quote online, visit our workers' comp quote tool.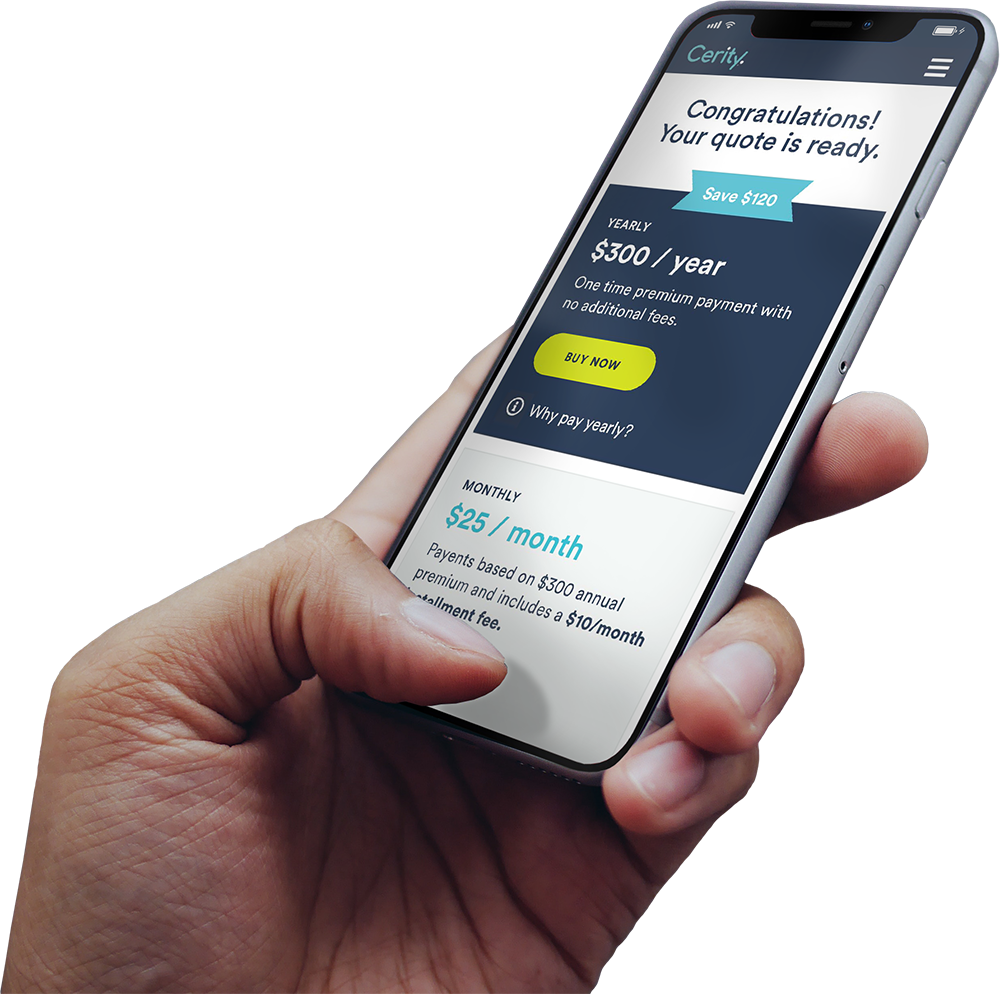 Grab your free quote today.
It only takes a few minutes, whether you're already covered or just getting started.