Workers' Compensation for Home Based Business Owners
When it comes to having a flexible and comfortable workspace, there really is no place like home. Forgoing a commute, adaptive schedules, and caring for family or pets are some of the many reasons people fantasize about running a business from home. Professionals such as consultants, therapists, lawyers, event planners, photographers, massage therapists, pet sitters, and cleaning staff may choose to conduct their business from home to reduce operational costs.
Unfortunately, one accident at a home-based business could turn that dream into a nightmare. When your home is the site of a workplace injury, it can jeopardize both your business and your home. That's why workers' compensation is necessary to keep you and your business protected.
Most states require businesses with employees to carry workers' compensation insurance. Small businesses and LLCs have specific responsibilities and options for workers' compensation. If you do not have employees but contract work out, you still may be responsible for providing workers' compensation insurance for these workers.
Your state's labor department will have valuable information about its definition of an independent contractor and whether your business is responsible for providing workers' compensation coverage. Even if you are on your own as an independent contractor, workers' compensation is vital protection for your business. Whatever the size of your home-based operation, workers' compensation allows you to keep your focus on following your dreams.
Businesses with Home-Based Employees
Workers' comp insurance is just as important for businesses with home-based staff as it is for those with employees on-site. If your business allows employees to telecommute and they are injured while working from home, your company can be found liable for their medical and recovery costs.
Home-Based Business Injuries
Accidents in the home are more common than those in the office because home design is less structured toward businesses. Emergency rooms see patients every day who have burns, cuts, or breaks caused by incidents in homes. Interior and exterior stairs, slippery tile near a bathroom sink, or a sharp edge on a kitchen counter could all be potential hazards. If the home is older, lead paint or asbestos could lead to health concerns.
Most workers' compensation insurance plans pay for:
Ambulance and emergency room care
Ongoing medical costs (medication, physical therapy, etc.)
Partial lost wages for recovery time
Accidents happen, but financial burdens don't have to be the result. Workers' compensation insurance protects you and your employees after an injury.
Liabilities for Home-Based Businesses
There are many types of business insurance on the market, and it's important that you evaluate your home-based business to ensure that you are appropriately covered. Some home-based businesses believe they are operating responsibly until a workplace accident leaves them with a costly lawsuit.
One common misconception is that homeowner's insurance is sufficient coverage for a home-based business. Not only will such a policy be insufficient if an employee is injured while working at your home, but operating a business from your home could be a breach of the terms and nullify your homeowner's coverage.
In the event that an employee decides to file suit against your business due to a workplace injury, having commercial insurance for your home-based business can be invaluable. Most workers' comp policies feature employer's liability insurance, which helps cover:
Court costs
Attorney fees
Settlement payments
Other related legal fees
Workers' compensation insurance lets you rest assured that your business is protected.
Accident Prevention for Home-Based Businesses
You can prevent workplace injuries by proactively reducing hazards in your home-based business. Installing handrails, slip protectors, and fire alarms are examples of the measures you can take to increase office safety. Additionally, educating employees about taking precautions at work can reduce accidents, and creating guidelines for staff who telecommute may reduce risks at their home offices.
Most professional insurance companies utilize risk management tools to determine the cost of business insurance by assessing the potential risks in the workplace environment and looking at the business's history of workplace incidents. By lowering risks and raising awareness of safe office practices, your home-based business may be able to reduce both the frequency of accidents and your workers' comp insurance rates.
Cost of Workers' Comp Insurance
The cost of workers' compensation insurance depends on a variety of factors. Your premium, or the cost of your insurance, is determined based on the type of work performed at your business, the state where your business is located, and details specific to your business, such as your number of employees and your business's history of workplace accidents.
Whatever your workers' compensation insurance premium is, the benefit of having coverage is invaluable in the event of an incident.
At Cerity, a faster and more affordable workers' comp insurance provider, we can evaluate your specific needs and provide an immediate quote using intelligent pricing. Using proprietary tools and modern technology, we provide policy options that can begin immediately, taking the stress and worry out of finding workers' comp insurance. To get a free quote online, visit our workers' comp quote tool.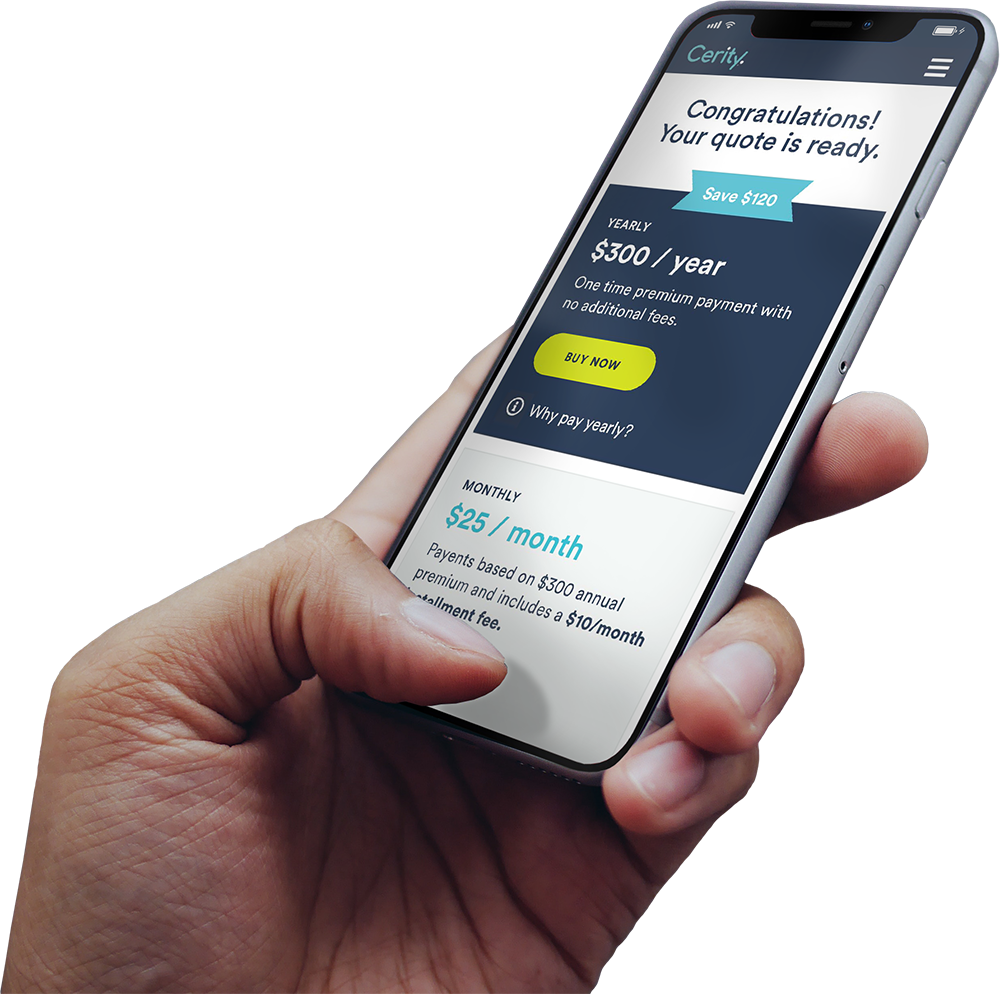 Grab your free quote today.
It only takes a few minutes, whether you're already covered or just getting started.