Workers' Compensation for Therapists
Affordable workers' comp insurance for therapists – without phone calls or paperwork.
From falling down the stairs when going to meet a patient to slipping in the office kitchen, accidents can happen to anyone in the therapy or counseling profession. Due to rising healthcare costs, even the smallest injury can become a huge setback for the therapy practice owner.
While therapy office owners do their best to prevent workplace accidents, there is always the chance that something unexpected will happen. That's where commercial insurance comes in. Workers' compensation insurance helps protect therapy business owners from the financial losses that can result from workplace accidents.
Workers' Comp Insurance for Therapists
While the risk of workplace injuries may seem low for therapists, counselors, and other mental health professionals, the truth is that these professions are just as susceptible to workplace accidents as any other. For example, a therapist may trip and break her wrist in the lobby, or a counselor might injure his back while lifting a box of files.
Workers' comp insurance is one type of professional insurance that employers can't afford to neglect. This type of business insurance helps counseling center owners protect their business by covering an injured employee's immediate and ongoing medical costs as well as lost wages. It will also help cover legal fees in the event that the practice is sued.
Therapy Practice Employee Injuries
Most states require all businesses to have professional insurance that includes workers' comp insurance. While laws vary across states, workers' compensation insurance is an invaluable way to ensure that your therapy business is protected when the unexpected occurs.
The types of injuries your employees may sustain will depend on the type of environment they are working in. Those who work in the office may encounter injuries from lifting or slipping and falling, while therapists and counselors who work in the field could encounter a variety of other types of injuries. For example, therapists who train therapy dogs are at risk for dog bites.
The unexpected risks that therapy professionals might encounter on a regular basis make it all the more important for your therapy businesses to carry workers' comp coverage. This type of business insurance helps protect your business from the financial loss that results from workplace injuries, which can be potentially devastating, especially to a small business.
Workers' compensation coverage includes:
Immediate medical expenses for injured employees, including ambulance services, emergency room visits, surgery, etc.
Ongoing medical care needs such as physical therapy, medications, etc.
Portion of lost wages while the employee is unable to work
While self-employed therapists don't have to carry workers' compensation insurance, they can still purchase a policy to protect themselves on the job. This professional insurance offers the same financial help for medical expenses and lost wages for the sole proprietor as it would for their colleagues who work in larger practices. Learn more about workers' compensation insurance for independent contractors here.
Therapy Practice Liabilities
Medical costs for injured workers aren't the only thing that can be devastating to a small therapy office. Legal costs from lawsuits can also add up, putting additional stress on your business finances. Workers' comp insurance provides liability coverage for your therapy practice, which will protect your business in the event that an employee sues due to a workplace injury.
With workers' compensation insurance for your therapy practice, you will also get liability coverage related to legal fees. This type of business insurance helps cover the costs of:
Attorney fees
Settlement payments
Court costs
Other related legal fees
Even though laws vary from state to state, most states require businesses to carry some time of liability coverage. If your therapy practice is in North Dakota, Ohio, Washington, or Wyoming, you will be required to purchase your workers' comp insurance through monopolistic funds. That means that you may still need to purchase additional private coverage to cover the gaps in liability coverage, which monopolistic state funds may not offer.
Risk Management for Therapists and Counseling Offices
Getting workers' comp insurance coverage for your therapy office is an important step in protecting your business from financial losses related to workplace injuries. However, the first step in protecting your employees is risk management. You should assess your level of risk and create workplace policies, procedures, and training that make the office a safer and healthier place for everyone.
While keeping your employees safe, risk management can also help lower your workers' compensation insurance premiums. Insurance companies often take risk management into consideration when determining insurance premiums. That means that therapy practices that take steps to lower workplace accident and injury risks can potentially lower their insurance costs.
How Much Does Workers' Comp Insurance Cost for Therapists?
The cost of workers' comp insurance depends on a number of different factors. The nature of your business, business payroll records, jurisdiction of your business, and history of workplace accidents may all impact your premium for this type of professional insurance.
No matter what the cost of your workers' comp insurance premiums may be, having this type of business insurance becomes invaluable in the event that one of your employees experiences an accident or sustains an injury in the workplace.
At Cerity, we aim to provide you with an immediate workers' comp insurance quote using clear and intelligent pricing. With our proprietary technology and modern online tools, we make shopping for affordable and comprehensive workers' compensation coverage easy. To get your free online quote, use our workers' compensation quote tool.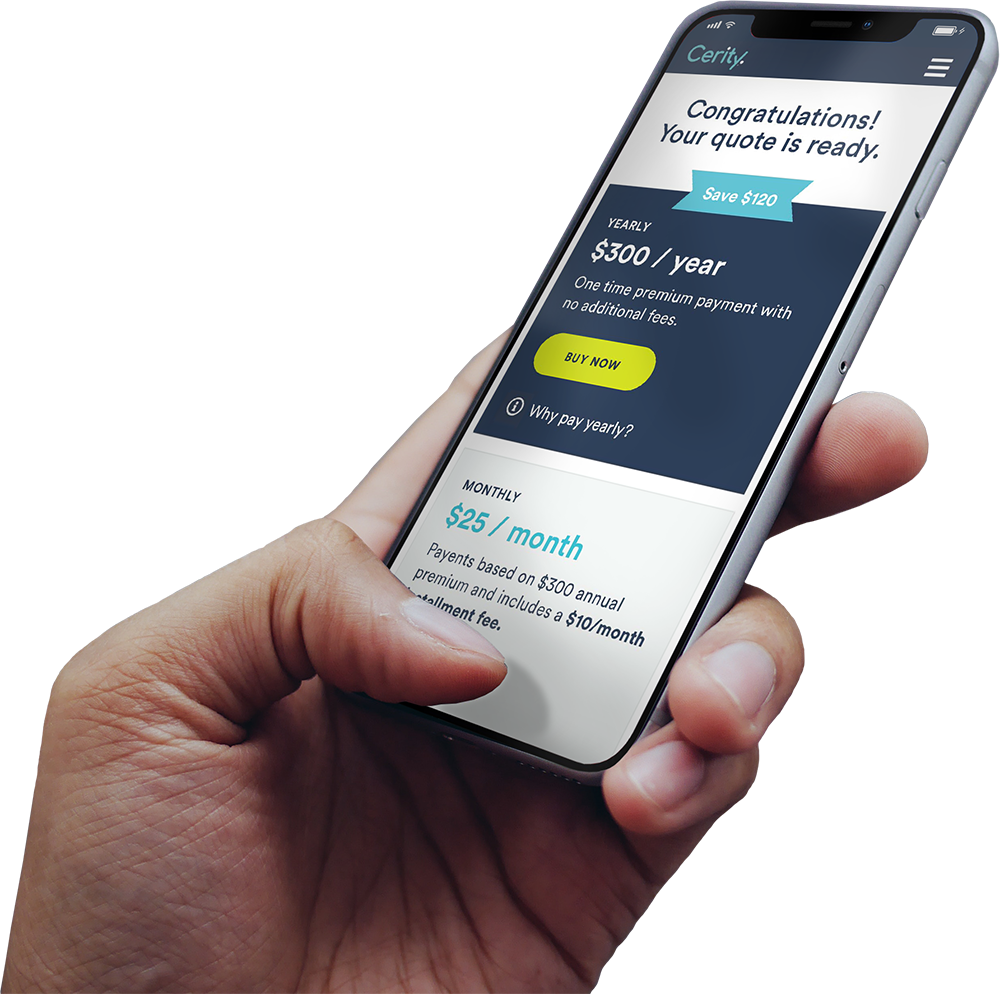 Grab your free quote today.
It only takes a few minutes, whether you're already covered or just getting started.