How Does Workers' Comp Work?
When you're gearing up to launch a small business, there are countless tasks to juggle and numbers to crunch. Obtaining a workers' compensation policy is just one of many items on the to-do list. And it can be a daunting one for business owners who don't know the ins and outs of how the coverage works, much less what provider to choose or whether a policy is even necessary in the first place.
Here's a rundown of how workers' comp works so you can make an informed decision for your burgeoning small business.
How Does Workers' Comp Work for Business Owners?
Workers' comp coverage is essentially a financial guardrail that protects employers from being held liable for injuries or illnesses that their employees sustain in the course of duties performed for the employer.
Though some industries and work environments are more dangerous than others — like construction, factory work, or transportation — no workplace is completely without risks. Rigorous safety regulations can help prevent accidents, but unfortunately accidents still occur. When they do, workers' comp insurance protects the employer from legal repercussions and financial consequences that can be devastating for small businesses, such as paying out of pocket for an employee's medical treatment and legal fees.
How Does Workers' Comp Work for Employees? 
If an employee is injured or becomes ill while working or because of their work, they do not have to face the risk of a devastating financial loss resulting from high medical bills or the inability to work while they recover. Workers' comp covers reasonable and necessary medical care and lost wages.
Is Workers' Comp Mandatory? 
In most states, workers' comp coverage is mandatory to some degree, but it depends on the number of employees, the amount of hours per week those employees work, the wages they earn, and whether they are seasonal or contract workers.
Some states have a state-administered fund, allowing employers to purchase a policy either from a commercial provider or through the government. Texas and South Dakota are the only states in which there are no legal requirements to carry workers' comp, except for construction companies contracting with the government in Texas.
Even if your state does not legally require coverage, obtaining it works to the advantage of both parties, in that mitigates the potential for financial repercussions. The lack of negotiations and legal proceedings also allows the employee to return to work sooner.
How Do I Purchase a Policy?
It's our philosophy that workers' comp insurance should be straightforward, easy to understand, tailored to your needs, and hassle free. We want small business owners to be able to protect their businesses without having to sacrifice valuable time and energy. Getting a quote is simple — just give us a few facts about your business and we'll send you a quote. Your premium will depend on how many employees are on your payroll, the nature of your business, and state regulations.
How Do I File a Claim?
If an employee is injured under your auspices, you first need to make sure they receive appropriate medical care and then file your claim immediately.
Thankfully, Cerity makes these steps easy. We provide 24/7 access to registered nurses and other online resources; you can simply log in and file your claim online. It will then be handled by a licensed adjuster to ensure the best outcome for both you and the injured employee.
The sooner you react to a workplace injury or illness, the more efficient the process will be, and the better the outcome for both parties.
What Types of Businesses Does Cerity Cover? 
Cerity provides workers' comp coverage to a range of businesses across various industries. We work with small businesses to customize comprehensive policies that suit their unique needs, which means making the claims process simple and modern, and providing accessible online resources. To get started, get a free & quick quote.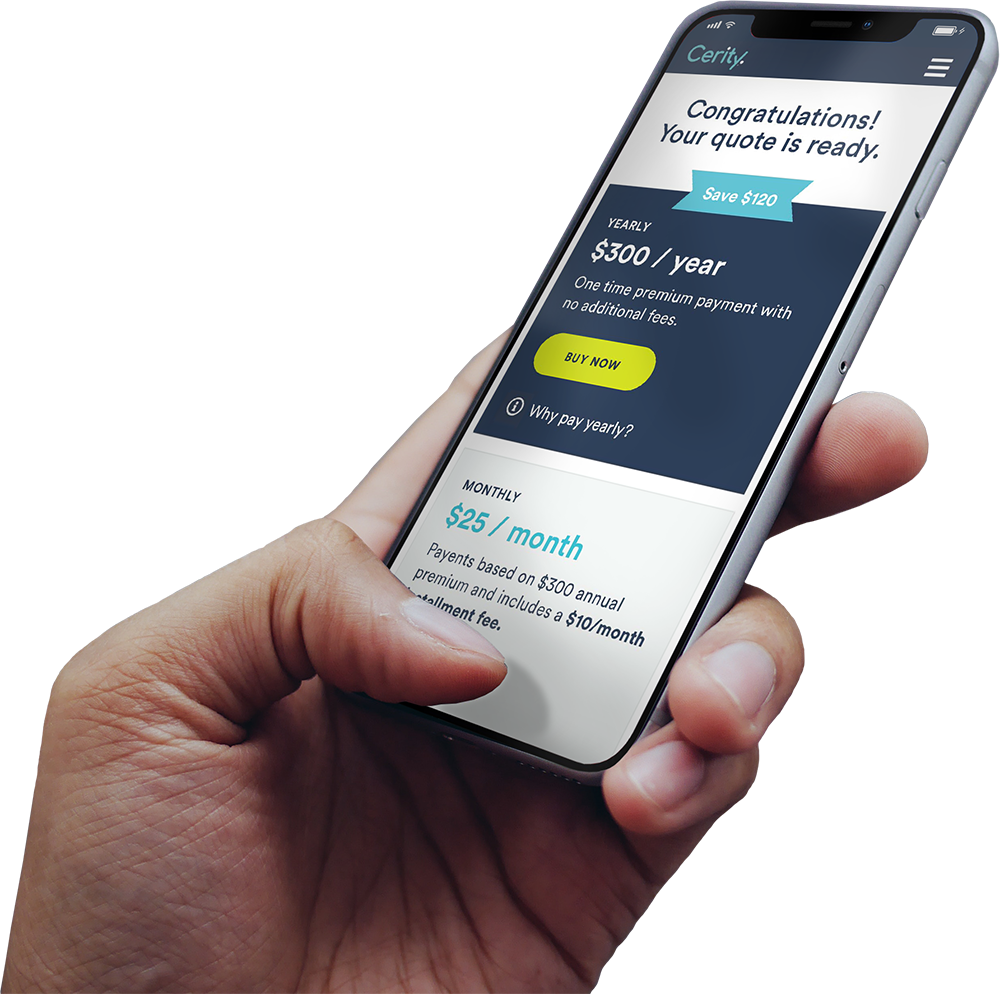 Grab your free quote today.
It only takes a few minutes, whether you're already covered or just getting started.