How to Get a Certificate of Insurance
Different types of businesses require different types of insurance coverage. While most small businesses maintain at least basic liability coverage, others may need further coverage to protect their business from common liabilities. Sometimes when you are working on a special project, partnering with another business, or holding an event outside of your typical business location, you will need to obtain a certificate of insurance (COI) to show proof of your coverage.
Below, we'll discuss what a certificate of insurance is and explain how you can obtain this certificate when you need it.
What Is a Certificate of Insurance?
A certificate of insurance is a document that shows proof of your insurance coverage. This document will summarize all the benefits your insurance policy includes. The COI lists all the important information related to the policy, including:
Company name
Name of insurer
Types of insurance coverage
Limits of insurance coverage
Effective dates
Expiration dates
Policy numbers
It's important to note that your COI and your actual insurance policy are not the same. While your certificate of insurance provides proof of insurance, it does not actually grant any of the benefits of your policy. This means that regardless of whether you have a COI, your company will still need to keep an actual insurance policy on file.
When Do I Need a Certificate of Insurance?
Most companies and customers will not work with a business that is not insured. For this reason, people or companies that are partnering with other businesses, such as vendors, distributors, customers, or contractors, may be asked to provide proof of insurance before they can begin working together. This is necessary because both parties want to ensure that each has the proper liability coverage and other insurance protection in place before they begin a working relationship.
A COI is often required when a business is leasing equipment or holding an event outside of their business location. The vendor or venue will ask for a certificate of liability insurance and sometimes proof of other types of coverage to make sure that the company that is renting equipment or holding the event is protected if the unexpected happens.
How Do I Get a Certificate of Insurance for My Business?
The exact steps for getting a certificate of insurance for your business will depend on who your insurer is. That said, the general process is the same:
Ask the person requesting the COI what the minimums and limits of coverage should be. If you need to increase your premium, you'll want to have their name, address, and tax identification number handy when you speak to your insurance provider.
Call your insurer and explain that you need proof of insurance. If your policy meets the minimum requirements, then you will just wait for the COI. If you need to purchase further coverage, now is the time to do it.
Once you've requested the COI, you will receive a printed certificate in the mail, which you can scan or copy for the person or business requesting it.
The process of getting a certificate of insurance is simple. However, it can take a few days to get the document, depending on who your insurer is. That's why it's important to request your COI ahead of time before you plan to start working with the vendor, contractor, or customer.
Workers Comp Certificate of Insurance
Do you need proof of your workers' compensation insurance? With Cerity, getting a workers' comp certificate of insurance is easy. Once you get a quote and finalize your policy, you can easily get a certificate of insurance upon request.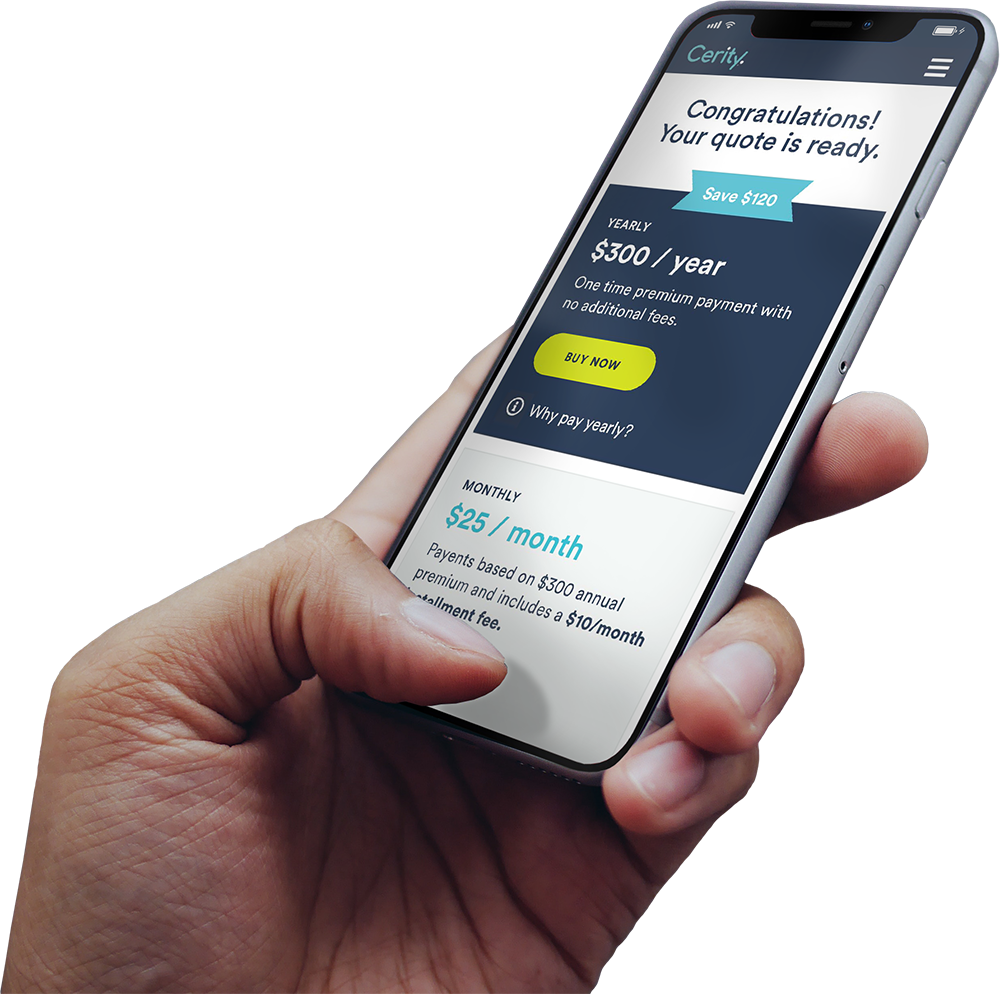 Grab your free quote today.
It only takes a few minutes, whether you're already covered or just getting started.