Workers' Compensation Insurance Policy & Law in
Missouri
How Is Workers' Compensation Insurance Defined in Missouri?
Workers' comp is an insurance policy provided by employers to pay employee benefits for job-related injuries, disability, or death. Benefits are provided at the employers' expense, and coverage begins on the first day on the job. In general, any Missouri business with five or more employees must provide workers' comp coverage. While paying for a worker's comp policy may seem like an unwanted expense, it's actually a way to protect your biggest business asset — your people. 
There are generally two kinds of workers' comp benefits: permanent or temporary. Permanent benefits are paid out when an employee is indefinitely incapacitated from a workplace injury. Temporary benefits apply when an injured employee is prevented from working or performing the full requirements of their job for a limited time. Once a doctor declares the worker fit to return to work, the benefits end. 
In Missouri, Do All Employers Have to Carry Workers' Comp?
For the most part, all Missouri employers are legally required to provide workers' comp insurance for all employees. Certain types of workers are exempt from this requirement, including:
Domestic and agricultural workers

Certain real estate agents

Direct sellers

Commercial truckers 
In many cases, while you may not be legally required to include yourself or certain workers in your business' coverage, you are still able to voluntarily do so. As with all things relating to insurance, more coverage is usually better.
Not sure if you are required to provide coverage? Don't hesitate to contact us and get clarity. Now more than ever, as many industries rapidly evolve to keep up with the demands of the world, it can be difficult to keep track of who you are responsible for insuring. The push towards remote work, for example, has been a major shift in recent employment trends, and it can raise a lot of questions regarding who needs coverage. 
How Do I Get Workers' Comp Coverage in Missouri?
The short answer is that there are two ways to get coverage in Missouri. The first, and most common, is to go through an insurance provider. This is probably the easiest way to go, as it puts the responsibility on an entity entirely devoted to insurance, particularly one who is a champion of protecting small business interests.
The other way is to self-insure in-house or by pooling your coverage with a group of other small businesses. A self-insured business in Missouri is responsible for remaining in compliance with all aspects of state and federal workers' comp regulations for themselves and does not have the added benefit of having an experienced insurance agent to manage claims, especially if disputes arise. Self-insurance is a good option but for some businesses who have the resources and knowledge to manage the policy, but not all do. 
If you think your home-based business is better served by self-insuring because securing a workers' comp policy sounds too complicated, consider reviewing Cerity's affordable plans geared toward home-based businesses.
What Are The Penalties in Missouri for Not Having Workers' Comp Coverage?
It's never a good idea to be without insurance, but this holds especially true in workers' comp coverage cases, where the penalties are significant. If your business is found to be operating without workers' comp insurance, you can be charged with a misdemeanor and forced to pay a penalty of three times the workers' comp premiums you should have been paying —up to $50,000. If you are a repeat offender, you could be charged with a felony.
As is the case in most states, if you are caught without workers' comp for your business, you will be responsible for covering any costs associated with an employee's workplace injury. You may even be open to significant personal injury lawsuits. 
What Are a Missouri Employer's Responsibilities When an Accident Occurs?
For any Missouri workers' comp policy, an employer is required to make a record of incidents that occur in the workplace and submit that claim to their insurance provider within two years of the incident — take a look here at why sooner is always better when filing claims.
If one of your employees is injured or becomes ill during the course of the workday, make sure to get as much information as possible. Whether you are personally around when the incident takes place or not, it is important that an incident report be drawn up as soon as possible. Here are some important things to consider when it comes time to fill out and update your incident report:
What happened? 

When and where did the incident occur? 

What is the nature of the injury or illness? 

Were there any witnesses? 

Was further medical help involved?

Does your employee have medical documentation from this incident?
In general, it is best to take detailed records when any injury or illness takes place in the workplace, but ultimately not every report will need to be submitted for a workers' comp claim. 
Additionally, having a standard incident report form ready at all times is a good way to maintain consistency in your records so that everything is organized, clear, and professional in case a third party — like a lawyer, in the case of a disputed claim — has to get involved. 
In most cases, workers' comp claims are simple and straightforward and do not involve any sort of conflict. So long as you are consistent in your reporting, it should be a simple matter of submitting a claim with proper documentation so that your injured employee can be compensated appropriately.
What Are Workers' Comp Death Benefits in Missouri?
In addition to the usual benefits provided by workers' comp — payouts of lost wages, coverage of hospital bills, and other medical expenses — Missouri workers' comp provides death benefits in case of untimely death in the workplace. Benefits are based on a percentage of the deceased's weekly wages, not to exceed 67%. The deceased worker's benefits will be paid to anyone who was financially dependent on your employee, including:
The worker's spouse

Any children that are minors (or in full time school, so long as they are younger than 25)

Disabled children who can't support themselves

Any other relatives who relied on the worker for financial support 
Death benefits are paid out weekly and will continue until the deceased's surviving spouse dies or remarries. In case of remarriage, a final payment equal to two years of death benefits pay will be paid. 
Additionally, under Missouri workers' comp law, employers or their insurance providers must cover funeral and burial expenses as part of the death benefits. 
How Much Does Workers' Comp Insurance Cost in Missouri?
Workers' comp premiums are calculated at a cost per employee, which will vary for each business, depending mostly on the industry. Cerity has a helpful guide on how workers' comp premiums are calculated, but a general rule is that businesses who employ largely clerical workers, for example, pay a lower premium than industries with higher physical risks. 
Several factors unique to your business will contribute to your exact insurance premiums. 
Some of these factors include: 
The type of service your business provides

The value of your business property, including any equipment or supplies

The annual revenue of your business

The location of your business

The number of workers your business employs
At Cerity, we work with over a hundred different industries; to find your type of business and see more information specific to you, click here. 
As a general rule of thumb, when it comes time for your visit from the insurance assessors, if you are able to demonstrate a safe work environment, thorough precautionary training, and other risk management best practices, you will be able to cut down further on your premiums. 
Where Can I Get Workers' Comp for My Missouri Business?
We know shopping for insurance coverage can be frustrating, especially for small business owners who already have their hands full. The last thing you want is to devote time and energy to researching a number of providers and trying to track them down on the phone to get clear answers.
At Cerity, we believe getting workers' compensation coverage for your Missouri business should be easy. That's why we've created a faster, more affordable approach to workers' comp insurance coverage. With our proprietary tools and modern technology, we're able to provide insurance quotes quickly — all without phone calls or paperwork. 
We offer workers' compensation to businesses no matter where you are in Missouri. Whether you're located near the Northern Plains, Ozark Plateau, or Mississippi Alluvial Plain, we'll help you protect your Missouri employees.
If you need workers' comp coverage for your Missouri business, you can purchase a policy through any private insurance company, agent, or broker that is licensed to operate in the state. So even if you aren't in any of the following cities, know that we can still help you:
St. Louis
Kansas City
Springfield
Check out our free business insurance quote tool online to get a free quote and find out how easy protecting your business can be.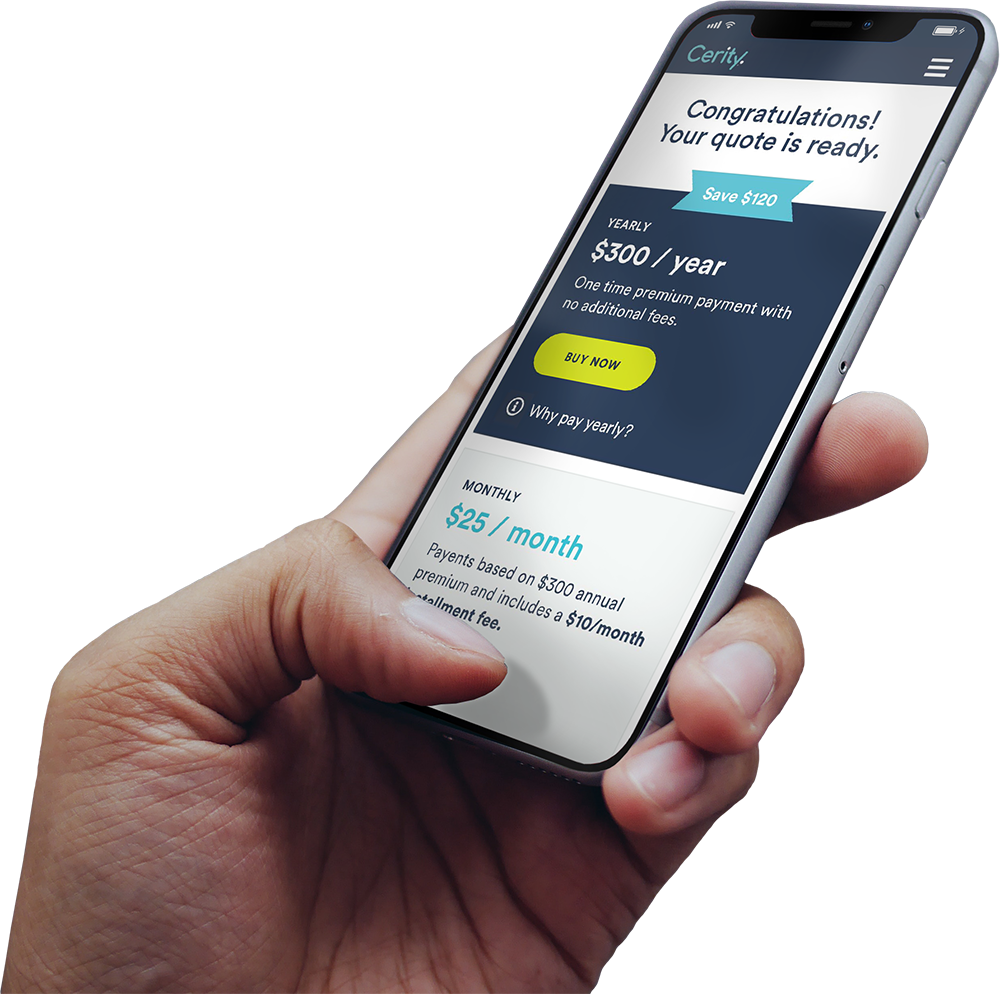 Grab your free quote today.
It only takes a few minutes, whether you're already covered or just getting started.