What to Look for in a Workers' Comp Policy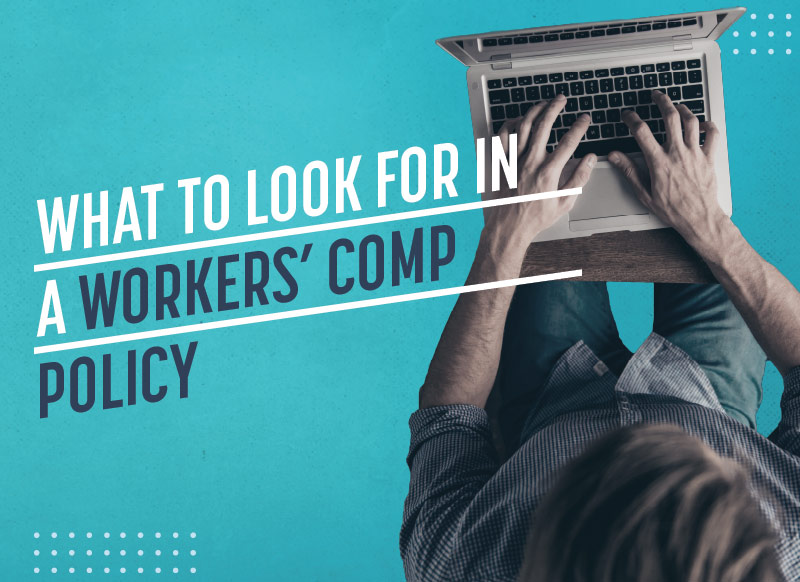 When was the last time you looked at your workers' comp policy? Likely it is just in a pile with all your other insurance documents. However, it is important to review your policy to make sure your employees and business are adequately covered. If you don't have this coverage in place because you think it is unnecessary or too costly, it is time to take a further look to ensure you are in state compliance! 
What Are The Different Elements of a Workers' Comp Policy?
Your workers' comp insurance provides benefit coverage for employees who become sick or injured on the job. It includes protection related to diseases, injuries, and even death.
Two parts exist within worker's comp. The first is what is required by the state to ensure medical costs, lost wages, disability benefits and, if needed, death benefits are provided for employees injured while working. The requirements within this first part follow state regulations. The second part of the workers' comp policy protects you — the employer — against further liability if negligence was involved as well as provides for expenses related to legal proceedings. While this second part is often overlooked, it is invaluable in protecting your business. 
What Should Business Owners Look For And Avoid In A Workers' Comp Policy?
The important aspect to re for your workers' comp features is to first meet the state requirements and then to look to add further protection for your business. While you want to avoid excessive coverage, you do want what is best to protect your employees and business. That means looking further at what is within a workers' comp policy. 
How Do State Rules Come Into Play?
Virtually every state requires that you have workers' comp as soon as you hire your first employee. However, state rules provide the basis of what is required in your policy. Failure to meet state requirements can lead to fines against your business, as well as opening you up to potential legal issues. 
How Does Payroll Come Into Play?
Your payroll is the rating base for your workers' comp policy. The larger your business, the more payroll you have, the higher your premium will be.  When you purchase your coverage, your estimated annual payroll helps determine   the premium. Any adjustments throughout the year will be evaluated through an audit at the end of your policy term. It's why it is also good to continually update your payroll information with your Workers' Comp insurance provider. 
What is a Workers' Comp Class Code?
Each business has a National Council on Compensation Insurance (NCCI) classification code assigned to it based on job duties for the employees. A business is not limited to just one class code if you have employees handling a variety of duties from specialized to administrative. At Cerity, we make classifying your business so you get an accurate rate easy! We've translated the various insurance bureaus classes into easy-to-understand names. Try quoting today (link to quote)!
Are There Any Discounts And Credits For Workers' Comp Policies?
At Cerity, we take many factors into account when pricing your Workers' Comp coverage. And, we do it in just minutes.  No phone calls, messy applications and back and forth.  You simply tell us about your business in our 3 minute online application, and we'll get you a great price for your next workers' comp policy! You can also decrease your overall costs by using payment plans, which reduce fees related to billing and administration. Since payroll is an important part of determining workers' comp costs, you can also report your company payroll monthly which can help eliminate surprising adjustments to premium at audit. 
Don't forget that some states allow you as the employer to remove yourself from your workers' comp coverage. It is also a good idea to continually check your policy. You may have made internal changes that would require alterations to your policy, and by checking in frequently, you can avoid any potential errors. While that might sound daunting, you definitely don't have to do it alone. 
How can Cerity Help Businesses In Need Of Workers' Comp? 
Cerity can help you through the process of acquiring proper workers' comp insurance. While the premium — or cost — of workers' compensation insurance will vary depending on a variety of factors unique to your business, the value of finding the right workers' comp insurance provider is priceless. 
Visit our free workers' comp quote tool for your free online quote and experience Cerity's faster, more affordable approach to workers' compensation insurance. 
At Cerity, we pride ourselves not only on being a more affordable workers' compensation insurance provider but also on providing quick quotes so our clients can get back to doing what they do best. We use proprietary tools in combination with modern technology to provide business owners with policies that can begin nearly immediately. It's how we can help small business owners, like you, find the proper workers' comp insurance coverage.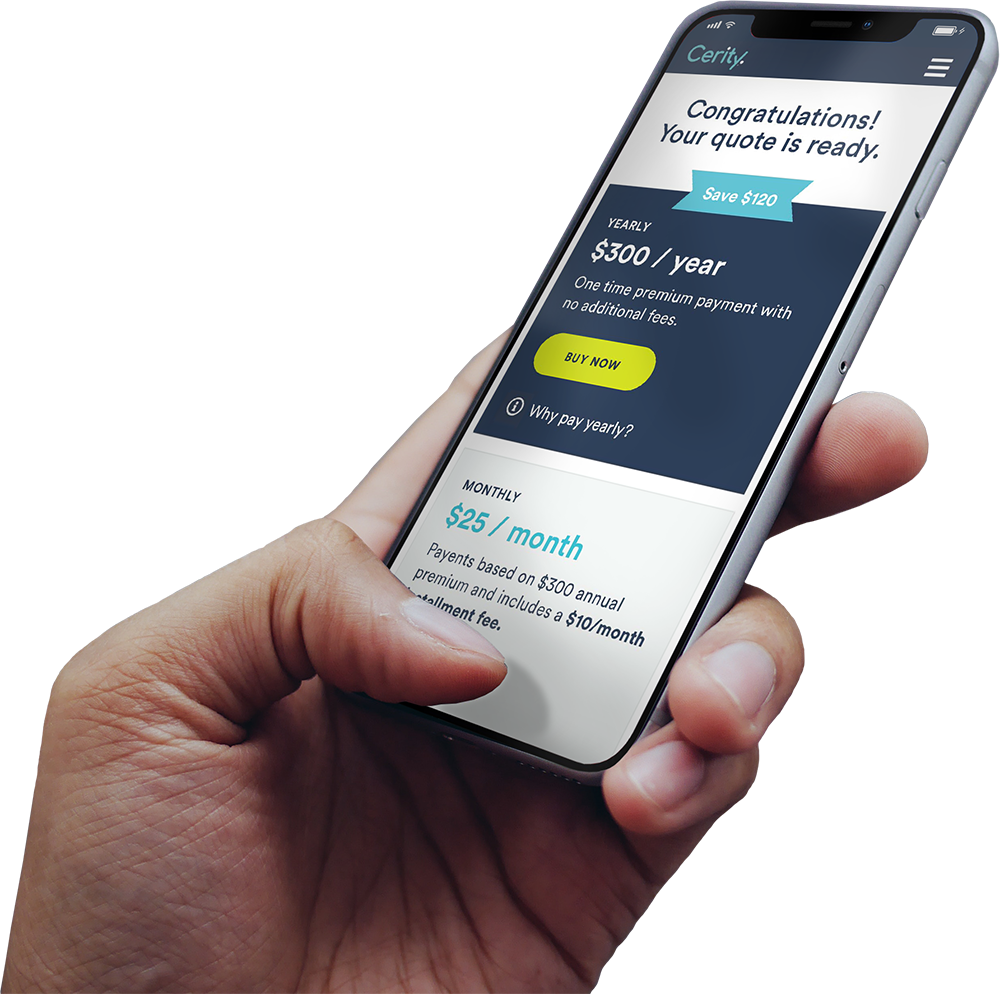 Grab your free quote today.
It only takes a few minutes, whether you're already covered or just getting started.