How to Help Ensure Low Premiums for Workers Comp.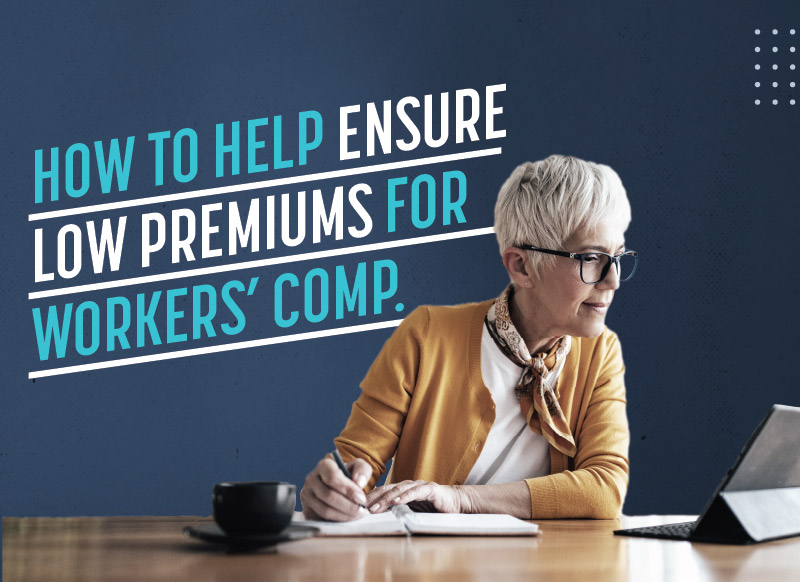 The most important thing when it comes to workers' compensation is that your business has coverage to protect your employees and your financial bottom line in the event of an on-the-job injury or illness. But the question for many business owners searching for workers' comp is, "How can I lower my premium for workers' comp?" Employers want to provide coverage but also want to make sure that the cost, or premium, for workers' comp is affordable. 
The key to lowering workers' comp insurance premiums is understanding what factors affect them and changing your business practices to optimize things for the lowest possible premium. 
What Factors Affect Workers' Comp Premiums? 
When looking into workers' compensation insurance premiums, you likely won't find a lot of information on exact rates for coverage. This is because quotes are determined using factors that are unique to each business. The factors used to determine premium costs are: 
The location of your business 

The size of your business 

The industry in which your business operates 

Your business's workers' comp claims history 
Some of these factors are out of your control. This means that the average workers' comp premium for a high-risk industry will be higher than that of a low-risk industry. However, there are still steps you can take to help get a workers' comp premium that is as low as possible for your industry. 
Steps Your Business Can Take For a Lower Workers' Comp Premium
Although you can't control some factors that impact your workers' comp premium, there are some steps you can take that may impact your premiums in a positive way, such as: 
Prioritize safety for injured or ill workers.

Although not all workplace accidents can be avoided, generally prevention can go a long way in helping to reduce workers' comp claims and, as a result, premiums. Make sure all employees are given a safe place to do their jobs, have proper safety training, and are provided with all the safety equipment or personal protective equipment they need to stay safe. Creating a safe working environment can make a big impact.

Create a return to work program.

The top priority when an employee is injured or gets sick while working is making sure they get the medical care they need and can return to work as quickly as possible. Getting back to work, even if only with modified duty, can help promote wellbeing and morale for employees. 

Investigate all workplace incidents thoroughly.

Knowing why accidents happen is the first step in preventing similar events in the future. Investigate all incidents quickly and thoroughly to get as much accurate info as possible. In addition, evaluate all events that are considered close calls for workplace injuries to continue learning and modifying workplace procedures accordingly.

Report all injuries and illnesses as quickly as possible.

To ensure that your business has proof that it takes workplace accidents seriously, you'll need to report all on-the-job injuries and illnesses as soon as possible after they occur. Make sure your business is submitting all the necessary paperwork and is filing the reports on time and with the right agency. 

Assess your business's payroll.

Having inaccurate classifications is one reason why some businesses may have a higher than expected workers' comp premium. It is recommended that businesses regularly evaluate their payroll to make sure the insurance company has the right information on file.

Shop your policy in the marketplace.

Even if you already have coverage, you may be able to find an insurance provider who can offer you a better rate. Many business owners don't want to deal with switching insurers, but providers like Cerity can streamline the quoting process to make sure you get a great rate fast and get back to running your business.
How Can Cerity Help?
At Cerity, we know that you put your employees first. That's why we're here to put your business first — making it easy to understand the ins and outs of workers' comp insurance and allowing business owners like you to quickly and easily get a policy online. 
We knew that workers' comp could be made simpler, so we created a faster, more affordable approach to workers' compensation. Simply go to our free online quote tool. Tell us a little bit about your business to get an affordable rate, and you can buy a policy online in minutes to cover you for the year ahead — all without phone calls or paperwork.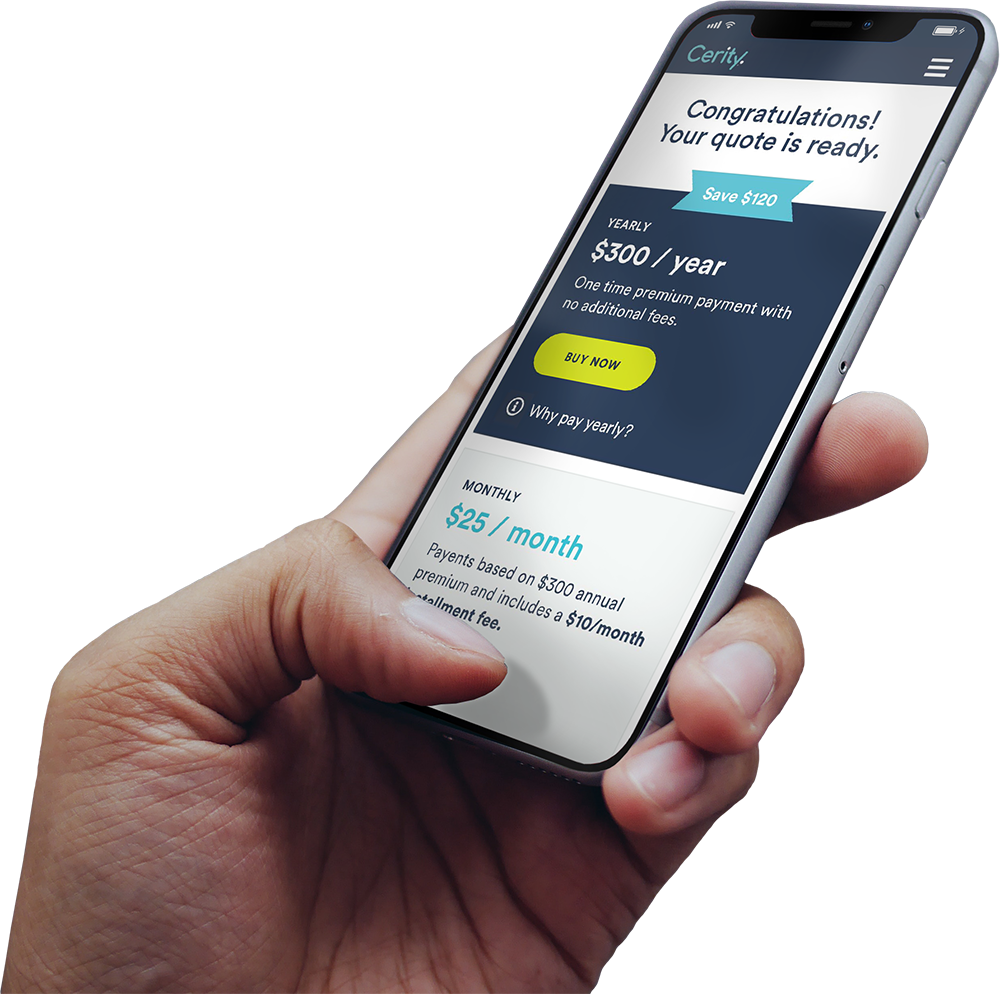 Grab your free quote today.
It only takes a few minutes, whether you're already covered or just getting started.