What Makes an Ideal Workplace?
As a business owner, you have the great responsibility of making sure that all of the critical pieces to your success are in place and working together to make your business the best it can be. One of the most important ones is creating the ideal work environment where your employees can thrive.
Doing so can have a big impact on your business. According to recent research, fostering an ideal work environment by focusing on employees' needs and well-being can help improve performance, productivity, and help mitigate burnout.
But what is the ideal workplace culture? And how do you cultivate it? Now more than ever, employees are speaking out about and standing up for the things that are most important to them when it comes to the ideal workplace and working conditions. As a business owner, it's important to listen, check in with your team, and implement changes as needed, whatever they may be.
Here we'll go over some important details about workplace culture, what you can do to help make an impact, and how Cerity can help.
What is the Ideal Work Environment?
When you take a look at Glassdoor's "Best Places to Work" list for 2021, you'll see a handful of common themes that consistently pop up in positive employee reviews about their workplace. They include:
Compensation. Employees want to be paid well for their time.
Healthy Work Environment. Employees want their mental, emotional, and physical health to be supported by, not negatively impacted by, their daily work.
Work-life Balance. Employees want businesses to encourage a healthy work-life balance where one doesn't overtake the other.
Solid Communication. Employees want business owners, managers, and employees to have healthy and reliable communication.
Enjoyable Workplace Culture. Employees want to enjoy where they work, who they work with, and the experiences and culture provided by their workplace.
Recognition/Promotion Opportunities. Employees want to know that they can grow within your business and that their hard work is being recognized and rewarded.
Flexibility. Employees want more flexibility in terms of when and where they work.
Benefits. Employees want benefits and perks such as PTO, maternity and paternity leave, health and lifestyle stipends, and insurance coverage.
As a business owner, you might be wondering why these things matter so much? Frankly, because they matter to your employees — the backbone of your business. These things are factors that employees throughout all industries list as important to them in their jobs, so that means if you want to create the ideal workplace, you need to listen.
What Steps Can Your Business Take?
Shifting your workplace policies and culture may seem like a big ask, especially when you're already dealing with the many responsibilities that come with running a business. But in order to reap the benefits of having an ideal work environment, you've got to be willing to make changes.
Where should you start? First off, begin by polling your employees about how they feel about your current workplace culture. Use the positive feedback to see what you're doing right and continue investing in those aspects of your business culture. Also, prepare to get some negative feedback but be willing to shift where possible. The key to creating an ideal work environment is prioritizing honesty, teamwork, and flexibility. Take the things your employees say to heart and see where you can make changes.
For example, if benefits and workplace safety are important to your staff, look at where your business is succeeding and where it might be falling short. Assess things like your safety procedures, policies, and current insurance coverage. Do you have a plan in place for workplace accidents? Are there ways you can prioritize safety? Do you have workers' comp insurance? Answering these important questions that can help you move forward with helping to prioritize your employees' need for a safer workspace.
How Can Cerity Help?
At Cerity, we know running a business takes hard work. That's why we're here to support business owners in any way we can. In addition to our Learning Center, which is stocked with tons of helpful articles on how to start, run, and grow your business, we help business owners like you get the insurance they need to succeed.
We believed that small businesses deserved better insurance, so we built it — complete with affordable rates, transparent policies, and free, fast quotes that don't require a phone call. To see how much you could save, simply go to our free online quote tool. Tell us a little bit about your business to get an affordable rate, and you can buy a policy online in minutes to cover you for the year ahead.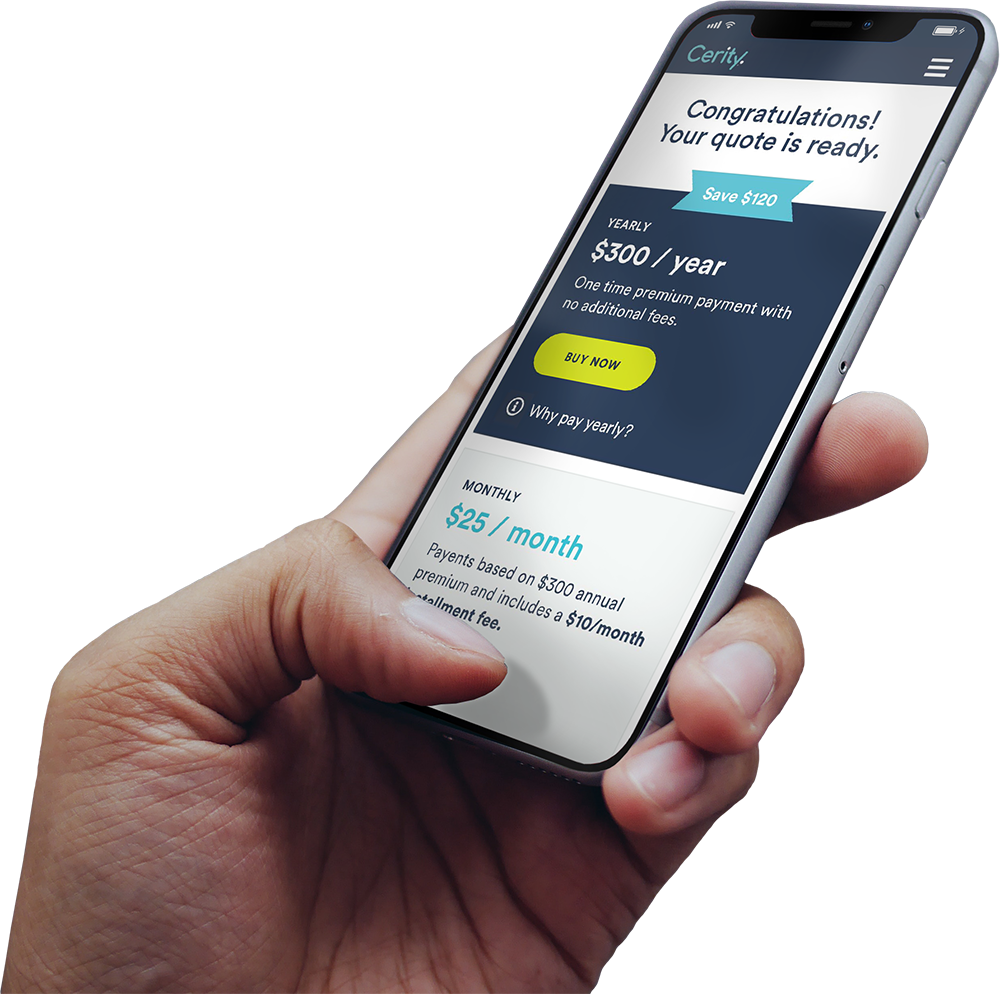 Grab your free quote today.
It only takes a few minutes, whether you're already covered or just getting started.