Tips on Office Injury Prevention
When you think of workplace injuries, you might assume jobs like the kinds that take place in offices are low risk. That said, every business needs to take precautions, no matter how unlikely the risk of an accident seems.
Any workplace injury or on-the-job illness can cause serious consequences, including impacts on the health and well-being of your employees and the finances of your business. Although common workplace injuries in low-risk fields may look different than those in more dangerous industries, they can still be painful and expensive.
To help prevent office injuries and workers' comp claims, business owners can take proactive steps to help make the workplace safer. Here, we'll go over what steps are helpful, why it's important to mitigate risk, and how to back up your team with a solid workers' comp policy.
Common Workplace Injuries
When it comes to low-risk workplaces like offices, there are actually many injuries that are frequently experienced across most industries. Some of the most common of these workplace injuries in offices include:
Repetitive Stress Injuries. Injuries caused by repetitive motion that can cause strain on hands, wrists, elbows, and backs. Examples include carpal tunnel syndrome.
Eye Strain. Eye injuries caused by frequently working on a computer, phone, or other device can cause headaches, dry eyes, twitching, and eye fatigue.
Slips, Trips, and Falls. Despite low-risk environments, injuries resulting from slips, trips, and falls are extremely common in offices. Examples include tripping over cords, slipping on wet floors, or falling while using a stepladder. According to the CDC, office workers are 2 to 2.5 times more likely to suffer a disabling injury from a fall than non-office workers.
Steps to Prevent Office Injuries
No matter what kind of injury someone may experience while working, there are often steps that could have been taken to help minimize the effects of the incident or prevent the injury altogether.
For example, repetitive stress injuries can be prevented with the help of ergonomic workstations and workplace policies that encourage regular breaks. Eye strain and injuries can also be alleviated by adjusting the amount of time workers are on computers or devices, lowering the amount of brightness in the office and on the screen, and taking breaks from screen time every twenty minutes. Commonly experienced slips, trips, and falls can be avoided by keeping walkways clear, securing cords and carpeting, cleaning up spills, and taking caution when using stepladders.
Workers' Comp and Common Workplace Injuries
Unfortunately, it's impossible to avoid on-the-job injuries 100%. For the times when a worker does experience a workplace injury, workers' compensation insurance is there to help pay for medical expenses, lost wages, death benefits, and more. Having a solid workers' comp policy is essential no matter how low-risk your business is. Not only because it minimizes the costs associated with injury for both you and your employee, but also because it's legally required in most states. Laws may vary by state, but even if your state doesn't require workers' comp, it's a good idea to have coverage just in case the unexpected happens.
How Can Cerity Help?
Whether you're looking to insure a large or small office or you just want some additional information on common office injuries, Cerity has your back. At Cerity, we're committed to informing business owners like you the best ways to protect yourself and your team. Check out our Learning Center for lots of helpful articles on the topic. In addition, we offer a faster, more affordable approach to workers' comp insurance. With easy quotes and instant policies, we've streamlined workers' comp so you can focus on what you do best — run your business.
To see how much you can save, head to our free online quote tool. Simply tell us a little bit about your business to get an affordable rate. If you like what you see, you can sign up or switch in minutes to cover you for the year ahead.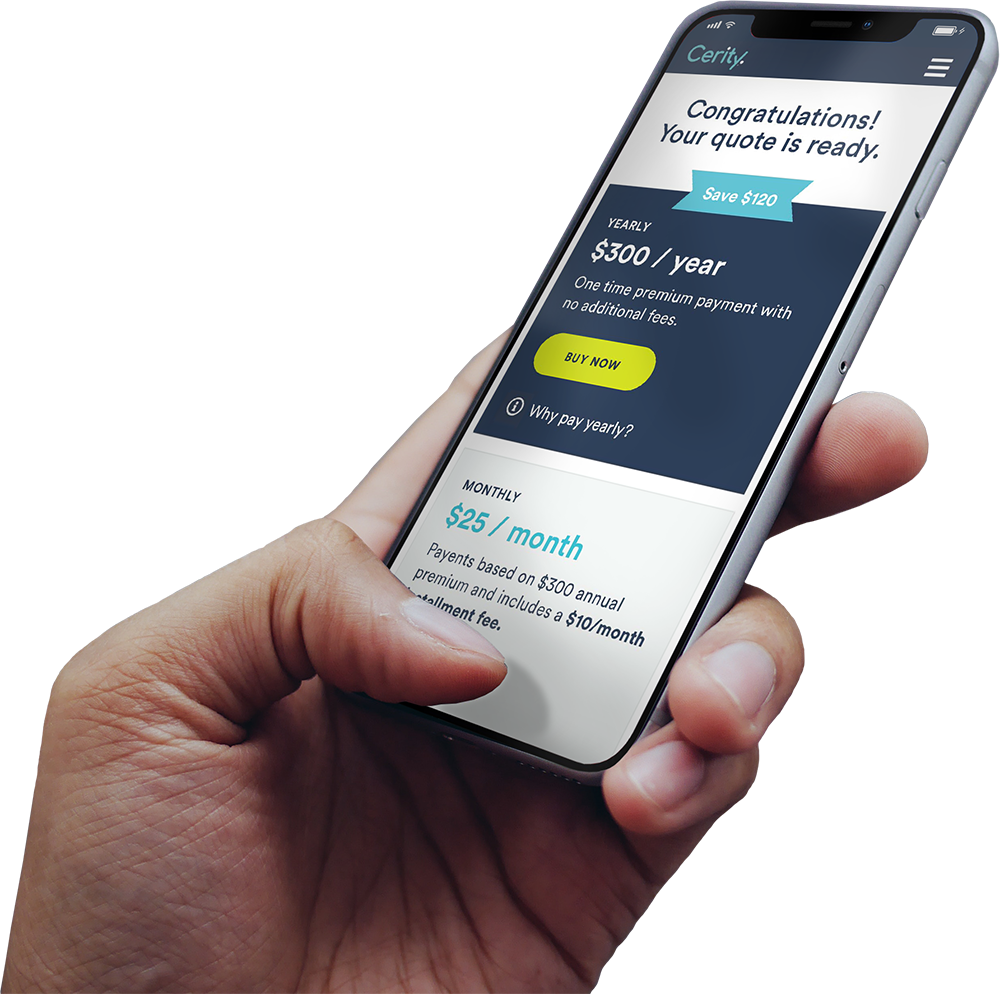 Grab your free quote today.
It only takes a few minutes, whether you're already covered or just getting started.