What Is the Average Cost of Small Business Insurance?
If you are shopping for small business insurance, one of the first questions you may ask is, "How much does it cost?" There is no precise answer to this question, because the cost of small business insurance varies from business to business, depending on a number of factors.
However, if you want to estimate your costs for insurance, it's helpful to understand the factors that impact the average cost of small business insurance and how the cost varies by type of insurance.
Factors That Affect Small Business Insurance Premiums
There are a variety of factors that can impact the cost of your small business insurance premiums. When calculating your rate, the insurance company will take into consideration:
Business location. The location of your business affects property value, state and local laws, and geographical risks like hurricanes or flooding.
Industry. The industry and type of goods and services your company offers impact your risk profile. The higher the risk, the more you may pay for certain types of coverage.
Number of employees. Workers' compensation insurance is directly related to the number of employees who will be covered. General liability and professional liability insurance can also be affected by staff numbers.
Total earnings. The more your company is worth, the more it could potentially lose in a settlement, which raises your insurance premiums.
Value of property. How much property your business owns and the value of this property will impact your property insurance rates.
Basically, the cost of your small business insurance will depend on what your business does and how much of that you personally do. Your type of business and daily activities will also impact what kinds of business insurance you need.
Average Cost of Small Business Insurance by Type of Coverage
When it comes to small business insurance, one size does not fit all. And different types of businesses may need different types of coverage. The type of coverage that you need will also affect the average cost of small business insurance, as each premium is calculated using different factors.
General Business Liability Insurance
General business liability insurance protects small businesses against third-party bodily injury and property damage claims. Premiums will vary based on the level of risk you may take on in your industry. That's because higher risk means that your business may have to pay out more claims over time.
Professional Liability Insurance
Professional liability insurance, also known as errors and omissions, protects small businesses from claims of neglect or professional errors. The average cost of small business insurance for professional liability will depend on the risks involved with the profession. Those in higher-risk professions will pay more than low-risk professions since they may have the potential to generate more or more costly claims.
Commercial Property Insurance
Commercial property insurance can protect your business from a loss incurred due to fire damage, theft, and other covered incidents. Commercial property insurance covers any items of value that aren't a structure, fixture, automobile, watercraft, or aircraft. The average cost of commercial property coverage will depend on how much property your business owns and what the estimated value of this property is.
Workers' Compensation Insurance
Workers' compensation insurance helps protect businesses from financial loss by providing medical and wage benefits for employees who are injured on the job. This premium can be impacted by payroll and occupational risk.
Do you need a workers' comp insurance quote? Getting started is easy with Cerity. All you need to do is answer some questions about your business, and we will get you a customized workers' compensation quote based on your business' unique needs.
Get a free quote & purchase an affordable policy today.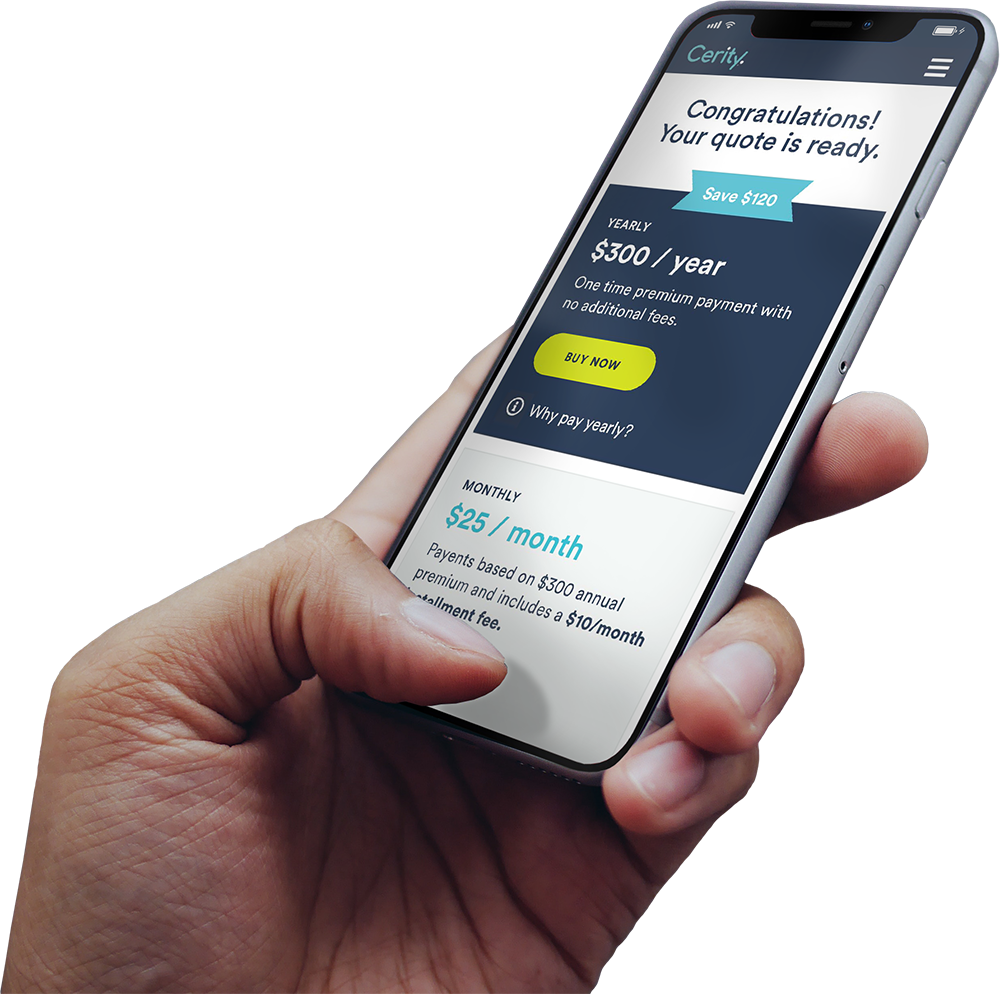 Grab your free quote today.
It only takes a few minutes, whether you're already covered or just getting started.