What Is Commercial Insurance?
Even before you've hired your first employee, your small business is exposed to certain risks. That's why it's important to make sure that you have the right small business insurance to protect your company. Commercial insurance is just one type of insurance that small business owners can use to cover some of the risks their business may encounter.
What Is Commercial Insurance?
Commercial insurance is a form of comprehensive insurance coverage that protects business owners from financial loss when their business is found liable for third-party bodily injury or property damage caused by the company's services, operations, or employees. A commercial insurance policy typically covers the costs of the business owner's legal defense and pays damages on their behalf if they are found liable.
Commercial insurance is also known as commercial general liability insurance, and it only covers non-professional negligent acts. Commercial general liability insurance also covers advertising injury, which occurs when a company's advertising is found to be misleading.
What Does Commercial Insurance Cover?
An important part of determining whether commercial insurance is right for you is understanding what this type of insurance covers. Commercial general liability insurance offers different levels of coverage based on your policy. Depending on your coverage, commercial insurance does cover:
Bodily injury and property damage to third parties resulting from non-professional negligent acts. Example: A customer slips and falls while in your store, sustaining bodily injuries.
Personal and advertising injury. Examples: libel, slander, infringing on another's copyright, and use of another's advertising idea.
Medical payments for injuries sustained by non-employees caused by an accident caused at the business location. Example: A customer is hurt when cans in a store display fall on him.
While commercial general liability insurance covers many different aspects of your business operations, it doesn't cover everything. Here are a few things that commercial insurance does not cover:
Damage that your business (services, operations, or employees) causes to your property. Example: An employee breaks a piece of machinery, causing it to malfunction.
Damage your business causes as a result of carelessness. Example: A business sends a customer spoiled goods.
Injuries to employees of your business. Example: An employee injures herself while using a piece of machinery.
Additional Types of Insurance for Small Businesses
When shopping for insurance policies for your business, you'll need to carefully review the limitations of coverage. While a commercial general liability insurance policy is worthwhile for many small businesses, it does not cover every aspect of the company. In addition to commercial insurance, small business owners should consider additional types of coverage that suit the business risks they may be exposed to.
Property Insurance
Property insurance covers equipment, inventory, furniture, and signage in the event of a storm, fire, or theft. Natural disasters like earthquakes, hurricanes, and floods are not covered under most standard property insurance policies.
Professional Liability Insurance
Professional liability insurance covers a business against any negligence claims that are made due to harm that results from professional mistakes or failure to perform. This is not a one-size-fits-all policy but rather one that will be customized based on the industry.
Workers' Compensation Insurance
Workers' compensation insurance covers medical treatment, disability, and death benefits for employees who are injured or die as a result of their work duties with a business. Even if employees are performing tasks that are considered low-risk, business owners may still want to get coverage to protect their company in the event of a claim.
Product Liability Insurance
Product liability insurance protects a business when one of its products causes damages or bodily injury. This type of insurance is highly recommended for companies that manufacture and sell products on the general market, and the policy can be tailored to the specific type of product.
Get Workers' Compensation Insurance
If you need help signing up for workers' comp insurance, we are here to guide you through the process. Cerity makes getting the workers' compensation insurance coverage you need easy by providing 24/7 online access, a registered nurse hotline, and preventative resources that can help you improve the overall safety of your business.
Signing up is simple. All you need to do is answer a few questions about your business, and we will provide you with a customized quote. Premiums are based on payroll size, risks associated with your business, state laws, and claim history. Start protecting your business today.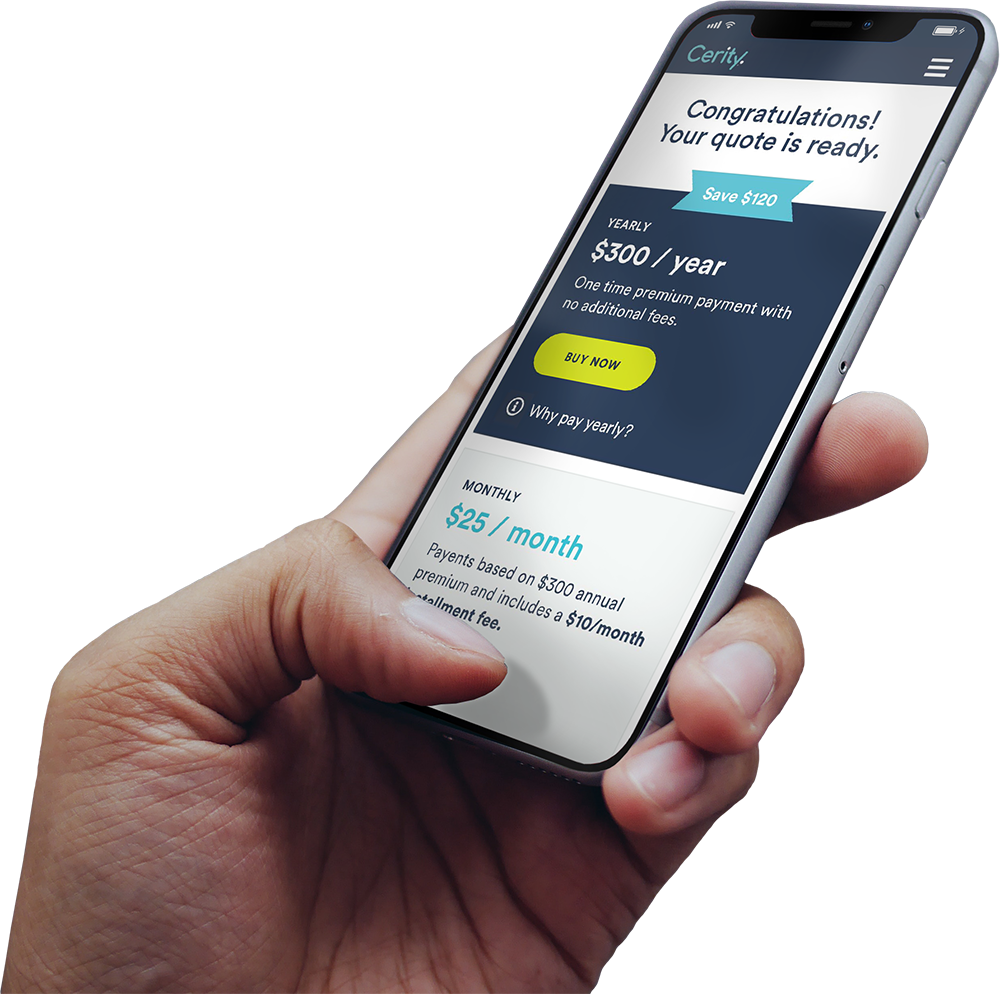 Grab your free quote today.
It only takes a few minutes, whether you're already covered or just getting started.