How to Protect Client Relationships During COVID-19
The COVID-19 pandemic has created a wealth of unprecedented challenges for businesses of all sizes and industries. Business owners are faced with navigating their own business changes, which include shifting to remote work and changing the way they interact and manage clients. This is made all the more difficult by the fact that clients' businesses are also in flux and are experiencing their own challenges.
However, it's important for all business owners to stay proactive and supportive during this difficult time, because it offers a unique opportunity to strengthen and protect strong client relationships. How you strategize, take proactive measures, and offer reassurance and services/products of value during times of crisis will define your business's reputation for the long term. Here are a few steps you should take now to protect your client relationships.
Redesign Internal Communication
As your business adjusts to the changes Covid-19 has caused, it's essential to rethink your internal communication. To offer the best possible service to your clients, your staff needs to be connected both personally and professionally. To do so, implement unique ways to connect remotely, such as online group chats, business-hosted online events, and consistent communication regarding the ever-changing circumstances of the pandemic.
All of these methods will provide a greater sense of community while working in isolation and will help your team s offer better client service.
Get Proactive and Creative with Customer Service
As circumstances change as a result of Covid-19, so must the way you approach customer service. Brainstorm with your team about unique ways to handle inevitable client shifts and retain customers who may consider leaving for financial reasons. If there are payment options or variable product terms you can offer to clients who are affected, do so while emphasizing your support.
Furthermore, don't be afraid to ask clients how they are doing, how their business is being affected, and how you and your team can be of service during this time. Take steps such as flagging accounts that are heavily affected by Covid-19 and monitoring key client events (closings, reopenings, changes in business models, etc.) to create specific client strategies based on how each client has been affected.
Alter Client Communications as Needed
Nearly all businesses are shifting their day-to-day operations as a result of the pandemic. Make an effort to not only understand how your clients have altered their business operations and communications but also cater to those changes. Lean into methods of communication such as instant messaging, video chat, and email to make things easier for clients. Ensure team s understand that due to recent events, client response time may be slow.
In addition, a personal message from the executive level of your business can go a long way in showing clients your ongoing support during this time. You may also need to reassess automated messaging, customer access points, and web content to ensure that you're sending the right message. It's important to be aware of messaging that may come across as insensitive or dismissive.
Provide Value to Clients
Many clients may be shifting their focus only to products and services deemed "essential." If your business is not considered essential either by government regulations or client perceptions, reposition your product or service in a way that can still provide value to clients. For example, many restaurants that did not previously offer delivery have chosen to implement that new service as it becomes in higher demand. Any way that your business can offer something different, but more importantly valuable, will be helpful.
Prioritize Client Needs
As your clients' priorities change, you may need to shift to prioritizing more in-demand features, services, or products. Although this may differ from your original plan, showing your clients that your business services are adaptable can help forge a long-term partnership.
For example, if your business manages a local restaurant's website, their shift to offering delivery may mean your team must move toward launching an online order form as opposed to new branding, which at this time is considered less essential. When things get back to normal, your client is more likely to continue working with you for the site redesign, as they know they can trust your support in times of crisis.
Just like you, Cerity is here to support our clients during these uncertain times. We understand that Covid-19 has changed the way many do business, so we're committed to helping organizations find more nimble solutions to meet their business goals. That's why we offer a faster, more affordable, and more flexible way to get a workers' compensation insurance policy. To get a free workers' comp policy quote, visit our online quote tool.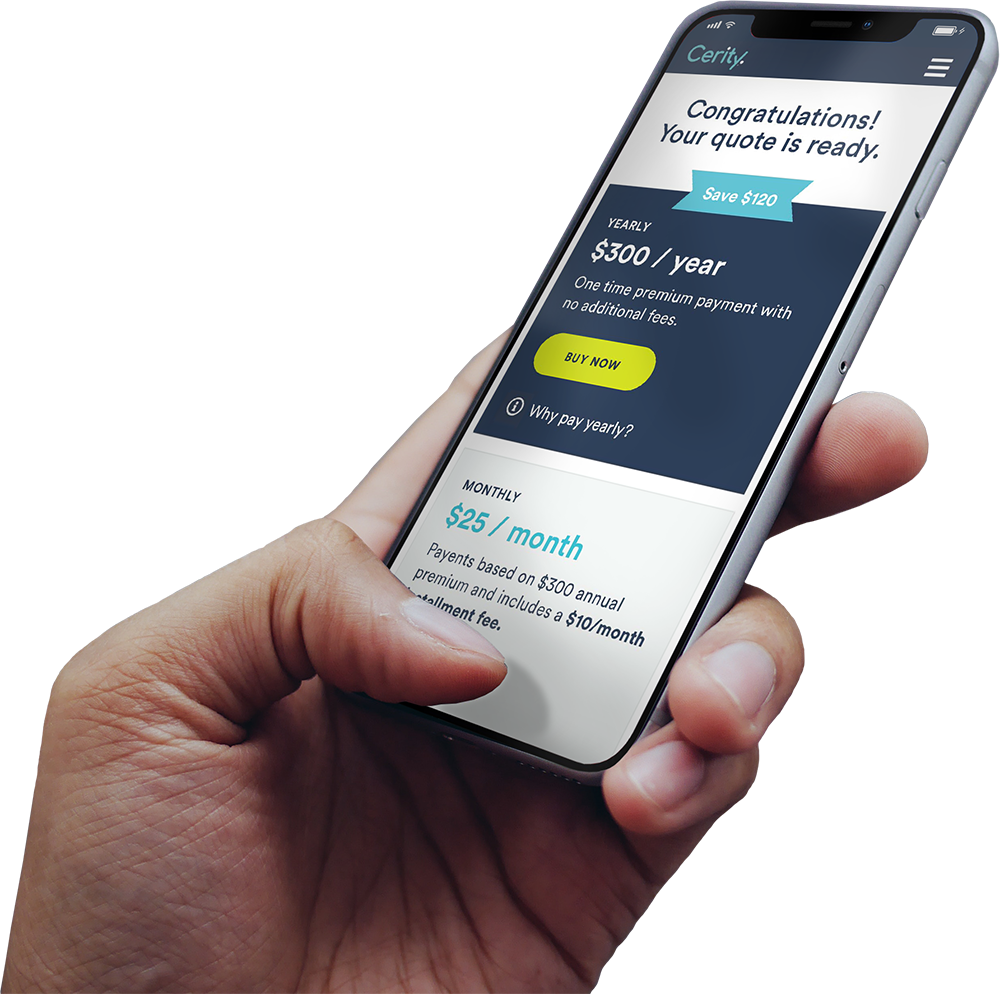 Grab your free quote today.
It only takes a few minutes, whether you're already covered or just getting started.