Workers' Compensation for Offices
No matter what type of office environment your business has (even if your entire team is working remotely), there is always the potential for injuries in the workplace. And just one small incident can have a drastic impact on your company's finances if you don't have the right professional insurance in place.
Workers' compensation insurance is one of the best small business insurance policies your office can have. It protects your business in the event that one of your employees sustains an injury on the job, providing financial assistance for that employee to take care of medical costs and lost wages.
Workers' Comp Insurance for Offices
Despite your best efforts to make the office a safe and healthy place to work, workplace injuries at the office (or at home for remote workers) are still inevitable. From climbing ladders and heavy lifting to repetitive movements and sitting for most of the day, your employees do things that may put them at risk for experiencing an injury or developing a chronic work-related health condition while at work.
When you have a workers' compensation insurance policy, your business is protected from the potential financial losses that can result from injured employees' medical expenses and lost wages. This makes workers' comp insurance essential for every office, from small businesses to larger LLCs.
Office Employee Injuries
While the risk for workplace injuries varies by industry and position, every workplace has the potential for accidents and unforeseen events that can put staff at risk. Many office-based businesses may assume that their risk of employee injury is low. However, office employees are often at just as much risk as other professionals who work in the field or have more physically taxing occupations.
Workers' comp insurance is a type of LLC insurance that protects your business from financial losses by covering work-related injury costs such as:
Ambulance services
Emergency room visits
Ongoing healthcare services like physical therapy
Other medical costs such as medication
Wages lost during the time the employee cannot work
Whether your employee slips and falls on a puddle that hasn't been cleaned up or develops carpal tunnel syndrome from years of typing at the keyboard, workers' comp insurance will protect your business. No matter what type of office you run, you benefit from investing in this business insurance.
Office Building Liabilities
In the event that an employee is injured in a work-related incident, your business may be liable for more than just the employee's medical expenses and lost wages. If the employee decides to file a lawsuit, your company may also be responsible for additional costs.
A liability lawsuit can have disastrous consequences for your business. Fortunately, workers' compensation insurance helps cover some of the costs associated with injured employee lawsuits, such as:
Legal fees
Attorney fees
Court fees
Settlement payments
It's important to note that some commercial insurance policies don't provide liability coverage. If your business operates in North Dakota, Ohio, Washington, or Wyoming, which require businesses to purchase workers' comp insurance through monopolistic state funds, you may not have liability coverage.
Similarly, some private insurance policies do not offer this coverage. If you don't have liability coverage, consider purchasing an additional policy to help you close the coverage gap.
Risk Management for Offices
The best protection against work-related injuries is to prevent them. To lower the risk of injury in your workplace, develop safety policies and procedures that help prevent accidents or situations that increase injury risk. Make sure these policies are documented and communicated to your entire staff.
Not only does risk prevention and management help you reduce injuries in the office, but it can also help you lower your workers' comp insurance premiums. Most insurance providers use risk management tools to assess a company's level of risk when determining insurance premiums. The more you do to prevent injury in the office, the more likely your business is to benefit from reduced rates.
Cost of Office Workers' Comp Insurance
The cost of office workers' compensation insurance depends on a number of different factors. The nature of the business, location of the office, business jurisdiction, and company payroll can all impact your workers' compensation rates. The only way to gain an accurate understanding of your business insurance costs is to get an online quote from a trusted insurance provider.
At Cerity, we don't think getting an accurate online quote for workers' compensation insurance should be complex or time consuming. We use our proprietary technology to help businesses benefit from clear, intelligent pricing. Get a free workers' comp insurance quote today using our free online quote tool.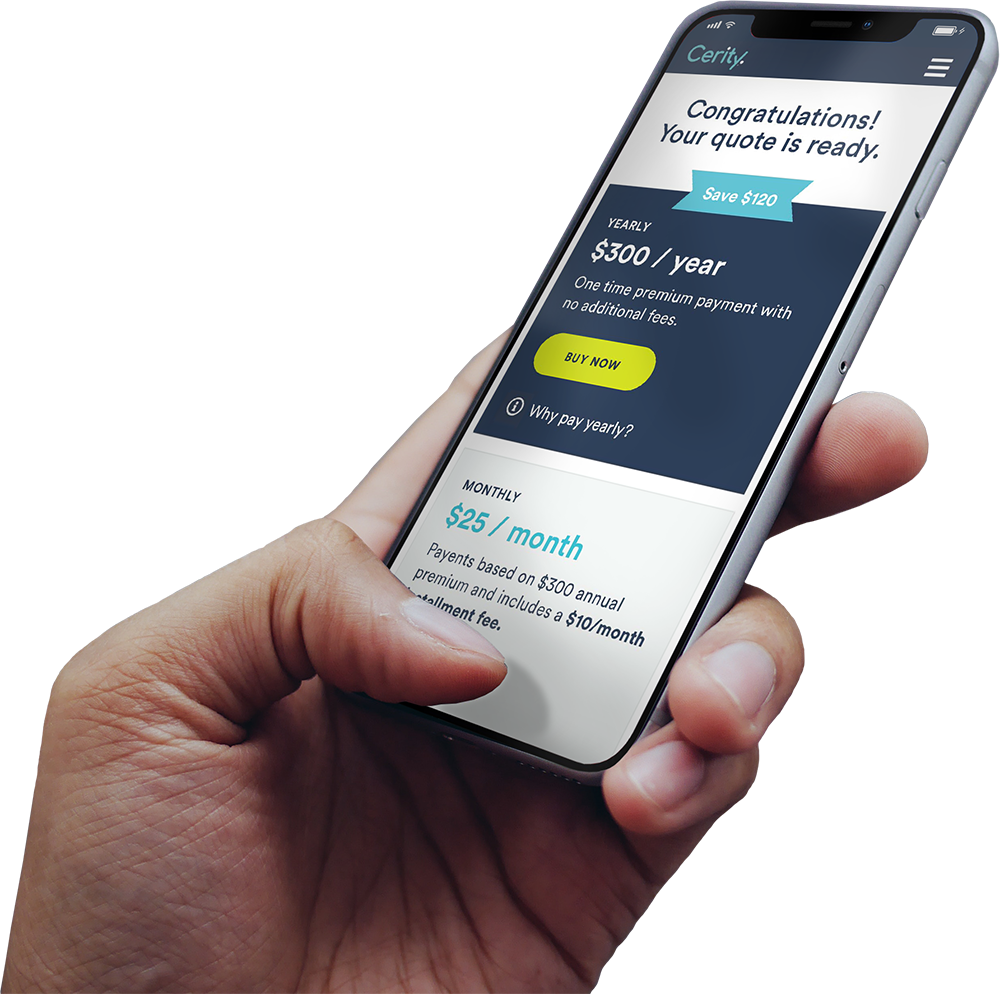 Grab your free quote today.
It only takes a few minutes, whether you're already covered or just getting started.