Workers' Compensation for LLC Business
Depending on the nature of your business and the work your team completes on a regular basis, your LLC could be at risk for all sorts of injuries in the workplace. Even if your team works primarily in an office, your employees are at risk.
That's why it should be a priority for every LLC to take preventative measures to avoid these risks. Obtaining workers' comp insurance is just one way that you can protect your business and employees from downtime and financial losses that can be devastating to your bottom line.
Workers' Comp Insurance for LLCs
No matter how hard you work to make your business a safe place for your employees, there is always the possibility that disaster will strike. Workers' compensation insurance for small business owners helps protect your business when inevitable, unforeseeable accidents happen in your workplace.
Workers' comp insurance covers the costs of employee medical care that results from workplace injuries as well as any related lawsuits. This means that your LLC won't have to pay these costs out of pocket — costs that can have devastating financial impacts, especially if you run a small operation. Choosing a comprehensive workers' compensation policy can help your business continue to thrive despite any accidents that are out of your control.
LLC Employee Injuries
Depending on the nature of the work your LLC performs, there are a variety of risks that your employees could be exposed to. From industry-related injuries to slip-and-fall accidents, these risks make workers' comp insurance a sound investment for LLCs.
Accidents and injuries don't strike just in large businesses. Even a small business or independent consultants with few or no employees can experience an injury that requires medical attention. For this reason, every LLC should consult with an insurance provider to see if workers' compensation insurance coverage is right for them.
While laws vary from state to state, most LLCs are required to have business insurance coverage to cover the medical costs of employees who are injured in the workplace. Workers' compensation insurance coverage helps protect your LLC by covering costs related to:
Medical procedures and visits, including physical therapy, medication, and follow-up visits
Ambulance services and emergency room care
Partial lost wages due to injury
LLC Liabilities
Even if your LLC is not at fault for a workplace injury or illness, your business may still be held liable. Most workers' compensation insurance policies offer liability coverage that can protect your LLC in the case of a potentially devastating employee lawsuit.
Most workers' comp liability coverage will help pay for:
Court costs and attorney fees
Settlement payments
Other related legal fees
Not all states require LLCs to carry liability coverage, but many do. If your LLC is based in North Dakota, Ohio, Washington, or Wyoming, then you are required to purchase workers' comp insurance through a monopolistic state fund. If this is the case, you may need to purchase additional private coverage for liability insurance.
Risk Management for LLCs
One of the best ways to prevent injuries in the workplace is to assess the level of risk your LLC is exposed to and implement policies and trainings that help reduce this risk. Risk management will take different forms depending on your industry, day-to-day work, and the number of employees you employ.
Prevention is key to managing risks, and workers' comp insurance providers take this into account when determining insurance premium costs. They use risk assessment tools to help them develop quotes, which means that establishing preventative measures to lower your LLC's risk may even help you lower your business insurance rates.
Cost of Workers' Comp Insurance for LLC
Workers' comp insurance costs vary from business to business and across states. There are many factors that contribute to premiums for this type of LLC business insurance, including:
The nature of your business
Your business's payroll records
Your business's history of workplace incidents
Your business's jurisdiction
By investing in workers' compensation insurance, you are investing in your small business by helping protect it from the devastating financial losses that can result from workplace injuries.
Cerity aims to make the workers' comp insurance buying process quick and easy. We use proprietary tools and modern technology to deliver free, straightforward insurance quotes that make it simple to understand what you are paying for. You can get started with your policy today — just use our free workers' comp quote tool to get a free online quote.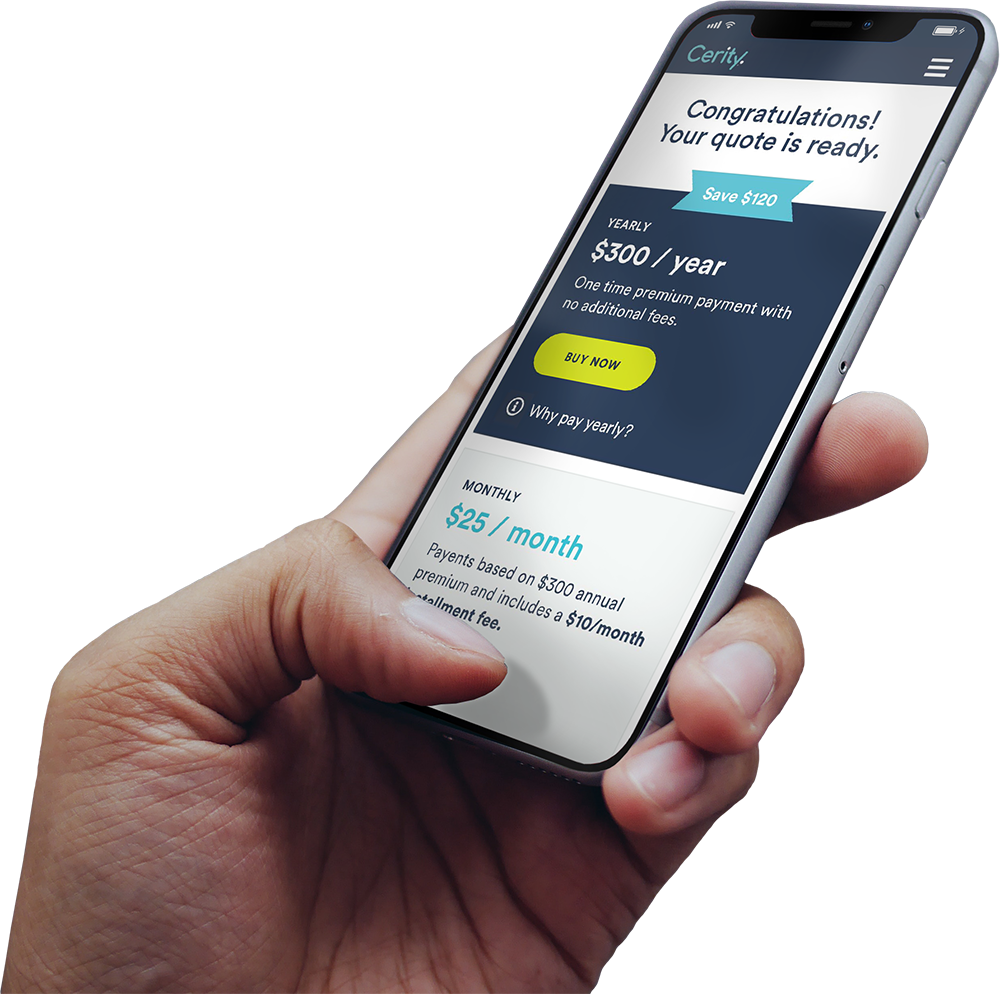 Grab your free quote today.
It only takes a few minutes, whether you're already covered or just getting started.