Workers' Compensation For Car Washes
If making cars sparkle is your business passion and you own a car wash, you want to keep customers and team members happy. That means workers' comp is mission-critical — to keep your company open, to protect your team, and to keep your car wash customers smiling.
Why Does My Car Wash Business Need Workers' Comp?
Car wash insurance is there to protect you, and workers' compensation protects your team and you. Think about it: your employees are dealing with customers, they're around cars and heavy machinery, they may be exposed to cleaning chemicals, and they may be lifting objects or reaching to clean a specific area of the car they're cleaning. This means your team can sustain:
Burns

Repetitive stress injuries

Overexertion injuries

Slip and fall injuries, including resulting broken bones and head injuries

Other injuries
If the worst does happen, having workers' compensation means your team members get workers' comp benefits, including compensation to help cover lost wages plus medical costs. No-fault workers' compensation insurance protects you from getting sued by a worker who has no other way to get compensation. And that's good news for everyone because it means you can stay open while your injured worker gets the help they need to heal.  
There's another reason every car wash needs workers' comp insurance: it's the law. If you have full-time or part-time employees (not contractors), your state law probably says you have to pay for workers' compensation insurance for your employees, from the minute you hire someone for your team. While the details of workers' comp requirements vary from state to state, all states do have workers' comp requirements and do impose fines on those employers who don't stay compliant. Other insurance for car wash business can be optional, but workers' comp is mandatory. 
How Do I Find the Right Car Wash Insurance?
The insurance you need is going to be very different from your competition. You may have a different team, different services, and a different set of risks. If you're looking for workers' compensation, look for:
A workers' compensation specialist.

Sure, you can go with any insurer offering bundles of different types of insurance. But that doesn't always get you the most reasonable premium. Just like you wouldn't go to a cardiologist for a foot cramp, you want to work with an insurance specialist who really knows workers' comp.

An insurer offering workers' compensation for small businesses.

An insurer who works exclusively with small businesses gets it. They're less likely to try to sell you more coverage than you need because they understand every dollar counts. They're also more familiar with small businesses that do it all, so if your car wash also sells merch or coffee, an insurer who works with small businesses is familiar with this kind of business and can help you find the right policy for your needs.

Your company and state requirements.

The right way to get the insurance you need is to think about what your state requires you to have for workers' comp. That's your baseline. On top of that, consider what else you may need, based on your unique business. For example, if you offer car detailing or offer to drop off cars at your client's front door, you're going to have very different needs than a car wash offering drive-through washes.
Choosing the right coverage means being protected, without going overboard and paying extra for what you don't need. A good way to do that is by working with an insurer who specializes in workers' comp for small businesses. Someone like Cerity. We're a faster and more affordable workers' comp insurance provider. Backed by over 100 years of experience, we make it easy to sign up or switch in minutes! No waiting on documents. Policies as low as $20 per month. Instant online quote. Licensed Experts. Flexible payments. Expert assistance. What more could you want?
How Much Is Car Wash Insurance Going to Cost Me?
It's the future. Your grandad may have had to pay a lot for workers' comp coverage, but specialized workers' compensation insurance companies today are working hard to bring you affordable rates. Of course, your insurance costs will depend on a few things, such as:
Your location.

Since every state has different workers' comp requirements, where you're located matters. Your car wash may also be considered higher risk if you're in a higher-traffic area or a place with higher risks.

Your payroll.

Your payroll, how many people you employ, and even the job descriptions or job roles of your employees are all considered by insurers when they come up with your premiums.

Your history.

Any claims you have will cause your insurance to go up and lots of claims are really going to cost you.
No two situations are different, so the best way to figure out how much insurance will cost is to get an accurate quote. A good way to do that is by getting a quote from Cerity. We're affordable workers' comp insurance — trusted by small businesses.
What Happens If I Ever Need to Make a Claim?
You hope it never happens. But it likely will, since there were 2.7 million non-lethal work injuries in 2020. Of course, you're careful. You train your employees, you make sure spills are cleaned up, you work hard to provide a safe workplace for everyone. But nobody's perfect and mistakes happen. When they do, here's what happens next:
As soon as your worker is injured, they need to report it to you or their manager as soon as possible.

Your car wash gives forms from the insurance company to the worker to fill out.

Once the forms are filled out, your employer will hand them back to you and you will submit them to the insurance company, which officially opens the claim.

The insurance company assigns an adjuster to the claim, and this person reviews the details before deciding to approve or deny the claim.

If the worker's claim is approved, the insurance company makes their offer to your employee and your worker either accepts the offer or starts legal action if they feel the offer is too low.

If the claim is denied, the worker can accept the decision, can ask the insurer to review the denial, or can start legal action.

Eventually the worker and insurance company will reach some agreement and the worker will go through the healing process, during which they must tell you when they can return to work at the car wash.
That's pretty much it, though the details vary from state to state. A good insurer takes care of a lot of the details for you, so you can send a "Get well soon card" to your injured worker and turn your attention to helping more clients drive away with sparkling cars. A good insurer even answers your questions and helps you with some of the filing details if you've never had a claim before.  
How Can Cerity Help You Out?
Cerity loves working with small businesses, like car wash owners and plenty of other industries, including one-person independent contractors, cleaning services, service businesses, and more. Our workers' compensation insurance for car wash businesses is fast, affordable, and designed to be flexible.
If you need car wash insurance to cover your workers' comp needs, get essential workers' comp insurance from Cerity for as low as $20 per month. Pay only for what you need. Take a look at how affordable car washing insurance is with us. To get a free quote online, visit our workers' comp quote tool or you can reach out to us to talk to us about workers' comp for your business.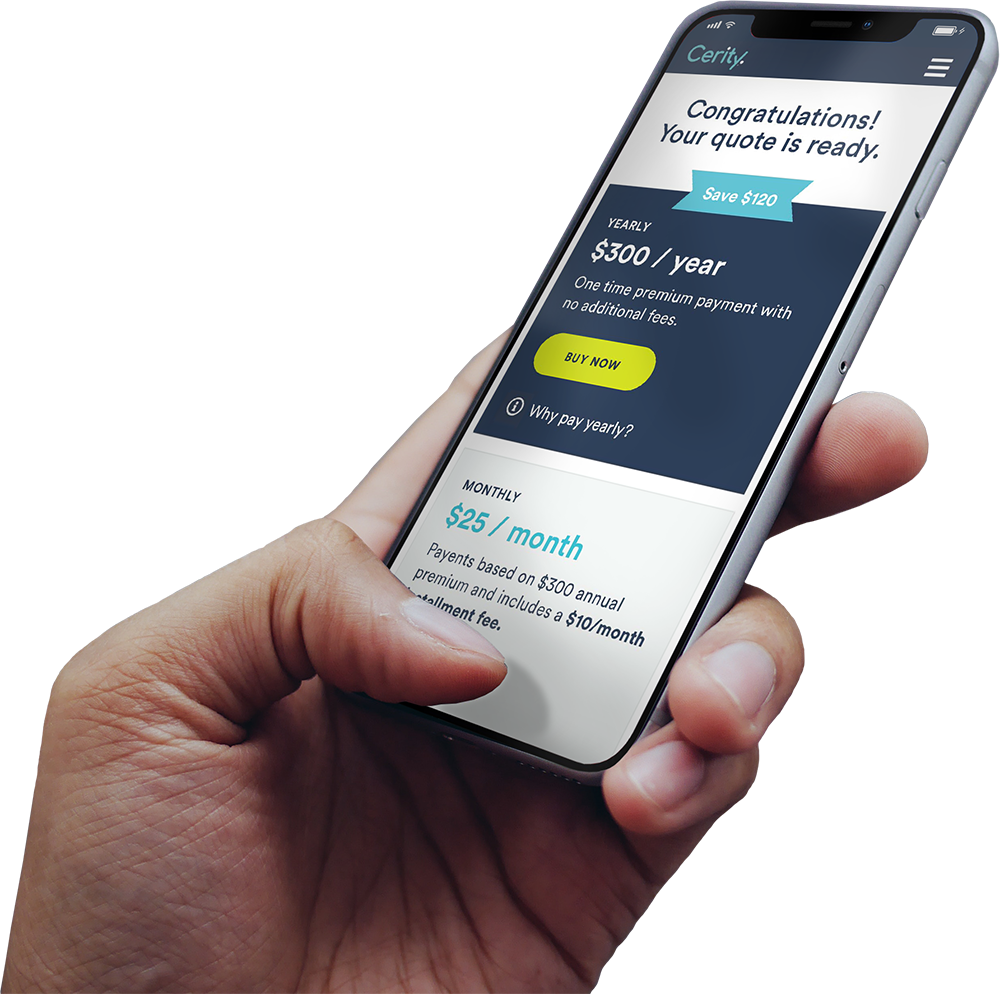 Grab your free quote today.
It only takes a few minutes, whether you're already covered or just getting started.