Workers' Compensation For Bakers
As far as we're concerned, bakers do some of the best work out there. Pain au chocolat? Cakes? Cookies? Croissants? Yes, please. We're so passionate about the amazing creations bakers come up with that we want every one of the 168,890 bakeries in the U.S. to get the support they need to keep serving hungry customers. And that means providing easy, reliable, and reasonably-priced insurance for bakers. Workers' comp insurance your bakery can count on.
Why Do You Need Workers' Compensation Insurance for a Bakery?
Your bakery needs lots of things: flour, sugar, stand mixers, ovens. And chances are, you need someone to help you whip up pastries, keep the kitchen sparkling, help out with customers, and more. The minute you hire someone at your bakery, whether it's a student, aspiring chef, part-time dishwasher, or anyone else, your state likely says you need workers' compensation insurance.
The idea behind workers' comp coverage is that if anyone is injured, the insurance offers benefits to cover your worker's medical bills and replace some of their income so they can pay the bills. In turn, this no-fault insurance means workers don't have to sue you to pay for their injuries. The exact rules about who needs to be insured and what benefits are offered vary from state to state, but all states do have workers' comp rules which can affect bakers. 
What Kinds of Injuries and Risks Does Your Bakery Really Face?
Bakeries carry lots of risks. There are hot ovens and big pots of bubbling butter that can cause serious burn injuries. Fires are not uncommon in busy commercial kitchens. Allergen exposures are a risk, as are overexertion injuries. And spills can happen, so falls and broken bones are something that's probably on your radar.
Of course, you work hard to make sure your kitchen is safe for everyone. But accidents happen. And when they do, you want a solid workers' comp policy to protect everyone and your company.
What Elements Make a Good Workers' Comp Insurance Policy?
If you want a workers' compensation insurance policy that works for your bakery, the reality is you don't want the same one a car wash has. Your business has different risks and different needs. Here's what you should be looking for in a policy as a baker:
A policy that comes from a small business specialist.

Small bakeries are different. You may also serve coffee, or you may use a ghost kitchen rather than lease a traditional space. An insurer who knows about small bakeries is ready to be flexible and to meet you where you are.  

A policy that comes from a workers' compensation specialist.

Workers' comp coverage is too important to leave to just anyone. When you work with an insurer that only offers workers' comp, you get more transparency because your policy isn't hidden in a package, and you often get more reasonable rates. Plus, insurers who only focus on workers' comp can help keep you stay compliant because they know the regulation changes, precedent-setting legal cases, and rules in the industry.

A policy with good protection but affordable rates.

You need a policy that protects your employees and gives you peace of mind. But you also need workers' comp that's affordable, without unneeded add-ons.
Luckily, you don't have to hunt high and low. Cerity is the champion of small business, and we only focus on workers' compensation policies. We're a faster and more affordable workers' comp insurance provider, backed by over 100 years of experience. Sign up or switch in minutes. No waiting. With policies as low as $20/month, we even save you money. Enjoy an instant online quote and rely on our licensed experts, flexible payments, and expert assistance.
How Much Is Workers' Comp Insurance Going to Cost Me?
Now for the good news: a solid workers' compensation policy doesn't have to break the bank, especially when you choose carefully. Of course, every bakery is different, so your costs are going to be higher if you're the leading contestant on a new reality show called Extreme American Bake-Off. But in general, your costs will depend on four factors:
Your history.

If you've been in business a while and don't have claims, you'll be able to save when compared with a bakery with a long history of claims.  

Your specific business.

Maybe your bakery delivers wedding cakes by bicycle. Maybe your business is more focused on delivering cupcakes to library meetings. In any case, bakeries have different risks and will mean different premiums.

Your payroll.

How many workers you have, what jobs they do, and your payroll all play a role in your premiums.

Your location.

Different states have different rules, so your premiums in Maine won't be the same as in Missouri.
Workers' compensation doesn't have to cost a lot when you work with Cerity. We're affordable workers' comp insurance — trusted by small businesses.
What Happens If Someone at My Bakery is Hurt?
If you have workers' comp coverage and a worker at your bakery breaks a bone, gets a burn, or otherwise has an injury that needs some medical attention or time off work, your insurer makes a big difference. While every state has a slightly different process, here's what generally happens during the claim:
As soon as your worker is injured or finds out they have a work-related illness, they need to report it as soon as possible to you.

Your insurer will have a set of steps you must follow to file a claim, and it generally starts by you giving your worker the forms your insurer has given you for a claim.

Once the worker has filled out the details of their injury, the forms go back to you, and you file them with the insurer.

At this point, the claim is officially filed and the insurance company assigns an adjuster to look into the claim and to decide whether to accept or deny the claim.

Your worker will be contacted by the insurer, who will tell them the outcome of the claim.

If the claim is denied, the worker can accept the decision, ask the insurance company to review the claim, or start a legal claim.

If the claim is accepted, the worker can accept the offer or can start a legal action if they feel the offer won't cover their costs.

Eventually, the insurance company and your worker reach an agreement and your worker must tell you when they can come back to the bakery for work.
That's pretty much it for the claims process. Your insurer can answer questions and can help you if you've never filed a claim before. And once you've filed, you can get back to baking while your injured employee heals.
How Can Cerity Serve Up the Workers' Compensation Coverage My Bakery Needs?
At Cerity, we're proud to work with bakeries. In fact, we work with all kinds of industries and small businesses, including restaurants, food trucks, food and beverage businesses, and more. As soon as you go from a one-person operation to hiring anyone, reach out for a quote from Cerity. Get essential workers' comp insurance from Cerity for as low as $20/month. Pay only for what you need so you have more dough left over for all your other costs.
Simply go to our free online quote tool. Tell us a little bit about your business to get an affordable rate, and you can buy a policy online in minutes to cover you for the year ahead.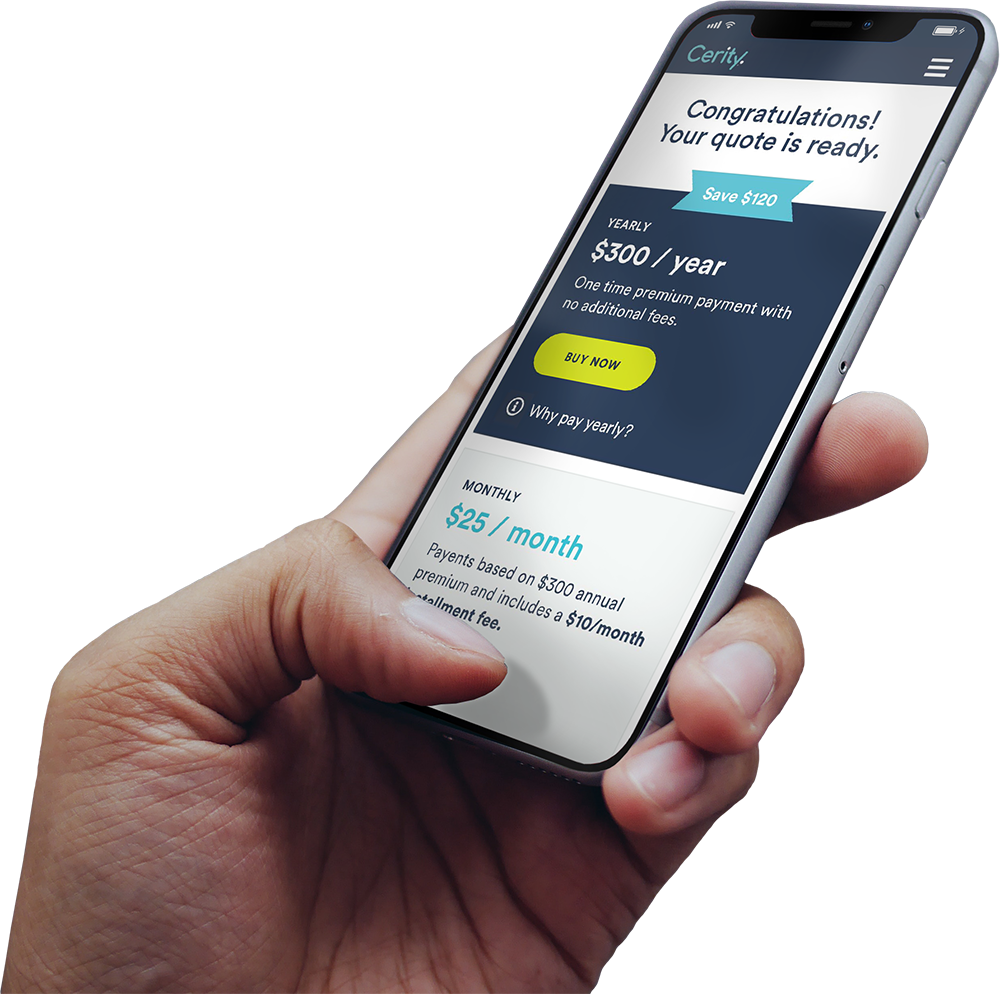 Grab your free quote today.
It only takes a few minutes, whether you're already covered or just getting started.