Workers' Compensation If You Have One Employee
There's small business and then there's small business. If you only have one worker or you're getting ready to hire your first employee, you've got enough on your plate. The last thing you need is confusion about insurance. You may even think workers' compensation laws in your state don't apply to you.
Not so fast.
Before you make any assumptions, let's take a look at the rules, why a small business may need workers' comp, and how you can get the right policy at an affordable price. Get the facts to protect your small company.
Do You Need Workers' Comp for One Employee?
In almost every state, you're required to carry workers' compensation insurance, even if you have just one employee. That's the case for Arizona, for example, where businesses of any size are required to carry coverage. In other states, you may not be legally required to buy coverage until you have five (or more) workers.
As soon as you hire your first worker, you need to check your state rules and laws. Whether you hire a seasonal worker, part-time team member, or full-time employee, you may need to start paying for workers' comp for everyone on your payroll. You may be an LLC, small private business, partnership, or another business structure, but once you start hiring, you need to start thinking about how to keep your workers and your business safe.
Even if you're not required by law to have workman's comp, you may want to get coverage. You may still be liable for worker injuries.
In 2021, 2.6 million nonfatal job injuries and workplace-related illnesses happened in the U.S. private sector. If one of these injuries or illnesses happens at your workplace and you don't have workers' comp, your injured worker may end up filing a legal claim so they can pay for their bills. With coverage, you reduce this financial risk and you have a way of taking care of your workers if they're injured and can't work.
Do You Need Workers' Comp If You Are Self-Employed?
Do you need workers' comp for one employee if that employee is yourself? Being your own boss has its perks, and one of them is that you may not be subject to workers' comp laws in most states. Laws vary, but most states don't require self-employed individuals to pay workers' comp, unless they hire additional workers.
It can still be a good idea.
About 16.8 million Americans are classified as self-employed, according to Bloomberg. And these workers are at the same risk as any other worker. Whether you run a one-person catering service, work from home as a personal assistant, or run any other type of business, you could be injured on the job or sustain a work-related illness. If you do, how will you pay your bills while you can't work and keep your business open?
Many self-employed workers choose not to get workman's comp, but it's a risk. If you're ever injured, the sudden inability to work coupled with your medical bills can put you out of business. It can also land you in financial trouble.
The good news is that if your only employee is you, your workers' comp costs can be low. In fact, Cerity's policies start at $20 a month. For the cost of a fast-food meal, you could be covered as a self-employed business owner. We make sure peace of mind is available for even very small businesses.
Do 1099 Employees Need Workers' Comp?
1099 employees are contractors rather than full-time or part-time employees. There's a different set of rules for these workers. In most states, contractors do not need to be covered by workers' comp. They are responsible for their own benefits, including this coverage.
If your independent contractors aren't covered by workers' compensation and they're injured on the job, they can usually file a legal claim against their clients (that's you). To protect yourself, you might want to get workman's comp for 1099 employees or require them to carry their own policy.
Let's talk about misclassification, too. One thing that states (and tax agencies) look closely at is whether a contractor is really a 1099 employee or has been misclassified. It's not enough to call someone you hire a contractor. It doesn't even matter whether the worker signed a contract saying they're a contractor.
What matters is whether the worker fits the definition of an independent contractor. In most cases, this means the worker has control over their work, gets paid on the completion of a project (rather than a salary), has their own business, and meets other requirements. Before you hire a contractor, make sure you're really hiring a 1099 employee who meets all the requirements.
Do You Need Workers' Comp for Part-Time Employees?
In many states where workers' compensation is required, part-time employees are covered too, though some industries (such as agricultural or domestic workers) are not covered in every state. Even if your one employee is a part-time worker, you may need coverage.
Are Volunteers Covered Under Workers' Compensation?
In most states, volunteers are not covered by workers' comp. They may be covered by their own health coverage. If your organization relies heavily on volunteers, it's a good idea to find out whether you can get coverage for your volunteers in your state. In some cases, it may be possible to buy a separate volunteer accident policy. Or, you may want to get your volunteers to sign a waiver to reduce your risk if a volunteer is injured.
Getting Workers' Comp for One Employee: Cerity Can Help!
If you run a small business with just one employee or even no employees other than yourself, workers' compensation is still something you need to think about. Depending on where your business is located, you may still need to carry coverage. Even if your state doesn't require it, you may want to have some form of protection for your workers. If they're injured, a workers' comp policy can offer benefits, including medical benefits to pay for medical costs and wage loss benefits to replace part of a worker's average wage. A policy can also protect your business from lawsuits.
Cerity is backed by over 100 years of industry experience and we focus only on workers' compensation. We work with small businesses in virtually every industry and almost every state. Our goal is simple: to help small businesses find cost-effective workers' comp policies that fit their needs.
Cerity is a champion of small business. We know setting out on your own takes a lot of courage and we want to support that entrepreneurial spirit with workers' comp that fits your needs. That's why we make getting workers' comp so simple. You can sign up in minutes online, and we keep costs low so you can afford a policy, even if you're just starting out.
Find out how affordable peace of mind can be with Cerity. Get a free quote for workers' comp insurance with our free online quote tool.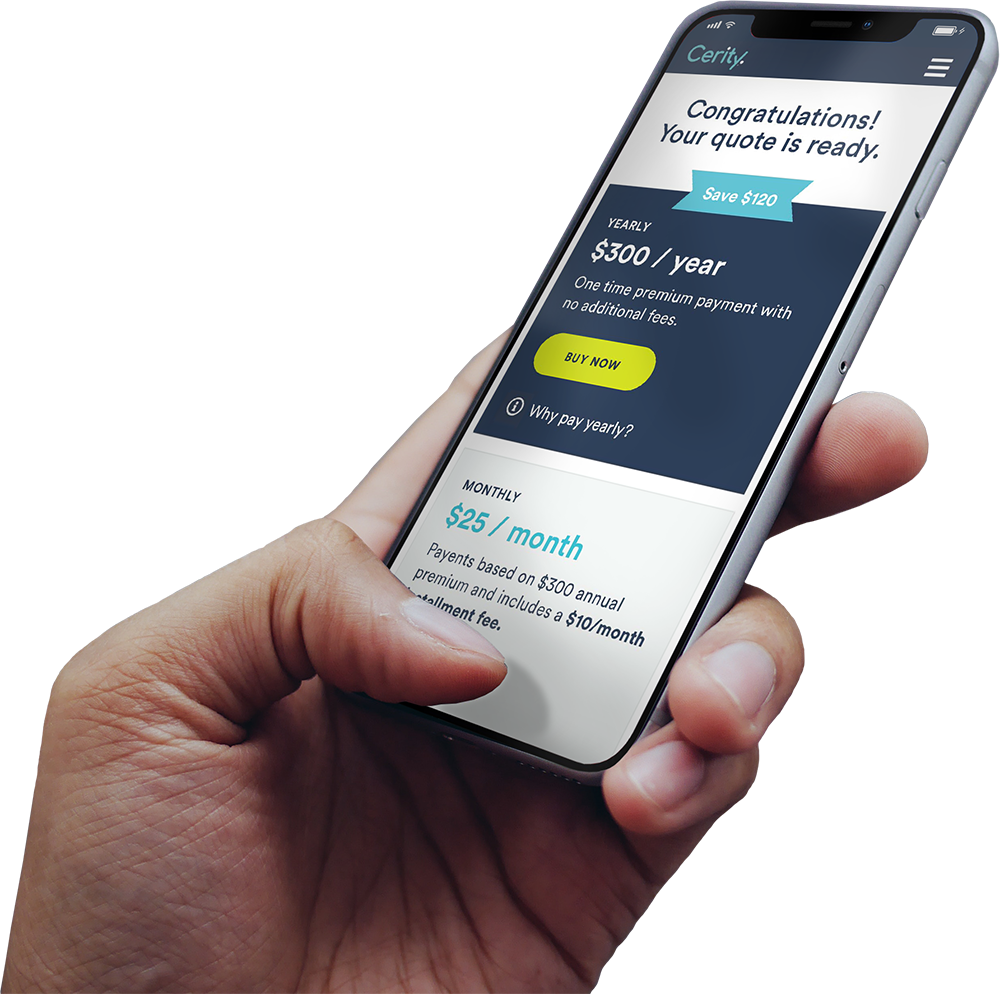 Grab your free quote today.
It only takes a few minutes, whether you're already covered or just getting started.