Workers' Comp Process Pitfalls
Regardless of what type of business you run, having workers' compensation insurance is an important part of protecting your employees and ensuring you're not held responsible for the costs associated with on-the-job injuries or illnesses. Even though you do your best to provide a safe working environment, accidents happen. And when they do, workers' comp is there to support you and your team. 
However, the workers' comp process can be overwhelming, especially because the laws that govern it vary from state to state. Luckily, Cerity is here to help business owners like you understand the process and avoid common workers' comp pitfalls.  
Understanding the Workers' Comp Process
The process of workers' compensation can be lengthy and even a bit confusing. But if you understand the general steps to the process, you can more easily navigate it.
The first step in the workers' comp process is reporting the injury or illness. An employee should always report their injuries or newly diagnosed illnesses as soon as they can. In many states, there are laws that govern how long an employee has to let their employer know of new conditions. 
The second step in the process involves the employer providing the employee with all of the necessary paperwork they need to file their claim with the insurer. Again, there are laws in each state that outline how long an employer has to provide this information to their injured worker. Workers have the right to understand their workers' comp benefits and the process by which they are to submit the details of their claim to the insurance company. 
Once the employee has filled out the necessary paperwork and provided the requested documentation, which can include medical information and records, then the employer will file the claim with their insurer. From there, the insurance company reviews the claim and will either approve or deny it. Denials can occur for a number of reasons, but many claims are denied due to simple errors in the workers' comp process. We'll explain more about those common pitfalls later. 
If the claim is denied, an employee can appeal the decision. If approved, the benefits will be paid out and, once they are healthy enough to do so, the employee will return to work. 
How the Workers' Comp Process Can Vary
Although the above process is generally how things go when it comes to workers' comp, the process can vary depending on a variety of factors, including the industry in which your business operates and the state in which you work. 
First, it's important to understand that different industries have different standards of safety. This is because every industry has its own unique set of risks — some more dangerous than others. For example, construction jobs are inherently more high-risk than office jobs in terms of experiencing an on-the-job injury. 
For this reason, different industries have industry compliance regulations outlining the standards employers are held to when it comes to providing a safe working environment for their staff. The workers' comp process might look different than outlined above for a claim involving a company that did not adhere to its industry's safety regulations. 
The biggest way the workers' comp process can differ is location. Every state has its own set of laws governing the workers' comp process. From statutes of limitations to workers' comp coverage options and beyond, the process in each state is unique. 
Check out our guide for workers' comp deadlines in every state here, and you'll see what we mean. That said, it's important to know the regulations in your state and to ask your insurer if you have any questions about what the workers' comp process is like in your state. 
Potential Workers' Comp Process Pitfalls
If you're concerned about the workers' comp process, don't worry — we're here to help. Below are some of the most common pitfalls that employers and employees experience in the workers' compensation claims process and how to avoid them. 
Not reporting injuries/illnesses

. Just because you have workers' comp coverage doesn't mean you don't have a responsibility to report injuries or illnesses quickly. Every state's regulations regarding injury/illness reporting are different, but a good rule of thumb is for employees to always report new conditions to their employer as quickly as possible. 

Not seeking medical care

. The first priority following an on-the-job accident or illness is getting the employee the medical care they need. Failure to get proper medical care is one of the biggest mistakes that can be made during the process. It's always important to first get taken care of and then to get the proper documentation. 

Not meeting filing deadlines

. Whether you are an employer or an employee, there are rules in your state regarding when and how to file workers' comp paperwork. Ask your insurer if you're confused about these deadlines, and follow their guidance to ensure that your paperwork is submitted properly and on time. 

Not documenting the process.

Claims can be made more difficult if you're unable to prove that an injury was in the "course and scope" of employment. For this reason, documentation is extremely important when filing a workers' comp claim. Important documentation includes medical records, doctor's notes and treatment plans, medical bills, witness statements, video surveillance, proof of injury, information about pre-existing conditions, and more.  
Cerity — Affordable Workers' Compensation Insurance
We understand that business owners like yourself already have a lot on your plate. That's why we're here to help streamline the workers' comp process and make sure it's not a hassle to you or your employees. We are dedicated to helping business owners get the coverage they need — without phone calls or paperwork.
Regardless of what industry your business operates in, Cerity has the workers' comp policies you need without the frustration and confusion. Our flexible, more affordable approach to workers' compensation makes getting coverage quick and easy. With our free online quote tool, you can get protection for your workers as soon as tomorrow.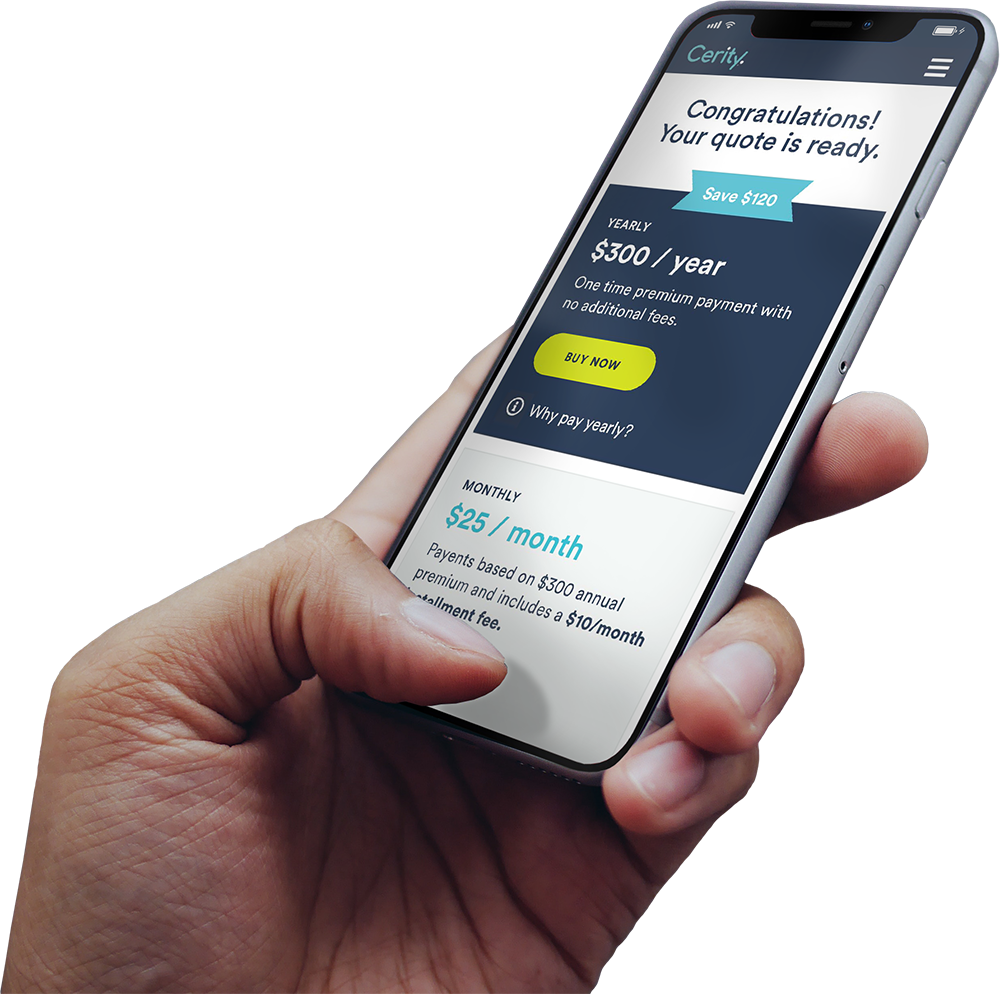 Grab your free quote today.
It only takes a few minutes, whether you're already covered or just getting started.