Why Small Businesses Need Workers' Comp
Accidents happen. That's just a fact of life. Whether you're a restaurateur, a retail shop owner, a barber, a plumber, or any other small business owner, you need to factor Murphy's Law into your business plan.
Here we'll go over the ins and outs of workers' comp for small business, including how you can get a quick quote instantly and purchase a policy online today.
What is Workers' Comp For Small Businesses?
Workers' comp for small businesses is a form of insurance that covers your business and employees in the event of on-the-job injuries or illnesses. For example, if an employee injures themself during a work-related task, workers' comp will help pay for medical bills, lost wages, and more. Or if an employee is diagnosed with an illness that is directly related to their job, such as exposure to chemicals or toxic substances, workers' comp can provide relief. In addition to financial benefits for illnesses and injuries, workers' comp protects your business against litigation related to the incident.
Whether your small business operates in an inherently risky industry or you simply want to be proactive in protecting everything you've worked hard to build, small business workers' compensation provides the necessary financial support during situations that could make or break the success of your business.
What Kind of Coverage Does Small Business Workers' Compensation Offer?
So what benefits does workers' comp specifically provide your small business? Coverage may vary based on your state laws and your individual policy, but generally, workers' comp includes coverage for:
Emergency medical expenses
Ongoing medical expenses, including rehabilitation
Lost wages, including full or partial disability
Death benefits
It's important to note that this coverage only applies to injuries or illnesses that are experienced during the course and scope of work. These benefits don't apply to self-inflicted wounds, injuries experienced while intoxicated or while committing a crime, and injuries experienced as a result of violating workplace policy.
Do All Small Businesses Have to Get Workers' Comp?
If you have employees, generally, the answer is yes, you have to have workers' compensation insurance. This is because most states require that businesses with one or more employees have workers' comp coverage. It's important to check your local laws to see what the laws are regarding small business workers' comp because you could face financial or criminal penalties for not having coverage.
Even if you don't legally have to get coverage in your state, having workers' comp is a good idea to help protect yourself, your business, and your employees.
Cost of Workers' Comp & Where to Get Coverage
How much you'll pay for small business workers' compensation coverage depends on a variety of factors that are unique to your business. These factors include how big or small your business is, where your business is located, what industry your business operates in, and what your small business's workers' comp claims history is like.
The best way to see what you might pay for workers' comp is to get multiple quotes from providers. The easiest way to do this is to go online. Online workers' comp insurers offer competitive rates, quick quotes, and even instant policies. With the right provider, getting coverage for your small business can be simple and easy.
Cerity Can Help
You're dedicated to running a successful small business. We're dedicated to protecting it. At Cerity, we believed workers' compensation should be easier for small businesses, so we built it. Whether you're just getting started in your small business journey or your business is established and you're looking for better workers' comp rates, Cerity is here with affordable rates, quick quotes, and instant coverage.
Find out how much you could save with our free online quote tool. Simply tell us a little bit about your business to get an affordable policy option you can buy in minutes—no long-term commitment required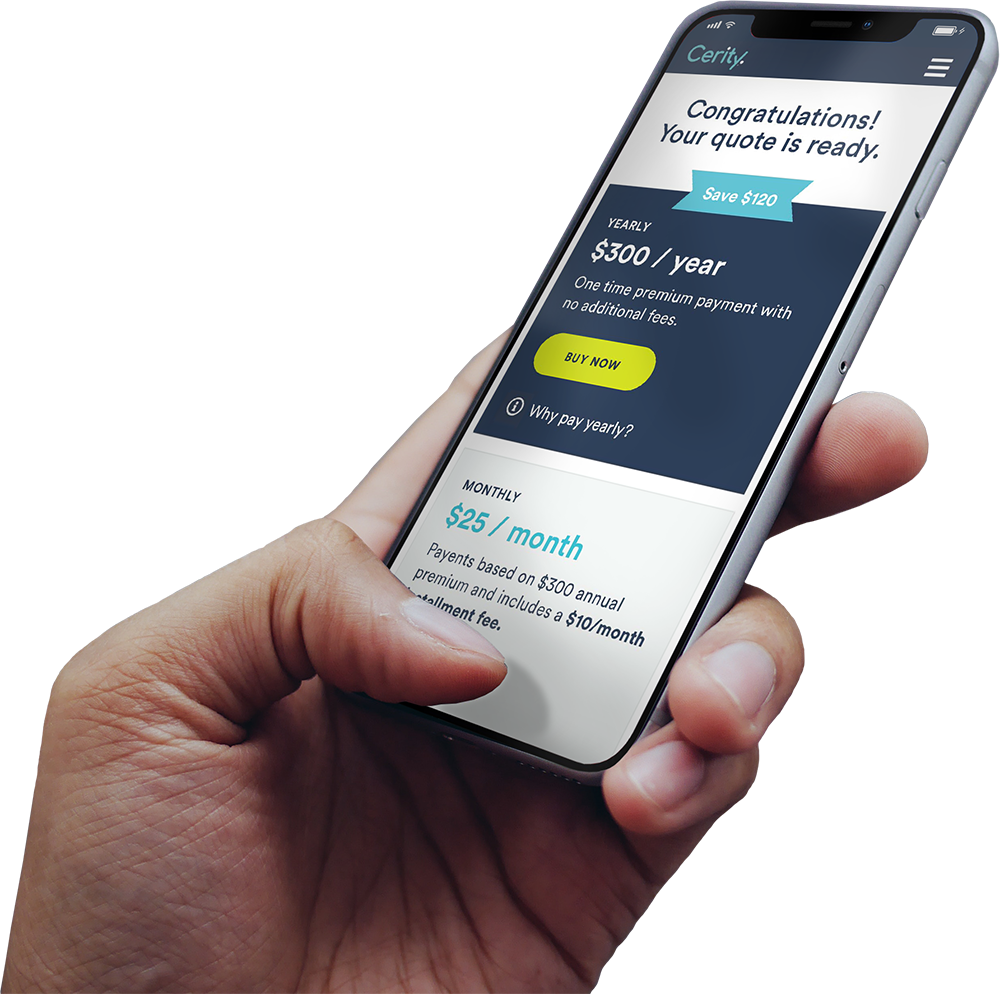 Grab your free quote today.
It only takes a few minutes, whether you're already covered or just getting started.